Before 2018, Flixtor was a popular TV and movie streaming site with many fans worldwide until it went offline that year. The users were left looking for alternatives, and they found them. An army of new websites came online using Flixtor's name. The original Flixtor team warned users to avoid them because they could spread malware, viruses, or other potential security hazards.
After a long interval, Flixtor is back online, and you can access it from six official, safe domain names (https://flixtor.to being the primary one) where you can find the latest trending movies and TV shows, like in the good old days.
While we hail Flixtor's return with joy, there's no reason to believe that it couldn't go offline again at any time and without warning. That's why, in this guide, we will give you the best eleven alternatives to Flixtor. If your favorite streaming site goes down again for years or a few hours, you'll always have a source to see your favorite streaming content.
But before we show you the Flixtor alternatives we've finalized (after testing dozens), consider that you'll find some that are not legal in every jurisdiction within these sites. So, make sure you know your country's copyright laws before you point your browser at them.
Top alternatives to Flixtor – Quick list
If you're pressed for time, below you go with briefs on our top eleven alternative websites to Flixtor – which we will review in more detail later in this guide.
Please note: While we do not suggest that any of our readers engage in illegal online activities of any kind, we believe that knowing how to gain access safely to these sites is essential, especially for users involved in research or law enforcement.
With those issues in mind, let's start by stating the obvious. A good Flixtor VPN with a strict zero-logging policy and military-grade encryption will keep all your online traffic safe and unreadable to third parties. So if you're using any of these streaming platforms consistently, using a VPN to access them is vital.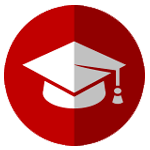 ExpressVPN
A superfast, highly secure, and user-friendly VPN that respects your privacy. Though it mi…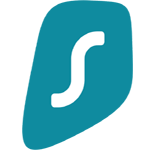 Surfshark
Very affordable yet speedy VPN that boasts a number of genuinely useful added privacy tool…
Among the plethora of paid VPN services available in the market (yes, you must use paid services because free VPNs only increase your privacy liabilities, and they don't have the bandwidth you will need to stream videos anyway), we have found ExpressVPN to offer the best possible balance between premium privacy features. It also boasts high connection speeds that can comfortably support streaming even HD videos.
In addition, ExpressVPN features a 30-day money-back guarantee, so you can try it for about a month and get your money back, no questions asked if you decide it's not your cup of tea.
What is Flixtor?
Flixtor is a popular free online streaming platform with an extensive collection of TV shows and movies without having distribution rights. Therefore, watching or downloading any content from Flixtor is considered illegal in many countries. However, the platform is well-designed and does not contain ads. It supports itself through VIP member contributions and allows users to stream and download their favorite content for free. If you want to avoid paying for streaming platforms like Netflix, HBO Max, Disney+, BBC iPlayer, and Peacock, Flixtor can be an option, although it is not recommended due to its illegal status.
Is Flixtor still available?
Flixtor can be accessed through several domains, but it has a history of being taken down and reappearing on different domains. Its creators have communicated that numerous copycats and phishing campaigns are causing problems. The official Flixtor sources are listed as follows;
flixtor.nu
flixtor.it
flixtor.vc
flixtor.se
flixtor.is
flixtor.to
Due to its popularity, the Flixtor sites often face server capacity issues, resulting in a "server full" message for visitors. However, users can try accessing the platform through other Flixtor domains.
Fixator's history is controversial. For instance, in November 2018, the platform went offline without official announcements, leading people to believe it was due to government action. However, the developers intentionally took it down to update the interface. After that, Flixtor faced multiple shutdown attempts and domain changes, which created copycats. This has caused some people to avoid using Flixtor despite the official versions being available with a vast library, no ads, and no malware. It is unclear whether the current legitimate version of Flixtor was made by the same people who created the original platform. Nevertheless, a usable version of Flixtor is available.
Best alternatives to Flixtor that actually work – Detailed list
So now we've dealt with the basics, let's dig into our eleven alternatives to Flixtor. We shortlisted these websites after testing dozens for quality, safety, and reliability. Most won't even ask you to sign up to enjoy your favorite content, and notably, you won't be bombarded with ads (getting rid of ads only requires you to have a good free adblocker anyway if you feel the need on any site). Let's get started.
1. Popcorn Time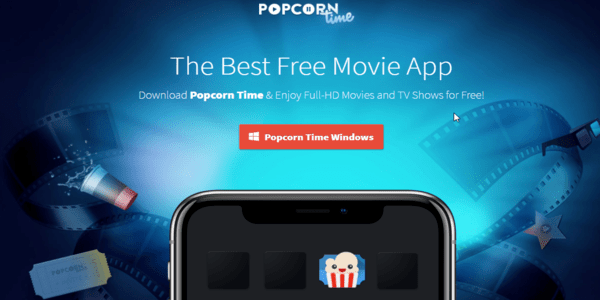 Popcorn Time resembles Flixtor in that its original version also went offline. But then, several developer teams grabbed the original open-source code and used it to create a whole new site for the same users at popcorntime.pro.
The new Popcorn Time requires you to download its software to play the videos, which is not the most attractive feature of any website. That being said, once you have the software in question, the access is free of charge.
But, the service is not available to everyone globally because of geo-restrictions. It's the same case when you try to bypass Torrent blocking in a country that doesn't allow it. Still, any of the reliable Popcorn Time VPNs are what you would need to enjoy the whole plethora of TV series, movies safely, and other content ready for streaming on it. You can also turn to Popcorn Time alternatives if you cannot access it for any reason.
---
2. Putlocker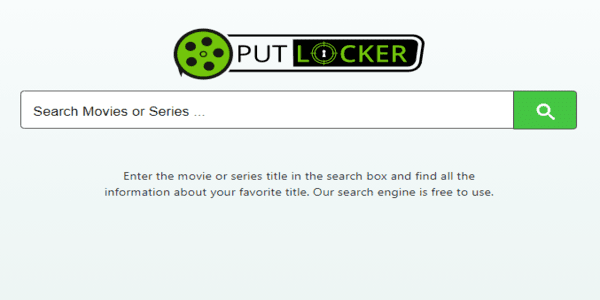 Putlocker is something of a legend on free streaming websites. It's the primary source of entertainment for millions of users worldwide, and it's a top alternative to Flixtor for sure. It's been around for ages. Its menu bar allows you to navigate among countries and genres easily.
The site includes a blog that will keep you updated with the latest news in the film industry.
You can find Putlocker at putlocker.vip, but please be advised that this website's security has been questioned many times by many sources, so this is one of the platforms that definitely call for a VPN. If you need, some quality alternatives to Putlocker are also available in this article.
---
3. TorrentTV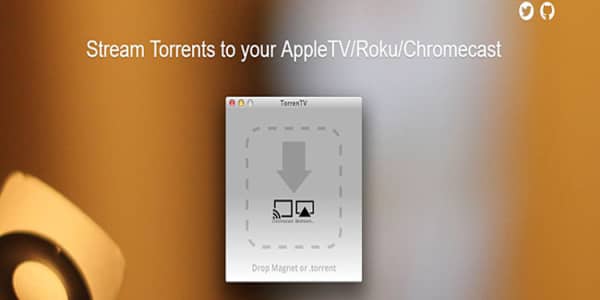 TorrentTV also requires that you download its own media player. Once you have it, the selection of torrent files for you to watch is vast.
The slick design of this platform is to die for, which is always a good thing. For example, watching a show or a movie is intuitive as you only need to drag and drop the file into the media player for the stream to start showing and downloading simultaneously.
TorrentTV is available for Linux, Windows, macOS, AppleTV, and many other devices. You can reach this platform at torrentv.github.io.
---
4. Zona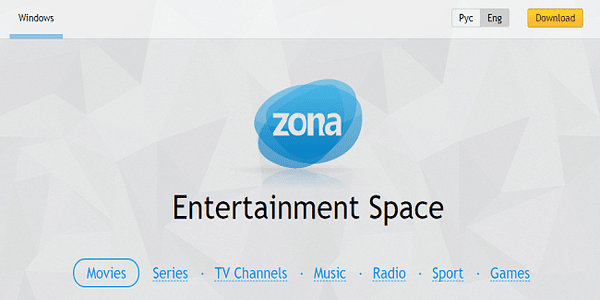 The alternative to Flixtor from Russia with love is Zona. You can personalize your Zona experience by choosing from three different interfaces. Then you can stream torrents for free to your computer. Unfortunately, Zona is only available to Windows users.
To enjoy Zona's content, you must point your browser toward Zona.ru/en and download the platform's media player. It's quick and painless and will give you access to thousands of movies, shows, music, TV channels, and radio stations.
---
5. Ymovies.tv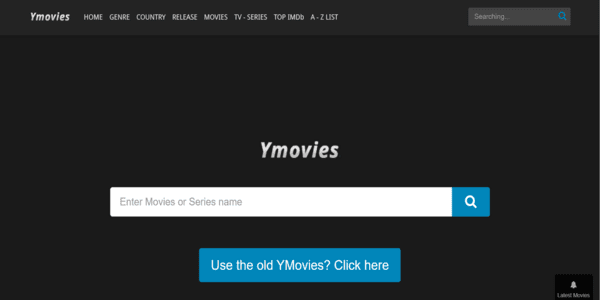 You can find titles by the tens of thousands on Ymovies.tv. It's different from the previous platforms in that you can watch this site's streams directly in your browser, so you don't need to download anything to enjoy them.
---
6. MoviesJoy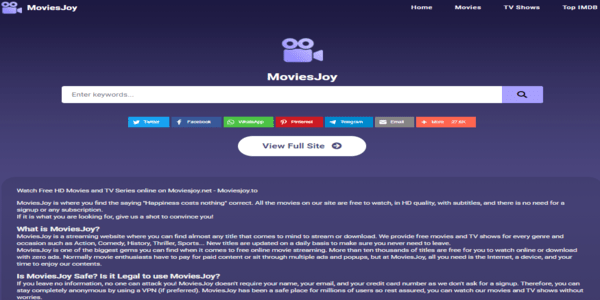 MoviesJoy has the very agreeable advantage of having no ads whatsoever. It's a fast platform offering standard and full HD content.
Every video is tagged as either cam or HD to help you know which options feature the best quality without sampling them first. Unfortunately, Cam refers to movies recorded in a movie theatre with a camcorder, so the picture and audio quality are usually terrible.
Every video with closed captions has them hard-wired, so you can't remove them. However, the captions on MoviesJoy are not intrusive and don't take up too much space on the screen. It would be good to be able to shut them off, of course, but it's not a huge problem.
---
7. SubsMovies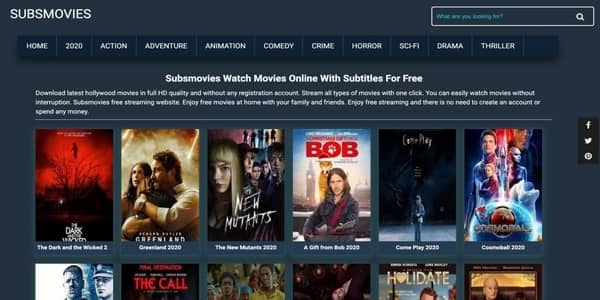 Among the websites like Flixtor, SubsMovies features a friendly and slick interface. The content is sorted according to source and quality, so you can quickly find the best available version of the movie or show you want.
Also, the interface is deceitfully simple. It looks like a humble video index, but it's, in fact, potent as the video of your choice plays directly on the SubsMovies website. So all the content comes from the house, saving you the risk of using third-party sites, as often happens in indexing websites.
Maybe you understood from the platform's name that it focuses on making subtitled content more widely available. This is almost unique to this site and very helpful if your hearing is impaired or you have a taste for international entertainment.
---
8. Project Free TV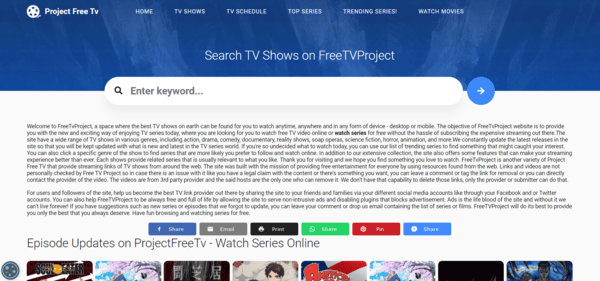 The top Flixtor alternative, Project Free TV, is not so much a streaming platform as a user-friendly TV show index. Search for the show you want, find it, and then click on a link that will take you to a third-party webpage where the video is available.
Things do not run as smoothly on this website as in the previous ones. It's not as intuitive, and you could find that you need to try several links before you can find the one with the content that works. That's a bit frustrating.
The main website lacks any advertising, which is a fortunate thing. But you will run out of luck when you arrive at the third-party pages that will surely show you an ad or two. You should never download any content (video or otherwise) from these third-party websites. These are also good examples of why a VPN with an ad blocker like Surfshark is your friend when watching free streaming videos.
But despite all its disadvantages, the indexed catalog is vast, so you will likely find the show you want, even if it's relatively exotic, and more content is added daily.
---
9. Watch Series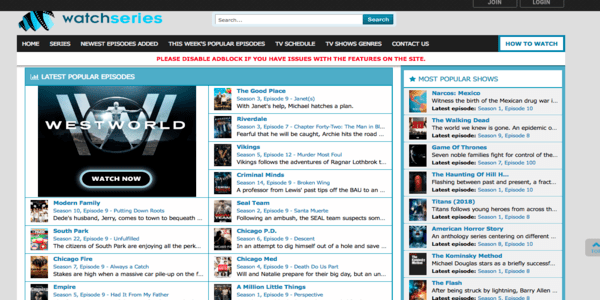 The catalog of shows and movies in Watch Series, an exciting alternative site to Flixtor, is vast. But you pay for the variety by putting up with more pop-ups and ads than the other options in this guide. A VPN with ad-blocking will enhance your experience on this site immensely. You will still need to shut down some ads manually, but your streams will keep going uninterrupted.
It's quick and responsive. But it also works more like an index because your videos stream from third-party sites. And again, you will need to persist because the chances are that the first link you click will not give you the content you expect.
However, the site is well-organized, so finding your desired titles is easy. But it would be best to have a streaming VPN while browsing this website and avoid downloading any content at any cost.
---
10. LookMovie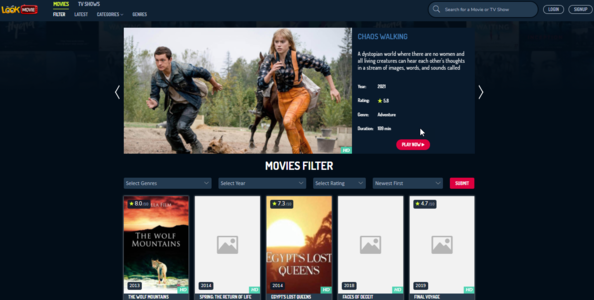 LookMovie is a top alternative to Flixtor if you're very used to it. It's free, and new movies join the catalog as soon as they're released.
A very nice advantage of LookMovie is the lack of pop-up ads, which can test the patience of every streaming enthusiast.
The cons are that the content is limited to movies (no TV shows), and the quality isn't always the best.
---
11. YouTube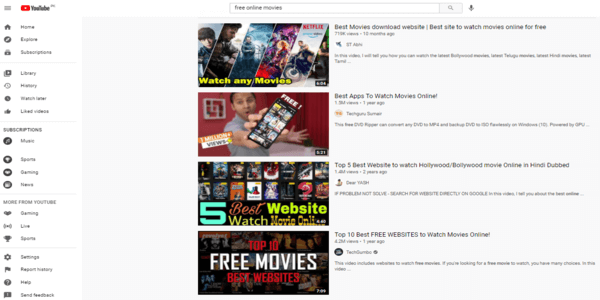 You probably didn't expect to find YouTube here, but here it is. While this is not YouTube's claim to fame, the fact is that the streaming giant offers thousands of free movies in a wide variety of genres and languages.
YouTube surely needs no introduction to any web user on the planet. Still, we'll remind you that it needs no registration and that its ads can be annoying (YouTube Premium solves that problem, but that does require an account and paying a fee).
---
12. Fmovies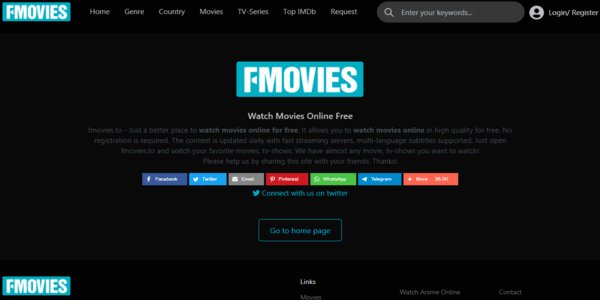 Fmovies has also built its reputation as one of the best places to find various movies and TV shows. It has a clean and straightforward layout, making navigating it interesting.
The site has extensive movies and TV shows sorted by different genres. You can also search for your favorite show by title or keyword. This makes it easy to find what you're looking for, whether you're in the mood for a comedy, action, or drama.
---
13. StreamM4u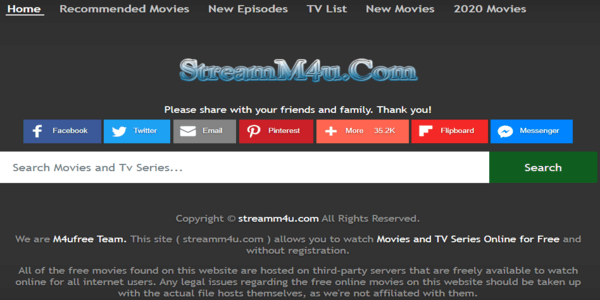 StreamM4U is a slick alternative for Flixtor. The website offers a variety of features that make it a worthy option for movie and TV shows enthusiasts. A key feature that is quite useful is its large database of regularly updated series and movies.
You can quickly search for your favorite show in the website's clean and straightforward layout. In addition, the availability of various functionalities, such as subtitles and Chromecast buttons, improves the overall user experience.
StreamM4u allows you to stream content in HD, which makes for a much better viewing experience. This is especially great if you use larger screens, as the high-definition streaming really makes a difference in the overall quality of the films.
---
14. Azmovies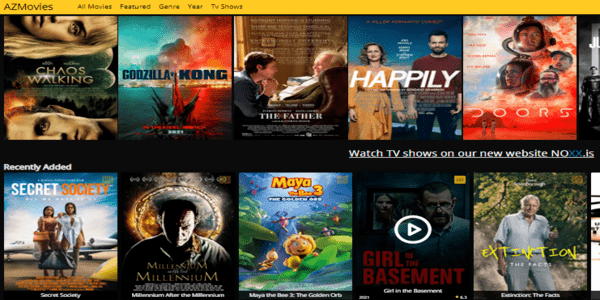 The collection of movies and TV shows on Azmovies is impressive. The site features a vast selection of films and TV series sorted by genres such as Action, Drama, Animation, Comedy, Crime, etc.
You don't have to scroll through endless lists to find what you're looking for since Azmovies has a search button for quick access to the show of your choice. Movies and TV shows are also sorted by year. The feature is excellent if you want to keep up with the latest releases.
The user interface is intriguing and appealing to the eyes, not to mention how easy it is to navigate. The clean yet attractive layout doesn't overwhelm users but keeps them engaged with the site.
---
15. 123movies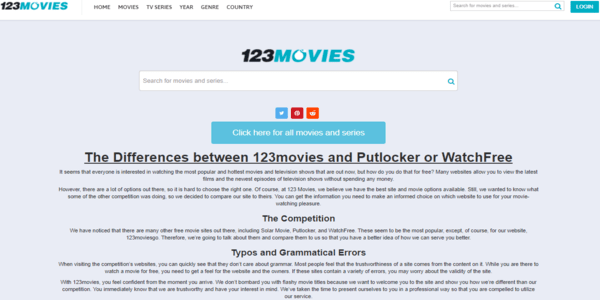 123movies is undoubtedly one of the best out there. You cannot talk about streaming free movies without touching this site. It has gained popularity due to its wide selection of movies and TV shows updated regularly.
The website is a great choice for most users because it doesn't require a subscription or signing up to watch its content. All you need is to decide which movie you want, and you're ready. In addition, the site doesn't compromise on quality, and you'll get exactly what the website promises. This has given them an upper hand in the streaming business. Besides, the high compatibility is a plus. You can run the website on almost all devices, such as PCs, smartphones, and popular browsers like Google Chrome and Mozilla Firefox.
---
Beware of the Flixtor copycats
Nature abhors a void, and so does the Internet. When the original Flixtor went down three years ago, many sites appeared, trying to fill in the void left behind by Flixtor. The original Flixtor team issued a letter to its enthusiastic users in which they promised to bring the site back and warn them about imitators claiming to be Flixtor.
Many of those fake Flixtors are still around, and you should be wary of sites of that type that ask you to sign up for anything or that promise a VIP account.
Flixtor legality
Flixtor's official domains, such as flixtor.to, are typically considered illegal, and the developers could face legal consequences for keeping the platform online. Similar to the creators of KickassTorrents, they could be prosecuted. Flixtor has been targeted for shutdown attempts by authorities, and individuals who stream content from the platform could also face legal repercussions. This is because Flixtor provides copyrighted movies and TV shows without the creators' permission, which is a felony in most countries worldwide, with a few exceptions.
Consequences of streaming from Flixtor
The consequences of streaming content from Flixtor vary depending on your location. In the United States, the DMCA collaborates with ISPs to track Flixtor users, and while it's unlikely you'll end up in jail, you could face a lawsuit.
In other regions, the severity of consequences depends on the government's stance towards piracy and Flixtor. For example, some areas in Eastern Europe or Latin America may have more lenient piracy laws, and streaming pirated content for personal use may be permitted. However, this could change, so staying cautious and safe online is essential, regardless of location. It's also worth noting that streaming content from Flixtor is illegal in many places, and legal and ethical alternatives are available. Therefore, using Flixtor for streaming content is not recommended in most cases. But if you're determined to use it, take proper safety measures, especially if you live in a country that allows streaming pirated content for personal use.
---
Why VPNs go hand in hand with streaming videos online
Now you have eleven websites like Flixtor that will help you keep entertained if and when Flixtor goes offline again, whether for minutes or years.
We've mentioned VPNs several times in this guide. That's because using a VPN when watching streaming videos on the Internet shouldn't be optional. Instead, a good, paid VPN service is necessary for the Internet stream watcher; below, we'll explain to you the reasons why.
Hackers and other third-party observers
Hackers are a persistent bunch of people. They're always looking out for vulnerable activities that will grant them the access they want to your equipment so that they can steal things like your login details or banking information.
Edward Snowden's revelations have raised public awareness about online privacy for political reasons. But let's not forget that staying as anonymous as you can online is a matter of protecting your rights and your safety. And a VPN is one of the best tools you can have for that purpose.
A VPN will hide your IP address (nobody will know your physical location from your online traffic) and encrypt all your ongoing and outgoing data. The point of encryption is to make meaningful data look like random noise to those without decryption keys. And this is what protects you from hackers.
A hacker monitoring your connection will give up on you very soon if he finds that he can't make heads or tails of the traffic you're issuing. And the same goes for governmental agencies and your ISP. And talking about ISPs.
---
Bandwidth throttling
Many ISPs dislike users that watch online video streams because they use a lot of bandwidth for a seemingly simple application. So if they detect you using many streaming sites very frequently, they will slow down your internet connection by cutting off some of your bandwidth. That allows them to avoid congestion and have more satisfied customers – not you.
However, if you use a VPN to stream your videos, your ISP can detect your bandwidth use but not why you're using it. Thus they won't throttle your bandwidth, and your transfer speeds will remain high, as they should.
---
Protection from copyrights violations
It's illegal and unethical to download copyrighted material from unauthorized sources. Furthermore, the practice harms the film industry, creators, and producers by denying them the revenue they have earned through hard work. Therefore, if caught, it attracts legal fines or jail time.
However, using a reliable VPN encrypts your connection and hides your IP address, making it difficult for authorities to trace your identity. In addition, this protects against copyright violations.
---
Protecting your browser and preventing unsafe ads
Most movie streaming websites, especially the unauthorized ones, are known to contain malware, viruses, and unsafe ads that can harm your computer or steal your private data. VPN protects your browser by blocking web trackers that may compromise your data.
Most VPNs also come with built-in ad-blocker and malware protection. These features block ads and unsafe websites before they can reach your device. In particular, they work by analyzing web traffic and identifying and blocking adverts and websites known to be malicious. This can help protect your device from viruses, malware, and other online threats.
---
Bypass geo-blocks to get a broader range of shows and movies
Popular streaming services like Netflix and Hulu limit library access based on region. Using a VPN, you mask your IP address which changes your location. This helps bypass geo-blocks, giving you access to a broader range of shows and movies that may be unavailable in your country.
For instance, a TV show can be available in the US but not the UK. So, if you are in the UK, you can connect to a server in the US to access the show.
---
Why you should pay for a VPN service
There are many free VPN services on the Internet, and the lack of a charge for their service will always appeal to most users. But it would be best if you always steer clear of them.
We briefly explained how VPNs are supposed to keep you safe online by enhancing your privacy and anonymity. Free VPNs are not in that business, unfortunately.
While premium VPN services make a point of not keeping any logs of their users' activities, FreeVPNs have the opposite business model. They keep tabs on everybody because they sell that data to their commercial partners.
That's how Free VPNs make a buck – they don't offer you a free service but turn you into a digital product for their commercial partners. Thus using free VPNs doesn't help your privacy. Instead, it introduces security liabilities that you don't need.
Last but not least, watching streaming videos needs a reliable VPN with fast connections. Free VPNs rarely can support the bandwidth you need to watch a stream comfortably. If you try them for this purpose, you'll spend most of your time viewing the buffer, not the video. So it's not only that they're unsafe. They are also useless for streaming videos.
How to use Flixtor alternative safely in 3 easy steps
If you're looking to use Flixtor alternatives safely, here are 3 key steps to guide you:
Get a reliable VPN. A good VPN should protect you from online privacy and security threats. We have a list of the best VPNs in 2023 to help you decide.
Select a server location. Choose a server in a region that supports various streaming services of your choice.
Enjoy your favorite shows. After connecting to a server, you can freely enjoy movies and TV shows on your preferred streaming site.
---
Best VPNs for Flixtor alternatives
1. ExpressVPN

Undoubtedly the best VPN to go for Flixtor.

Boasts over 3,100 servers in 86+ countries

Ensures strong security with AES-256 encryption

TrustedServer technology (RAM-based servers)

Peer-to-Peer traffic supporting servers

Functional Network Lock (kill switch) feature

Convenient split tunneling feature

Guarantees no log retention

Allows connecting up to five devices simultaneously

30-day money-return guarantee
Pros
Compatible with a wide range of devices and routers

Best VPN for unblocking movies in schools

Seamlessly unblocks all major streaming websites
Cons
A bit on the expensive side
ExpressVPN has an extensive infrastructure of over 3,000 servers spread across 160 locations in 94 countries worldwide. It employs AES-256 encryption, a kill switch, and other essential security features to keep you safe.
The no-logs policy adds to its security by ensuring the provider does not retain any traces of the user's online activity. In addition, the availability of 24/7 customer support via live chat, tickets, and email helps resolve user complaints whenever needed.
You can choose from three subscription plans: a one-month subscription for $12.95/month, a six-month subscription plan for $9.99/month, or a 12-month plan for 8.32/month. New customers also enjoy a 30-day paid trial with a 30-day money-back guarantee.
---
2. Surfshark

A budget-friendly option to stream Flixtor safely.

Over 3,200 VPN servers spread across 100 countries

Servers that run on RAM only

Logs no user data

Encryption using AES-256, a military-grade algorithm

Almost all servers support P2P (torrenting) traffic

Smart kill switch

Efficacious split tunneling

A single account can support an unlimited number of connections at once

Boasts a 30-day refund policy
Pros
Provides excellent value at affordable pricing

Unblocks major streaming platforms

No slowdowns on internet speed
Cons
The behavior of P2P servers is erratic
Surfshark is one of the most budget-friendly premium VPN services and offers a wide range of features to enhance your online security. Some of its key features include AES-256 encryption. This level of encryption makes it extremely difficult for cybercriminals to breach your private data.
In addition, Surfshark has a strict no-log policy, which means third parties cannot track your online activity. This ensures that your digital footprint is private and cannot be traced back to you. Furthermore, it has 3200+ server networks in over 65 countries, allowing you to bypass geo-restrictions and access various online content easily.
The VPN provider offers affordable rates starting at 3.99/month, which makes it a great option if you're on a budget. Surfshark also offers 24/7 customer support via live chat, email, and phone, ensuring you can get help whenever needed.
---
3. NordVPN

The most reliable VPN in the market that provides best services to its users.

Owns more than 5,000 servers in over 57 countries

Securely-encrypted with AES 256 standard

Tor over VPN compatibility

RAM-based VPN servers

No logs retention of users

Comes with a customizable kill switch

Split tunneling with custom options

One subscription allows up to six simultaneous device connections

Guarantees 30-day refund policy
Pros
Ad blocker and malware protection features

Comprehensive malware, adware and snooping protection

Quick connection speeds
Cons
Not particularly mobile-friendly
NordVPN has over 5,500 server networks spread across 59 countries, making it ideal for streaming movies and TV shows. The provider is popular for its remarkable connection speeds and the SmartPlay feature that helps unblock mainstream streaming sites such as Netflix.
NordVPN also offers a kill switch button that automatically disconnects your internet if the VPN connection drops, ensuring your data remains private. Further, the AES-256 encryption is mind-blowing. With NordVPN, you can be sure your private information is safe from prying eyes. In addition to these features, NordVPN offers 24/7 customer support, a 30-day money-back guarantee, and multiple compatibilities for all major platforms, including Windows, Android, macOS, and iOS.
---
Flixtor legal alternatives
Legal streaming content is ethical and affordable, with many streaming platforms available for under $10/month. Let us explore a list of the best legal streaming platforms, along with the content they offer.
Disney+: This is Disney's successful entry into the streaming market. Its biggest drawcard is currently The Mandalorian, but it plans to expand its collection of multimedia content significantly soon.
Netflix: Netflix pioneered streaming services and has become a cultural phenomenon. It offers a vast range of content, including popular classics like Lord of The Rings and Harry Potter, recent releases such as Chris Hemsworth's Extraction, and its originals like Atypical and The Queen's Gambit.
HBO Max: HBO Max is the latest streaming platform from HBO, which brings together all of its media brands under one umbrella. It boasts a collection of popular shows like The Sopranos, The Wire, and Game of Thrones and continuously adds new content to its library.
Conclusion
Watching free movies and tv shows on the Internet can be a lot of fun when you find the right sides with the content you want and a decent interface that allows you to enjoy the content comfortably. And there's no reason for you not to use them except for legality.
Let's face it, Flixtor and many other free streaming sites break copyright laws all the time in some jurisdiction or other so that they will run into trouble sooner or later, and they will be taken offline at some point. That's why you should always have alternative sites ready.
We've offered you eleven good alternatives to Flixtor, so you now have multiple options for streaming entertainment. But keeping your personal data and devices safe is just as important (indeed, even more so) than seeing those shows you want, as we've tried to convey.
While many websites include the content you could be looking for, it's good to choose wisely and use those platforms that help your online safety. Most importantly, a good VPN service like ExpressVPN is not negotiable because it will keep you safe and help with other issues.
FAQs
In this guide, we've provided you with eleven websites that work and are usually online. You may need them, as the original Flixtor website is not always available.
If you're using Flixtor to watch TV shows and movies that are in the public domain, then you're using Flixtor legally. We do not endorse, condone or promote the illegal use of streaming websites for viewing or downloading material that is still under copyright.
You can see the content in Flixtor and similar sites without a VPN for sure. However, we recommend using a VPN whenever you use free streaming sites. This will help you keep your anonymity online, prevent malware and other malicious software from reaching your devices, and it will also preclude your ISP from throttling your bandwidth. So while you don't need a VPN, you should still use it.
Several websites will give you similar content to what you can find on Flixtor. We've provided you with the best eleven Flixtor alternatives available now.
As long as you watch content in the public domain, you're using Flixtor legally, and nothing can happen to you regarding legal issues. On the other hand, copyrighted content could become a legal liability, so we suggest limiting the material you view to the public domain. The consequences can vary depending on the country you're using Flixtor from. In the US, Flixtor users have been known to be tracked and penalized by law enforcement agencies. While the site could remain illegal regarding copyrighted content in Latin America and Eastern Europe, you're unlikely to face legal consequences.
Some of the content available on Flixtor is still under copyright, making the website illegal in several jurisdictions. In addition, some ISPs block the website and have a history of intermittent availability, as it's been involved in legal battles over the years.
Yes, you can get a virus from Flixtor alternatives since some streaming websites may contain malware and viruses. Therefore, using a reliable and legitimate movie streaming platform is always recommended and, if possible, ensuring you have a VPN.
While you can, it is not advisable. Free VPNs often have limited features and may be less secure than paid VPNs. They may also collect and sell personal data, contain ads, or infect you with malware and viruses. Using a tested and proven paid VPN service when streaming content online is recommended to ensure the best security and privacy.