YouTube TV is probably the unsung hero of video streaming services. It doesn't get the love it deserves from reviewers in general because it focuses on live TV rather than on-demand content. Nevertheless, YouTube TV is the best video platform to watch your desired shows.
But there's a catch. The platform is typically accessible in the United States only. Hence, you need to find workarounds to watch YouTube TV outside the US.
Sounds exhaustive? Don't worry. You can see YouTube TV from any place in the world using a VPN – simple as that!
How to bypass YouTube TV location lock – Quick guide
Suppose you already have a YouTube TV membership and a VPN account ready to use. (NordVPN is the best option, but any of the other four possibilities described in this guide will work as well.) In that case, this is how you watch YouTube TV from overseas.
Find the software that your VPN provider offers for the device you'd like to use. NordVPN is our no. 1 recommendation for YouTube TV. Download and install it.
Launch your VPN app. Join the VPN network using a server based in the US.
Go to YouTube TV and sign in.
Start watching and enjoying as much of YouTube TV's content from anywhere!
A little about YouTube TV
As explained above, YouTube TV mainly focuses on TV and on-demand content. The service includes 85 TV channels (including all the major networks and many sporting channels).
Moreover, the platform is convenient because it allows linking with a Gmail or a YouTube account (which many users already have) and gives its users unlimited DVR recording capacity on the cloud. Of course, there is no way around ads when you're watching live TV, but you can do away with YouTube's ads if you also are a YouTube Premium user.
Your YouTube TV account allows three simultaneous devices to stream the service's videos. And the basic package costs 64.99 USD monthly.
There's plenty in YouTube TV to offer to those users who like watching live TV or who are into sports (especially American sports, because the service is not very keen on covering sports such as cricket or Soccer). But there's a slight problem – it's available only within the US.
It's not a surprise. Every legal video streaming service on the internet is somehow geo-blocked. Most restrictions tend to apply to users outside the US. So if you want to see the channels on YouTube TV, should you necessarily be in the US?
Not really. When you use a VPN to connect to YouTube TV through a US-based server within the VPN network, YouTube's servers will think you're in the US and give you the same service as the other users physically there.
So a good VPN will let you evade the YouTube TV region lock easily. But it will also give you many other perks such as complete data encryption, protection against ISP throttling, and more.
Best YouTube TV VPN apps – Quick list
This article will show you how to unblock and watch your favorite YouTube TV content outside the US, regardless of your expertise in VPNs. You will also find details about the best VPNs to complete this task alongside all the necessary steps.
Should I use a VPN to watch YouTube TV? Why?
Yes, you should use a VPN to unblock YouTube and watch YouTube TV, even if you're in the United States. There are several reasons for this, depending on your location.
First, let's say you're not in the US. Then, if you try to watch YouTube TV from abroad, this is all the content you will get:
It looks like you're outside of the United States. YouTube TV is only available in the US.
That is not fun. If this is your case, you have no choice but to use a VPN to stream videos from this service. The reason is that YouTube has copyright agreements with its content providers, limiting the regions they can show their content. Therefore, the platform can't stream anything outside of the US, and that's it.
So, if you want to use this platform, you need to make it think you're in the US, or you'll get nothing. That's why you must use a VPN.
Besides, let's suppose you're in the United States. Still, you might not find your preferred content accessible there. That's because YouTube TV's service is not even throughout the country. Instead, you get channels and other perks depending on where you are. So even if you're inside the US, you need the VPN to opt for the best content available.
In short, you should use a VPN to watch YouTube TV wherever you are. But there's more.
How using a VPN helps you stream better
Before we tell you more reasons for using a VPN, let's briefly see what a VPN does for you.
A VPN worth the name will always perform two tasks for you: it will encrypt all your incoming and outgoing data and hide your exact IP address, showing the one from the VPN's server. This last thing is what does the trick we need. If you connect to your VPN and choose a US-based server, then the online world believes you're in the US. It includes YouTube TV, giving you the service you want.
The best VPN providers will perform those two tasks at the highest possible level, but it will give you many more benefits.
The next logical question will be if VPNs are the only way to go. The answer is that VPNs are not the only way to achieve this objective. But they are the best, indeed, and you should keep away from the other options.
You will find users that prefer to use proxy servers, like dedicated YouTube TV proxy services or other resources to get around geo-blocks; avoid them. A VPN solves the geo-location problem and many more. But proxy servers, free VPNs, and other tools can create problems instead because they can be detrimental to your digital security.
---
The best five VPNs to unblock YouTube TV in 2022
Let's face it. VPNs have become fashionable over the last few years. Consequently, the VPN market exploded, and the internet is fraught with providers. But, unfortunately, not all of them live up to their publicity. Moreover, as it happens in every industry, average quality is not exactly excellent, and the genuinely top-notch companies are but a handful. But how can you tell?
Testing a VPN for the servers, speed, security, and other features ensuring protection and access to YouTube TV is a daunting task. Indeed, it takes a lot of resources, time, and expertise.
But there's no reason to despair. We've done all the hard work, so you don't have to. Moreover, we already know which VPNs are the best for streaming video. Thus, it was easy for our team to test those services and determine the best to watch YouTube TV.
So, according to our seasoned VPN experts, here are the best five VPNs to unlock YouTube TV.
1. NordVPN

A smart option. Robust VPN service boasting more than 5400 servers in over 55 countries across the world.

5,400+ servers in 59 countries

Supports P2P downloads

AES-256-bit encryption

Strict zero-logs policy

Kill switch feature

Double VPN

Provides DNS/IPv6 leak protection

Offers 6 simultaneous devices

30 days money-back guarantee
Pros
Unblocks YT effortlessly

Fast speeds

Robust military-grade encryption

No-logging and data retention

Blocks malicious websites

Affordable long-term plans
NordVPN is the best VPN for any task you'd like to throw at it. It's as simple as that. Moreover, this provider has more US-based servers than any other service, making it even better suited for YouTube TV. Therefore, this VPN unlocks YouTube TV without any problems.
Still, you can also use it with any other video streaming service as it unblocks most apps, letting you enjoy the catalog each platform offers for US-based users.
NordVPN sticks to a strict no-logs policy, the critical privacy feature in any VPN. And it doesn't just talk the talk; external audits show that it walks the walk as well.
It is the fastest VPN in the market. It has managed to take WireGuard, the quickest and the most advanced VPN tunneling protocol, fix its limitations regarding privacy, and make it available for its users. Moreover, it will offer you many additional features that significantly improve your online security and user experience.
---
2. ExpressVPN

This provider successfully resists many sites' crackdowns because of its colossal VPN network. With more than 3000 servers in over 90 countries globally, it offers a vast list of countries to change your location online.

3,000+ servers in over 90 countries

AES-256-bit encryption

DNS/IPv6 leak protection

P2P optimized servers

Network-lock feature

TrustedServer technology

Split tunneling

Strict zero-logs policy

5 connections simultaneously

30-day money back guarantee
Pros
Unblocks YouTube TV worldwide

Superfast speeds

Unlimited bandwidth

Military-grade encryption

No data retention or logging

24/7 customer support
Cons
It may be expensive for some users

No free trial
ExpressVPN has been around for a long time, always offering one of the best VPN services in the world. Thus, it has accumulated a reputation and credibility that remain unmatched in the industry. And when it comes to the YouTube unlocking use case, ExpressVPN still delivers the goods.
ExpressVPN also keeps no logs on user activity, and it has an extensive server network with plenty of nodes inside the US. In addition, the server connections are reliable and fast, which is what you want for an HD video stream.
As NordVPN, ExpressVPN will give you many additional security features that will make your digital life better.
The drawback of this option is the price. It's one of the most expensive VPNs in the market. The service is among the best, for sure, but there are a handful of other VPNs that can match ExpressVPN's high quality (or come very close) at a fraction of the cost.
---
3. Surfshark

A relatively newer entry to the list of best YouTube VPNs. Yet, they have managed to make it to the top in a short time with remarkable features.

Over 3,200 servers in more than 60 countries

AES-256-bit encryption

P2P traffic support

MultiHop mode

DNS leak protection

Automatic kill switch feature

Zero-logs policy

Camouflage mode

Unlimited simultaneous connections

30-day money-back guarantee
Pros
Unblocks YouTube TV

NoBorder mode

Whitelister and adblocker

24/7 customer support

Affordable pricing
Cons
Not as fast as top VPNs

Limited range of servers

Does not offer a free trial
Surfshark has a much shorter history than ExpressVPN or NordVPN. However, it's managed to turn the VPN world upside down in that short period by offering top-notch service at a budget-friendly price.
The server network in Surfshark is vast, and every server is fast and reliable. Moreover, like NordVPN, Surfshark has managed to turn the WireGuard protocol into a privacy-friendly tool, thus unleashing its power for its users.
While most VPNs will allow you to connect from five to ten devices into the network concurrently, Surfshark will not limit you at all. Therefore, you can have as many devices online with the VPN with a single account. It is a distinctive feature in Surfshark but not too practical regarding YouTube TV because the video platform limits your simultaneous connections to three. However, it could benefit other services or have your family or working team protected.
Surfshark is the best VPN for value for money. So do not allow the lower price to deceive you; this VPN gives you as much service as the best ones.
---
4. PrivateVPN

A well-balanced option for YouTube TV that offers everything you need at competitive prices.

100 servers in more than 60 countries

Double encryption feature

Supports P2P traffic

Automatic kill switch

DNS/IPv6 leak protection

Allows up to 5 simultaneous connections

30-day money-back guarantee
Pros
Remote control support

Allows torrenting

Has a zero-logs policy
Cons
Limited number of servers compared to other top providers
PrivateVPN is something of a hidden gem in the VPN market. It's a straightforward and user-friendly service that works well as a video unblocking tool.
Of course, it unblocks YouTube TV and Hulu, Netflix, and many other popular video streaming platforms.
This VPN's network is smaller than the others in this list. But it keeps growing, and every server remains reliable and fast. So, the network size is not a disadvantage.
PrivateVPN respects the all-important zero-log policy, despite being a Swedish company (thus subject to the 14-eyes alliance).
---
5. IPVanish

Multiple encryption protocols, no-logs policy, applications for all platforms, DNS leak protection, split tunneling.

2000 servers in over 75 locations worldwide

AES 256-bit encryption

Unlimited simultaneous connections

30-days money-back guarantee

Boasts P2P-friendly servers

SugarSync cloud storage
Pros
Allows unlimited connections with one subsription

Easy to use apps

Affordable pricing
Cons
Struggles to unblock some sites
IPVanish will get you an affordable, fast and reliable tool to get around the YouTube TV geo-blocks. It's also managed to bring WireGuard to fruition, thus making its network remarkably fast.
Like Surfshark, IPVanish will allow you an unlimited number of simultaneous connections into the network with a single account.
As with the previous VPNs, this one will also unblock many other video streaming services such as Netflix.
---
Will a free VPN let me unblock YouTube TV?
The overcrowded VPN market includes many free VPNs claiming to provide services comparable to the best premium VPNs. But, don't believe them; they are very far from delivering that kind of high quality.
Problems in using free VPNs
A free VPN usually has many more active users in the network and fewer servers online than your average paid VPN. Consequently, the servers are overworked. So it can take a while to find a server that will accept your connection. But then, once you're online with the VPN, the link is unreliable and gets severed for no apparent reason often.
If you also consider that free VPNs have fewer resources, your user experience will be slow speeds. Where video streams are concerned, that means stuttering videos, low resolutions, long buffering pauses. And that's if you can get the VPN to show you a video.
Finally, consider that most free VPNs have a data cap, supporting no more than a few minutes of content streaming daily.
And then, there's the issue of how a free VPN makes ends meet. There is an aphorism regarding the digital economy that goes, "whenever you're not being charged for something online, you are the product." The free VPN industry is an excellent example of this principle.
Having an international server network costs money. Each server needs electricity, an ISP, software, and admins. Yet, free VPNs are businesses that make a buck and turn a profit without seeking money from you. How? Well, by turning you into a product.
Free VPNs profit from you in many ways. For example, they add ads to the sites you visit using their network. It is annoying but not terrible. But, free VPNs' most common business model is awful and threatens your privacy. For instance, the five VPNs listed above implement a no-logs policy, assuring users of their privacy. However, free VPNs play for the other side. First, they keep detailed logs on user activity. Then they sell the records to their commercial partners for monetization. So, visibly, free VPNs risk your privacy because they don't intend to protect it at all.
The conclusion is obvious: free VPNs don't charge you money, but you pay for them with your privacy. So it's not only that most free VPNs don't have the technical means to support video streams for more than a few minutes. They will create unwanted privacy problems for you.
Another thing making the matter with free VPNs worst is malware distribution. A 2015 study found that dozens of the free VPN apps on the Google Play Store deployed malware on your devices.
It doesn't mean that every free VPN is out to get you. Some good, legitimate free VPN services won't sell you out (ProtonVPN is the best among them). But those are few and far between. Also, even the best ones have limitations ruining your streaming experience.
So, ignoring all temptations, you must always stay away from free VPNs. Instead, if you have budget limitations, go for options like Surfshark that costs fewer than three dollars monthly.
Remember: free VPNs always are expensive, even if not in terms of money.
---
Signing into YouTube TV outside the United States
You could be on holiday or traveling for business away from the States. Or you might live in another country and need to set up an account. No worries, here's how you sign in to YouTube TV if you're not in the US.
Choose a reliable VPN (such as NordVPN) and install its respective app on your device.
Launch the VPN app provide your credentials.
Choose a server located in the US from your VPN network.
Point your browser to the YouTube TV website, or launch the YouTube TV app.
If you already have an account, log in, or click on "TRY IT FREE" to set up a new account. Complete the signup process by adding a US address and ZIP code. If you don't have one, use a US address generator online.
It's time to pay for your YouTube TV subscription. The system will only take US payment methods. Go to Amazon and buy a YouTube gift card if you lack one. Use the gift card instead of a standard payment method.
Now that you're online through a US server, you logged into your account, and you paid for it, you will be able to watch any YouTube TV video you fancy.
How to watch YouTube TV on your preferred device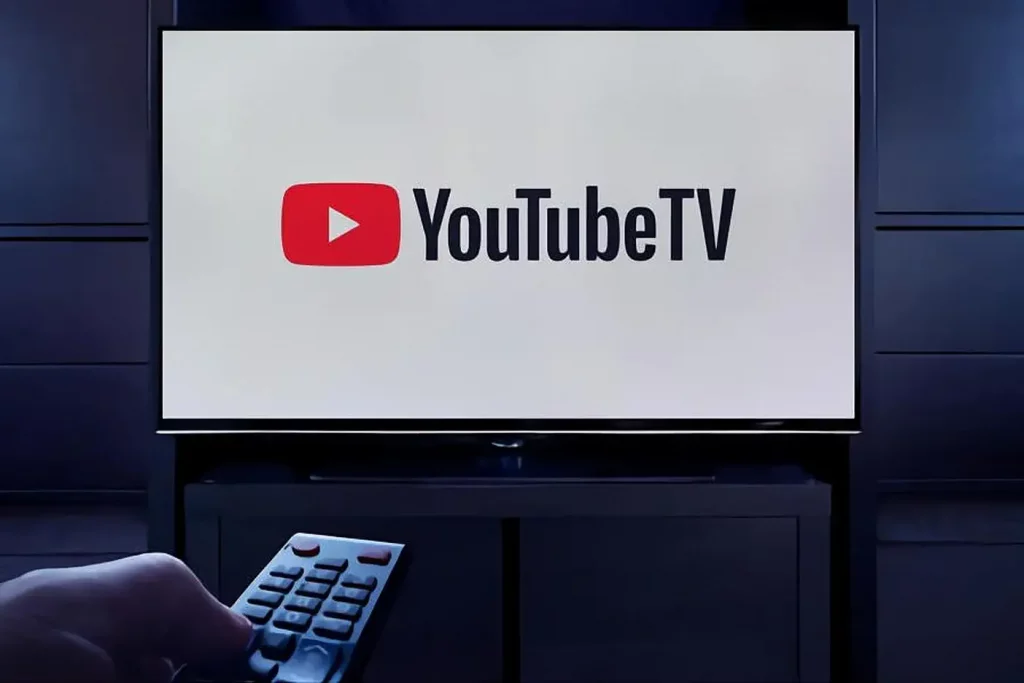 You can enjoy your YouTube TV content from anywhere in the world using various devices: phones, laptops, desktop computers, tablets, or smart TVs are all valid options. So let's see how to proceed in each case.
Watch it on your desktop computer
If you have the right VPN service, the world is your oyster. You can use your beloved computer to watch YouTube TV in any country.
Of course, you'll need to have the respective VPN client on your computer according to the operating system. The most complex operating system in this regard is Linux, supported by a few VPN providers only – almost every VPN supports macOS and Windows, on the other hand. The good news for Linux users is that three out of the five preferred VPNs do support Linux (NordVPN, ExpressVPN, and Surfshark).
So once you know what your VPN is and what is your OS, this is what you do:
Download and install the relevant software for your computer.
Connect to the VPN. Choose a server in the US.
Launch your browser and point it towards YouTube TV. Log in.
Watch all the content you want!
---
Watch YouTube TV on your phone
Whether you own an iPhone, iPad, or Android device, the critical factor is to have the VPN that does the trick. While most VPNs offer dedicated apps for different devices, some services work better on a specific platform than others. So, depending on the device you want to use for streaming YouTube TV, choose a mobile VPN that works best on it. (You can also browse through these guides on the best Android VPNs and iOS VPNs to find your best pick.)
With all that in mind, this is how you can watch YouTube TV on your device:
Change your phone location and app store to the US.
Download and install the VPN app relevant to your OS.
You need to have an Apple ID or Google account based in the US. If you don't have one, create one. This is the account you will use to sign in.
Find the YouTube TV app and install it from either app store.
Log in to your YouTube TV account.
Get your popcorn, lay back, relax and watch your videos.
---
How to use VPN for YouTube TV on a Smart TV
Theoretically, you need to install a VPN on your Smart TV to unblock YouTube TV. But, numerous Smart TV manufacturers like Samsung and LG do not support VPNs. So, does it mean you can do it?
Of course not. Some VPNs support installation on routers. So what you do in this case is to have your router connected to the VPN. Then, your Smart TV automatically comes within the VPN's tunnel because it gets its internet feed from the router.
Follow these steps:
Sign up for a VPN that has many US-based servers. NordVPN is the one with the most significant US network.
Connect to a US server.
Connect your WiFi router to your VPN using your router admin credentials.
Download the YouTube TV app to your Smart TV and log in to your account.
That's it, now you choose the channel you want to see and enjoy it!
---
How can I stream YouTube TV into a streaming device?
If you have your VPN online on your streaming stick, then you can have your whole family together to watch the YouTube TV content you all want to see on any streaming device.
The most popular streaming sticks are Firestick, Roku, and Kodi, but Apple TV and Chromecast are so similar that they are equivalent.
YouTube TV on Kodi, Roku, and Chromecast
You can't install VPN apps on Kodi or Roku. But you can negotiate this problem, and we will show you how. This procedure will also work on Chromecast.
Since VPN apps are not an option, in this case, you need a VPN that you can install directly to your router. ExpressVPN and NordVPN support this option, but there are others. Having your router connected to the VPN needs a bit of expertise, so don't hesitate to contact your VPN's customer service. Depending on your router, they can provide you with the exact procedure to follow and even with some software or configuration files.
Here's what you do:
Choose a VPN provider with a large number of US-based servers. NordVPN is the largest one in that regard.
Configure your router so that it connects to your VPN.
Connect to a VPN server. It must be in the US to unlock YouTube TV.
Insert your Roku stick into your Smart TV or connect your Kodi.
Turn on your TV, and choose YouTube TV from the home screen.
Follow the log-in instructions.
Share and enjoy!
---
Watch YouTube TV on Apple TV
This one is a bit trickier. Unfortunately, Apple TV won't let you install a VPN app either, so you'll have to do this:
Choose a VPN having own Smart DNS network. NordVPN has one.
Find out your Smart DNS addresses. Write them down. Go to the Settings menu on your Apple TV. Scroll down. Select "Network" at the page's bottom.
Click on the WiFi button. Select your network. Click on "Configure DNS." Choose "Manual configuration."
Type in the DNS address for your VPN's smart DNS.
Restart your Apple TV.
Connect to a server in the US.
Download and install the YouTube TV app for Apple TV.
Log in to your YouTube TV account.
Start watching the videos you had in mind!
---
YouTube TV on Firestick
Installing a VPN on an Amazon Firestick is relatively easy. Here's what you do:
Configure your Amazon Firestick to allow "Unknown sources."
Download and install the VPN app you will need according to your provider.
Pick a server in the US.
Install the YouTube TV app on your Firestick.
Log in to your YouTube TV account.
Enjoy your TV stream!
---
Watch YouTube TV while you're on the go
So you're traveling, and you want to keep watching your YouTube TV? No problem. If you have the correct VPN for the task, it's a piece of cake:
Pick a VPN provider. One with an extensive US network is best, like NordVPN.
Download and install your VPN app on your device.
Join the VPN network through a US server.
Point your browser to YouTube TV or launch the YouTube app.
Log in to your YouTube TV account.
You're done! Now you can watch it wherever you are!
---
Updating your YouTube TV home area
Open the YouTube TV website in your browser.
Click on your profile picture.
Select "Settings."
Click on "Area."
Select to update "Home Area."
Click to update near "Home Area."
How can I watch YouTube TV online for free?
YouTube TV has a seven-day free trial. So if there is this one thing you'd like to watch and that won't take more than seven days, this could be the solution you're looking for. Once the trial period is up, you'll have to pay for your subscription at the standard 64.99 USD monthly rate.
Of course, this idea applies if you're in the US only. If you're not, consider paying for a VPN. Many great VPNs have 30-day money-back guarantees, so you won't lose any money if you cancel the account before the trial period expires.
To reiterate, please keep away from free VPNs; they will only complicate your life.
Final thoughts
YouTube TV is a top-notch streaming service providing content for US users only. However, since this is widely considered the best live TV service online, users from other countries naturally want to watch YouTube TV abroad.
Thankfully, using a good VPN helps you unblock the geo-location restrictions in YouTube TV.
VPNs are a must-have tool in the current digital environment. A good one will give you access to YouTube TV and many other video streaming platforms. Furthermore, it will provide you with additional features and improve your online anonymity, security and privacy in ways that no other tool can match.
We hope that this guide solves all the doubts and questions about watching YouTube TV outside the US. The gist of it is: get a VPN. It has to be a good one, though.
After reading this guide, nothing will make us happier if you decide to join the VPN community! In that case, we have made a significant difference in the level of security and privacy that you will enjoy online, and that's our main objective always.
FAQs
YouTube TV supports three connections simultaneously. So, yes, you'll be able to use the service from two different locations – provided that both are within the US or both are connected through a US-based VPN server.
Yes, it's utterly legal indeed. But it's against YouTube's terms and conditions. So you can't get in legal trouble because of this, but you could incur in YouTube's rage.
It depends on the VPN provider you choose. Unfortunately, not every VPN can support the high speeds you need for an HD video stream. Also, YouTube hates VPNs bypassing its geo-location restrictions. So, it attempts to thwart them and has a blocklist, including VPN servers.
If you want to know for sure that your VPN will work and unblock YouTube TV, pick any of the five VPNs listed above; they all work.
Go to your account and update your home area. Choose as your new "home area" the location with the local channels you want to see.
Try using a different US-based server from your provider because you picked the wrong VPN provider or the wrong server within the network. If none of the servers work, contact your provider's customer service. Or go ahead and sign up with NordVPN; it always works.