Online streaming services are game-changers when it comes to the way we consume music. They are easily accessible, allowing you to listen to millions of tracks from anywhere virtually without downloading them on your device. Even audiophiles with an affection for physical formats cannot resist the convenience of online music streaming services.
Initially, some people were doubtful about the quality of online music streaming services. However, the quality is improving significantly with some providers, including spatial Dolby Atmos and lossless audio at zero charges.
With so many music-specific streaming websites, how are you supposed to choose the right one? In this article, we have compiled the top sites for music streaming.
Top sites for music streaming – Quick list
If you are short on time to review the entire list, check out our summary of the top 10 online music streaming platforms:
Best music streaming services today – Detailed list
The competition within the online streaming space is getting tighter and tighter. So, which is the best music streaming service?
Like our list of free movie websites, sports streaming sites, live TV streaming portals, and all other lists on this site, we did extensive research and tests to come up with the best options in this case for you. Here we go:
1. Spotify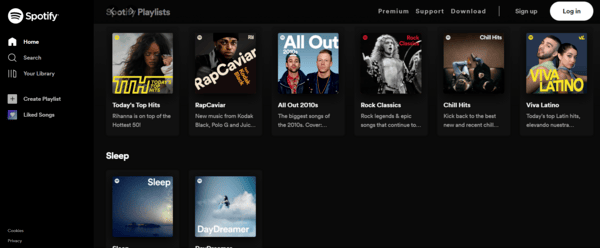 Spotify is a household name in the music streaming service industry and is available almost everywhere worldwide. It offers free music streaming online with millions of songs you can listen to as many times as you want. In addition to offering all the biggest names in the industry, the streaming giant offers free and paid subscription options.
The service is available on major operating systems, including Windows, macOS, Android and iOS. When you upgrade to the premium plans, you can listen to music ad-free, download your favourite tunes, get higher-quality audio, skip songs, and so much more.
Despite Spotify's popularity, it isn't available to everyone worldwide. Travelling may also mean that you won't be able to listen to the music you're used to at home. Spotify is only available in authorized locations. You can, however, unblock Spotify with a VPN if it is blocked where you live.
Pros
Free version
Hosts modern and old classics
Allows you to create unlimited playlists
Cons
---
2. Pandora