Online privacy is a genuine and ever-growing concern for online users today. As a result, Mozilla Firefox offers its users complete privacy. Although the Firefox browser is safe, adding a VPN extension ensures extra security and privacy.
A reliable VPN keeps your IP address and online activities hidden using private channels. It also gives you access to geo-restricted content.
Thankfully, most major VPN services are compatible with Firefox, with extensions tailored to suit the browser, each with different features and quality. But the abundant choice of impressive browser extensions makes selecting the one meeting your browsing habits challenging.
Therefore, to help you find your best pick, this guide explains the different VPN extensions, their features, and how to install them to ensure secure browsing on Mozilla Firefox.
5 Best Mozilla VPN extensions – Quick list
What is Firefox?
In 2002, the Mozilla Corporation and Mozilla Foundation released the Mozilla Firefox browser. (Did you know it was initially named "Pheonix"? Mozilla even called it "Firebird" before transforming it to today's "Firefox.")
This open-source browser works well with Mac, Windows, and Linux, including Android and iOS devices. The browser's primary search engine is Google, which doubles as its homepage. The browser operates according to the Mozilla Manifesto.
It is a private, open-source browser, making it a marvel. Unlike Google Chrome and Apple's Safari, Firefox doesn't sell its users' personal information to advertising services or firms.
Thanks to Firefox, the advent of many browser features are now considered standard. It is the first browser to introduce the bookmark toolbar and browser tabs. It is also the first browser to allow users to block ads and pop-ups.
And finally, it is the first browser that lets developers include extra features to the browser, such as add-ons and extensions.
Most recently, in 2017, the pioneer browser announced "Firefox Quantum." It is an update that significantly improves the search engine to increase the processing power and user experience.
Is Firefox good for privacy?
Firefox is a privacy-friendly browsing option if you no longer wish to let Chrome share your private data. It can automatically block over 2000 trackers, inform you of any breaches, and allow you to tweak Mozilla settings to increase privacy protection.
In addition, this browser collects some information to serve you better, including the operating system, screen resolution, and device type. Therefore, you must be armed with knowledge of cybersecurity practices to keep yourself safe.
How we selected and test these VPNs
When choosing the best VPNs for Firefox, we ensured that we ran a series of rigorous tests to only end up with the best possible options. These tests are as follows:
Speed: You need a VPN that delivers fast and stable speeds. And we made sure to speed-test every single one before arriving at the best we displayed.
Streaming: A key trait of any VPN choice must be how it handles streaming. We ensured our VPN options were excellent for streaming and could unblock multiple streaming platforms.
Customer service: In the event of technical difficulties, you need a VPN whose support team is always on hand to attend to your requests and provide solutions.
Pricing: The cost of the VPN is an essential part of the package, and the best ones often give you great value for money without hurting your budget.
Security and privacy: A VPN's primary function is to protect your privacy. Hence, you need a VPN that does that and adds much more to security and privacy features.
Do I need a VPN on my Firefox browser?
Firefox might be a privacy-friendly browser, but it's not impregnable, and you can run into potential danger. For this reason, a VPN ensures double security when surfing the internet, providing anonymity, safety, and a smooth user experience. You can evade data throttling and bypass geo-restrictions as well.
Even if you forget to turn some VPN Firefox extensions on, some will come on automatically whenever you launch the browser.
Additionally, the VPN extensions are unlike the full VPN app and thus take up less space, making them a lightweight utility. They are often straightforward, only needing a few tweaks or settings.
However, if your VPN needs to go beyond just surfing the web, we recommend getting the full desktop app, which offers a more comprehensive offering.
| VPN service | Number of connections | Money-back guarantee | Streaming services |
| --- | --- | --- | --- |
| ExpressVPN | 5 | 30 | SlingTV, Netflix, DAZN, BBC iPlayer, Hulu, Amazon Prime Video, HBO Max, Showtime, |
| PIA | Unlimited | 30 | Amazon Prime Video, Disney+, Hulu, and BBC iPlayer |
| NordVPN | 6 | 30 | Hulu, DAZN, Amazon Prime Video, Disney+, and BBC iPlayer |
| PureVPN | 10 | 31 | Hulu, Amazon Prime Video, HBO Max, Netflix, and Kodi |
| IPVanish | Unlimited | 30 | Netflix, HBO Max, Hulu, BBC iPlayer |
Is a Firefox VPN better than a browser extension?
A Firefox VPN and a Firefox VPN browser extension are two different things; you must learn the difference. The former is a VPN compatible with the Firefox browser but is not explicitly made for it. The latter is a dedicated software designed to work with and within a browser.
The VPN would cover the browser and the device it is on, but the extension only covers the browser. Thus, a Firefox VPN is much better than a browser extension.
5 Best Mozilla VPN extensions – Detailed list
1. ExpressVPN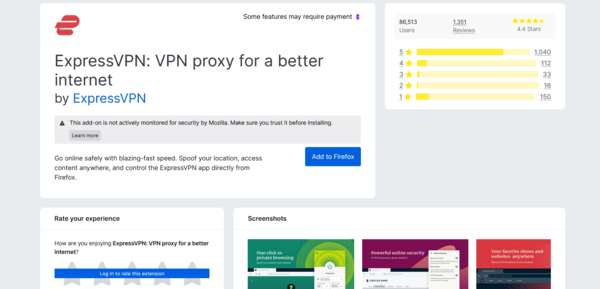 ExpressVPN stands out as the best and most popular extension for Firefox browsers. With the extension, you can control the main VPN application. You can also toggle on the auto-connection option so your browser automatically connects to the VPN when you launch it.
The ExpressVPN browser extension is a stellar piece of software marvel. With its excellent design, it still does not compromise on the quality of service — offering incredible speeds, stable connection, and even several tunneling protocols for you to choose from.
It also has an excellent security package since ExpressVPN is a formidable security service. The extension uses military-grade AES-256 encryption to keep your activities private. Moreso, if there is a break in connection with the VPN, the ever-ready kill switch steps in to hide your IP and protect your privacy. To top it off, a no-logs policy and regular external audits keep the service transparent and true to its word.
This VPN extension effectively bypasses geo-restrictions, regardless of location. You can enjoy content from every major streaming service, especially restricted libraries. The provider also offers users a free Chrome VPN extension with their accounts.
The one major flaw, however, is the pricing. At $6.67 monthly, we can agree that there is room to improve or reduce to accommodate more users. But it's not all bad; you can enjoy the 30-day money-back guarantee, which lets you enjoy the VPN risk-free.
Pros
Super speeds
Bypasses geo-restrictions for major streaming platforms
Efficient browser extension
Frequent independent audits
Cons
Expensive subscription
No kill switch feature on iOS devices
---
2. Private Internet Access (PIA)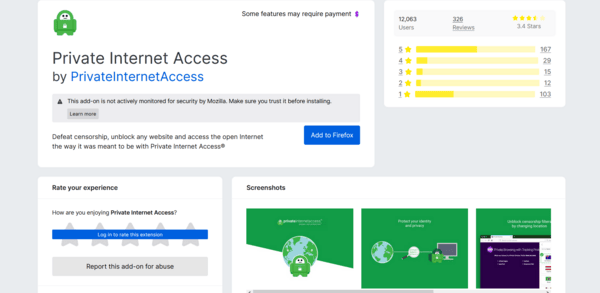 Private Internet Access makes it easy to get past geo-restrictions thanks to its massive server network, including UK, US, and Canada servers. Its unblocking feature is backed by a fast and reliable server connection, offering users a smooth, buffer-free streaming experience.
The PIA service is all-encompassing in online privacy and security. It allows for an unlimited number of connections on one subscription. It also includes a no-logs policy backed by military-grade 256-bit encryption, DNS leak protection, and a built-in kill switch.
This VPN service has 24/7 customer support, ensuring you always have help if you encounter any technical issues.
Pros
Built-in ad blocker
Multiple servers in over 80 countries
Unlimited simultaneous connections
Round-the-clock customer support
Cons
It does not work in China
App navigation is a little complex
---
3. NordVPN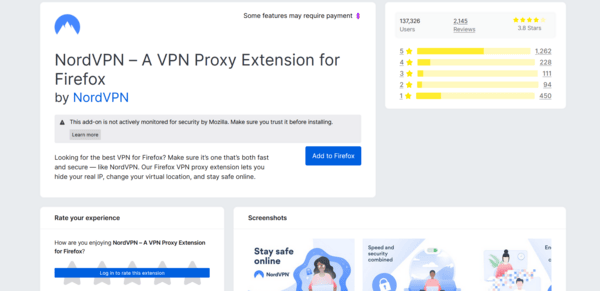 NordVPN is a secure browser extension and is excellent for Firefox. It is intuitive and easy to use.
Unlike most other extensions, it does not require installing the parent app before using it. The extension can encrypt your private traffic, preventing IP leaks. Additionally, it automatically connects once you turn on your browser.
Regarding speed, the NordVPN extension is among the fastest and most reliable. Our tests showed it clocking an average speed of 249Mbps. We must add, however, that its speeds are thanks to its NordLynx protocol which is unfortunately only available on the mobile and desktop apps — not the browser extension.
Furthermore, with over 5,000 servers in 60 countries, NordVPN can easily help you through any firewalls and blocks. As you enjoy the multiple streaming platforms, the extension keeps you safe with support for split-tunneling, custom DNS and router connections — and up to 6 simultaneous connections.
NordVPN is not expensive, coming in at $3.49 monthly and with a 30-day money-back guarantee.
Pros
Loads of security features
Excellent for unblocking streaming platforms
High speeds
You can use the extension without necessarily opening the app
Plenty of servers around the world
Great value for money
Cons
NordLynx is not included in the Firefox extension
Extensions can't select servers
---
4. PureVPN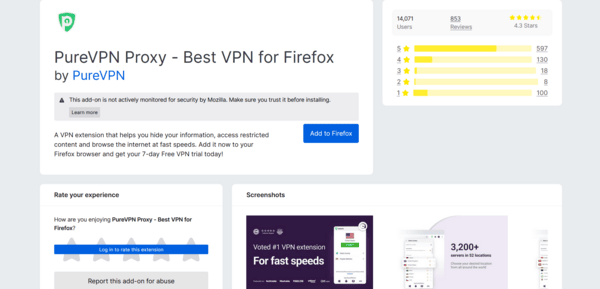 PureVPN is an excellent choice if you're looking for browser extensions for Firefox. It boasts an impressive server count, over 6,500 in over 70 countries, and a unique extension just for Firefox.
PureVPN is compatible with every major operating platform, including Mac, Windows, iOS, and Android, while supporting up to 10 simultaneous connections.
The speeds offered by PureVPN are also quite impressive, and it performs well all around. It is also very safe and utilizes high-grade AES-256 encryption to keep users safe. PureVPN also utilizes the WireGuard protocol so that you can expect high-quality speed, protection, and privacy.
You do not have to worry about geo-restrictions since this VPN extension makes light work of firewalls and censors. Therefore, you can stream every single one of your favorite shows previously blocked from view.
PureVPN only costs $2.08 monthly and comes with a 31-day money-back guarantee, a day more than others offer. It also has a 7-day trial, so you can freely explore its complete services.
Pros
Up to 10 simultaneous connections
31-day money-back guarantee
Stable and fast connection
Custom Firefox extension
Cons
No free version
Limited options 
---
5. IPVanish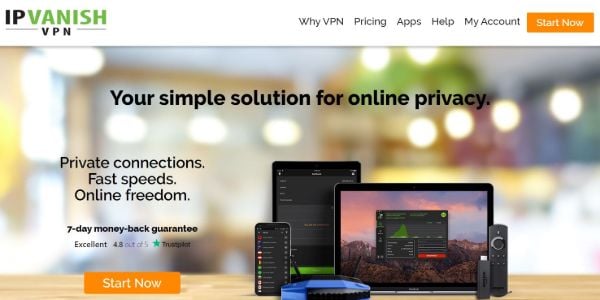 IPVanish Firefox extension is an excellent tool for users looking for a VPN that does more than you may even have use for. The IPVanish extension utilizes industry-standard AES-256 encryption, so you can ensure your browser is always protected. It also protects you from IP/DNS leaks, ensuring your location and keeping hackers at bay.
Regarding speed, IPVanish also packs a punch and provides stable and quick connections. So you don't have to worry about slowed speeds when you use the browser extension.
IPVanish is also quite affordable, costing only around $2.49 monthly, and comes with a 30-day money-back guarantee to help you save money.
Pros
Unlimited simultaneous connections
Owns their VPN servers
Easy-to-use apps
Fast connection speeds
Cons
No browser extensions
Lacks a Bitcoin payment option
---
Can I use a free VPN for Firefox?
Using a free VPN for your Firefox is possible, but it might be bad for many reasons.
Free VPNs are notorious for making money from monitoring users' online activities and selling the information to third parties. If this is not discouraging, free VPNs offer much slower connection speeds. Furthermore, they often can't bypass geographical restrictions on international streaming sites and services.
If you must use a free VPN, you're better off using a freemium. Freemiums are a free version of a paid VPN that often has a much more limited range of features and functionality than the paid-for option. They can't bypass geo-restrictions, and they don't offer as many security features. Freemiums also come with data caps, making them unsuitable for anything other than light web browsing.
If you insist on trying it, we recommend Windscribe's freemium option. It gives you access to many features and a reasonably high monthly data cap of 10GB.
On the other hand, most paid-for VPNs offer a free 30-day money-back guarantee. If you only want to use a VPN in the short term, you could try it out for a month and then claim your money back.
How to set up a VPN add-on on Mozilla Firefox
Setting up your VPN on the Mozilla Firefox browser is pretty easy. The steps are so straightforward that even a beginner can get started quickly.
Since we want you only to use the best VPN for your Mozilla Firefox, we provide the steps to set up ExpressVPN below:
Download the Firefox extension.
Click "Add to Firefox" to install it.
Click "Add" to grant the extension permission.
Check "Okay" to allow the application to run in a private window.
When the installation is complete, the ExpressVPN icon will appear on the Toolbar in the top right corner of the Firefox browser.
Click on the ExpressVPN logo.
Choose "Log in" or "Sign up" if you haven't got an account yet.
After signing in to your account, you can use the "Quick connect" feature or choose a specific server by clicking "Connect to a specific country."
After connecting to a server, the Toolbar's ExpressVPN logo turns green, indicating your connection is secured. Now you can enjoy safe browsing!
Is it safe to use a VPN add-on on Firefox?
Using a VPN extension with Firefox is safe, but only if it's a reliable and premium VPN service, for example, ExpressVPN. Using a VPN like ExpressVPN is entirely safe because it offers protection and keeps your privacy in check.
However, this is not a one-fits-all scenario; you need to be careful and do enough research before picking a VPN extension to use for your browser. Also, consider that the extensions are only good for protecting browser traffic and will not encrypt your connection.
You can get past this issue using the VPN desktop app, which will protect your online traffic and encrypt your connection to keep you completely safe. At the same time, you must be wary of free VPNs and try to stick with premium subscriptions only.
How can a VPN help with WebRTC leaks?
A WebRTC leak occurs when your public IP address is revealed due to your browser's WebRTC functionality. Your IP address is exposed to any website, and hackers can access your private information.
If you have a WebRTC leak, then we recommend getting a VPN. Its functions include blocking unwanted IP address leaks through WebRTC and, at the same time, allowing authorized and secure connections to continue under your VPN-provided anonymous IP.
Below is how you can check for WebRTC leaks and ensure your IP address wasn't leaked as well:
Disconnect from and close the VPN.
Type "What's my IP address" into Google to see your original IP address and write it down.
Exit the browser.
Re-launch your VPN and refresh the webpage.
Repeat step 2.
If the displayed IP address is the same as before step 4, then a WebRTC leak exposes your original IP address.
Conclusion
Numerous leading VPN services offer browser extensions for Firefox, which are all quite similar. These extensions are often lightweight and offer quick connections and connection time. Some extensions even connect automatically when you launch the browser.
After thorough testing, we found the five most reliable VPN extensions for the Firefox browser listed in this guide. Since you have reached this point, we're positive you must have found your best pick. Still, if you're confused about finalizing a VPN, try it first, leveraging its money-back guarantee.
FAQs
The best VPN for Firefox is hands down, ExpressVPN. We have tested other VPNs, similar to the sheer quality it offers its users. Its best features include protection against IP leaks, automatic connection, and complete privacy.
While some browsers like Epic and Opera have their own in-built VPN service, Firefox differs. However, it is such a popular browser that VPN extensions exist from almost every service.
There is also a Mozilla VPN made by the parent company responsible for the Firefox browser. The two, however, do not come as a package, with the VPN costing around $9.99 monthly.
We do not recommend using a free VPN, but if you must, the best option is Windscribe. It has a freemium service that offers a great deal of online privacy and speed even to its free users.
Unfortunately, no. Firefox Mobile browsers do not support add-ons or extensions, so you must download and use the dedicated Android app for your chosen VPN.
Chrome, Opera, and Firefox are compatible with the VPNs outlined in this article. However, note that Opera only works with PIA and no other VPN, but you can get it to work with the rest. It will involve installing Chrome extensions on the Opera browser from the add-on store.