The Chrome Browser has been the most popular cross-platform browser in the market for the past half-decade. Experts also consider it the fastest and safest browser option. One of its primary standout features, however, is its extension compatibility.
Chrome browser has many extensions, all of which serve numerous unique purposes. An extension is a software module that allows for smooth functionality between your browser and that software. The module acts as a "handshake," permitting the software to work with the browser.
However, you cannot trust the safety of your Chrome browser to be 100%, and this is by no means a jab at the developers – it is more a security issue with using the internet at large. So what do we do to ensure your Chrome browser is entirely safe, and how can extensions help?
VPN extensions are reliable, but the wrong one can spell doom for your browser and device. This article will detail the best free VPN Chrome extensions to help you determine the best and safest ones to install.
Top free VPN Chrome addons – Quick list
Seven best free VPN Chrome extensions – Detailed list
Our article here lists the best VPNs for Chrome. But below are the top-notch choices if you're specifically looking for free VPN extensions for your Chrome browser.
1. ExpressVPN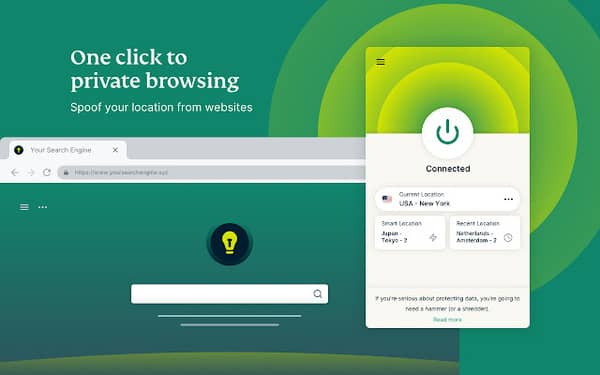 Unlike most other extensions, the ExpressVPN extension heavily depends on the native software or application. As a result, you can only use the extension if the VPN is installed and the installed application controls the extension.
It is free to use and masks your online activity, which includes your location, targeted sites, IP address, and traffic. With servers in over 90 countries, you can instantly switch from one to a better option when you need a faster connection. The VPN aids this switch with its "Smart Location" feature.
ExpressVPN has one of the largest server banks in the world, ensuring its users always have lightning-fast connection speeds and a secure and private internet experience. In addition, the ExpressVPN extension adds an extra layer of security to your browser. Its feature allows it to reroute you to only the secure versions of websites you wish to visit – filtering out any mirror or scam sites for you.
It is also interesting to mention that the extension is designed for users just using VPNs and their extensions. At its core is precise attention to detail and ease. The interface is simple enough for beginners, easy to navigate, and comes in multiple languages, so no one is left out. Furthermore, you can customize it to your taste, even in the free app version, further reiterating their commitment to user ease.
And if you have any complaints or need support, ExpressVPN has 24/7 customer service.
Features of ExpressVPN
DNS leak protection
WebRTC blocking
Open-source
Location spoofing
AES 256-BIT Encryption with RSA-4096 and SHA-512 HMAC authentication
Network Lock kill switch
Split-tunneling
Pros and cons of ExpressVPN extension
| Pros | Cons |
| --- | --- |
| Large server network | No phone support |
| Fast speeds | You need to have the native app installed to work |
| Advanced privacy features | Limited configuration |