The internet isn't private; anyone can track your identity and location through your IP address. In fact, even using the incognito mode or clearing your browsing history does not make you completely anonymous online.
Governments worldwide are increasingly becoming invasive by trying to control and monitor internet usage. Also, since data is precious nowadays, other third parties could be collecting your identifiable information in the background without your knowledge. They include your internet service provider (ISP), hackers, websites, search engines, local network administrators, operating systems, apps, etc. Besides online trackers, ads can also be used to learn more about you.
Fortunately, numerous browser extensions can help you improve your privacy. For example, ad blockers will block annoying ads, password managers secure your passwords, and VPN extensions keep you safe and private online.
Quick list of best browser extensions for online security and privacy
Here is a summary of the top privacy browser extensions if you are short on time to go through the entire article.
What is a browser extension?
A browser extension is an application that adds functionality and capacity to your browser. Also known as a plug-in, an extension can utilize the web interface (APIs) as JavaScript on a web page. But it also has its own JavaScript APIs.
Usually, web browsers have few privacy functions. Although browsers are becoming more advanced, they cannot keep up with dedicated apps like ad blockers, virtual private networks (VPNs), and password managers. But you can increase your online privacy and security by installing third-party browser add-ons.
VPN extensions for browser privacy
Online anonymity is a trait that you only acquire via a VPN. Although, you should ideally use the VPNs apps to protect your device's entire internet traffic. However, in many cases, that is impossible, or you don't need such security. In that case, VPN browser extensions are an ideal workaround to protect your browsing privacy.
1. Compatible browser add-ons from your VPN provider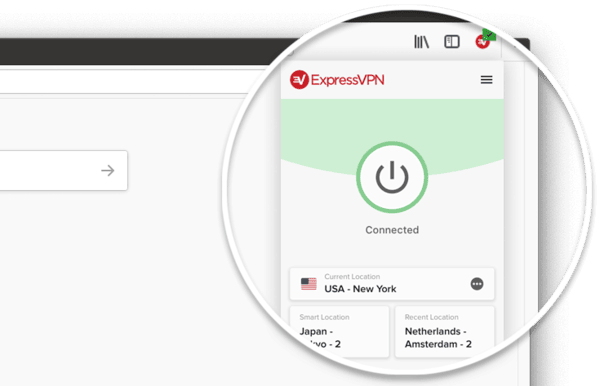 Thankfully, almost all leading VPNs of today offer dedicated browsing extensions that even work without installing the VPN client. All you need is to subscribe to the VPN service. Then, installing the compatible browser extension on your device and signing in to your account will let you protect your browser's traffic.
If you're curious about such VPNs, check out this detailed list of the best VPNs with browser extensions. You'll indeed find your best pick here. If you want a quick recommendation, we'd suggest going with ExpressVPN.
---
Ad blockers for preventing unwanted ads and script
Online ads can be very frustrating when browsing the internet or even streaming. Installing a reliable ad-blocking extension is one of the easiest ways to improve your experience. It will block ads and other malicious scripts on the web pages you visit.
Most ads are harmless, but some contain malware or direct you to sites filled with malware. Also, others have offensive content or NSFW imagery that can be embarrassing in public. Here are some of the best ad-blocking browser extensions.
2. AdBlock Plus