Password managers have become an essential tool for all security-conscious internet users, and one password manager that has captured our interest is NordPass. In 2019, this password manager stormed an already saturated and competitive industry intending to take over. In just one year, it has risen to become the favorite password manager of most consumers.
Perhaps this is because it's a product of NordSec, the same people behind the famous and well respected NordVPN, which is reputed to be one of the best VPNs on the market. But we suspect that NordPass is widely accepted because of its unique features and effectiveness. It focuses entirely on privacy, easy use, simplicity, and security rather than giving out freebies.
Although it leaves much to be desired in some areas compared to older password managers, it has gotten a few things right and fills an important niche.
What does NordPass offer consumers? Is it as good as people say it is? We shall be answering all these and more in this extensive NordPass review. Join us as we begin.
NordPass overview
NordPass is a modern software solution to people's needs. The software offers safe, secure, and private storage of passwords. Like other password managers, subscribers access their online services and accounts using strong, unique passwords while only requiring a master password.
Also, it encrypts passwords saved on its servers using secure cryptography with no inside access to it. As a result, subscribers never have to worry about their passwords being hacked in plaintext or even accessed by NordPass staff. It is available on all major platforms; therefore, you can begin using it straight from any system.
| Price | Free version | Encryption | Works on | Our rating (out of 5) |
| --- | --- | --- | --- | --- |
| Starting from $2.49 per month | Yes (1 device, unlimited passwords) | XChaCha20 | macOS, Linux, Windows, Android, iOS | 4.7 |
What is the NordPass password manager?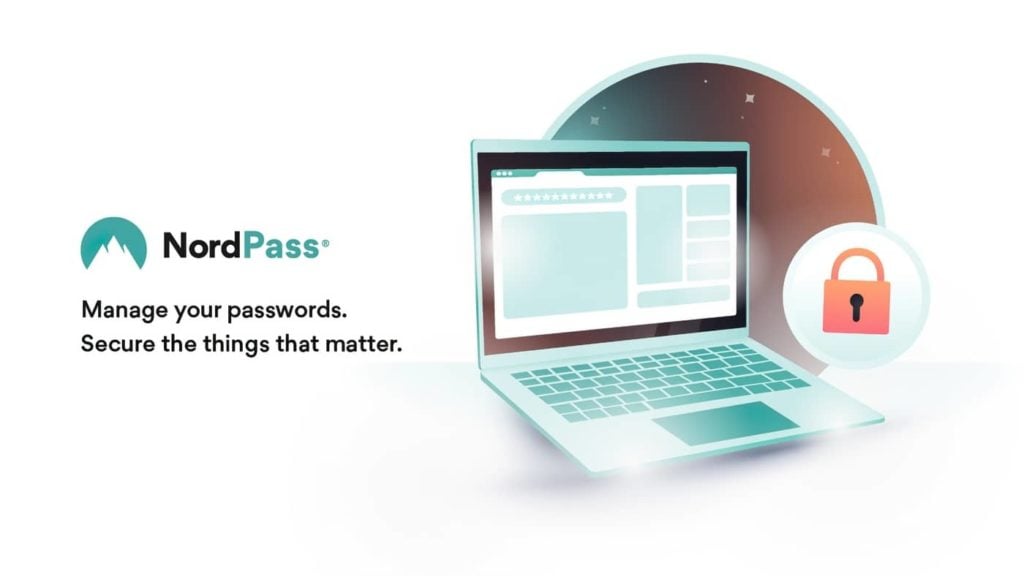 NordPass, like most password managers, is a software focused on privacy and security and can be used on desktops, mobile devices, and tablets. In summary, this password manager lets you create, keep and manage all passwords for all your online accounts in a place.
With this, you never have to memorize all your passwords. This, in turn, makes it easy and swift to log into your account. But beyond that, it also helps you create a unique and strong password for all your online accounts without the need to memorize each of them. Therefore, your online accounts will be safer and more protected than using easy-to-remember passwords for all your accounts.
Features of NordPass
NordPass possesses all the basic features of a password messenger. This includes password generation, password storage, storage of secure notes, storage of credit card details, auto-filling passwords, and so on. Let's look at these features in this expert NordPass review. Shall we?
Aesthetic, easy use interface
We love everything about the NordPass interface. It is sleek and aesthetic right from its initial sign-up page up to the apps where the software setup is done. Everything about this password manager is built to be accessible, easy to use, and suitable for all users regardless of their technical knowledge level.
In terms of simplicity, it's very easy to sign up for its services and reach various apps installed. The software isn't all in your face; it does an excellent job of staying hidden in the background and only pops up discretely when necessary. It synchronizes passwords across multiple devices effortlessly, taking only about a minute or two of your time.
We can describe the overall experience of NordPass as effortless; you will quickly get accustomed to it regardless of whatever platform you are using it on. It offers useful touches spread throughout; this includes customization of generated passwords.
NordPass makes it easy to log into your account and access passwords, settings, and other stored data in terms of account management. However, we will like to see more organizational tools such as tags for specific data groups rather than just folders. Overall, the app is easy to navigate and easy to locate anything you are searching for.
---
Automatic saving and filing of passwords
Like every other efficient password manager, NordPass enables you to save every password to all your accounts automatically. It prompts you to keep your password each time you log in to a new account.
Still, every time you have to go back to the account, NordPass automatically fills in your data and grants you access by default rather than fill in your login details again. This eliminates memorization of passwords or filling. Since you are under no obligation to remember your password, you can select a more secure password, which further secures your account.
---
Easy import of passwords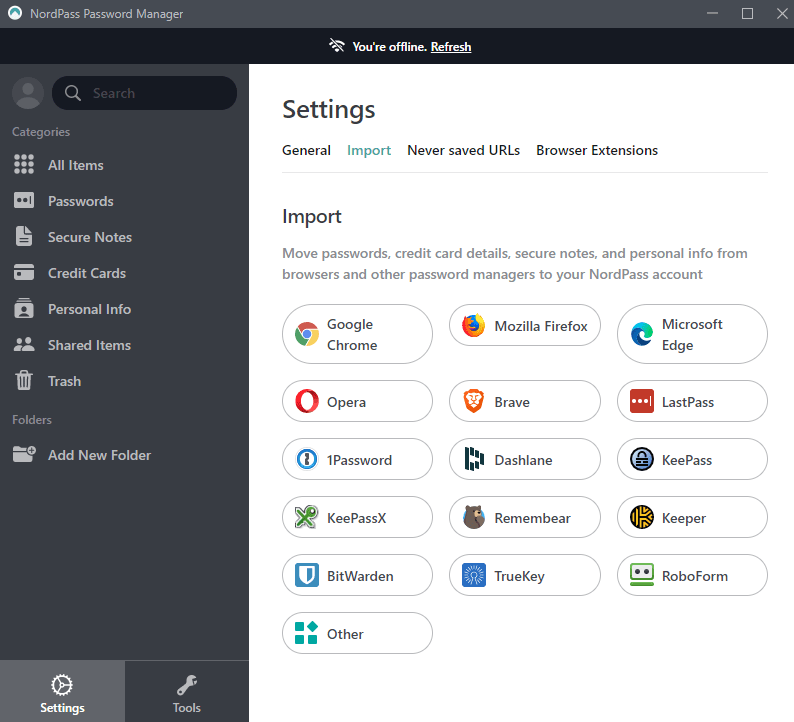 We love how easy it is to import existing passwords into NordPass. You can choose to do this in two ways; one way is to add the password from other managers manually by following a set of instructions detailed in the settings. The other option is to import your password in large quantity using a CSV file from any other password manager.
---
Storage of credit card
One of the excellent features of NordPass is the ability to save your credit card information in its encrypted vault. You can then access these card details on any NordPass compatible device. There are several advantages to this feature, including:
You will always have secure access to your security codes and credit card details.
You can safely share your credit card details.
NordPass browser extension allows you to copy and paste payment details when making an online transaction.
When you input your credit card details on NordPass, it will automatically detect the payment platform (for instance, it shows if you are adding a Master card); this gives it a nice touch. With its simple design and easy user interface, you can securely and easily save card details.
There is a downside to this, though; you cannot include your billing address. Thus, you will have to input your billing address when making an e-payment (you can also copy it from your secure notes). Hopefully, NordPass will be able to address this issue soon.
---
Secure notes
With NordPass secure notes, you can safely save unlimited text-based notes. This will come in handy for WiFi passwords, insurance policy numbers, application passwords, and so on.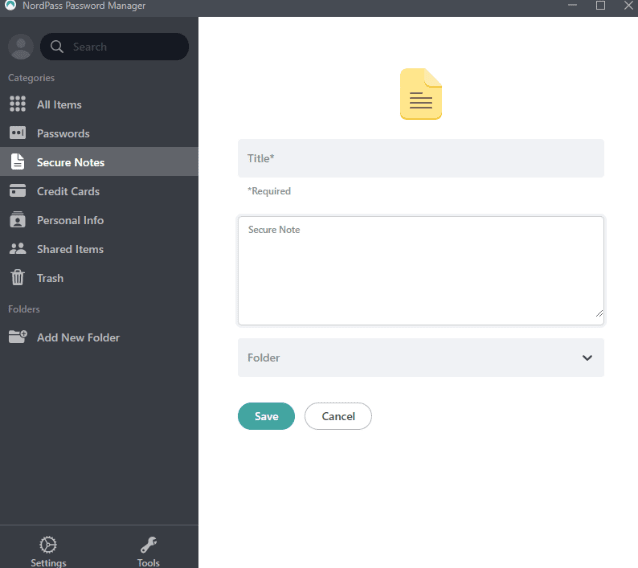 While the NordPass Secure Notes feature is excellent, it's a weak feature compared to some of the best password managers out there. For instance, with a provider like Dashlane, users can Secure Notes by category (for example, software licenses, database, legal document, etc.); it also allows you to attach files up to 1GB (this is only available on its Premium plan, though).
So, NordPass Secure Notes feature, while being useful, is relatively very basic. There is another handy product operated by the owners of NordPass, though, and that is NordLocker. It is an ultra-secure cloud storage service; we expect to see a huge discount package that will allow NordPass customers to link their secure notes to NordLocker in no distant time.
---
Password generator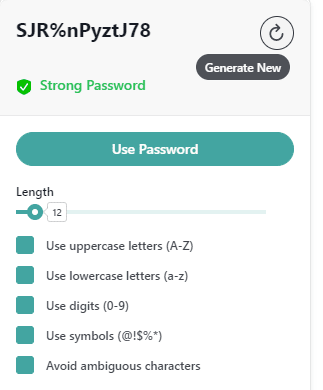 If you can't seem to come up with a solid and secure password, not to worry, NordPass can help you do that. As seen in the screenshot above, NordPass allows you to choose the length of your password and whether or not it will include uppercase, lowercase, symbol, or numbers. That helps create a strong password effortlessly.
PrivacySavvy also has a similar tool, which is more advanced and user-friendly – and free to use for life. Feel free to check out our password generator.
---
Data breach scanner
In recent times, NordPass added Data Breach Scanner to its feature. Its function is similar to password monitoring found in other password managers. As the name suggests, NordPass Data Breach automictically searches for breached databases, sensing whether they have your login details.
The scan is not limited to your account details but also goes further to scan banking information too. This way, you can prevent unauthorized log in which can lead to substantial financial loss.
These breaches, when not prevented, will open the gate wide for cyber attackers to try credential stuffing, a process of reusing your password or email gotten from other sites.
Since most users do not like committing their passwords to heart, they tend to reuse their passwords. But NordPass helps you avoid such risk; it generates a password, stores it, and then automatically fills it when you have to log in. Also, it warns you when there are data breaches.
Note: Data Breaches is only available on its Premium package. When we tried accessing it through the free plan, here is what we got: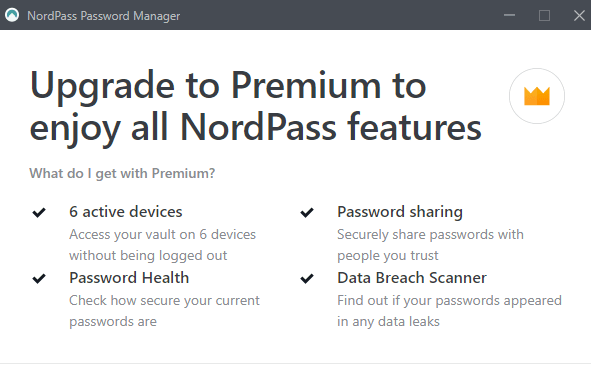 ---
Shared items
While your account is yours to use, there are times you may need to share an online subscription (such as Netflix) with trusted friends and family or give access to your colleague to access a shared account.
NordPass lets you securely share any item stored in its vault; this includes your login details, Secure Notes, or credit card details. But while its paid version permits the sharing of items, NordPass free version can only receive but not share.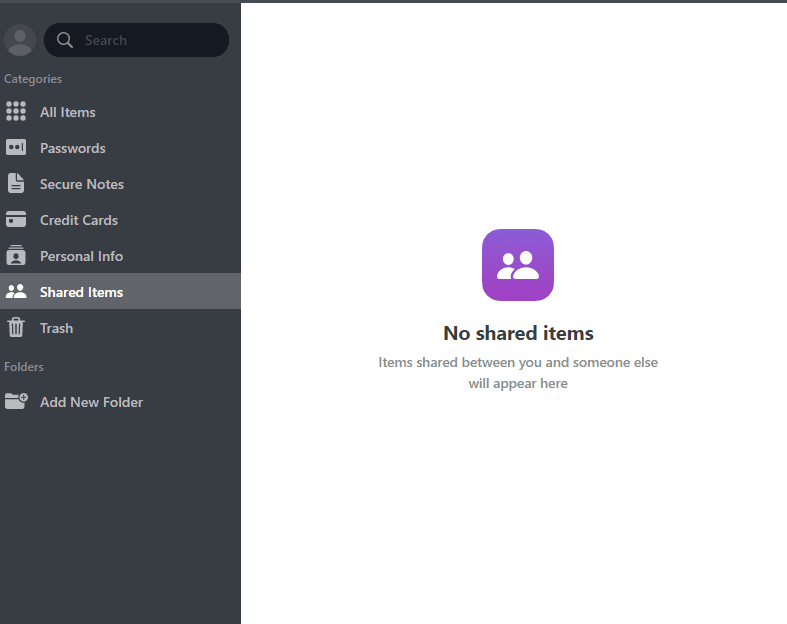 The process of doing this is quite simple. From NordPass's side menu, select Share item; NordPass will allow you to send multiple items to various people with ease.
On the other end, the recipient will have to set up a NordPass free account to receive the item. This requirement isn't peculiar to NordPass alone; every other password manager also requires a recipient to set up an account before receiving a shared item.
---
Synchronize with other devices
One of the great features of NordPass is that it allows you to add your NordPass account to about six different devices all at once. And to make it even more beautiful and effortless, it synchronizes your various devices then back them up to the cloud without you having to initiate the process.
Therefore, whenever you add a new account, you will discover its been automatically included in all your devices. We tested it ourselves and found that it works seamlessly.
That said, note that its free version does not allow up to six simultaneous connections but instead allows you to use one NordPass account on one device per time. For instance, if you switch your PC to your phone, it will log you out of your PC before connecting to your phone. However, its Premium version allows for six simultaneous connections.
---
Folders
This is not a compulsory feature; most password messengers do not have it. But, it's a nice little feature to have as it makes for more organization. For instance, if you have many passwords that require storage, you can have them all in a folder. So, you can have a folder for your social media accounts, another one for work, another for shopping apps, and lots more.
This feature is one reason we consider NordPass one of the most user-friendly password managers out there.
---
OCR scanning
OCR scanning is not a compulsory feature either. Hence it's not necessary to base your choice of a password manager on this feature. Like Folder, it's just one of those nice-to-have extras that increases ease of use for users.
With OCR scanning, you can scan information on credit cards, images, information, and lots more. It allows you to save data without having to input it.
---
TLS security
Apart from the fact that NordPass encrypts your passwords before securing them on its servers, it also conveys all data securely using strong TLS security (HTTPS). When we checked NordPass servers using Qualys SSL Labs, it scored B. Although the highest grade is A+, B is still an outstanding grade. This shows that its transport layer security is of the highest standard. Therefore your data is secure while in transit.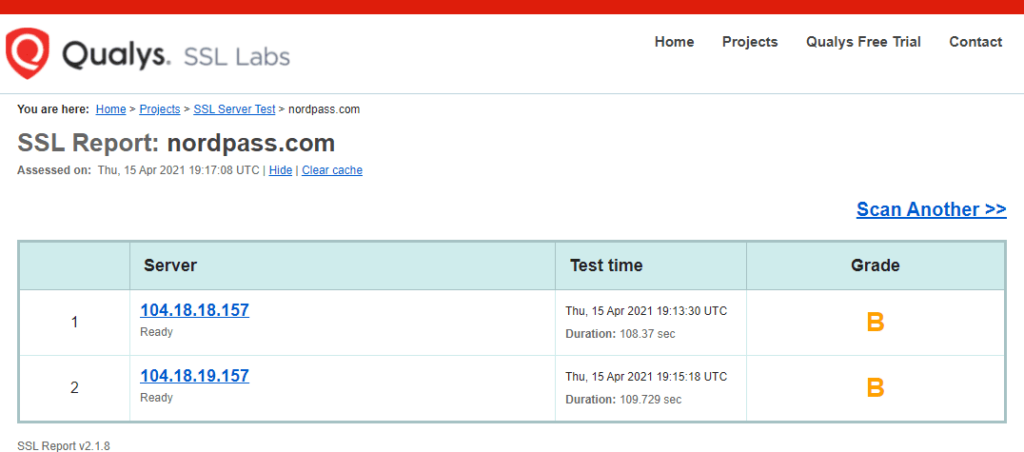 ---
NordPass encryption
NordPass offers military-grade security, just like its parent product. Most password managers and other security-based sites use AES-256-bit encryption. But NordPass, in a bid to provide more security, uses the more modern XChaCha20 encryption. This latest algorithm is approximately three times faster than AES-256.
XChaCha20 is less susceptible to some types of cache timing attacks or cyberattacks. It is said to be the future of encryption; little wonder most Silicon Valley companies are switching to it. Google is also adopting it, a further testament to its efficiency.
It ensures all passwords have end-to-end encryption, such that even NordPass has no access to your login data. Also, it utilizes a zero-knowledge approach; this further assures you of its security and safety.
Two-factor authentication
While two-factor authentication is not automatically switched on (you will have to select the option yourself), you can add it easily to your NordPass account.
Two-factor authentication adds an extra layer of security. It sends a unique code that you have to enter each time you log in, thereby ensuring more protection for your account.
NordPass two-factor authentication works amazingly well. Subscribers can use it across various authenticator apps on any other device such as smartphones and biometric information like voice recognition and fingerprint.
Also, it's easy to set up the two-factor authentication code. Just head on to the settings, click on 'enable.' A barcode and a secrete key will pop up. Any authenticator app will recognize it, but NordPass recommends using Google, Duo Mobile, or Authy authentication.
---
Authentication using a master password
All password managers require a master password to unlock your account, and NordPass is no exception. Setting up a secure password is essential for security purposes. This is no mere four-word password but rather a 15-character long password, complete with a random selection of numbers, symbols, lower and uppercase letters.
If you can't seem to get the hang of this, not to worry, NordPass can generate a password for you to suit your needs.
While all passwords on NordPass are encrypted, this is one password you can't afford to forget, as not even the customer support team will be able to decipher what it is if you happen to forget.
To avoid losing your account, we advise you securely keep the recovery code that will appear on your screen the first time you sign up. Once this code is lost, NordPass can't recover or re-share, and you will lose your account.
---
Authentication using biometrics
One of the ways of also unlocking your account is through the use of your fingerprint or face. This is more convenient and faster than inputting a long 15-character password.
However, this authentication method can only work with devices with biometric features such as FaceID or fingerprint scanners. Therefore, if you have older PC, phones, and tablet models, you will not be able to use this feature but will have to stick to the master password option to log in.
---
Secure synchronization and backup
To ensure you don't lose all your passwords, NordPass saves them in the cloud; this way, even if your phones or laptop crashes, you won't have to lose your accounts. But before it saves the password on the cloud, it encrypts them first. With this, no one, not even NordPass best tech gurus, can decrypt them.
---
NordPass compatibility
A vital part of this NordPass extensive review is looking at NordPass compatibility. It's not enough to select just any password manager that catches your fancy; its compatibility with your operating system and browser is the most crucial factor to determine before looking into other features and then making an informed choice.
Fortunately, NordPass is compatible with major operating systems and browsers. They include:
Firefox
iOS
Android
Windows
Linux
Chrome
Edge
Opera
macOS
Ecosia
Kiwi
Brave
Vivaldi
However, NordPass does not support Safari; hence if it's your preferred browser, you may want to select another password manager. Otherwise, you can switch to other browsers and enjoy NordPass.
We tested NordPass on Firefox and Chrome and looked out for the following:
Whether it will grant access to the product's main features?
How well its autofill's login details and other personal data?
How well it senses password and username columns on different sites?
Does it save new login information that wasn't in a person's vault?
Does it cause any slow down?
We are glad to announce that NordPass performed excellently well in all these areas. Upon installing the browser extension, the NordPass logo appears in all password and username fields whenever you log in. When it's login time, select your account, NordPass will autofill your name and password, and you will be in!
When you try setting up a new google account, NordPass automatically senses you are on an account setup screen; it then offers a random secure password for your new account. Upon agreement (by clicking on the agree button), it auto-fills the password into the confirm password box. Hence you don't have to type it all over again.
When you click on the Next button, NordPass will offer to save your login data in its password vault. In general, the use of the NordPass browser extension is smooth and efficient.
NordPass cost
| Plan | Key features | Cost |
| --- | --- | --- |
| Free version (1 user) | Unlimited password, password generator, sync various devices, credit card data storage, one active device per time | $0.00 |
| Premium version (6 users) | All free version features, trusted contacts, password Health, six simultaneous active devices, data breach scanner, secure item sharing | From $2.49/month |
As much as it's essential, this honest review of NordPass also takes price into account. With NordPass, the choice of payment is entirely up to you. You can choose to sign up for a free account and still enjoy lots of features.
On the other hand, you can decide to go for the Premium account. This is reasonably priced, with the starting price pegged at $2.49.
But we are sure you want to know what differences there are between the two. Let's break it down for you:
NordPass free version
While other password managers limit the number of passwords you can store on their free account, you can get the NordPass password manager free and use it without limitations. Hence, no matter the number of passwords you have to store, NordPass will always come through; it will never run out of space or ask you to upgrade your account due to lack of space to store your passwords.
But, like many other password managers, you can only use the account on one device per time. Since people are forever switching from their phones to laptops to tablets and back to phones, having to log in and out of your NordPass account so that you can use it on another device can be frustrating.
On the other hand, NordPass free version synchronizes all your devices, a feature that is convenient and makes it easy to use. Still, it allows you to store credit card info and secure notes as well.
In general, NordPass free download is excellent, just as long you don't mind always having to log in and out when you have to switch devices.
---
NordPass premium version
As expected, the NordPass Premium version is an advanced form of NordPass. It takes away all the limitations of its free version, one of which keeps you logged in to six devices all at once. Therefore, you don't always have to log out whenever you use another device; you can use as many as six per time.
NordPass free version lacks some features which its paid version has. One of these is that NordPass Premium enables you to add trusted contacts and share encrypted passwords. This feature will come in handy if you share data a lot.
Also, the paid version tells you the strength of your passwords. However, note if you create a password with its free version, you can be sure it's strong enough.
Furthermore, the NordPass Premium version offers Data Breach Scanner; this informs you if any of your information, including credit cards, emails, or passwords, has been tampered with.
---
Overview of NordPass free vs. premium version
| | | |
| --- | --- | --- |
| Features | NordPass free plan | NordPass premium plan |
| Unlimited storage of password | ✔ | ✔ |
| Storage of notes and credit card details | ✔ | ✔ |
| Secure item sharing | ✘ | ✔ |
| Six simultaneous connections | ✘ | ✔ |
| Addition of trusted contacts | ✘ | ✔ |
| Data Breach Scanner | ✘ | ✔ |
| Checking of Password Health | ✘ | ✔ |
In summary, both NordPass free and paid versions are great. Its free version, in particular, is everything a password messenger should be and even more, just as long as you don't mind switching between devices.
However, if this is something you can't tolerate, or you want a safe way to share passwords along with other features, then its premium version will be a better alternative.
---
How much does the NordPass premium account cost?
NordPass has a starting price of $2.49/month, a price so low that it's suspicious. But once you are through to it, you will discover that this low price is applicable only if you subscribe to a lengthy two-year plan.
On the other hand, if you subscribe to its one-year plan, you will have to pay $2.99/month. If you wish to subscribe on a month-to-month basis, so you can opt-out at any time, you will pay $4.99 per month.
So, if you are trying to check out the password messenger's efficiency before committing fully, you can use its free version.
---
How does NordPass password manager work?
It's effortless to create and use a NordPass account. To create an account, head on to the NordPass website, select its free or premium version (depending on which you prefer). Next, click on the download option that appears on your screen and proceed to download. Once downloaded, enter your email and password in the box provided. Now your account is all set up!
Once your account is all set, a recovery code will pop up on your screen. And as mentioned earlier in this article, you should keep this recovery code in a safe place; if you ever get locked out of your account, your recovery key is the only way you can get back in. to secure your account, the recovery code will only appear on your first login, hence be sure to keep it safe and secure and never delete it.
Upon gaining entry into your account, NordPass will ask if you wish to import all your existing passwords from your old browser or old password manager (if you had one). The most convenient way to do this is through the use of a CSV file. And true to NordPass's customer-friendly feature, it offers simple guides on how to export your passwords into a CSV file and then import them to NordPass.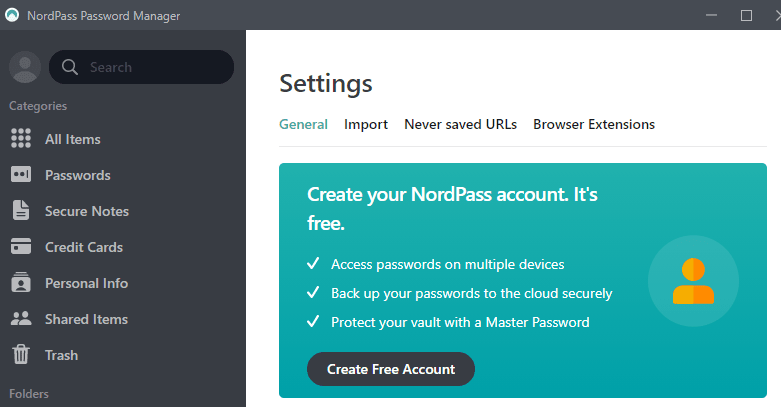 Once you are done doing this, navigating through NordPass is pretty easy and straightforward. The password manager offers lots of handy prompts for easy use; for instance, it allows you to add browser extensions; with this, you can easily access NordPass with just a click.
NordPass settings
NordPass has a simple setting interface that consists of your basic account information, import/export settings, and 'never save' URLs. Never save URLs are URLs you told NordPass to ignore in the past.

You should pay keen attention to its auto-unlock setting, though; this automatically locks your account after a specified period (usually between 15 minutes and a month). You can choose to disable this setting if you are the only one accessing the device from which your NordPass is installed.
---
NordPass mobile App
NordPass mobile is also as easy to use as its desktop version. When we tested it on an Android device, we found it incredibly swift and easy to set up. It has all the same features present in the desktop version, including options to add folders, a credit card scanner, and where to save your sensitive documents.
Customer support
We all know that most online help centers aren't as helpful as they claim to be. However, NordPass features lots of handy how-to guides and search functions that answer most of your questions.
But if you still wish to get in touch with a customer service agent, you can send a mail to support@nordpass.com; you can be confident that someone will get back to you as soon as possible with a solution to your issues.
The password messenger also features a live chat option; you can access this through its customer support website.
---
Is NordPass good?
Since the same people behind NordVPN created NordPass, a VPN reputed for military-grade security and privacy, we had high hopes that NordPass will come close to what NordVPN is. We are delighted to say that it delivered to our expectations.
This password manager is super easy to use, has water-tight security, and offers an excellent free version and even better premium version while still being well priced.
Is NordPass safe?
We can boldly say that yes, it is safe. NordPass uses every security measure at its disposal to ensure your passwords are kept safe. This includes sophisticated encryption, an all-important two-factor authentication, and automatic backups, which are standard with every serious password manager. While securing your password does not impact your experience.
Is NordPass included with NordVPN?
Right now, NordPass Premium and NordVPN are two separate entities and are in no way connected.
You can choose to include NordPass Premium in your collection when you subscribe to Nord VPN, but you will still have to pay the same price for each package separately. Hence, there are no advantages to using both VPNs simultaneously; the only thing you stand to gain is ease of use, as you can use both in one transaction.
Do I really need NordPass?
Indeed, NordPass does not have as many advanced features as many other password managers, but its ease of use is one feature that has captured our hearts; we haven't seen any as straightforward as NordPass. Also, it's straightforward to set up and use owing to its user-friendly design. It functions excellent on both mobile devices and desktops.
The only downside to this otherwise marvelous password manager is the fact that you can only use one account on one device per time. This means if you have to switch accounts each time you want to use it on another device, this can make it quite tiresome to use. However, this is not the case with its Premium account. Hence, you are better off upgrading to its Premium version, especially if you intend to use it on more than one device.
We love the simplicity of NordPass; this feature makes it an excellent choice for someone keen on password security, especially if you are setting it up on behalf of family and friends who can't handle complex apps.
Pros and cons of NordPass password manager
Pros:
It has an easy and straightforward approach
It's a security and privacy-focused password manager
Functions on up to six devices
It offers a cutting-edge encryption
Provides a data breach scanner
Its security is independently audited
Its free option is very effective
Provides live chat support
It offers tons of how-to guides for easy use
Has a responsive and helpful customer service
Cons:
It does not have as many advanced features as most veteran password managers
The lowest price requires a two-year commitment
It does not have team management features
It does not have many bonus features
Our verdict on NordPass
Having done an unbiased review of NordPass, we can all attest to its excellent features. Therefore, we recommend it for individual use and small-scale companies. This product creates a perfect balance between aesthetic design and advanced security protection, ease of use, and simplicity. Although relatively new on the market, it holds up well when compared to veteran password managers.
It has a competitive price, and as long as you are willing to commit to a two-year sign-up at once, then you will enjoy its Premium version at a very reasonable price. You can also choose to observe before subscribing; there's also a free tier and a free 7-day trial for its premium plan.
On the downside, its business and team management features aren't at par with competitors such as RoboForm, LastPass, or Dashlane. Also, it could do better with some advanced tools such as Dark Web scanning, WiFi syncing, and so on.
In general, NordPass will serve you well if you don't mind its little pros. So, go ahead with a NordPass download and enjoy the best a password manager has to offer.
FAQs
You can import data from other password managers into NordPass, including KeePass, Keeper, Dashlane, 1Password, BitWarden, and lots more. However, you will need to do this on your PC since the service is not yet available on mobile devices.
Yes, NordPass offers a fantastic free version that enables you to store an unlimited number of passwords, keep your credit card details, synchronize your passwords across all your devices, and secure notes. However, this free version can only allow one connection at a time.
NordPass and NordVPN are two different products and so do not go together. However, you can download NordPass for free.
If you plan to use NordPass on one device only, you may use the free version. However, if you plan to use the password manager on more than one device at once, you are better off subscribing to its paid version. Also, there are several other features in its premium version that are lacking in the free version.
Yes, NordPass features works on all PC, iOS, and Android devices. It is also compatible with most browser extensions such as Chrome, macOS, Linux, and so on, except for Safari.
Deleting your NordPass account isn't as quick and easy as installing it. The software features a self-help article that explains how to go about deleting your account. First, you will have to send a request to customer service. Here's a warning the service puts out:
Yes, NordPass works perwell in China.