Various companies frequently use ads to promote their goods and services and the type of content they pass across to their audience. This use of ads isn't only common among business owners, but app developers and content creators also use it to generate income.
Aside from the benefits these ads offer, they can be annoying and disturb our browsing while also putting our privacy at risk.
Imagine trying to watch your favorite movie on Netflix, only to be interrupted by an ad you've seen a thousand times. Annoying, right?
We get how you feel, and that's why we've written this article to provide you with a solution to avoid such experiences in the future.
To this end, we'll go through the best ad blockers you can use on your Android to make your device an ad-free haven. Additionally, we will explain the factors we considered when choosing these ad blockers for Android to help you make the right choice for your device.
Top 5 Android ad blockers today – Quick list
With the availability of various ad blocker extensions on the market, it is essential to pick out the best ones that will enable you to have a smooth and enjoyable online experience.
To help with this process, here is a quick review of the top 5 ad blocker extensions you can use on your device.
As we go further, we will provide a detailed overview of the above-listed ad blockers in the article. So don't be in a hurry; keep reading.
Factors to consider when choosing the best ad blocker for Android
There are various factors to consider when choosing an ad blocker for your device. So rather than looking for ad blockers just to block ads and viruses, consider looking for ad blocker extensions compatible with your device that offer you an enjoyable online experience.
Besides compatibility, here are other factors you should consider when choosing an ad blocker for your device.
| | |
| --- | --- |
| Additional Features | Antivirus, VPN, two-factor authentication, filters |
| Type of ads blocked | In-video ads, social media ads, and pop-ups |
| Compatibility | Browser extensions, Android app |
| Privacy | No-logs |
| Pricing | Flexible pricing, free trials |
Additional features
When selecting an ad blocker extension for your device, look out for those offering in-built VPN, antivirus, and two-factor authentication. An app that handles your device's security and safeguards against viruses enhances online protection and user experience.
Types of ads blocked
Before choosing an ad blocker for your device, ensure that it actively blocks all types of ads, including banners, tracking cookies, in-video ads, and social media ads.
Privacy and data-logging policy
Make sure to check the privacy settings of the ad blocker for a no-log policy. With a no-log policy, you're guaranteed that none of your data will be used or saved, providing complete privacy and data security.
Pricing options
An ad blocker doesn't necessarily have to be expensive. A good ad blocker typically offers free trials to its users or a refund policy, ensuring customer satisfaction. Furthermore, decent ad blockers have affordable pricing plans for different budgets.
Blocking filters
This feature isn't available in some ad blocker extensions. So you must confirm that your preferred ad blocker extension offers this feature. The blocking filter allows you to customize the ads you get to view alongside granting you the ability to block unwanted ads.
Device compatibility
Not all ad blocker extensions work seamlessly with some devices or browser extensions. Therefore, check whether the ad blocker is compatible with your Android device and offers a browser extension. Additionally, consider its ease of use and evaluate its setup process to ensure a smooth experience.
Best 5 ad blockers for Android – Detailed list
Here is a detailed overview of the best ad blockers for Android that meet all the factors mentioned above.
1. Total Adblock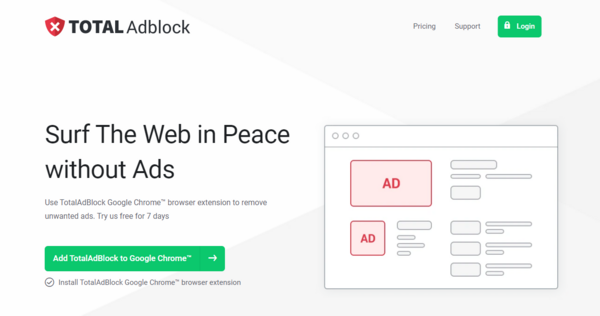 Pros
Allows users to whitelist ads and pop-ups
Completely blocks ads on video streaming sites like YouTube
Has a Total security pack that offers users real-time antivirus and VPN
Cons
It isn't available on the Google Play Store for Android users
One of the award-winning antivirus providers – TotalAV – created this ad blocker extension. As such, it is known for effectively blocking intrusive ads, including tracking cookies, banners, and in-video pop-ups that tend to disrupt your smooth browsing experience.
Regarding compatibility, regular Android users can't download the software from the Google Play Store. Instead, you can download the ad blocker's APK file from the Total Adblock website. Though Samsung users can download the software from Google Play Store, it won't be system-wide. This means there are limitations to what the ad blocker can do on your device.
Total Adblock offers different features, which include a social media filter that helps to block the like and share buttons and an annoyance filter that blocks pop-ups and cookies. It also has a tracking protection filter that blocks you from trackers and a base filter necessary for quality ad blocking.
Total Adblock offers a 7-day free trial to all its new users and a premium plan for every user who wants to get its additional features. This premium plan starts at $2.42 per month.
---
2. Surfshark CleanWeb 2.0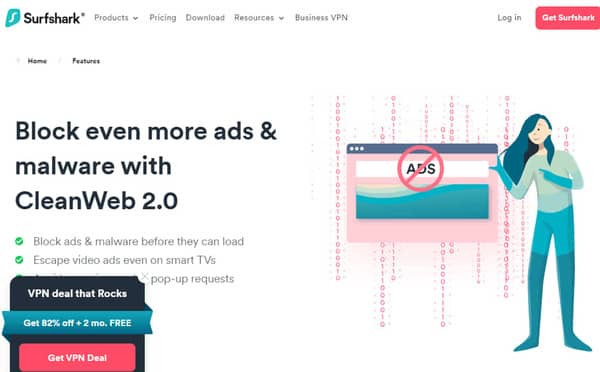 Pros
Helps to prevent phishing attempts
Can block viruses in your browser and other apps
Can be used on an unlimited number of devices
Following latest improvements, you can use this ad blocker without connecting to the VPN
Cons
The free version is only available on Surfshark VPN
Doesn't offer block filter
Surfshark CleanWeb2.0 is the newly released version of CleanWeb. Unlike its previous one, this new version has made it easier for users to use this software without connecting to a VPN. The CleanWeb feature protects against phishing attempts and viruses, granting a smooth online experience.
The software has a 7-day free trial for all its new subscribers. Its starting price is $2.30 per month, which is quite affordable for all its outstanding features. Users also get a 30-day money-back guarantee if they aren't satisfied with the software.
This ad blocker extension is compatible with Android, Windows, macOS, Linux, iOS, and Android TV. To access Surfshark CleanWeb, you must download Surfshark from the Google Play Store or download the ad blocker's APK file directly on the site. With this, you can access the Surfshark VPN and its ad-blocking features.
---
3. Atlas VPN SafeBrowse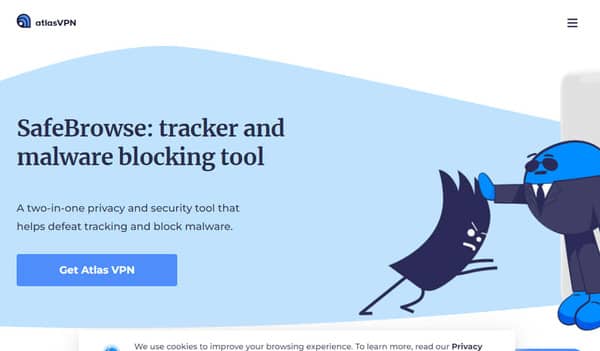 Pros
This ad blocker extension removes spyware and prevents crypto jacking
Quite affordable than its competitors
Easy to use for beginners
Cons
Doesn't allow users to whitelist ads and pop-ups
Doesn't run on browser extensions
Atlas VPN's SafeBrowse is an additional service offered by Atlas VPN to its users to enhance their online privacy and security. The app was primarily designed for mobile devices, which is why it performs better on mobile phones when compared to its competitors.
Atlas VPN SafeBrowse doesn't support browser extensions but is compatible with Windows, macOS, and iOS. You must download Atlas VPN from the Google Play Store to access this software.
This ad blocker doesn't have a free trial; it only offers a premium plan for its users. Note that the SafeBrowse feature is only available on the paid plan.
---
4. Proton VPN NetShield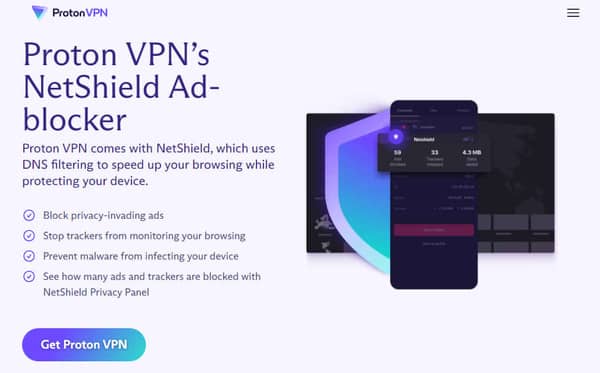 Pros
It has a strict no-log policy
The software blocks blacklisted domains
Good for blocking ads on streaming sites
Cons
The NetShield feature is only available on its paid VPN plan
It doesn't have a large server network
Proton VPN NetShield is a feature that blocks ads through DNS filtering. This feature doesn't offer a free version, but Proton VPN has a free version. NetShield is available on Android, iOS, macOS, Linux, and Windows.
The first level of security stops your internet browser from accessing files from websites that host harmful software, such as spyware or malware. The second level, alongside blocking malware, also prevents adverts and web trackers used by ad-tech businesses from targeting you.
Additionally, NetShield has a dashboard showing how many ads have been blocked and how much data has been saved while using the software.
Regarding pricing, Proton VPN NetShield has a 2-year lifetime deal, which costs 4.99€ per month, and a monthly plan, which costs 11.49€ per month. While no free plan or trial is available on this software, it has a 30-day refund policy.
---
5. Avast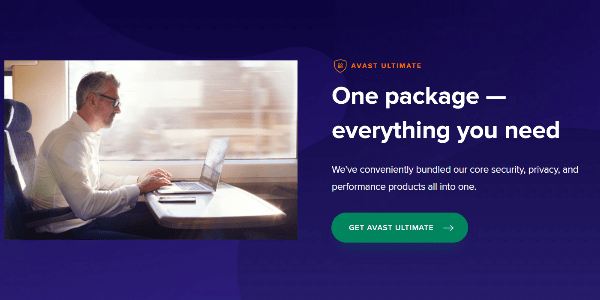 Pros
It has an adjustable ad-blocking mode
Easy to download and use
It has a rescue disk that can detect and remove malware
Cons
No separate app for Android devices
Quite pricey when compared to its competitors
Avast antivirus is one of the best software for protection against online threats. This software monitors your online activities and also blocks suspicious downloads and activities. Additionally, it blocks pop-ups, trackers, video ads, and banner ads.
The software has three ad-blocking modes: Basic, Balanced, and Strict blocking. Its strict blocking mode helps to notify you of any app that wants to access your files without your permission.
Regarding compatibility, this ad blocker extension doesn't have a separate app for Android devices. Instead, you must download Avast Secure Browser from the Google Play Store on your Android. It also works seamlessly on Windows, Linux, Mac, and iOS.
---
Why is an ad blocker needed on your Android phone?
Aside from ad blockers being able to block ads, there are many more reasons why these tools are being used. If you're wondering why having an ad blocker is necessary, this section will help you answer that.
It saves battery life and reduces data usage: Ad blockers help enhance browsing speed and preserve your devices' battery life by blocking time-consuming ads. Moreover, ad blockers stop data-guzzling ads, ensuring you do not exhaust your data plan.
Avoid phishing attempts: With ad blockers, you don't need to be bothered about online scams as they actively monitor and block threats or ransomware on your Android device.
It removes invasive ads: As earlier stated, app developers and content creators use ads as a source of income, and these ads can be invasive most times. To avoid this, using an ad blocker is advisable.
It protects your Android device: Asides from blocking ads, an ad blocker also offers additional features like antivirus and a VPN. This helps to protect your Android device from threats you didn't even know existed.
Best ad blockers for Android based on your needs
Before selecting an ad blocker for your Android device, you must identify your needs and what the ad blocker will be used for. To this end, the section below will help you gain more clarity.
Ad blockers for Android tablets: To have an enjoyable streaming and browsing experience, you can use an ad blocker to block intrusive ads on your tablet. To do this, you can use the browser extension or app.
Ad blockers for YouTube: Using an ad blocker or subscribing to a premium YouTube plan is the only way to eliminate obnoxious YouTube adverts that sometimes make it challenging to watch stuff online. It will allow you to avoid YouTube advertising while providing a fun experience.
Ad blockers for Android TV: An ad blocker can reduce the number of advertisements you see when watching a movie or playing games on your Android TV. Also, different ad blockers are compatible with Android TV, some of which come with built-in ad blockers and others that need to be manually configured.
How safe are free ad blockers for Android
Free ad blockers aren't completely safe, as some do not have a no-log policy and do not entirely block ads on streaming and browsing sites. Some other ad blockers offer new users a free plan or trial, but this free plan is often limited.
We do not support using a free ad blocker; instead, we recommend investing in a paid ad blocker for a seamless online experience. Luckily, some of these ad blocker privacy extensions offer a money-back guarantee to users, making it easier for users to withdraw if the services offered don't fit their requirements.
Browsers with built-in ad blockers for Android devices
Aside from Google, other browsers have an in-built ad blocker. This is ideal for users who don't want to go through the trouble of installing an entirely different app for ad-blocking purposes.
This section will list the various browsers with an in-built ad blocker for Android.
Dolphin Browser
Opera Browser
Pure Browser
Some of these browsers with in-built blockers block ads and prevent your device from trackers, offer fast loading time, and enhance performance speed.
Block pop-ups, redirects, and ads on Chrome
Ads on Chrome can be invasive and misleading, exposing you to viruses or threats. Therefore, you can use Google Chrome's built-in ad blocker to protect your device from these threats. To help you enable this ad blocker on your device, we've listed helpful steps below:
On your Android device, click on Google Chrome.
At the top right corner of your screen, click on the three-dot menu and tap "Settings."
Scroll down to find the "Site settings" option, and tap on it.
Tap "Pop-ups and redirects."
Go ahead and turn off the toggle for pop-ups and redirects.
Return to the "Site settings" and choose "Ads."
Disable the toggle for ads.
Google Chrome doesn't allow ad blocker extensions on Android. So, to block ads while browsing, you need a third-party app. The only browsers that allow an ad blocker extension are Samsung Internet and Mozilla Firefox browsers.
Check Google Chrome site notifications
Below is a quick guide on how to stop receiving notifications from unnecessary sites.
On your Android, go to the Google Chrome app and long-press till you see the app info option (often with an (i) sign).
Tap on the "Notifications" option.
Go to site notifications.
From there, you can check how many notifications each website sends out each week.
Go through the list and deactivate permission for unwanted websites.
Block ads on the homescreen
Some ads can overlay any app on your phone or tablet, affecting user experience. In some cases, developers request "Display over other apps" permission to ensure certain features function well.
Unfortunately, some apps attempt to deceive users into granting this permission, subsequently bombarding them with unwanted ads on their home screens.
To safeguard your device from such intrusive ads, it is essential to be proactive and take appropriate action when confronted with them. When you receive home screen ads, take a moment to identify the app responsible for sending them.
Once that's done, follow the steps outlined below to disable the "Display over other apps" permission promptly:
Locate the problematic app and long-press till the app info icon comes up.
Go to the "Display over other apps" permission.
Go ahead and turn off the "Allow display over other apps" option.
If you aren't making use of these apps, it is advisable to uninstall them.
Disable wallpaper services on the lock screen
If you're using a Samsung or Xiaomi device, you can disable wallpaper services using the steps below.
Note: These steps were done on a Xiaomi Note 11 and a Samsung Galaxy A52.
Xiaomi Note 11
On your device, go to your phone settings.
Click on the "Always-on display and lock screen."
Open the wallpaper carousel and turn it off.
Samsung Galaxy A52
To access the app drawer menu, swipe up from the home screen.
Go to the "Settings" menu.
Go to the "Lock screen" tab.
Launch the "Wallpaper services."
Click on "None."
Not all ads are bad
You might think ads are annoying and intrusive because of how often they've interrupted your streaming and gaming process. Not all ads are bad, though. Some are important in making certain decisions.
Think of a scenario where you're looking to purchase a new smartphone or patronize a service, and an ad pops up on your device with helpful information concerning the latest smartphone model or the amazing discount offered for the service. Awesome right? Now you don't have to bother about making the wrong decision.
Supporting the economy is another remarkable aspect of advertising. Businesses rely on ads to reach their target audiences, stimulate sales, and expand their ventures. As a result, this boosts economic growth, creates job opportunities, and enriches local communities. So, the next time you spot an ad for a local business, remember that it contributes to many people's and their families welfare.
In addition, ads have proven to be an effective tool for spreading social messages and advocating for various causes. Many campaigns focus on raising awareness about climate change, mental health, and diversity. Through these efforts, ads can influence positive societal changes and inspire individuals to make a meaningful difference.
While it's easy to form negative perceptions of ads, it's essential to acknowledge that not all ads are bad. By recognizing and encouraging the positive impact of advertising, we can foster a more balanced and appreciative perspective of this aspect of digital life.
Also read: Best Free Chrome VPN Extensions Available Today
Conclusion
An ad blocker is essential for individuals streaming free movies online or playing games on their Android devices. It not only effe­ctively blocks ads but also enhances de­vice security and prese­rves data usage.
When choosing an ad blocke­r, it is essential to consider your needs and preferences. Reme­mber, a reputable ad blocke­r should include features such as a VPN and antivirus prote­ction.
However, if you opt for a free­ ad blocker, there may be­ potential risks like data breache­s on your device. To ensure­ your safety, it is advisable to use a paid ad blocke­r like Total Adblock.
Finally, it is advisable­ to explore differe­nt ad blockers until you discover the ide­al fit for your Android device. Doing so will guarantee­ uninterrupted online browsing and stre­aming experience­s without pesky ads.
FAQs
Our most recommended ad blocker for Android is Total Adblock. This ad blocker protects user data by blocking banner ads, video ads, and trackers.
Yes. Google Chrome has an in-built ad blocker that disables unwanted ads.
None. We do not support the use of free ad blockers for Android devices. Instead, we recommend getting a freemium option on paid ad blockers. Moreover, we advise you to try out the Total Adblock free plan. This plan offers a 7-day free trial for all new users.
To activate an ad blocker on your Android, you must install an ad blocker on your device, use a browser with an in-built ad blocker, or manually modify your DNS settings.
Yes. Ads do this to know your preferences to target you based on your needs. They do this by gathering every information you've given while filling out a form or simply scrolling through a site or page.
Ad blockers on Android can sometimes cause compatibility problems with other apps, despite typically being beneficial in terms of facilitating a smoother surfing experience. It's important to remember that these problems are rare and typically simple to fix.