Twitch contains tons of ads that will impede your streaming experience. The best way to block the advertisements and watch Twitch content unrestricted is by using an ad blocker. However, Twitch uses robust ad-block prevention technology that hinders many ad-blocking tools.
Fortunately, some ad blockers can bypass Twitch's detection system to prevent adverts on the platform. It means you can enjoy your favorite streams on Twitch ad-free. Read on to know how to block ads on Twitch, the best Twitch ad blockers, and much more.
Quick list of the best Twitch ad blockers
Here is a quick summary of the best ad blockers for Twitch if you are short on time. Nonetheless, you can continue reading for a more in-depth analysis of each tool.
Factors to consider when choosing an ad block for Twitch
As mentioned earlier, Twitch works tirelessly to shut down ad-blocking tools. So there are specific things to consider when selecting one if you want to avoid Twitch ads.
First, the tool should block ads on the platform without showing you the purple screen. Second, the provider must be trustworthy and shouldn't collect or keep users' private information.
Furthermore, you have to decide if you want a free or premium service. Determine whether the paid service offers value for money, or the free service meets your ad blocking needs. Also, figure out if a browser extension works for you or should consider switching to a standalone adblocker app.
The best ad blockers for Twitch today – Detailed list
After thoroughly testing multiple ad blockers against the parameters mentioned above, our team picked up the following tools as the best adblockers to use for Twitch today.
1. AdGuard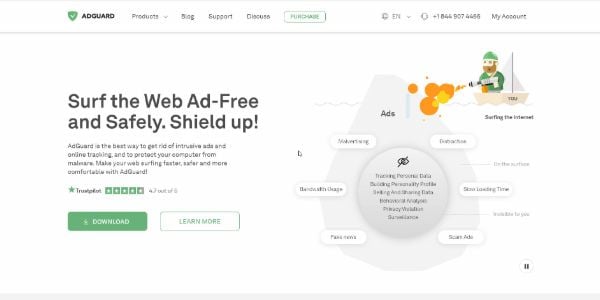 AdGuard is one of the best ad blockers for Twitch. It is a standalone open-source service compatible with multiple devices and comes with a 14-day free trial. Besides blocking Twitch ads, AdGuard will also help to prevent ads on other platforms such as YouTube. That's how it also saves you bandwidth and system resources utilized by intrusive adverts.
The ad blocker scans your browser/app and identifies the components that necessitate ads on the pages you visit. Then, it matches these elements with appropriate filters that block ads, trackers, pop-ups, etc. Also, this ad blocker filters website's codes, blocking ads even before they load.
AdGuard will also help you to stay private when accessing the internet. For example, it will prevent browsers like Bing and Google from tracking your search queries. In addition, the ad blocker automatically erases third-party cookies, removes tracking parameters from webpages, and blocks WebRTC, location APIs, etc. However, be cautious as some of these features may cause many websites not to work correctly.
Apart from the browser extension, AdGuard also offers apps for various devices, including Windows, Android, iOS, and macOS. In addition, there are subscription packages for private DNS servers and router-level adblocker.
---
Pros
Free plan available
Compatible with multiple devices
Impressive customization level
Cons
Outdated iOS version
Poor customer support
2. AdLock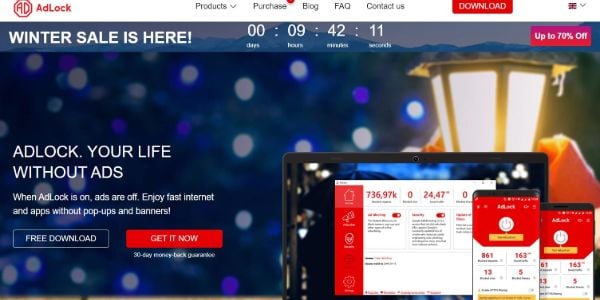 AdLock is another reliable standalone ad blocker for Twitch. What's more, it will protect you from malware and suspicious websites.
Most ad blockers offer few features and minimal customization, but AdLock has many essential features. Also, it provides valuable statistics like how much bandwidth you have saved after blocking the ads and more.
AdBlock is available as a browser extension and a standalone app to protect browsers and other apps. It is worth noting that AdLock effectively blocks ads even on the most restraining websites.
Moreover, AdLock is a convenient Twitch adblocker for Android users. It offers a handy Android .apk file that requires no rooting or jailbreak for installation.
---
Pros
Blocks ads, trackers, etc.
Offers helpful information and statistics
Tons of customizations
Cons
Detected by some websites
No free plan
3. CyberSec (NordVPN)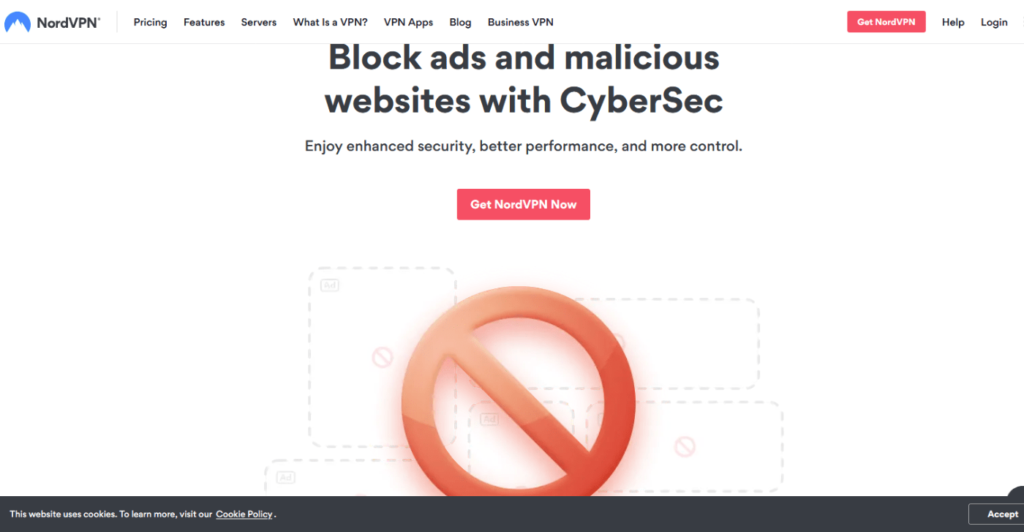 CyberSec is NordVPN's ad blocker that blocks ads, malware, trackers, and other internet nastiness. It is included in the NordVPN subscription and works quietly in the background to block browser and in-app ads.
Fortunately, the service will also safeguard you from phishing scams, DDoS attacks, malware sites, and other online threats. It works by counterchecking the sites you visit against a database of dangerous domains before giving you access. Also known as DNS filtering, this is a simple but effective way to keep you safe online.
It lacks in-depth features or customization and statistics like other popular ad blockers. However, CyberSec is a helpful addition to the NordVPNs robust security and privacy. Although it isn't good at blocking website trackers like other adblocking tools, it effectively blocks adverts on Twitch.
NordVPN has recently added another security feature known as Threat Protection. It helps block intrusive ads and reinforces the protection against trackers and malware. You can enjoy these and more outstanding features by subscribing to NordVPN. There is even a 30-day money-back guarantee if you are skeptical about the service.
---
Pros
Beginner-friendly
Included in NordVPN's subscription
Effective at blocking ads
Cons
Lacks customization options
Complicated DNS filtering
4. uBlock Origin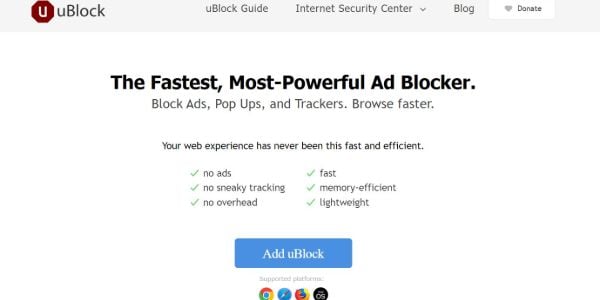 uBlock Origin (uBO) has a long-standing reputation for blocking ads and preventing trackers on websites. It will come in handy for Twitch and other streaming platforms such as YouTube. The ad blocker works by blocking domains from known advertising and malware sources. UBO allows you to create or import custom block lists if there are sites you'd like to display ads.
Thankful, uBlock Origin is lightweight with a small footprint. So, it will have a low impact on your system resources. Thus, it becomes an ideal option for lower-powered devices that struggle to stream HD content on sites like Twitch. However, keep in mind that activating many filters will make the ad blocker use more resources to run. Therefore, pick only what is essential if your device has a low memory/CPU.
The default setting will be enough to block ads on Twitch. However, you can activate uBlock Origin's dynamic and zapper filtering to remove specific elements on websites. You will get these advanced features at zero cost since the ad blocker is open-source and entirely free.
---
Pros
Advanced features for technical users
Open-source and entirely free
Support for a custom block list
Cons
Available for browsers only
No official support
Best ways to block ads on Twitch
Besides an ad blocker, another effective way to avoid Twitch ads is by using a Twitch VPN. However, none of the two can overshadow the significance of the other tool. Each tool has its weaknesses and strengths, depending on how it works. Therefore, the ultimate choice of a Twitch adblock method depends on your preferences.
Below are some of the pros and cons of both methods.
Pros
VPN
Encrypts your traffic to keep you safe
Changes your IP address
Spoofs your location
Unblocks streaming services
Adblocker
Many free, reliable options
Low impact on your system
Reduce bandwidth
Prevents malware
---
Cons
VPN
Reduces internet speed
Premium services require a paid subscription
Adblocker
Doesn't bypass geo-restrictions
Doesn't protect your internet connections
---
Other ways to block ads on Twitch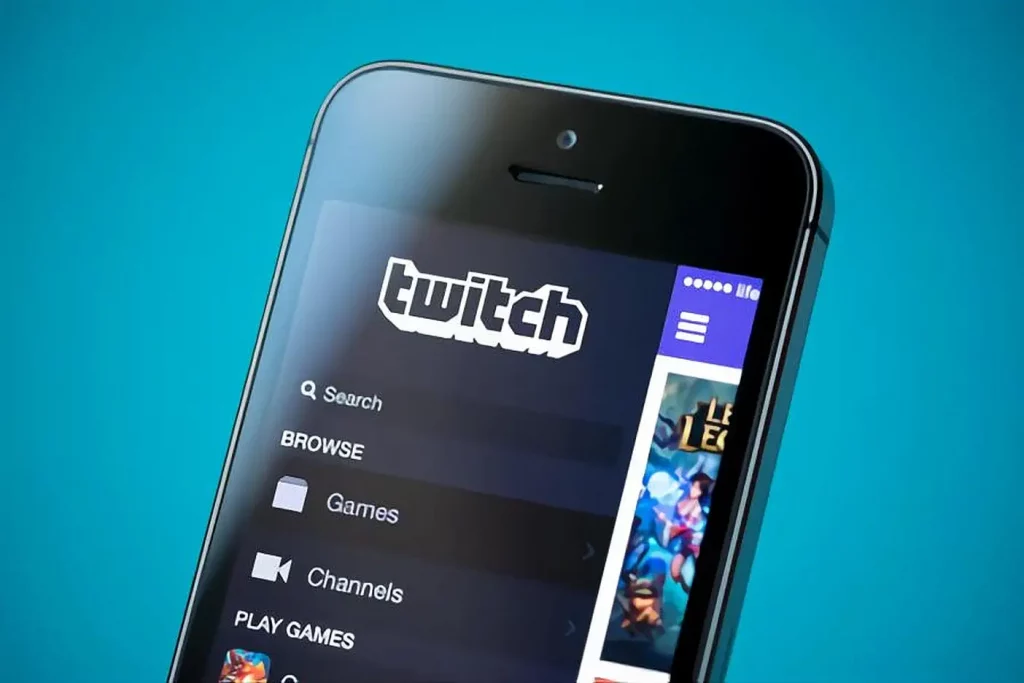 Apart from ad blockers and VPNs, there are other ways you can block the annoying ads on Twitch. They are effective at blocking pre-roll and mid-roll ads.
1. Adblocker browser
An ad-blocking browser is another method of blocking ads on Twitch. Some web browsers such as Brave and Opera have mechanisms to block third-party advertisements and trackers. As a result, you'll be able to enjoy your favorite Twitch streams without restrictions. Sadly, this method will not stop pre-roll and mid-roll ads.
Ad-block browser works similarly to ad-block extensions, but the implementation is done at the browser level. Hence, pages break, and websites fail to load correctly.
Although an ad block browser is a simple and free method of blocking ads on Twitch, it isn't as fast as its competitors. Therefore, live streams on Twitch tend to buffer, and the video quality drops considerably. Some of the common examples include Brave, Opera, and Firefox. However, Firefox does not load Twitch while Opera isn't secure. Therefore, opt for Brave as it is easy to set up and doesn't compromise your online security or privacy.
---
How to prevent ads on Twitch with an ad-blocking browser
Go to the browser's download page
Run the setup file once the download is complete
Launch Twitch, and it will no longer display ads
2. Ad-block proxy
A proxy reroutes your traffic through an intermediary server instead of your ISP. So, it acts between your device and the webpage you are visiting, making your traffic seem to originate from the proxy servers.
Like a VPN, a proxy will enable you to spoof your location, allowing you to access Twitch in countries that exempt ads. Proxies are an affordable way to block Twitch ads, but you won't get online protection like with a VPN.
Purple ads blocker and TTV LOL are the two most effective ad blocker proxies. However, you should avoid TTV LOL, as it may collect your private information and expose your IP address.
Note: Ad blocking proxies have limitations and security risks. For example, there isn't an option to choose your server location, so you might be assigned a far-away server, which might impact the quality of the Twitch streams.
---
How to unblock Twitch ads with an ad block proxy
Go to Chrome App Store or Firefox listing.
Next, search for the "Purple ad blocker" tool and download it.
Proceed to install it; the proxy will configure automatically.
Start streaming; those annoying ads will disappear on Twitch.
Why you should avoid ad-block proxy
A proxy works by assigning you a new IP address when you connect to a server. However, this compromises your privacy as the provider may keep or leak this identifying information. For example, in 2021, TTV LOL revealed users' IP addresses and Twitch IDs on some servers.
In addition, TTV LOL's privacy policy isn't clear as it states that the provider collects your IP address and other data for diagnostic purposes. Moreover, the company vaguely says that it may collect more information in the future. There is no clarification on the type of information it intends to gather, but it may include private data. That's why we recommend you to avoid TTV LOL as a Twitch adblocker tool.
On the other hand, the Purple Ads blocker has a more ambiguous privacy policy; it is brief with only two incoherent sentences.
As you can see above, ad-block proxies leak IP addresses and aren't clear on their data collection practices. So, you should avoid them if you want to stay secure online. The most effective way to block Twitch ads is a VPN.
3. Use Twitchls
Twitchls is an open-source platform that lets you watch Twitch streams in an embedded video. This method comes with limitations, although it blocks all ads on Twitch. For example, it stops interaction-based rewards such as Twitch Drops and Channel points.
Twitch requires you to login into your account to access the streamer's chat. Thankfully, Twitchls has not suffered known data breaches, so there isn't a reason to distrust it. However, keep in mind that this is a third-party platform unrelated to Twitch. So, it is up to you to decide whether to share your personal information.
Furthermore, the platform lacks some features that you can find with its competitors. For instance, it doesn't automatically load the stream quality. Instead, you'll have to manually select a higher quality in the video settings and refresh the live stream again.
---
How to block ads on Twitch with Twitchls
Open the Twitch website.
Go to the URL that reads "Twitch.tv".
Replace the ".tv" with "ls.com."
A new window with the URL "twitchls.com" will open.
Adblocker vs. VPN for Twitch
Adblocker
Twitch has tons of ads that will spoil your streaming experience. For example, you can be served up to 10 adverts during a long ad break, which can be annoying. In addition, the same ad can repeatedly appear at different intervals throughout the stream in some regions.
For example, countries like Germany, the UK, Sweden, and the US show many Twitch ads. So, you can use a VPN to spoof your location or use a reliable adblocker if you live in these locations.
We'll show you how to change your location and pretend to be in another country with a VPN to evade Twitch ads. For instance, you can connect to a server in countries where Twitch doesn't show ads, like Ukraine, Russia, Mexico, and Serbia.
Sadly, ad blockers can cause problems like breaking other web pages. Also, some ad blocks have difficulty with Twitch, resulting in the notorious purple warning screen. Therefore, you should choose a reliable ad blocker that works with Twitch.
---
VPN
Remember that Twitch does not show ads in all countries. So, one of the best ways to evade Twitch ads is to spoof your location with a VPN. Countries with fewer or no ads include Ukraine, Serbia, Costa Rica, Russia, and Colombia.
A VPN works by masking your IP address. So, you will only need to connect to a server in any country where Twitch doesn't show ads to access the platform ad-free. Indeed, this can change, and Twitch could start serving ads at these locations.
---
How to block Twitch ads with a VPN
A virtual private network (VPN) is an advanced tool to block ads on Twitch. Simply use the following steps to configure a VPN with Twitch.
Subscribe to a VPN service that works with Twitch. (We recommend NordVPN.) After deciding on one, navigate through the provider's website and select the subscription package that suits you best. Thankfully, it allows you to test the service risk-free with the 30-day money-back guarantee.
Download and install the appropriate app for your device,
Connect to a server in a country where Twitch does not show ads. The closer the server, the better the speed since the data packets are traveling a shorter distance.
Launch Twitch and watch your favorite content ad-free,
What is Twitch purple screen error, and how to solve it?
Sometimes you can be interrupted by a purple screen while enjoying your favorite Twitch stream. So, what is the purple screen, and why does it appear?
Advertisement is the primary revenue source for Twitch, which is why it forces you to watch ads. But, remember, this is a free platform, and it wouldn't be able to maintain operations and make a profit without advertisers. So it works tirelessly to block ad-blocking tools to prevent people from skipping ads.
In most cases, Twitch will block your connection and display the purple screen when it notices that you are using an ad blocker. It is to notify you to deactivate the ad blocker. Fortunately, you can use a reliable ad blocker that isn't detected by the platform and enjoy Twitch streams without ads.
How to evade Twitch purple screen
---
1. Use Twitch's main website
You can use a third-party website to watch Twitch streams, such as Multistre.am. However, Twitch will see it as a way to avoid the ads that power the service, and a purple screen is likely to appear. So, it is better to use Twitch's official site.
2. Disable the ad blocker
Not all ad blockers work with Twitch, and that's why the purple screen is rampant. However, you can prevent it by disabling the ad blocker on your device. Or better yet, use one of our recommended options above or a VPN.
Will Twitch Prime remove ads for me?
Twitch has a premium membership package known as Twitch Prime. It includes Amazon Prime and Prime Video subscriptions and allows you to stream unlimited videos. Additional unique features include free monthly games, chat badges, a free monthly Twitch subscription, exclusive emoticons, etc.
Initially, Twitch Prime was ad-free but started showing ads in 2018, notwithstanding the subscription fee it charges. However, you can use the adblocking techniques discussed above to remove the ads.
Conclusion
Twitch is a great platform to stream a wide range of content from gaming, sports, music, entertainment, etc. But unfortunately, you have to bear with intrusive ads on the platform. But using the effective ad blockers shared in this article will help you prevent pre and mid-roll ads on Twitch and enjoy uninterrupted streaming.
Though none of the tools can warrant fool-proof results, they can still significantly reduce your encounter with those ads to improve your streaming sessions. Also, such tools protect your devices from the malicious trackers embedded within the advertisements. So, they're worth trying for Twitch.