Twitch contains tons of ads that will impede your streaming experience. The best way to block advertisements and watch Twitch content unrestricted is by using an ad blocker. However, Twitch uses robust ad-block prevention technology that hinders many ad-blocking tools.
Fortunately, some ad blockers can bypass Twitch's detection system to prevent adverts on the platform. It means you can enjoy your favorite streams on Twitch ad-free. Read on to learn how to block ads on Twitch, the best Twitch ad blockers, and much more.
Quick list of the best Twitch ad blockers
Here is a quick summary of the best ad blockers for Twitch if you are short on time. Nonetheless, you can continue reading for a more in-depth analysis of each tool.
Factors to consider when choosing an ad block for Twitch
As mentioned earlier, Twitch works tirelessly to shut down ad-blocking tools. So there are specific things to consider when selecting one if you want to avoid Twitch ads.
First, the tool should block ads on the platform without showing you the purple screen. Second, the provider must be trustworthy and not collect or keep users' private information.
Furthermore, you must decide whether you want a free or premium service. Determine whether the paid service offers value for money, or the free service meets your ad-blocking needs. Also, figure out if a browser extension works for you or should consider switching to a standalone adblocker app.
The best ad blockers for Twitch today – Detailed list
After thoroughly testing multiple ad blockers against the parameters above, our team picked up the following tools as the best ad blockers for Twitch today.
1. AdGuard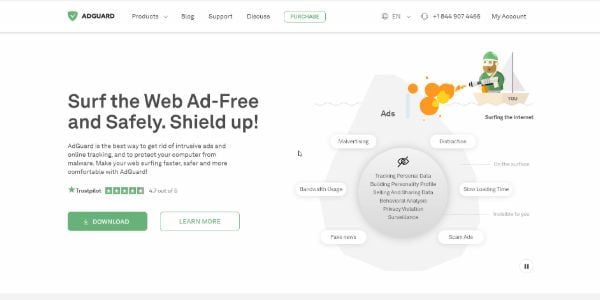 AdGuard is one of the best ad blockers for Twitch. It is a standalone open-source service compatible with multiple devices and offers a 14-day free trial. Besides blocking Twitch ads, AdGuard will also help to prevent ads on other platforms such as YouTube. That also saves you bandwidth and system resources utilized by intrusive adverts.
The ad blocker scans your browser/app and identifies the components that necessitate ads on the pages you visit. Then, it matches these elements with appropriate filters that block ads, trackers, pop-ups, etc. Also, this ad blocker filters website codes, blocking ads even before they load.
AdGuard will also help you to stay private when accessing the internet. For example, it will prevent browsers like Bing and Google from tracking your search queries. In addition, the ad blocker automatically erases third-party cookies, removes tracking parameters from webpages, and blocks WebRTC, location APIs, etc. However, be cautious, as some of these features may cause many websites not to work correctly.
Besides the browser extension, AdGuard offers apps for various devices, including Windows, Android, iOS, and macOS. In addition, there are subscription packages for private DNS servers and router-level adblocker. 
---
Pros
Free plan available
Compatible with multiple devices
Impressive customization level