How to watch Netflix in China – Step-by-step easy guide
Fearing to miss out on your favorite Netflix library content because you'll be traveling to China? You should not. This article explains how you can watch Netflix in China without hassle.
Streaming Netflix in China without interruptions is a dream come true for every binge-watcher traveling to that region.
That's because the conflicting practices of Netflix services and China's authorities have made it a problem for avid streamers to stay connected to their favorite media.
Nonetheless, you can watch Netflix in China if you go carefully. Here I summarize the steps to unblock the streaming service in China without hassle.
The quick guide to watch Netflix in China
In rush and can't give the full article a ready? No problem. Simply follow the steps below to enjoy your favorite content:
Choose a robust VPN. Some of the service providers like ExpressVPN (our #1 recommendation here) seamlessly work in China.
Connect to an appropriate server. For example, if you want to watch USA Netflix in China, you should connect to a US server.
Start streaming Netflix. You can use the Netflix app or website to watch your favorite content.
Why can't I watch Netflix in China?
Legally, you can't find anything against Netflix services in China. Yet, you can't always stream what you want whenever you travel to China. It doesn't happen because of any regional restrictions by Chinese authorities. Instead, the main reason here is the content licensing.
Precisely, Netflix has permitted certain countries to stream its content. For this, the service has entered into various licensing agreements with those nations. (That's how you can access Netflix easily in most countries and can watch all media permitted for streaming there – what you consider the Netflix media libraries for those countries.)
Unfortunately, China isn't listed among the regions where Netflix holds a license for streaming.
In simple words, the service isn't blocked there. Nor is the website. Yet, you can't stream anything because of no license for the content.
So, it's something like an indirect ban, for which Chinese users need not worry because they have their alternative streaming platform "iQIYI" – the Chinese version of Netflix.
However, for travelers, tourists, and other people in that region, this is quite frustrating. Despite being a valid subscriber to Netflix, you'll remain disconnected from the platform for all the days you spend in China.
Nonetheless, you can eliminate this frustration if you follow our guide to bypass regional restrictions and unblock Netflix in China.
How to watch Netflix China – An easy four-step detailed guide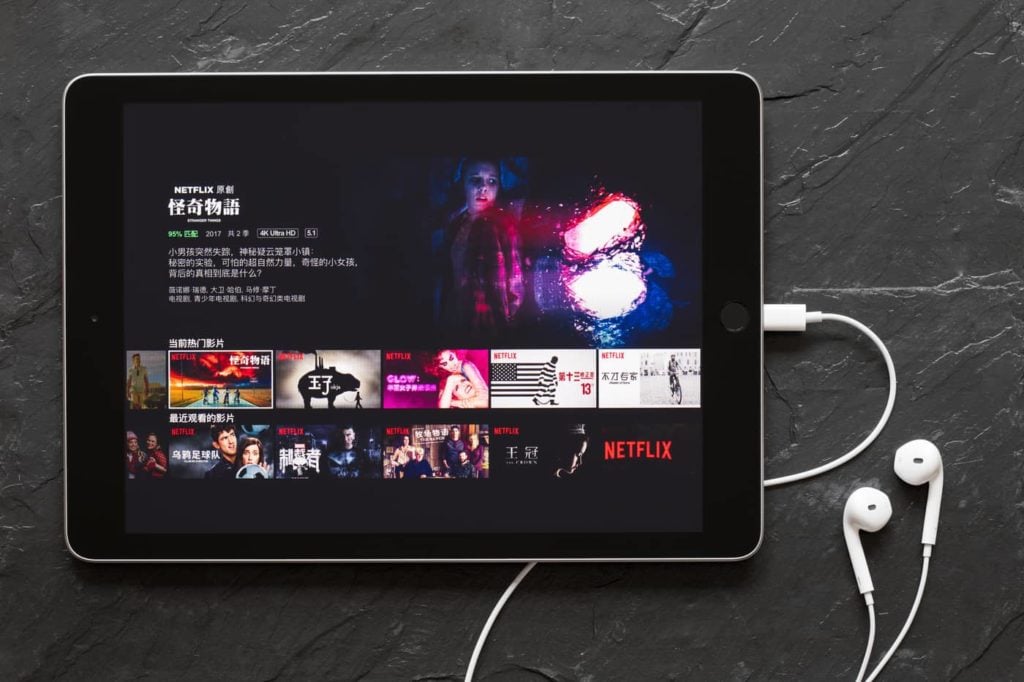 Now that you know you can continue to watch your Netflix movies and shows even in Mainland China, the question is, how exactly to do that?
The answer is simple, by using a VPN.
I have previously shared a detailed guide to unblock Netflix anywhere. Following that guide will surely help you stream easily.
Yet, to make things more straightforward, below, I explicitly describe the steps you should follow to watch Netflix in China.
1. Subscribe to a robust VPN service
Though the market is flooded with countless VPNs, not all of them are robust enough to bypass the Great Firewall of China.
In fact, you will find many VPNs, otherwise claiming premium quality, not working in China. And they also admit it openly. (Good for them.)
So, before you subscribe to any VPN randomly, be sure about two things;
#1. that it works in China
#2. that it unblocks Netflix without showing errors (at least, not frequently).
You can cross-check these things by going through the VPN customer reviews.
Whereas, if you're running short on time, then I have listed a few good China VPNs later in this guide.
2. Download and Install the VPN on your device
Once you subscribe to a VPN, go ahead and download the VPN client for your device. It'll only take a few minutes, and you'll have the setup file that you can proceed to install.
Doing so neither requires you to be tech-savvy nor needs any input from you. All you should do is enter your account credentials when prompted.
3. Configure the VPN
After signing in, you need to connect to the correct VPN server.
Here I mean that you should connect to a server that is fast-speed, has less load, exhibits low latency, and of course, corresponds with the Netflix library you need to stream.
For example, if you want to watch American Netflix when in China, connect to a fast-speed USA server.
Also, you may need to turn on some additional features (if available) to make your VPN run in China, such as stealth browsing. You may contact the VPN support team to help you with it.
P.S. make sure that you make all of this effort before arriving in China. Ideally, you should have your VPN activated and well-configured on your device when you land in that region.
4. Start streaming Netflix – but don't lose patience
Once your connection establishes, check for possible IP leaks. When you're all set, head on to the Netflix website or app and start streaming.
Ideally, consider streaming via the Netflix website as bypassing geo-restrictions with the app is quite tricky.
While you should technically get access to your favorite media after all this effort, you might still face errors, such as proxy errors. As evident, you can't easily use a VPN, mainly, to watch Netflix in China. So, you may have to switch the servers a few times before you eventually land at the right one.
Best VPNs to watch Netflix in China
As you know, VPNs are a great resource for bypassing regional and content limitations anywhere in the world.
Though, using a VPN in China isn't easy because of the repressive practices of the authorities. Yet, since VPNs are not precisely illegal in China, some VPNs still work there effectively well.
So, you have to subscribe to one such VPN that has a promising operation in China. Also, you should ensure that whichever VPN you choose also supports unblocking Netflix. (As you might already know, most VPNs and proxies end up showing that annoying Netflix proxy error to you only, and nothing else.)
After a careful selection of the VPN, you're free to stream Netflix the way you like.
If you're wondering about where to find such a VPN, then check out this list of the best VPNs for China. Most of these VPNs work with Netflix as well. Thus, you can simply go through the guides and choose the VPN service that best meets your browsing requirements.
Yet, if you want to quickly know the best of the best VPNs that unblock Netflix even in China, then here are some recommendations.
ExpressVPN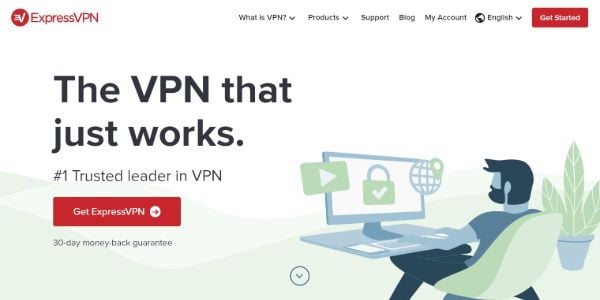 My first recommendation to watch Netflix in China without interruptions is the ExpressVPN.
ExpressVPN is my favorite because these guys have resiliently fought for the freedom of the internet over the years. Despite the extensive crackdown against VPNs by countries like China, ExpressVPN defiantly continues to serve the privacy-savvy users there.
Also, this VPN service has endured all attempts of detecting and blocking VPNs and proxies by services like Netflix. That's why, when using this VPN, you observe the most minor errors during streaming.
Of course, with a network of 3000+ servers spread across 94 countries, you should expect this VPN to exhibit robust performance.
Besides, it also employs server obfuscation technology that makes your internet traffic similar to the regular data packets. That's how it bypasses all VPN checks by the government as well as by the Netflix service. Hence, what you get is a smooth streaming experience.
You can try this VPN now to assess its feasibility. Also, don't worry about the money. ExpressVPN offers a no-risk 30-day money-back guarantee. So, if you don't like their service, simply contact their support to get a refund.
Surfshark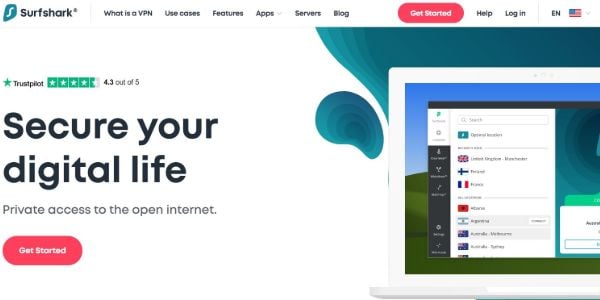 Another VPN that has now joined the list of my favorite VPNs is Surfshark.
Within a few years, this service provider has brought significant improvements in its service. Today, it has established a massive network of over 3200 servers in 65 countries. That gives you a vast number of server locations to connect.
Besides, the service provider also offers loads of premium features to the users, such as CleanWeb (malware and ad blocker), the Camouflage Mode (stealth browsing), MultiHop (double VPN feature), and the NoBorders Mode (browsing mode typically aimed at using the internet in repressive regions like China).
Indeed, together with all these features, you can imagine the level of privacy you get when using Surfshark. And, of course, you can expect this VPN to unblock Netflix in China as well.
Yet if you're skeptical about its claims, test this VPN yourself for a month. If it fails to impress you, simply get in touch with its 24/7 available support team to ask for a refund. Thanks to their 30-day risk-free money-back guarantee that your money remains safe with Surfshark.
NordVPN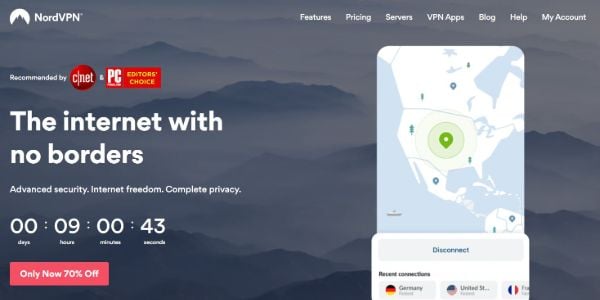 My next recommendation for you to use as your primary VPN in China is NordVPN.
These guys have also survived all the harsh anti-VPN policies for years without bearing the slightest impact on the VPN performance. That's how they have managed to set up a network of over 5400 servers in 59 different countries globally.
While you may notice a relatively lesser choice of VPN with this service, what you get instead is a more significant number of servers for the exact location. This colossal choice makes the VPN robust enough to bypass all VPN banning attempts by services like Netflix.
For example, NordVPN offers more than 1970 servers in 15 different cities within the USA. It means if one of the VPN servers gets blocked, you can continue to stream since the VPN will quickly replace it with another active server.
Plus, NordVPN employs server obfuscation technology for the users in repressive regions. It makes the VPN data packets similar to the regular traffic, thus evading all VPN detection attempts by authorities.
The combination of these two awesome features is what makes NordVPN the best to watch Netflix in China.
Want to test it yourself? Subscribe now and get your hands on this VPN by availing yourself of their no-risk 30-day money-back guarantee.
Using SmartDNS – an alternate option to tackle Netflix China strategy
Aside from VPNs, another viable option to watch Netflix in China is using SmartDNS.
Although, it isn't an alternative to VPN since it doesn't hide your IP address. Nor does it encrypt your data.
But that's not what you want when browsing from China. What you need is something to help you bypass geo-restrictions without getting caught by the China authorities for using a VPN.
A SmartDNS does help you with that as it reroutes your DNS traffic through its own DNS servers. Thus, what Netflix detects is a location different from the existing one – that is, China.
Another benefit of using SmartDNS is that you experience fast-speed connectivity as the traffic flows regularly without encryption.
However, a SmartDNS can't help you in accessing other restricted services like Facebook, Google, Gmail, or YouTube. That's where a VPN gets an edge over SmartDNS.
Conclusion
This was all about how you can Netflix in China.
As you can see, it's nothing complicated as far as you remain careful with the VPN selection.
While an average VPN would ruin your browsing experience in China, having a robust one as ExpressVPN, Surfshark, or NordVPN rejuvenates it at once.
Yet, you need to remain patient and determined. Don't expect things to work out for you in one go. Keep testing different VPN servers; you'll eventually connect to the right one that supports Netflix streaming.
And once you do, your worries end right there!
Frequently Asked Questions
Is Netflix available in China?
Why is Netflix not available in China?
How do I access Netflix in China?
Any other countries where Netflix isn't available?
Can't I use a free VPN to stream Netflix in China?
My VPN isn't letting me watch Netflix. What to do?
Meta description:
About the author
Abeerah Hashim
Abeerah is a passionate technology blogger and cybersecurity enthusiast. She yearns to know everything about the latest technology developments. Specifically, she's crazy about the three C's; computing, cybersecurity, and communication. When she is not writing, she's reading about the tech world.