Surprisingly, some of the oldest VPNs in the industry, such as StrongVPN, have a low profile.
Unfortunately, that status as a relative unknown is enough of itself to make any new prospective new user doubt a little.
StrongVPN's history in the digital space is twice as long as the average. Consequently, you'd expect their product to be twice as good, wouldn't you? Well, that logic doesn't always hold, as you will see in this review.
StrongVPN has undoubtedly improved over the years, but it's still not perfect, and some issues remain that could be (or not) a deal-breaker depending on your user type. Thus, I'd recommend getting a premium VPN like ExpressVPN instead, as that will prove to be a better choice in every aspect (more on it later).
In this article, I will review StrongVPN in full detail. Speed, customer service, unique features, compatibility, and other things with one sole goal in mind: I want you, the reader, to be able to answer the question "How strong is StrongVPN, in the end?" so that you can make an informed choice, guided by the bare facts.
StrongVPN key features at a glance
| | |
| --- | --- |
| Servers | 950 in 30+ countries |
| No-logs policy | Yes |
| Torrenting | Yes |
| Kill switch | Yes |
| Price | 2.13 USD/month for one year plan |
| Country-based | United States |
| Simultaneous devices | 12 |
| Customer support | 24/7 live chat support |
| Money-back guarantee | 30 days |
StrongVPN overview
Let's start with a general panorama. StrongVPN is undoubtedly not among the top VPNs that come to mind when you think about the industry's providers.
However, it's easy to use, keeps no logs, boasts 950+ servers in over 30 countries, has decent customer support, allows torrents and P2P networks, and is suitable for Netflix; its encryption and VPN technology are the industry's standards. In addition, it's more than reasonably priced at 10.99 USD monthly (the average cost for this kind of service), and you can drive that cost down as low as 3.66 USD if you sign up for the yearly plan.
Background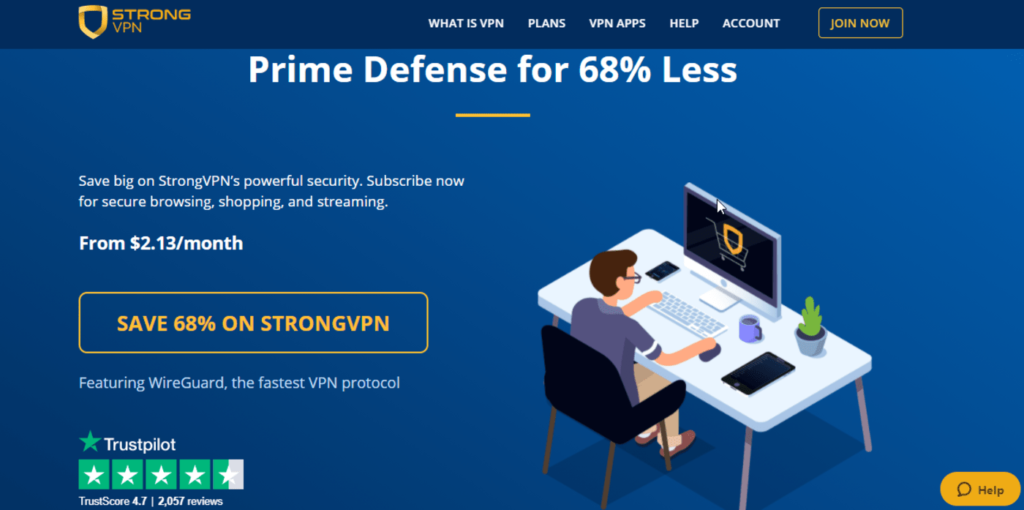 The international nature of the internet and the ability to connect to websites and servers scattered worldwide in a heartbeat could lead you to believe that local conditions are not very important in internet services. You'd be right, for the most part too. But not when it comes to VPNs. Privacy laws vary significantly between jurisdictions, and the domestic legal environment surrounding your provider could affect you in the long run. So, where a VPN is headquartered matters.
Strong Technology LLC. was incorporated in 2005. The VPN is headquartered in Lake Tahoe, which is probably the last place you'd choose to base a VPN. Yet, it's been there for more than two decades.
It's, of course, inside the U.S.A., whose government's lack of regard for citizen's privacy was very well-known even before Edward Snowden brought it to the world's attention.
The provider recently combined forces with another VPN named Encrypt.me. Both of the providers claim the merger aims to bring users superior features and VPN service. Existing Encrypt.me service customers can log in on the same domain, but new users looking to get a VPN service will need to register at the StrongVPN website.
Features
The network is comprised of more than 950 servers in 30+ countries. It's decidedly not impressive at all since many top VPNs have thousands of servers based in more than three times as many countries. This is unfortunate because the number of nodes in a VPN matter, as well as geolocation.
Overall, compatibility is good. It works with Android, iOS, Mac, Windows, Apple T.V., and Routers. The help center is extensive and includes several instructional articles that can guide users to set up StrongVPN at home with a router. It's compatible with T.O.R., too, if you are on the paranoid side of things.