So you browsed Netflix thoroughly and couldn't find any Harry Potter movies? Don't worry; that was to be expected, depending on where you are.
However, that doesn't mean your streaming video life has to remain Potterless. We've got you covered. This article will show you everything you need to know to find the Harry Potter material on Netflix and enjoy it to your heart's content. And the best news is that it doesn't need any magic. A bit of tech expertise is more than enough. Even if you lack it, we will show you how to do it so clearly that even Mr. Weasley could!
Here is the quick guide to watching Harry Potter on Netflix in 2023
If you are a more experienced user and want to get the gist of this article so you can start enjoying the Harry Potter series right away, here's a quick guide. However, if you need more information or detailed instructions, we will flesh everything out for you later in this article.
If you want to unblock the Harry Potter movies on Netflix, follow these simple steps:
First, get a good VPN service. ExpressVPN is our favorite.
Download and install your new VPN apps for the device you want to use.
Then, log into the VPN through your app using your credentials.
It's time to pick a server in the VPN network. Choose one from New Zealand, Portugal, Turkey, France, or Switzerland. Our favorite VPN servers for Harry Potter are Australia and Turkey.
Launch your browser and go to Netflix. Now, search for the Harry Potter material. This time you'll find it!
Which countries have Harry Potter content available on Netflix?
As of October 2023, Netflix offers Harry Potter movies in eleven countries: Switzerland, Spain, Portugal, Poland, New Zealand, Australia, France, Canada, Brazil, Belgium, and Argentina.
Even in some of those countries, the offer is limited. For example, Argentinian users can only watch "Harry Potter and the Order of the Phoenix," and Brazilian users can also see it and "Harry Potter and the Half-Blood Prince." In addition, Canadians will only get access to the last three installments of the franchise. The other countries on the list have access to every movie in the Potter saga.
How do you get to see Harry Potter on Netflix? You can "be" in Switzerland for Netflix by being in Switzerland. You can connect to the service through a Swiss-based server in a VPN. That's the trick!
Why is Netflix blocking me from streaming Harry Potter from their website?
Because of copyright issues and licensing agreements, Netflix can't show all its content in every country. When you log into Netflix, the server looks at your IP address. That tells Netflix the country from which you're connecting. Then the server will offer you the content it's authorized to show for your country of residence.
The procedure described above shows that if Netflix sees you as being in a country where it can't show Harry Potter movies, it won't show you any in the catalog.
So now you know the reason. Harry Potter movies are not equally available worldwide because Netflix offers different catalogs or libraries for every country. So a Netflix USA user and a Netflix UK user will never have the same access to shows or movies — no two countries of the world share the same Netflix catalog. So, for example, if you're in the UK, you can see "Friends" on Netflix, but not if you are in the United States.
It happens because Netflix has to pay a license to deliver any show or movie in a given jurisdiction. And the content producers must also agree that they want Netflix to distribute their content in that country.
So, you see, it's a combination of things. First, the copyright owner of a given movie must want Netflix to show it in your country. Second, Netflix has to agree, sign an agreement, and pay for a license. So you need several things to line up to enjoy the shows and movies you'd like in your country. And that's why Netflix can't show movies from Harry Potter in every country.
However, you can bypass those restrictions if you spoof your IP address to make it look from elsewhere — from a country that enjoys full Harry Potter access.
In short: if you get a good, reliable Netflix VPN service, unblocking Harry Potter movies on Netflix is possible and straightforward.
The Best VPNs to enjoy Harry Potter on Netflix
As we stated, a good VPN is the key to unlocking Harry Potter's magic on Netflix. However, the VPN market is fraught with options of all kinds, and not every vendor will do what you need in this case. That's why you must pick a top-notch provider that gives you stable connections, high enough speeds to support a video stream for two hours, servers in all the right countries, and maybe an extra feature to help you with other things.
We tested the best VPNs on the internet, so you don't have to. And we found the top three VPN services that will do the best job for you. Here are the winners.
1. ExpressVPN

A big name in VPN industry that also does the trick for Harry Potter fans leveraging its massive server network spread across 90+ countries.

3,000+ servers in 94 countries

AES-256-bit encryption

DNS/IPv6 leak protection

P2P sharing

Network-lock feature

TrustedServer technology

Zero-logs policy

Allows up to 5 connections simultaneously

30-day money back guarantee
Pros
You can stream your favourite show at high speed

24/7 live chat support

Top class security features
Cons
Few simultaneous connections
ExpressVPN has been offering a fantastic VPN service to its customers for a long time. So it's had the time to earn an almost unparalleled reputation in the industry. It is the favorite VPN network for many reviewers. And if you want to use it to bypass the geo-location restrictions preventing you from watching Harry Potter on Netflix, it will work too.
ExpressVPN encrypts all incoming and outgoing traffic using AES-256, the industry (and military) standard for secure communications. The network includes over 3,000 nodes in 94 countries, so you're covered wherever you are.
Of course, the important thing for you is a Potterhead to have servers that can unlock the Potter movies. Fortunately, ExpressVPN has many servers in eleven countries where Netflix offers Potter movies. So you can't miss it.
ExpressVPN has the fastest speeds on our list (91 Mbps/55.7 Mbps). But it's also the most expensive option. The service costs 6.67 USD monthly, even if you choose the extended subscription. So you'll get a few Mbps extra, which might not suffice for you to pick it over NordVPN or Surfshark. However, each of the three VPNs suggested here has perfectly suitable speeds for watching Harry Potter on Netflix.
You can connect five devices concurrently to the ExpressVPN network without bandwidth caps.
---
2. NordVPN

It's a provider that boasts the most extensive server network for streaming every Harry Potter movie.

5,400+ servers in 60 countries

Supports P2P torrents

AES-256-bit encryption

Allows up to 6 simultaneous connections

Built-in ad-blocker

Keep zero logs

Kill switch feature

DNS/IPv6 leak protection

24/7 live chat

30 days money-back guarantee
Pros
Unblocks many streaming sites

Fast and reliable speeds for streaming

Reliable customer support
Cons
The desktop app is difficult to handle
We've tried many VPNs on the market for almost any task. In nearly every case, NordVPN emerges as the best VPN service, regardless of the job you intend to accomplish.
NordVPN has an impressive server network among our three selected VPNs. In addition, the service provider combines high speeds, military-grade security, and reasonable pricing, depending on your chosen plan. And you can have the full premium service for 3.99 USD monthly.
The download speeds are very fast at 85.75 Mbps (in a 100Mbps connection) and upload of 44.78 Mbps. Moreover, its stable server connections ensure a smooth video viewing experience, even at HD resolution, with little or no buffering.
Every server in the NordVPN network is optimized for video streaming. Plus, it encrypts all the traffic with AES (Advanced Encryption Standard) 256-bit encryption, which remains the safest algorithm. In addition, the network prevents DNS and IP leaks. Finally, and most importantly, it sticks to a strict zero-logging policy, which guarantees the protection of your privacy.
Your subscription is suitable for six simultaneous connections into the network. That means you can simultaneously have six computers, phones, or tablets streaming your Netflix content.
---
3. Surfshark

A top-notch VPN with affordable pricing plans and a huge server network. You can use it with trust to watch Harry Potter on Netflix from wherever you are in the world.

3,200+ servers in 100 countries

AES-256-bit encryption

P2P servers

MultiHop mode

DNS/IPv6 leak protection

Automatic kill switch

CleanWeb ad-blocker

Camouflage Mode

Allows unlimited simultaneous connections

30-day money-back guarantee
Pros
Excellent for streaming

Good customer support

High class security
Cons
Some P2P servers are slow
Surfshark is a relatively new VPN service that has made a name for itself in the VPN universe. Its disruptive approach is to offer an excellent service close to the best VPNs at a fraction of the price.
The network spans 100 countries and includes over 3200 nodes (the servers). The Harry Potter enthusiasts will be happy to learn that Surfshark has many high-speed servers in those Netflix countries where the complete Harry Potter catalog is available.
The speeds are slightly lower than those we found at NordVPN (78.3 Mbps upload, 37 Mbps download).
Encryption is also AES 256-bit, which is unbreakable so far, and that's just one of many fantastic security features. In addition, while NordVPN gives you six concurrent connections, Surfshark gives you unlimited connections to the network. That's right, and you can connect as many devices as you'd like with a single account.
You can get the whole Surfshark experience for as little as 2.39 USD monthly. It's the most bang for your buck you can get from one of the industry's top VPNs.
So Surfshark gives you everything you need to watch Harry Potter movies on Netflix at a meager price and more excellent reliability.
---
Which Harry Potter movies can I watch on Netflix?
As you surely already know, the Harry Potter saga includes eight movies. Each of them is available for you to watch on Netflix. Namely:
Harry Potter and the Philosopher's Stone
Harry Potter and the Prisoner of Azkaban
Harry Potter and the Goblet of Fire
Harry Potter and the Chamber of Secrets
Harry Potter and the Half-Blood Prince
Harry Potter and the Order of the Phoenix
Harry Potter and the Deathly Hallows (Parts 1 and 2)
Will a free VPN do the trick too?
Now you know that a VPN is critical to watch Harry Potter movies on Netflix, whatever your location is. So, the next logical question is: why can't I pick a free VPN?
The ads for free VPNs claim that they can do everything a paid VPN can, just without the fee. So it sounds like the perfect solution, right?
So the free VPNs of the world will claim that they can protect your browsing sessions from third parties, unblock geo-restricted content, and everything else.
But can they?
For the most part, they can't deliver on all those promises. Their networks lack the resources to provide an experience as thorough and smooth as NordVPN, Surfshark, or ExpressVPN.
If you try a free VPN, you'll probably find that merely securing a connection to one of the servers takes minutes because their computers are overworked and can't handle the traffic.
Also, if a free VPN charges you nothing for its services, how does it make money? Most of them sell your activity logs to advertisers, for example. In the worst cases, to governments.
So to answer the question in this section's title, a free VPN won't do the trick. And it will more likely sell out your privacy on top of everything.
Harry Potter and the other streaming platforms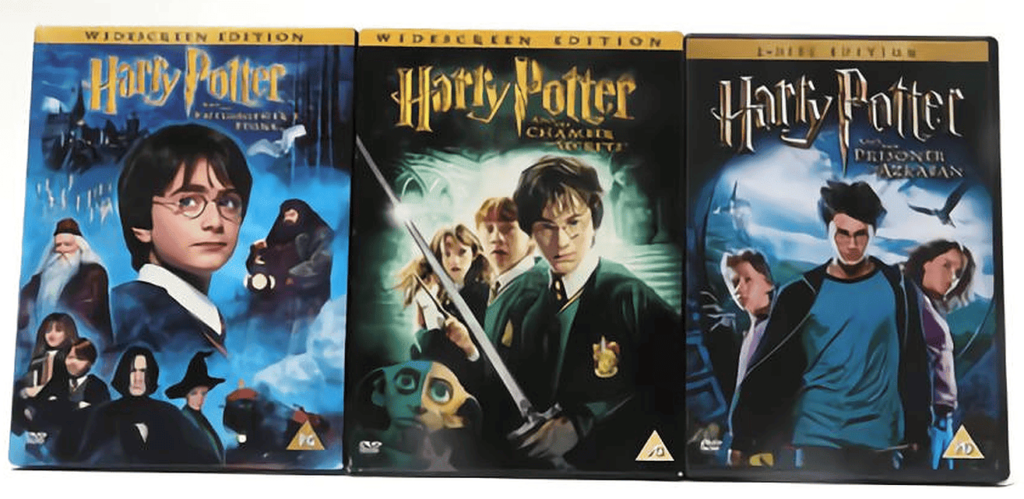 Netflix is not the only option for you to see the Harry Potter movies on a streaming website. These movies are among the most popular, so plenty of other content streaming platforms are eager to show them. Among those different options are:
The Harry Potter movies on iTunes
iTunes offers the complete Harry Potter series collection for 79.99 USD.
---
Harry Potter on Google Play Movies
Google Play also has the entire Harry Potter collection to buy or rent. If you are an Android TV user, you can even sync your account once you've rented the movies and watched them on your TV.
---
Harry Potter on Peacock
Peacock also has all the Harry Potter movies, and you can see them as quickly as on Netflix using a server among the VPNs we've suggested. In the case of Peacock, you want to choose a US server.
---
Watching Harry Potter on HBO Max
The procedure for watching Harry Potter on this platform is the same as with Netflix, except you would pick a US-based server.
HBO Max includes the Harry Potter movies in the catalog of several additional countries (Ireland, Mexico, Philippines, Malaysia, India, South Africa, Germany, and Italy). So you have more options, server-wise, to choose from to find the smoothest connections for you.
Also, if you wish to watch the Harry Potter Reunion Special, you'd be happy to know you can watch it on HBO Max exclusively. Yes, Netflix has all the previous eight Harry Potter movies, but The Reunion Special is only available to stream on HBO Max.
---
Harry Potter on Now TV
The British platform Now TV offers all the Harry Potter movies for a monthly fee of 11.99 GBP.
---
Harry Potter in Binge
Binge is an Australian streaming service with the entire Harry Potter series. You can watch them by subscribing to the series at 10 AUD monthly.
---
Conclusion
We hear you if you're a big Harry Potter fan who wants to enjoy the movies repeatedly! Indeed, we're huge fans too. And if the inability to see them from Netflix (or some of the other streaming platforms we've mentioned) was cramping your style, then you'll be happy to know that a simple solution exists at a reasonable price.
And now that you know the secret, you can share it with many of your fellow Potterheads. Tell them they can find their way to Hogwarts with a quality VPN such as ExpressVPN without showing up at King's Cross to catch the Hogwarts Express! It's cheaper, and muggles can do it too.
As we've shown you, Netflix coverage for Harry Potter material is irregular worldwide (as with HBO Max and most other platforms). However, that doesn't need to stop you. All you need to do is spoof your IP address to appear in one of those countries with Potter coverage available.
And signing up for a great VPN will give you many other benefits besides the Potter movies. You'll be protected from hackers at all times and safe when online at those WiFI public hotspots, which are every hacker's wet dream. Your ISP won't be able to keep an eye on your activities. The list is endless.
But the best thing about the VPNs we've suggested is that none of them keep any logs of your activity. That's how you know your privacy is protected – remember that security and privacy are not just a tech matter. The policy goes far in those issues, maybe further away than technology alone.
You can take our word on this: having a good VPN as your ally will unlock as many possibilities as if you had the Marauder's Map in your hands! Stay safe!
FAQs
Yes. As long as your VPN service provides a mobile app to access the network, you can choose the correct server on your phone and stream the Netflix Harry Potter movies into any device you choose.
Netflix serves seven countries in total with the whole Harry Potter collection. Switzerland, Spain, Portugal, Poland, New Zealand, France, and Belgium are the countries.
Though US Netflix is the most diversified (and hence, famous) content catalog, sadly, it doesn't include the Harry Potter series due to the prevalent content licensing and exclusivity issues. For the same reason, it seems that you won't find Harry Potter on US Netflix any time soon. So, you either switch to other Netflix libraries (using a VPN) that include Harry Potter or stream another platform to watch your favorite series.
It's a very doubtful proposition. Netflix is in a permanent war with the world's VPN providers, always trying to find better ways to block them. The best VPNs in the business, such as those mentioned, know this, and they are so good that they always manage to keep one step ahead.
In the case of free VPNs, Netflix knows them. It has their number and knows how to detect and block them. So unless you have a free VPN that recently refreshed all its IP addresses, the chances are that you won't be able to unblock the Harry Potter material on Netflix. Moreover, free VPNs seldom have the speeds and connection stability you need to support long HD video streams. So even in the unlikely event that you unlock the Harry Potter material on Netflix, your viewing experience will likely be rough and unsatisfactory.
"Removal" is not the correct notion. The platform's license for Harry Potter expired and wasn't renewed. Consequently, Netflix had to stop offering that content to everybody. But the Harry Potter movies were not removed, just limited to streaming into a handful of selected countries. In short, Harry Potter is still on Netflix; you must find it with a VPN.
Netflix decides your location by looking at your IP address. If it determines that you are located in a country where they can show the Harry Potter films, they will appear in the catalog for you. Otherwise, they will be absent. So it's all about your IP address, which is why a VPN network providing a new IP number on your behalf can change everything.
Not, it is not. The Harry Potter franchise belongs to NBC Universal. And they are a vast Disney competitor. So naturally, NBC has refused to give its nemesis the right to broadcast one of its best products.
No, they're not. But they are on HBO Max.
The total running time for all the movies is of 1.178 minutes. So that's about 20 hours.
Yes, it has a complete collection available for a few selected countries.
That's anybody's guess. The Potterverse produces several prequels (Magic Beasts and Where to find them), but these deal with events long before Harry's birth. JK Rowling, the book's author, published Harry Potter and the Cursed Child as a play, creating expectations about bringing it to the silver screen. However, that's unlikely. While the characters in that new work are the same as the classic seven books we loved, the context is entirely different. As far as we know, no ninth Harry Potter movie is in the works, and it's a very doubtful proposition.
Harry Potter is primarily available on HBO Max, which, unfortunately, doesn't come for free. Instead, you must pay to subscribe to the service, and only then could you watch Harry Potter or any other content. But thankfully, you can leverage Hulu's free seven-day HBO Max trial offer. Since watching all Harry Potter episodes takes about 20 hours only, you can get plenty of time to watch Harry Potter for free.