Spyware is malicious software that collects sensitive information without your knowledge or consent. Usually, spyware is distributed through devious means, like being bundled with other downloads and disguised as legitimate software, making it hard to detect or remove unless you use specialized detector software.
Once installed on your device, the spyware can monitor and record your online and offline activities like browsing history, keystrokes, personal messages, and login credentials. Hackers can use the data they collect for various nefarious purposes like identity theft and financial fraud.
Moreover, spyware can cause performance issues on your device, consume network resources, and compromise your security. So, you should employ robust measures to prevent and combat these menacing threats.
After thorough research, we've compiled the best spyware detectors that transcend the ordinary to safeguard your privacy effectively.
Top 10 spyware detector software – Quick list
13 Best anti-spyware tools – Our detailed list
1. Norton 360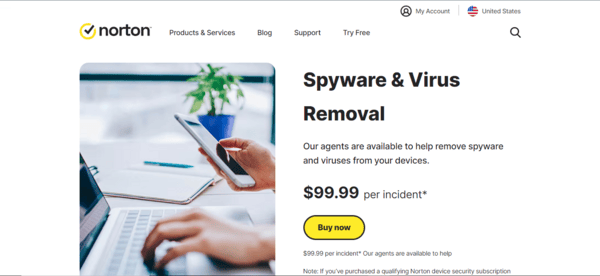 Key features
Dark web monitoring
Smart firewall
Password manager
Web browser extension
Virtual Private Network (VPN)
Webcam protection (Available on Windows only)
Parental controls
Norton 360 is a comprehensive anti-spyware protection for your devices, offering a complete suite of anti-malware tools. During our tests, it exhibited remarkable proficiency by detecting all malware and spyware programs intentionally installed on our system, boasting a flawless 100% detection score.
It leverages top-level protection to monitor applications and swiftly discern emerging spyware threats vigilantly.
Notably, the Safe Web browser extension is a stalwart guardian against web-based spyware threats. In our rigorous trials, it intercepted malicious links, blocking them even after inadvertent clicks. This protection extends across various browsers, including Safari, Chrome, Firefox, and Edge.
The highly advanced smart firewall further fortifies Norton 360's defense against the most intricate spyware infiltrations. In our experience, it swiftly adapted to secure our connection when we transitioned to public WiFi, promptly tightening traffic rules to ensure comprehensive protection against spyware and other online perils.
The firewall's customization options allow for a tailored approach, actively monitoring new applications for any signs of malicious activity or concealed spyware, ensuring constant security.
Besides the anti-spyware measures, Norton 360 extends its security arsenal with many additional features. These encompass a password manager, parental controls, and tiered cloud storage, bolstering your defenses against potential spyware threats. For example, Windows users benefit from the SafeCam webcam protection.
While Norton 360 may come at a slightly higher price point than many competitors, its flawless spyware detection track record justifies the cost. So, you can confidently invest in Norton as it is backed with a generous 60-day money-back guarantee. Should you find its performance unsatisfactory, you can claim a full refund.
---
2. Bitdefender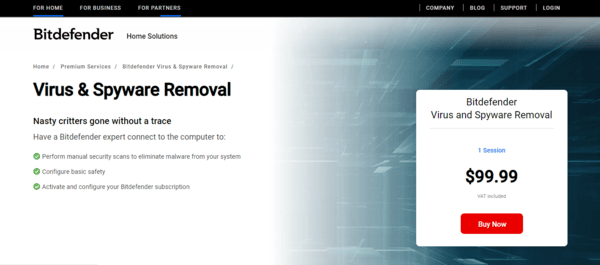 Key features
Webcam and audio protection
Password manager
Anti-phishing protection
Firewall
SafePay
Behavior monitoring tools
Real-time detection score
Supports iOS, Android, Windows, and macOS
Bitdefender offers a comprehensive array of features to shield you from spyware threats, with one standout being the SafePay browser. SafePay is meticulously crafted to fortify data security during online banking and shopping.
This specialized browser acts as a bulwark against spyware, including keyloggers, by preventing their access to and pilfering of your sensitive information. However, it would be good if this feature extended to general browsing and is available on platforms beyond Windows.
Another noteworthy feature is Bitdefender's password manager, which permits the storage of unlimited passwords. This functionality proves immensely valuable in countering spyware like keyloggers, which secretly record every keystroke you make on your device.
Additionally, Bitdefender's webcam and audio protection feature adds an extra layer of security to safeguard your identity. Since snoopers can exploit computer accessories like webcams, this spyware detector feature acts as a guardian, protecting your privacy from potential breaches.
The firewall feature comes in handy by ensuring you receive alerts whenever an app tries to go online. It also helps hide your identity by concealing you from devices within a shared network.
---
3. TotalAV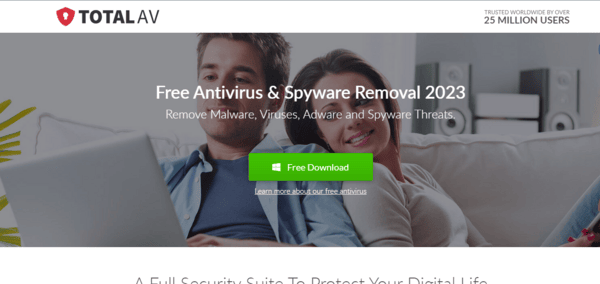 Key features
Password manager
Virtual Private Network (VPN)
Dark web monitoring
WebShield browser extension
Anti-malware engine
Ad-blocker
TotalAV offers robust spyware protection, boasting an impressive detection rate of 99%, leaving minimal room for spyware to go unnoticed. While it may falter in identifying a few zero-day malware concealed within zip files, a particularly challenging task, it excels in thwarting complex spyware infiltrations on your PC.
The WebShield browser extension is an impressive feature, instilling confidence during web browsing. It effectively blocks phishing links and prevents spyware files from compromising your system.
Additionally, the Password Vault browser extension serves as a shield against active keyloggers, protecting your keystrokes from prying eyes. TotalAV also incorporates other valuable elements, such as Safe Browsing VPN. This helps encrypt your internet traffic, especially when using public WiFi networks, rendering you anonymous to potential hackers attempting to infiltrate your device with spyware.
Dark Web Monitoring is another great feature that informs you about any historical data leaks linked to your email addresses.
Additionally, TotalAV stands out through its efficient use of system features. After several thorough scans, TotalAV had minimal impact on our computer's performance, with only a 20% increase in CPU and RAM usage.
This contrasts with other services that can significantly slow down your system. TotalAV's Smart Scan can improve your system's performance by identifying and addressing optimization issues.
However, one notable drawback of this spyware detector is the lack of a firewall, which affects its real-time protection capabilities compared to top competitors. Thankfully, TotalAV offers a comprehensive suite of spyware protection features that effectively keep you safe.
If you're uncertain about its suitability, you can test it with the 30-day money-back guarantee to determine if the service meets your needs.
---
4. McAfee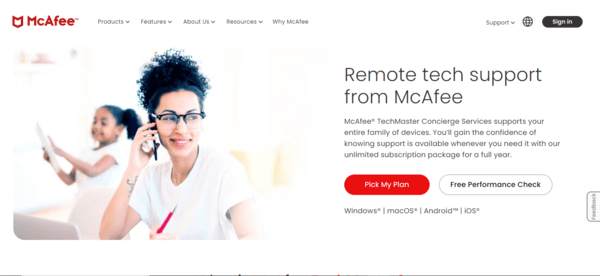 Key features
Password manager
Parental controls
Real-time protection score
WebAdvisor
Firewall
WiFi network protection on iOS and Android
Unlimited-data VPN
McAfee's firewall offers outstanding real-time protection against spyware. It performed exceptionally well in our tests, blocking 100% of the virus samples we exposed it to.
McAfee's highly configurable firewall grants you absolute control over what and who accesses your device, leaving no room for spyware to infiltrate undetected through local connections. Even the most advanced, novel spyware struggles to breach McAfee's impeccable security features.
We set up stringent traffic controls on public networks, and McAfee consistently sought permission when attempting to access programs and apps.
For protection against keyloggers, McAfee provides a free password manager capable of storing up to 15 passwords.
McAfee goes a step further with its Identity Theft Protection feature, monitoring the dark web for any signs of your private information, such as passwords and credit card details. Spyware typically aims to siphon off this data to hackers, but McAfee guarantees 100% protection against all forms of data-stealing spyware.
Furthermore, it offers supplementary security features to safeguard against spyware and other online and offline threats such as WebAdvisor. This tool pre-screens websites to prevent you from inadvertently opening malicious sites, offering protection against spyware and other online threats.
Additionally, the Ransom Guard feature diligently monitors your device for suspicious files and effectively blocks all ransomware attempts to hold your files hostage for ransom.
One potential downside to McAfee spyware detector and anti-malware is that it may impact system performance during full scans. However, it remains competitively priced in comparison to its top competitors. Thanks to its money-back guarantee, you can explore McAfee risk-free for 30 days to assess if it aligns with your needs.
---
5. Avira

Key features
VPN
Password manager
Gaming mode
Safe shopping
Optimization tools
Real-time protection
30-day money-back guarantee
Avira is one of the favorites among the free Windows-based antivirus programs. It excels in providing robust security against spyware and more intricate threats. Avira offers two scanning options: a smart scan, which quickly examines specific areas of your hard drive, and a full scan, which thoroughly searches for complex threats throughout your system.
Spyware is notorious for its subtlety in stealing sensitive data, but Avira's SafeShopping feature makes this a near-impossible feat. It effectively blocks ads, trackers, and phishing links. The feature even thwarts attempts by hackers to mislead you to spam URLs, as it consistently intercepted and blocked such links during our tests.
For enhanced security against keyloggers and other spyware, we recommend taking advantage of Avira's password manager. This tool enables you to store unlimited login credentials within its encrypted cloud database securely. Also, it simplifies the process of generating strong passwords with just a single click.
Avira further offers a range of useful features, including Optimization Tools, a disk defragmenter, a file shredder, and a file recovery tool to enhance your system's performance and security. Additionally, the Process Manager feature actively monitors all running processes and halts unnecessary ones to boost your system's overall performance.
Furthermore, the Network Traffic Manager keeps a close eye on your network activity and proactively blocks any suspicious hacking attempts, whether from spyware or other forms of malware.
Avira's free plan encompasses real-time protection, SafeShopping, a VPN, a password manager, and a file shredder — essentially, everything you need to shield yourself from spyware. If you're seeking more advanced optimization and privacy tools, you can explore Avira Prime risk-free for 30 days with its money-back guarantee. This ensures you can test Avira's comprehensive suite of features without any concerns.
---
6. Intego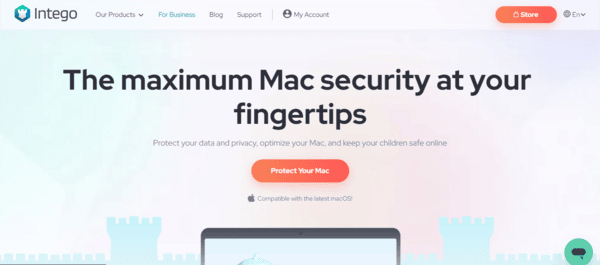 Key features
2-way firewall
Safe browsing extension
Parental controls
Password manager
Optimization tools
Real-time protection
30-day money-back guarantee
Intego's spyware detector proved exceptionally effective, detecting 100% of spyware in real-time during our tests on both Windows and Mac platforms.
While Intego primarily focuses on Mac-based antivirus solutions, it also possesses the capability to identify Windows-based malware that may be dormant within Mac systems, potentially preventing cross-device contamination.
The NetBarrier firewall is an impressive feature, diligently monitoring incoming and outgoing web traffic. It automatically adjusts the settings when transitioning from a home network to a public WiFi network, ensuring your online activities remain secure.
Additionally, the "Applications" function provides a granular level of control over two-way online traffic, allowing you to determine which applications can access the internet. This stringent control minimizes any opportunity for spyware to infiltrate your computer.
Intego offers a range of preventive measures to thwart spyware and other malware from compromising your PC or Mac, including a Safe Browsing feature that effectively blocks malicious websites, phishing links, and ransomware attacks. This deters hackers from tampering with your sensitive data.
The ContentBarrier feature serves as a parental control tool, safeguarding children from inappropriate content and unsafe online chats. It even allows you to record your child's online activities through intermittent screenshots.
Furthermore, the Mac Washing Machine feature provides a suite of optimization tools that enhance your Mac's performance by eliminating unwanted files and potentially unwanted programs.
Both Intego's Mac and Windows applications boast user-friendly interfaces with clearly labeled features. While there isn't a dedicated iOS app, you can still scan your iPhone by connecting it to your Macbook and initiating a scan.
In conclusion, we highly recommend Intego for Mac users, as it is a specifically tailored spyware detector for macOS systems. You can explore Intego's offerings risk-free through its 30-day money-back guarantee, allowing you to thoroughly evaluate its capabilities before committing.
---
7. Malwarebytes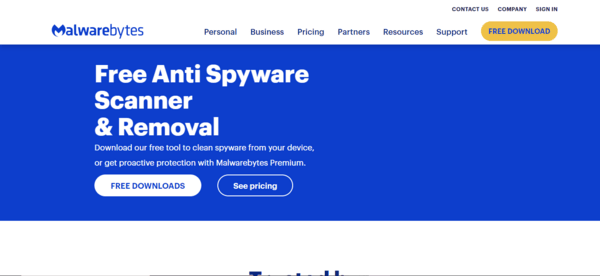 Key features
Real-time protection
VPN
Web protection
Browser Guard
This free spyware removal application is fierce in eradicating spyware and malware from your device, leaving no traces behind. Remarkably, this application remains free for life and doesn't necessitate any sign-up. It extends its support across various operating systems.
Malwarebytes Anti-Rootkit delves deep into your operating system, addressing a crucial aspect of your OS to counteract spyware activities. Due to its thorough OS scan, it's worth noting that the scanning process might take a bit longer to complete.
Additionally, it's vital to understand that this application undergoes regular updates to remain vigilant against emerging virus definitions. Malwarebytes provides real-time protection, effectively warding off ransomware, spyware, and trojans. Also, it incorporates endpoint and phishing protection, offering options for custom, cloud, and rapid scans.
Its dedication to staying at the forefront of technology sets Malwarebytes apart from its competitors. It outperforms traditional antivirus solutions that are gradually becoming outdated in the ever-evolving cybersecurity landscape.
---
8. MacKeeper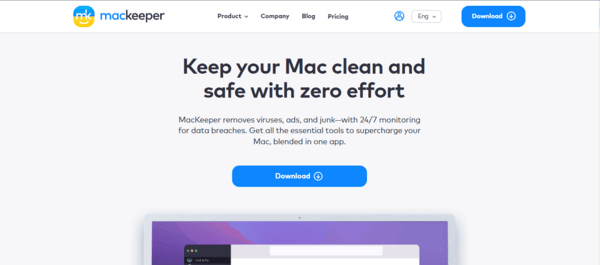 Key features
ID Theft Guard
VPN
Real-time protection
Supported on macOS only
14-day money-back guarantee
MacKeeper is one of the leading spyware detector options tailored specifically for Mac users. Regrettably, it's not compatible with Windows systems. During our testing, MacKeeper impressively detected and successfully removed 99% of the malware we intentionally introduced to the Macbook.
Moreover, it showcased its vigilance by instantly notifying us via a push notification when we attempted to download a malicious file. MacKeeper is even more noteworthy because it includes a robust VPN service, a feature often challenging to find in antivirus packages.
MacKeeper's VPN boasts a substantial network with over 200 servers across more than 50 countries. To assess its security, we conducted thorough DNS, IP, and WebRTC leak tests, all of which returned no concerning results. This assurance means you can confidently maintain anonymity, shielding yourself from prying eyes and potential spyware attacks, especially when using public WiFi networks.
MacKeeper's feature set also includes an Adware Cleaner that diligently identifies and raises flags for applications harboring hidden adware, informing you about potential adware threats. The "Stop Ads" feature enhances your browsing experience by efficiently blocking many ads and trackers on popular browsers like Safari and Chrome. This reduces the likelihood of encountering spyware-laden ads.
Furthermore, the ID Theft Guard scans the web, evaluating whether your personal information has been leaked previously. MacKeeper also recognizes the vulnerabilities that spyware can exploit through unwanted programs and presents the Smart Uninstaller.
This utility identifies redundant apps, widgets, plugins, and browser extensions, effectively reducing the risk of spyware infiltration.
If your Mac has experienced performance slowdowns over time, the "Memory Cleaner tool can reclaim RAM by closing unnecessary resource-intensive applications.
While MacKeeper does offer a free trial, it grants limited one-time access to key features for testing purposes. To benefit from its comprehensive protection, you can subscribe to the monthly or yearly plan, and you have the flexibility to choose how many Macs you wish to safeguard.
MacKeeper even extends the opportunity to try its services risk-free for 14 days, backed by its money-back guarantee, allowing you to thoroughly evaluate its capabilities before making a long-term commitment.
---
9. Kaspersky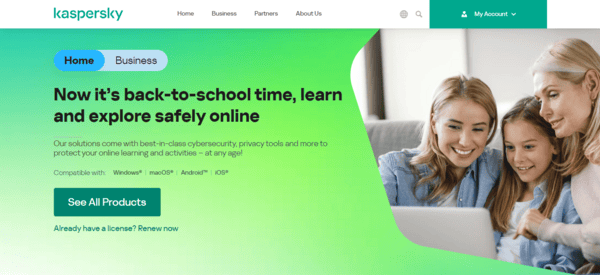 Key features
Real-time protection
Secure web browser
VPN
Rescue Disk
Supports Android, Windows, iOS, and macOS
30-day money-back guarantee
Reliable customer team support
Kaspersky AntiVirus is a comprehensive tool for scanning your computer system, diligently inspecting it for malware, applications, and devices. Notably, it incorporates a valuable data protection feature, particularly in cases where your device is lost or stolen. Moreover, this application can proactively block access to suspicious websites, enhancing online security.
For situations where your computer may have fallen victim to spyware or other malware, Kaspersky presents an invaluable detector and removal tool, "Rescue Disk." This tool entails downloading a separate application onto a USB drive or CD/DVD, which you connect to your computer. The Rescue Disk takes action immediately after start-up, purging any malicious software it detects.
Kaspersky's parental controls stand out as one of the best offerings in the market. Although they necessitate installing a separate application called Safe Kids, the setup process is remarkably user-friendly and straightforward.
These parental controls have various essential features, including web and app filtering, monitoring and generating reports, location tracking for mobile devices, and other tools designed to ensure a secure digital environment for children.
---
10. Adaware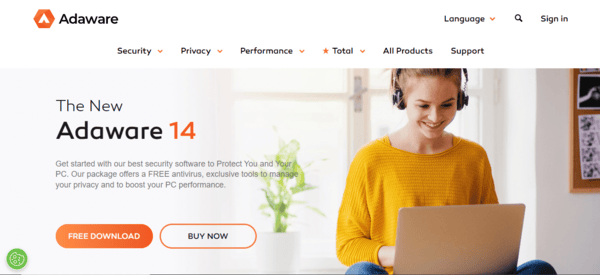 Key features
Real-time protection
VPN
Network protection
Web protection
System optimization tools
Adaware provides a solid antivirus package to protect your PC from various threats, including spyware and ransomware. Its spyware detector performed commendably during our spyware tests, successfully identifying most of the test spyware files we introduced to our PC.
It offers both free and premium versions for most of its products. For instance, Adaware 14 offers essential features like real-time malware protection, on-demand scanning, and the capability to block access to your webcam and microphone.
On the other hand, Adaware 14 Premium enhances this with additional functionalities such as a firewall, a VPN, and email monitoring. The Adaware Total plan bundles privacy protection and system optimization tools for comprehensive protection.
Furthermore, Adaware boasts a reliable customer support team to assist you with technical issues.
---
11. Panda
Key features
Real-time malware and spyware protection
Firewall
Compatible with macOS, iOS, Android and Windows
30-day money-back guarantee
Panda boasts real-time protection capabilities that surpass the industry average, standing at an impressive level of 95%. It successfully detected all the spyware samples we intentionally placed on the PC.
However, it's important to note that some viruses, known for their ability to alter their internal structure to evade scans, managed to slip through Panda Dome's defenses. To ensure comprehensive protection, running a full scan is advisable, allowing Panda Dome to cleanse your computer of all viruses thoroughly.
Furthermore, Panda offers firewall protection from malicious traffic and unsafe connections. The rescue kit allows you to create a backup on your USB drive if your device is rendered unusable.
In our experience, the full scan meticulously scrutinized over 500,000 files on the PC and took approximately an hour to complete. Panda Dome offers the Cloud Cleaner option for those concerned about system performance, which minimizes its impact. While a regular scan caused the CPU usage to spike by 42%, the cloud scan only raised it by 20% during our tests.
Panda Dome also features the Process Monitor that inspects background processes. This feature enables you to free up some RAM usage. If any of these processes are deemed harmful, Panda promptly intercepts and notifies you, providing an added layer of security.
Despite being a free plan, Panda offers a robust set of essential features to safeguard against spyware, except for a firewall. Panda provides a 30-day money-back guarantee for those considering the paid plans, eliminating any risks.
If you change your mind later, you can easily request a refund via customer support. This offer ensures you can explore Panda's malware and spyware detector services without apprehension.
---
12. Vipre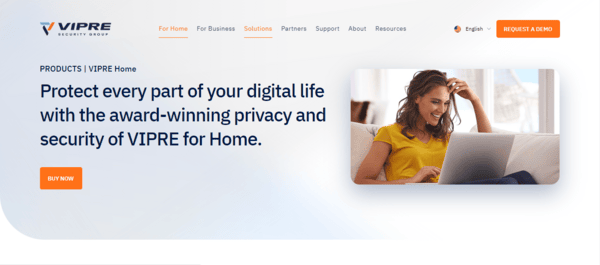 Key features
VPN
Real-time protection
Fire eraser
Web and email protection
Firewall
Web protection browser extension
Privacy Shield
During our extensive testing, Vipre showcased its prowess by detecting suspicious files and effectively identifying complex virus samples we deliberately introduced to it. Furthermore, when we encountered spyware-infected unwanted programs during downloads, Vipre's real-time malware engine promptly disinfected them, ensuring the device's security.
One of Vipre's standout features is its customizable firewall, which grants you full control over both incoming and outgoing web traffic. Also, it gives you flexibility to establish app permissions and rules, ensuring that the firewall operates without restricting necessary access.
Additionally, Vipre offers phishing protection. Although it didn't notify us when we exposed it to a spyware-infected file, the feature quarantined the threat without issuing any alerts.
Furthermore, it has additional features, including a Privacy Shield that protects your sensitive data by erasing all traces of your browsing activities. This effectively prevents websites from profiling your online behavior.
Vipre's VPN service anonymizes your online activities remain anonymous, making you immune to spyware threats, especially when connected to public WiFi networks. Additionally, Email Protection protects your email account comprehensively by automatically detecting and neutralizing spam and phishing emails.
Spyware is notorious for stealing sensitive data, but with Vipre's Secure File Eraser, you can permanently delete your confidential files, rendering them unrecoverable. For enhanced online security, Vipre offers the Edge Protection browser extension, compatible with Chrome, Firefox, and Edge, designed to filter out harmful websites.
The advanced security plan is desirable as it includes additional features like email spam protection and a firewall, providing the utmost security against spyware attacks.
Vipre's commitment to your satisfaction is reflected in its 30-day money-back guarantee, allowing you to test its capabilities risk-free. Should you find it unsatisfactory, you can easily claim a refund.
---
13. iolo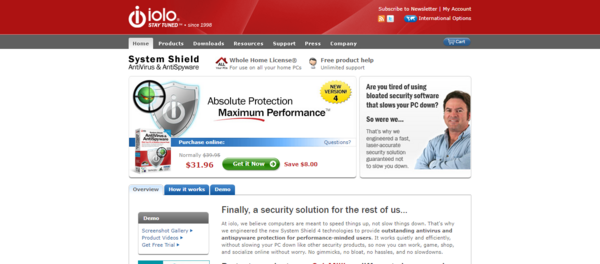 Key features
Real-time protection
PC cleanup
30-day money-back guarantee
Phone support and live chat
iolo proved itself as a remarkable spyware detector, effectively identifying and blocking all 30 complex spyware files on our device. Although it may not achieve a flawless real-time detection score like Norton, it remains proficient in thwarting most infections in real time.
Its System Shield offers a comprehensive view of your current malware protection. The PC Cleanup feature provided an efficient means to swiftly remove junk files and redundant apps, significantly enhancing the system's performance.
We highly recommend utilizing the All-in-One PC Cleanup feature, as it proves to be the most valuable optimization tool. This feature thoroughly examines the most frequently accessed areas where unnecessary files accumulate.
Additionally, iolo presents a suite of features to ensure complete protection against spyware and various online and offline threats. Privacy Guardian prevents websites from creating your digital profile for advertising purposes and is a valuable shield against invasive tracking.
The Password Manager feature securely stores all your passwords and offers convenient auto-fill capabilities, although it's exclusively available with the System Mechanic Ultimate Defense plan.
For safeguarding your data against data-stealing spyware like keyloggers, we strongly recommend employing iolo's password manager, ByePass. This tool streamlines access by requiring you to remember only a single master password. Furthermore, ByePass supports two-factor authentication, adding an extra layer of security to your vault and making unauthorized access highly improbable.
Moreover, iolo offers a Startup Optimizer that efficiently manages and disables unnecessary startup apps, ensuring a smoother system boot. You can try out Iolo without risk, thanks to its 30-day money-back guarantee.
---
A guide on how to escape spyware tools
You can ward off many spyware infections and potential attacks with extra caution and using tools like anti-malware and spyware detectors. Regrettably, many internet users remain unaware of the existence of spyware and the privacy threats it can introduce. Infections typically take hold when individuals navigate from one website to another without observing the necessary precautions.
It's common for people to click on random links, download unspecified documents, open email attachments without verifying their sources, and, in general, exhibit poor cybersecurity practices. If you suspect your device might be harboring spyware, the removal tools outlined in this article can be instrumental in eradicating it.
However, if you haven't noticed any suspicious activity, here's a guide on safeguarding your device against potential spyware infiltrations.
1. Download apps and files from official stores and trusted sites.
Installing applications from official stores eliminates the risk of falling victim to spyware. Most third-party stores are filled with untrusted applications that could infect your device. Therefore, ensuring you only source your preferred apps from official stores and websites will protect your device from spyware.
Furthermore, refrain from downloading files from untrusted sources. Always cross-check to confirm that a verified source offers whichever file you wish to download. Also, you should avoid sites that lack encryption and verification. Such would include websites with HTTP instead of HTTP.
---
2. Always lock your devices with codes.
Having a passcode for your device is paramount. This will prevent other parties from accessing your device and installing spyware.
---
What about spyware tools that use public data?
Real experts don't always hide behind potted plants or peering through binoculars at their targets in espionage. Instead, they often compile a comprehensive dossier by gathering publicly available information. Spies refer to this practice as OSINT, short for Open-Source Intelligence.
A similar principle applies to a growing category of businesses known as "Data brokers" or "Data aggregators." Operating solely from publicly accessible data, these investigators can construct a detailed profile of you, your neighbors, and virtually anyone else.
To remain within the bounds of the law, these enterprises must adhere to regulations, including the requirement to remove your personal information from their records upon your request. But here lies the challenge: how do you even become aware of the need to opt out when you're unaware that your profile is in their possession?
To address this concern, a burgeoning array of privacy services has emerged. These services meticulously scour dozens or even hundreds of data broker websites to locate your information and streamline the opt-out process on your behalf.
What's the best webcam antispyware software?
The built-in webcam on your laptop makes video conferencing a breeze, right? You can always tell when it's in use because of that little indicator light, correct? Well, not necessarily!
Believe it or not, various malicious software can activate your webcam and spy on you without triggering that telltale light.
Even Facebook's Mark Zuckerberg is known for taking his privacy seriously, as he places a piece of tape over his webcam. If the tape solution seems low-tech, you can purchase a sliding webcam cover for just a few bucks.
However, with the right security software, you won't need to cover the camera physically. Security products from companies like Sophos and Trend Micro come equipped with specialized spyware detector features that keep a close eye on any program attempting to access your webcam.
Norton offers a similar function. Legitimate programs like your trusted video conferencing tool are granted access without issues. But if an unfamiliar program attempts to snoop through your camera, you'll receive a warning and the opportunity to thwart the spyware's invasive efforts.
Do my smart devices need antispyware software?
Within your home network, you've got an assortment of highly visible computers and mobile devices. However, an even larger collection of Internet of Things (IoT) devices is behind the scenes. These days, everything from garage doors to washing machines to light bulbs is connected to your network.
Even your child's new doll can learn her name and engage in lifelike conversations, which is pretty cool. But it's not so cool when you discover that the doll is actually spying on you.
Occasionally, there are instances like the connected doll where IoT devices intentionally gather data about you. However, what's even more concerning is the lack of security in many of these connected devices. Some manufacturers don't see the financial sense in investing extra money to secure a smart light bulb. They believe skipping security allows them to get their product to market faster and cheaper.
Unfortunately, it's you who may end up bearing the cost of their negligence. Any unsecured IoT device can offer eavesdroppers a peek into your home and daily routines. Ironically, even hacked security cameras can give hackers a clear view of your surroundings. Even something as seemingly innocuous as a thermostat that adjusts the temperature when you're away can inadvertently reveal that you're on vacation.
The only effective way to secure these devices is by implementing a network security device like Firewall. While it doesn't require additional hardware, it allows you to keep tabs on what's connected to your home network. Some security products now incorporate variations of network scanning.
These features involve verifying your network security settings, creating a catalog of all devices connected to the network, and flagging devices that might be susceptible to attacks. If your antivirus or security suite includes this functionality, it's advisable to take full advantage of it and learn as much as you can about your network's security.
Conclusion
Digital tracking has grown steadily in recent years, posing a threat to online privacy and security. Cybercriminals are inventing new ways to infiltrate your device and steal sensitive data. A common practice has been the rise of spyware. This type of malware is spread via pop-up ads, malicious links, infected documents, applications, and more.
We expect cybercriminals to become more notorious and treacherous as the online world grows. Hence, having an anti-spyware detector is a no-brainer when protecting your online privacy.
It is not enough to install an antivirus program on your device. You need to complement it with an anti-spyware tool to overcome the challenges of different types of malware. We've presented you with a long list of spyware detector tools to help keep your privacy in check.
When browsing the web, looking for malicious files, applications, emails, and attachments is important. Always check to verify the trustworthiness of your sources since one wrong move could result in devastating outcomes regarding your privacy.
FAQs
Spyware is a special kind of malware designed to steal private data. It records keystrokes and extracts personal data.
Online troublemakers like malicious hackers have gotten pretty clever over time. They're not holding back when sneaking into our systems and swiping sensitive stuff. That's why having an anti-spyware tool is essential these days.
Spyware can be a real headache for your system. It can slow things down, mess up your files, keep an eye on what you're up to, throw annoying pop-up ads your way, and, worst of all, be a total data thief, snatching your important stuff from your database.
Spyware falls under the malware category, but it's a sneaky one. Unlike some other malware, it infiltrates your system by quietly swiping your data or spying on what you're doing without your knowledge.
No, a VPN is like a cloak for your online activities, hiding them from nosy internet providers and other third parties. But when it comes to spyware, you need a dedicated anti-spyware tool to kick it to the curb.
Yes. All you need is a reputable spyware detector from our list.
No, they are not. Viruses and spyware are different kinds of malware. Antispyware protects you against spyware, while antivirus programs protect you from viruses.
The anti-spyware program detects and removes spyware from your devices.