X-VPN is a lesser-known VPN provider that recently created a buzz in the industry. Like most of its competitors, it claims to offer high-level online security and privacy. But is it a marketing ploy, or can X-VPN keep up to its name? We set out to find out in this honest review of X-VPN.
The following are some of the factors we review for X-VPN in this guide.
Speed – How does X-VPN compare with other VPNs on the market?
Security and privacy – What encryption standard does it use? What are its logging practices?
Unblocking capabilities – Can the VPN bypass geographic restrictions while keeping you safe?
Compatibility – Does the VPN support the major operating systems? How many simultaneous devices does it allow?
Cost – Is X-VPN affordable? Does it give value for money?
Read along to get the complete picture of this VPN service. Yet, below is a summary of our X-VPN review if you are short on time.
X-VPN review summary
Like other VPN providers in the industry, X-VPN boasts excellent security and makes big claims about its zero-logging practices. However, things start to reveal when you dig just a little deeper. For example, upon reading the privacy policy, we found that the company collects more data than most premium VPNs.
Moreover, it isn't easy to know the security level as the provider does not say the type of VPN protocol. Instead, the only reference is by letter, i.e., Protocol A, Protocol B, Protocol C, etc. We didn't understand what this meant.
Fortunately, the VPN offers fast speed on some servers and unblocks most streaming services. However, you can get a VPN service with better security and more features at a more affordable price than X-VPN.
X-VPN main features
Speed
6/10
Average speed,
Video streaming support
41 Mbps
4K UHD
Streaming
10/10
Works well with
Netflix, BBC iPlayer, Amazon Prime Video, Hulu, Disney+, etc
Security
5/10
Encryption
Logging practice
Kill switch
Split tunneling
Protocols
AES 256-bit encryption
Strict no-logs policy
Yes
Yes, but only on the Windows client
Unnamed
Value for money
3/10
Lowest subscription
Money-back guarantee
$5.95
7 days
X-VPN pros and cons
| | |
| --- | --- |
| Pros | Cons |
| Decent speed | Poor logging practices |
| Reliable customer support | Relatively high prices |
| Unblocks most streaming services | Leaks data |
| | Doesn't work in China |
| | Lack of standard VPN protocols |
Speed: Is X-VPN fast enough?
Usually, connecting to a VPN will reduce your speed considerably because it has to reroute your traffic through intermediary servers. However, the X-VPN's average download speed was 31 Mbps, which is pretty decent compared to other providers. We conducted the tests on servers in Europe, North America, and Asia.
Below are the speed test results by region:
Europe – 56.32 Mbps
North America – 24.18 Mbps
Asia – 13.49 Mbps
We used the default Protocol B when doing the tests. Unfortunately, it's difficult to tell you which protocol this is as X-VPN does not identify the VPN protocols by name. Instead, the provider uses a letter system to name the mystery protocols. According to the company, this protects users' privacy, which does not make sense.
Next, we configured the VPN with our router to test how it could handle online games. Thankfully, X-VPN works with specific routers and even offers instruction manuals to set it up.
At first, we were skeptical that the router might not support X-VPN proprietary VPN protocols. Fortunately, our router is advanced and comes with both OpenVPN and L2TP. So, we established an OpenVPN connection through the UDP option, and it worked.
However, the performance was average when we tested online games such as Fortnite, Apex Legends, and PUBG. The only problem is that the connection kept dropping, which can be pretty annoying, especially when playing a multiplayer game.
We were using a nearby server to reduce the latency. Luckily, the native apps have an option to perform ping tests on the servers.
Compatibility: What apps does XVPN offer?
X-VPN offers apps for multiple platforms, including Windows, macOS, Linux (command line only), Android, ios, Chrome (browser extension), and Amazon Fire TV. Also, as mentioned above, X-VPN supports some routers.
That is excellent coverage, and all the apps are effortless to use. However, the simplicity is because of the lack of advanced features like other VPNs like ExpressVPN and NordVPN.
Nonetheless, the setting page is pretty simple, allowing you to enable/disable the kill switch and select your protocol.
The VPN organizes servers in three confusing categories: Recommend, All, and Streaming.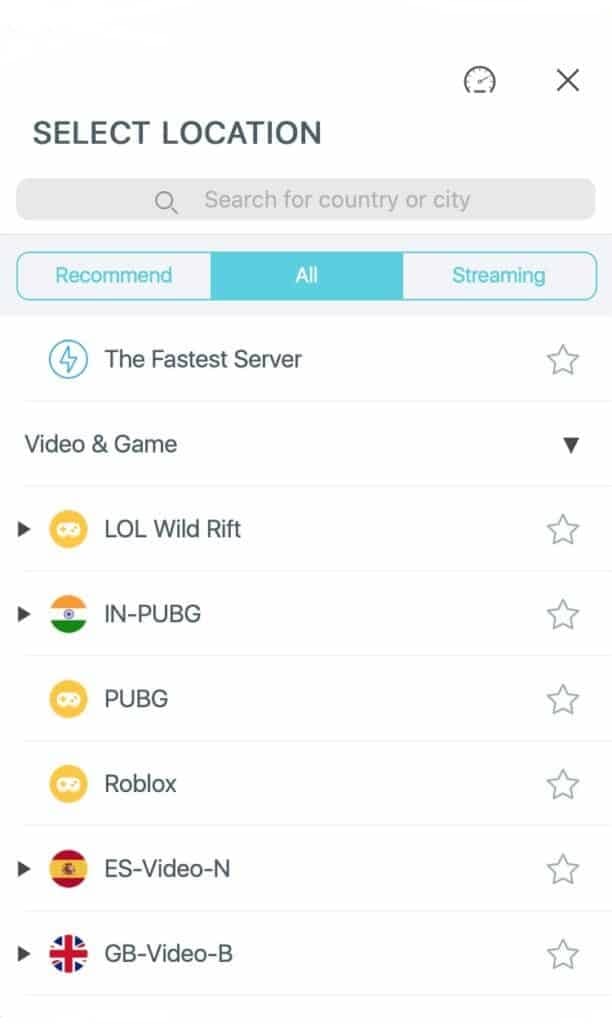 The protocol menu looks like this.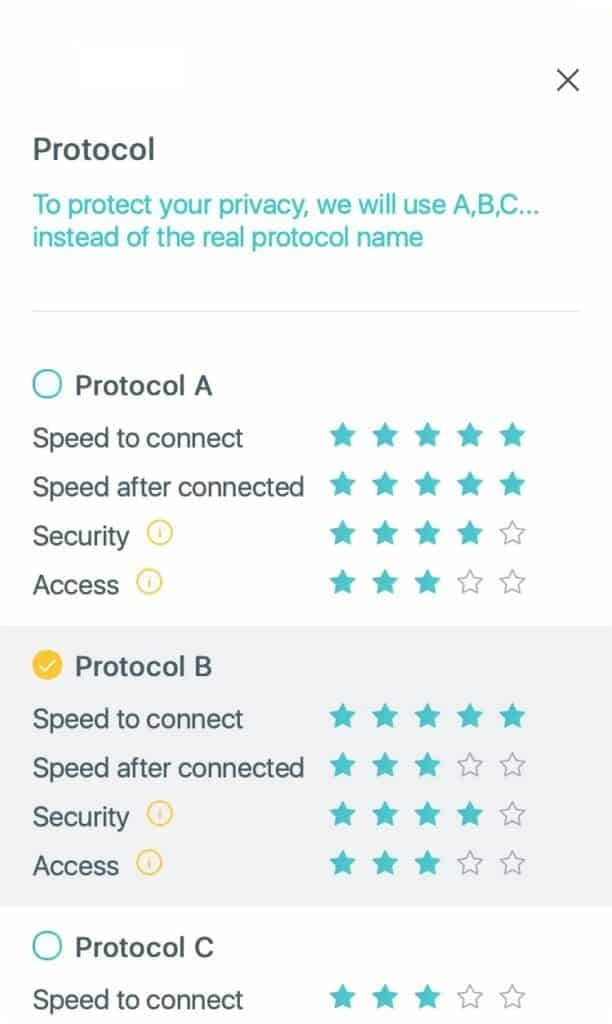 As you see, XVPN doesn't have standard VPN protocols like OpenVPN, WireGuard, or IKEv2. Instead, it only labels the protocols with letters, confusing what protocol you are using. (We will look more into this in the security and privacy section below.)
Regarding simultaneous connections, XVPN allows you to connect up to five devices on a single account. Although this is the standard in the industry, it is far less compared to Surfshark's unlimited simultaneous connections.
Also, XVPN offers a Chrome browser extension, which gives you full access to the VPN. However, keep in mind that it will only encrypt the browser's traffic, leaving out the app's traffic.
Routers
X-VPN works well with the following routers:
Asus
Linksys
Xiaomi
TP-Link
D-Link
Huawei
OpenWRT
Tomato
DD-Wrt
Fortunately, most of the routers above support PPTP, OpenVPN, and L2TP. Unfortunately, during our test, the XVPN's OpenVPN connection was shaky. Usually, the connection is very stable when using other premium VPNs on routers. However, it was a different story with X-VPN, or maybe we tested with the wrong server.
That is not good because installing a VPN on your router has several benefits. For example, you can connect many devices simultaneously, bypassing the limitations of VPN providers.
---
Streaming: Does X-VPN work with Netflix?
Here is where X-VPN outdoes most of its competitors. First, it successfully bypassed the Netflix library in the US, Germany, and the UK. Also, the VPN unblocks other popular streaming sites, like BBC iPlayer, Amazon Prime Video, Disney+, and Hulu.
Surprisingly, even the streaming quality was excellent. The VPN performed much better with streaming than gaming. We didn't experience constant disconnections as we faced while gaming.
Although, XVPN works well with many streaming services. However, you can still check our recommendation for the best VPNs for streaming if you're a binge-watcher and don't want to compromise your streaming experience.
Torrenting: Does X VPN support P2P sharing?
Yes, it does on its entire server network, unlike other VPNs like NordVPN, which have dedicated servers for torrenting. So, you will only need to connect to any server to start torrenting.
Note: We recommend you to use a server outside the US when torrenting as the country is stringent on file-sharing.
The VPN performed well during our tests with decent download speeds. However, you can check out our recommendation for the best torrenting VPNs to ensure online privacy.
Security and Privacy: Is X VPN safe?
Most VPNs in the industry, including XVPN, make big claims that they have solid security and privacy. So is it a marketing strategy to lure in more users, or is XVPN genuinely secure and private? Let's find out.
First of all, XVPN is based in Hong Kong – a region not included in the notorious 14-Eyes Alliance. Nonetheless, the growing influence of China in the region raises questions about users' online privacy within the country.
As for features, X-VPN uses military-grade AES 256-bit encryption, which is good. It is the highest encryption algorithm available, making it impossible for anyone to access your internet connections.
As mentioned earlier, XVPN does not reveal the type of protocols but instead uses letters (Protocol A, Protocol B). Thankfully, it supports standard VPN protocols like PPTP, OpenVPN, and L2TP but only on specific routers and other devices.
The provider tries to explain the meaning of protocols A, B, and C in the Help section, but it isn't apparent.
We do not recommend proprietary X-VPN protocols, although some like the Nordlynx by NordVPN are very reliable.
Our primary concern is whether XVPN has done things right with its homegrown protocols. We were very skeptical during testing as we couldn't tell which protocol we were using. A reliable VPN should indicate the protocol in use or allow you to choose a protocol that will suit your connection.
X-VPN data logging policy (no logs?)
Regarding XVPN's logging practices, a link on the website redirects you to the Privacy Policy.
According to the privacy policy, the provider does not collect your IP address, browsing history, or the apps you use.
However, when we examined it closer, we found out that the VPN copies ExpressVPN's privacy policy. For instance, here is one such section plagiarized word-by-word.
Perhaps we couldn't have noticed if X-VPN had plagiarized a smaller, less popular VPN.
Moreover, we found out that XVPN collects more user data, which is rare with premium VPNs like ExpressVPN.
The following are some of the information XVPN collects:
Connection time stamps
Email address
Network type
Protocol used
Device information
App version
Error reports (analytic)
Geolocation
Data usage
Actual IP address when signing in
Payment data
In addition, the provider retains the browsing history of all users in an anonymized manner. However, regardless of how XVPN puts it, this contradicts the statement of not collecting browsing history. So, your privacy may be in jeopardy.
A common issue with most VPNs is leaking identifiable information. However, we were impressed that XVPN does not leak IPv4, IPv6, or WebRTC IP addresses.
Unfortunately, we noticed that X-VPN leaked DNS requests. This behavior is not suitable for your privacy as your ISP can see your entire browsing history.
Does X-VPN offer kill switch and split tunneling features?
Many reasons can interrupt a VPN connection, jeopardizing your online security and privacy. Fortunately, XVPN offers a built-in kill switch that prevents this from happening.
Also, the VPN has split tunneling, but it is only available on the Windows client under the name 'Application Control' in the settings. It is too bad that others apps don't support the feature.
Server network: Does X-VPN has sufficient servers?

Interestingly, X-VPN has a decent infrastructure with more than 8000 servers in over 50 countries. That is more than some premium VPNs such as NordVPN and Surfshark.
However, like with Private Internet Access (PIA), we suspect that some of them are proxies and not servers. Also, some of the servers may be managed by third-party companies.
Will X-VPN work in China?
China uses a very advanced firewall known as The Great Firewall that blocks most VPNs. XVPN is no exception as so it doesn't work in China. However, you can check out our recommendation for the best Chinese VPNs to protect your privacy in the region.
Reliability and support: Is X-VPN customer support reliable?
One major downside of XVPN is the lack of information on its website. Most top rivals offer extensive and comprehensive information and a list of FAQs to help you solve common issues.
XVPN Help section only has a few articles. We couldn't get any results when we searched by typing into the Help function. For example, it has an Ultimate Line feature, but we couldn't find its meaning.
Nonetheless, the provider allows you to contact the support through a live chat or email. Unfortunately, the support is not available 24/7 like most competitors; instead, it mentions 24/5 customer support via chat.
Pricing: Is XVPN affordable?

XVPN is slightly costly, especially if you consider the features it has to offer and the value for your money. It comes with two subscription packages; the monthly plan ($11.99) and the yearly plan ($71.88).
Thankfully, you can use XVPN for free with the free plan that allows you to use only 500Mbs. You will only need to download the mobile app to use it on a limited number of servers.
Verdict: Do we recommend X-VPN?
From the information above, would you recommend the VPN to someone else? Probably not.
Many things are not correct compared to well-known premium services like ExpressVPN and NordVPN. For example, there is confusion on the type of VPN protocols it uses as it prefers to identify them with letters.
Moreover, we observed DNS leaks that can reveal your identity during our testing. So, why should you use the VPN in the first place if it can't maintain your online anonymity?
Another issue with X-VPN is poor customer support. First, the website is uninformative, only featuring vague claims of 'banking grade encryption' and high security and privacy. Second, the support is not available 24/7, so you'll have to wait until they are back online if you face any issues.
Additionally, it makes some features available on some apps and not on others. For instance, you can use a split-tunneling feature on your Windows PC but not on other devices.
Also, the VPN does not work in China, but this may not be a big issue as most services aren't available in China. However, it could have been redemption for X-VPN for the lack of some crucial features.
Thankfully, X-VPN offers decent speeds on most servers and works well with popular streaming sites. We were surprised that it even unblocked the Netflix library in three countries. However, remember that you can get a VPN with better features and affordable than X-VPN.
A VPN is supposed to secure your internet connections and keep you anonymous on the internet. So, there shouldn't be a shortcut around it. With that in mind, go through this unbiased review of X-VPN and decide whether it suits your needs. Also, you can check out the alternatives below to find your best pick.
Better X-VPN alternatives: Try these instead
ExpressVPN
ExpressVPN, based in the British Virgin Islands, has one of the fastest servers in the industry. It also has a long-standing reputation for keeping users secure and private. In addition, the provider doesn't collect identifiable information and applies a technology that makes the servers run on RAM.
As a result, none of your data will be saved on the servers, which will help to maintain your anonymity. In addition, the provider uses AES 256-bit encryption to safeguard your data and connection from third parties.
---
NordVPN
NordVPN is another premium VPN based in Panama, a privacy-conscious jurisdiction. It has robust encryption, DNS leak protection, ad-blocking, split tunneling, and a kill switch. Furthermore, the provider observes a strict no-logs policy, so you'll also remain private. There are also dedicated P2P servers, six simultaneous connections, and easy-to-use apps for all major operating systems.
---
Surfshark
Surfshark is the best value for money VPN on the market. Besides affordable packages, the service also allows you to connect unlimited devices simultaneously. Although the provider is based in the Netherlands, it adheres to a no-logs policy and runs servers on RAM. Hence, it doesn't record your information to keep you anonymous. It also bypasses geo-restrictions of popular streaming services like Netflix, Hulu, Amazon Prime Video, etc. Moreover, it will protect your connections with multiple features such as AES 256-bit encryption, kill switch, and DNS/IP leak protection.
---
Private Internet Access (PIA)
Private Internet Access (PIA) is a reliable VPN service, but the problem is that it's located in a privacy-unfriendly country (the United States). On the other hand, it has the most extensive server infrastructure and offers beginner-friendly apps for all platforms. Also, it uses multiple security and privacy features such as a kill switch, AES 256-bit encryption, IP/DNS leak protection, etc. Finally, the VPN has an ad blocker and a feature that help you to monitor your email for possible breaches.
---
Comparison between X-VPN and other VPNs
The table below reviews X-VPN features by comparing it with four popular VPNs; ExpressVPN, NordVPN, Surfshark, and Private Internet Access (PIA).
| | | | | | |
| --- | --- | --- | --- | --- | --- |
| | XVPN | ExpressVPN | NordVPN | Surfshark | PIA |
| Average speed | 31 Mbps | 86 Mpbs | 72Mbs | 59Mbps | 46Mbs |
| Encryption | AES 256-bit | AES 256-bit | AES 256-bit | AES 256-bit | AES 128/256-bit |
| Kill switch | | | | | |
| Logging practice | Unclear privacy policy | No-logs | No-logs | No-logs | No-logs |
| Streaming | Unblocks Netflix, Hulu, HBO, and a couple more | Unblocks all popular streaming services | Unblocks all popular streaming services | Unblocks all popular streaming services | Unblocks all popular streaming services |
| Customer support | Isn't available 24/7 | 24/7 live chat | 24/7 live chat | 24/7 live chat | 24/7 live chat |
| Money-back guarantee | 7-days | 30 days | 30 days | 30 days | 30 days |