In this age and century, monitoring your kid's or spouse's device has become easy with iPhone spy apps. You can spy on their device remotely. We know the phrase "spy app" screams illegal or scandalous. However, the conversation on whether it's ethical or unethical depends on how you use it.
If you're bothered about your child's welfare, or maybe you want to improve employee productivity at work, digital spying might just be the way to go. At least, the knowledge that your teenage child isn't accessing inappropriate content or your employees aren't trading business secrets can help you sleep soundly at night.
A robust iPhone spy app tracks the phone's activities, such as checking text messages, listening to calls, viewing browser history, or monitoring location.
The spy app industry is saturated, and finding a product that functions excellently on your iPhone can be time-consuming. Hence, we'll review the best iPhone spy apps based on their pricing, reliability, security, and functionality to help you select one that best meets your needs. This article also lists their basic features alongside the pros and cons.
Top 10 best spy apps for iPhone – Quick list
Before we delve into an in-depth review of the ten best apps to spy on iPhone, here's a summary of each of them:
mSpy: The number one iPhone spy app for discreet tracking of a target user's device activity. It's excellent for parental monitoring. (Current offer: Live demo and free try.)
EyeZy: It features keyword alerts, an invisible shield, a screen recorder, a website blocker, and so much more for $9.99/ 12 months. Comes with an easy-to-use interface.
Cocospy: A top-tier spy app for monitoring iPhones in real time. It gives access to all multimedia, including albums, calendars, videos, and photos.
uMobix: Ideal for tracking the Instagram and Facebook accounts of the target user's iPhone without jailbreaking the device. It offers value for its price.
XNSpy: It boasts access to the device's microphone and remote camera to give complete insight into a user's surroundings. Outstanding for keeping tabs on employees.
Hoverwatch: An industry leader spy app that simultaneously tracks several operating systems and devices. It works in stealth mode.
Spybubblepro: Catch a cheating partner or phone thief with this spy app. It features GPS tracking, screenshot capture, record calls, and stealth mode.
Spyic: Famous for providing an accurate detail of the target user's activity. It allows remote tracking of social media apps like Snapchat, Whatsapp, Facebook, and Instagram.
Geofinder.mobi: Finds a target device's location using just the phone number. Integrates well with all types of network operators and devices.
Spyera: Offers a plethora of features that make monitoring and controlling the activity of a target device simple. It has advanced capabilities, a quality user interface, and a fair-priced premium plan.
How to select the best iPhone spy apps?
Many spy apps can help you monitor your child's online activity, protect confidential data, and track a stolen device. Nevertheless, they differ in reliability, compatibility, price, and security.
Some spy tools only support iPhone 7 and higher versions. So, when selecting the best spy app for your iPhone, there are metrics you should follow to narrow your search. Thankfully, we've tested these spy apps based on users' reviews and performance data.
To help you pick the best, here are the factors you should consider:
Free trial/Live Demo: Always opt for spy apps that offer free trials, a money-back guarantee, and a live demo. This way, you can test-run the app and better understand the product to determine if it meets your needs.
Compatibility: Ensure the spy tool's monitoring software supports your iPhone version.
Customer support: You want a spy app with friendly and responsive customer service. It should have live chat, email, and phone channels that provide 24/7 customer support.
Feature-rich: The more features a spy app has, the better. Identify the top features you want in the tool, such as screenshot capture, social media monitoring, call recording, and location tracking.
Pricing: Another critical factor is whether the spy app offers value for money. Check the functionality and whether it gives many benefits at the lowest cost.
Security: Prioritize your privacy by choosing spy apps that protect your information. It's also ideal you check if it backs up users' data frequently.
A brief overview of the best iPhone spy apps
| Spy app | Compatibility | Key feature | Free trial/Live demo | Number of supported devices | Pricing |
| --- | --- | --- | --- | --- | --- |
| mSpy | All iPhone versions | Parent-focused spy tool | 14 days money back guarantee/Yes | 1 | $11.67/month |
| EyeZy | All iPhone versions | AI-driven tracking | 14 days money back guarantee/Yes | 1 | $9.99/12 months |
| Cocospy | All iPads and iPhones synced to an iCloud | Remote iPhone monitoring | 60 days money back guarantee/Yes | 1 | $10.83/month |
| uMobix | All iPhone versions | Real-time monitoring of a user's activity | 14 days money back guarantee/Yes | 1 | $29.99/month |
| XNSpy | Compatible with all iPhone versions | Social media and web browser monitoring | 10 days money back guarantee/Yes | 1 | $4.99/month |
| Hoverwatch | Any version of iOS | Tracks multiple devices at once | 3 days free trial/No | 5 | $6.00/month |
| Spybubblepro | All iPhone and iPad versions | Easy to use | 14 days money back guarantee/Yes | 1 | $10.62/month |
| Spyic | Any version of iOS | Email tracking | 60-day money-back guarantee/ Yes | 1 to 25 | $10.83/month |
| Geofinder.mobi | Any version of iOS | Location tracking | $1 trial period of 48 hours | 1 | $39.99/month |
| Spyera | Mac and iOS | SIM monitoring | 10 days money back guarantee/No | 3 | $40/month |
Best iPhone spy apps today – Detailed list
All the best iPhone spy apps on our list have top-shelf monitoring features. So, rest assured that every piece of information you get through them will be 100% authentic. The best part of using spy tools is getting remote access to the user's iPhone, whether it's your spouse, employee, or child.
There are countless iPhone spy apps on the internet today. Some have premium plans, while others are free and can't complete the basic tasks of digital spying. The good news is we've compiled a comprehensive list of iPhone's top ten spy apps.
Our research and performance tests show that this list's spy tools will help you get the job done. Here are the top 10 phone spy apps.
1. mSpy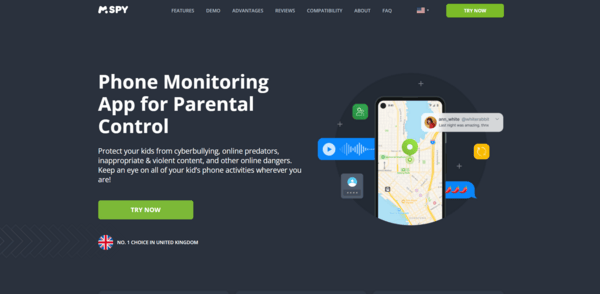 Pros
Blocks inappropriate sites and apps on the target device
Excellent customer support
Supports all iOS versions
Robust GPS tracking
Excellent security
Doesn't require jailbreak
Free trial
Offers access to deleted text messages and chats
Cons
Costly pricing plan
Doesn't backup wiped data
Supports only one device
One exceptional quality of this spy app is that it gives complete control over the target device, including calls, social media, SMS, video, and tracking their iPhone location. Besides, it lets you access deleted messages and files. It boasts screen recording functionalities that enable you to view the activities on the app in real time.
The app's GPS is highly accurate, featuring location history and geofencing support. Geofencing allows you to get alerts whenever your spouse or child leaves marked vicinities, be it the office or school.
Without the target device knowing, you can track every keystroke down to shared images using mSpy. Plus, it has a remote control feature that lets you wipe data or clear logs when you lose an iPhone. You can test mSpy using its live demo option on the site.
---
2. EyeZy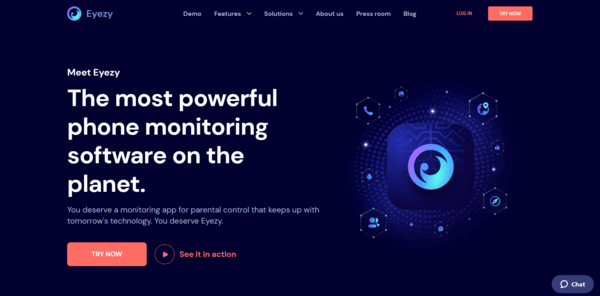 Pros
Tracks advanced WiFi
Clean dashboard
Offers free sign-up
In-built keystroke logger
Advanced spying features
Excellent for social media tracking
Keyword alerts
Cons
No free trial
Data sync is inconsistent
EyeZy is a famous spy app for real-time tracking and monitoring. It usually touts as a parental control service to businesses and schools. With this app, you can gain complete control over the websites and apps the target device accesses.
What's more? It lets you enter your iPhone model number to check compatibility before purchasing. This way, you can save yourself the stress of paying for a spy app that can't complete the task.
EyeZy has a ton of intriguing features. It lets you monitor chats across all social media platforms like Whatsapp, Facebook, Twitter, and Instagram. The spy app can browse photos, capture screenshots, and search the target device's user email and calendar.
One incredible feature of EyeZy that we couldn't ignore is its plan breaker. It allows you to view the target iPhone's calendar, including the places and events they have marked. So, if your spouse, employee, or child has saved a particular event on their calendar, you can stay a step ahead to prevent them from attending.
When it comes to preventing cyberbullying, predation, and inappropriate content, you can trust eyeZy. Statistics show that cyberbullying hurts two-thirds of its victims. It lets you flag inappropriate words and sends you a magic alert whenever the target device types it. Indeed, this makes your life easy as you don't have to monitor your target 24/7.
---
3. Cocospy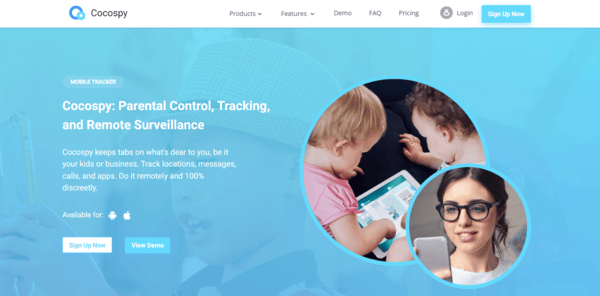 Pros
Simple to use
Great user interface
Competitively priced
User-friendly dashboard
Tracks real time location
Excellent stealth camera
Cons
Limited iOS capability
Requires the iCloud login of the target iPhone
Are you looking for a 100% undetectable spy app? Try Cocospy. This feature-packed app is suitable for remotely keeping tabs on your business and children.
Its advanced Stealth mode gives you a sneak peek into the target iPhone's media exchanges on all social platforms, including Tinder. Its most prominent feature is the ability to track the Discord app. Even if the target iPhone uses a nickname, you can still view their group and individual conversation.
From extensive testing, Cocospy boasts a call tracker, social media spy, keylogger, SIM location tracker, and geofence alerts. Your target user will be unable to discover this spy tool's presence unless you notify them, which is okay. You can use it on iOS without rooting or jailbreaking an iPhone.
If you're not conversant with spy apps, you'll find Cocospy helpful because it's easy to install. Plus, it has a user-friendly dashboard that makes navigation simple. The spy app claims to offer refunds to unsatisfied customers.
---
4. uMobix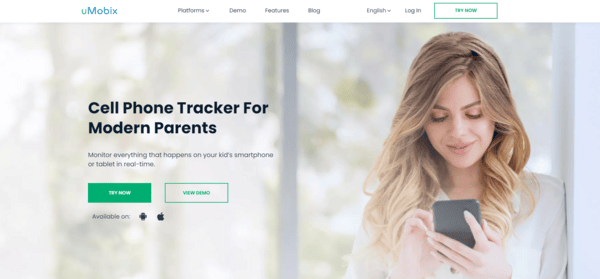 Pros
Requires iCloud details
Identifies inappropriate content and cyberbullying
Exceptional customer support
Doesn't require jailbreak
Unique location tracking functionality
Monitors multiple social media platforms
Tracks contact name changes
Activates microphone or camera remotely
Cons
Unable to sync data regularly
Rarely shows social media updates
Pricey
uMobix has most of the sought-after features in a spy app. It focuses on reading deleted data, such as calls and messages. With it, you can outsmart someone trying to hide information from you.
Installing uMobix is a piece of cake; it takes less than five minutes. This action is all you need to access your child's or spouse's social media, call logs, text messages, and location. Unlike competitors, it only requires an iCloud password and ID to track the target device.
It ranks high as one of the best Facebook/Instagram spy apps due to its ability to restrict access to them. uMobix also extends its functionalities to dating apps like Bumble and Tinder, giving you transparency into the people the target user meets. Other innovative features include GPS tracking, a keystroke logger, YouTube monitoring, and an online status indicator.
---
5. XNSpy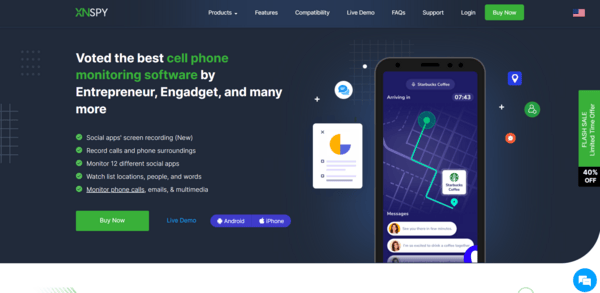 Pros
Great geofencing functionality
Provides quick real time alerts
Stays completely undetectable
Allows remote wiping of the device's data
Accurate location tracking
Cons
No time-control functionality
Doesn't work well in real time
Inaccurate SMS tracking
XNSpy is one of the few spy tools that work both online and offline. You can rely on it to get unfettered access to your target's text messages, call logs, web browsing history, SMS, and app usage details.
The offline tracking feature comes in handy when trying to find a stolen or lost iPhone. You can easily activate the target's device camera and microphone from any location to record their surroundings.
Despite its many features, the spy app maintains remarkable user-friendliness. It lets you track about 11 social media apps, including Whatsapp, iMessage, Skype, Telegram, and Tinder.
You can effortlessly eavesdrop on the target's conversation and get an alert whenever they use a flagged word on the phone. The best part? XNSpy combines affordability, excellent customer support, and advanced functionalities for seamless device monitoring.
---
6. Hoverwatch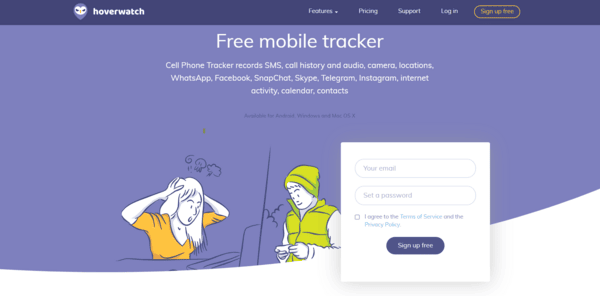 Pros
Doesn't require jailbreak or root
Functions in stealth mode
Spies on iOS and MacOS
Integrates with iMessage
Monitors to-do lists
Cons
Free version has fewer features
Slow data sync
No money-back guarantee
Browsing through the content on the target device can take time and effort. Not to mention, you may be unable to access some of the user's hidden apps and websites. Thankfully, Hoverwatch gives you a quick fix to these issues.
The spy app lets you track the target device's activities and view their to-do lists. With this feature, it's unsurprising that many businesses have integrated Hoverwatch into their services. Employers can easily monitor their employees' activities and ensure they complete tasks promptly.
The spy app also comes in a free edition, which is an advantage over other competitors. With its basic plan, you can monitor up to five devices simultaneously. It has SIM tracking capabilities that notify you whenever a person changes their SIM.
Hoverwatch works excellently in Stealth mode. Plus, you can keep tabs on hidden chats and deleted call history. Based on our performance tests, the automatic front camera capture is its unique functionality. This makes nabbing a phone thief or cheating partner a walk in the park.
---
7. Spybubblepro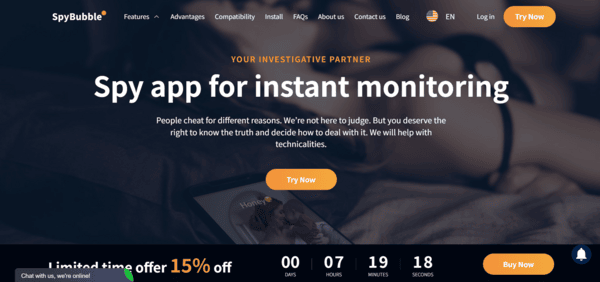 Pros
Remotely blocks and uninstall apps
Monitors phone calls
Intuitive interface
Accurate GPS tracking
Gains access to the device's microphone
Cons
No geofencing feature
Advanced features require jailbreaking
Spybubblepro's simplicity makes it a worthy-mention iPhone monitoring app. The first thing you'll notice after downloading the app is its one-step installation process, which is of great value to novices using spy software.
Next is its ability to turn off incoming messages on the target device. For example, if you don't want a particular number to contact the target user, you can effortlessly do that with Spybubblepro.
The spy app has three main functionalities: SMS and Whatsapp tracking and location monitoring. Thus, its user interface is simple to navigate. The Whatsapp feature gives access to the target device's incoming and outgoing calls and chats alongside archived and deleted messages.
That said, accessing the target device may take about five minutes. But this inconvenience is bearable compared to waiting hours before accessing a person's phone.
---
8. Spyic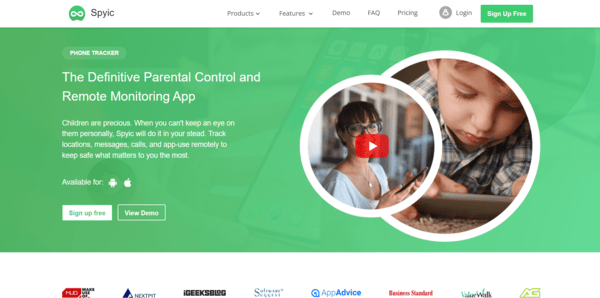 Pros
Easy to use
Excellent customer support
Accurate GPS tracking
Suitable for parental use
Visually appealing dashboard
Ideal for small businesses and families
100% safe in stealth mode
Cons
No geofencing features
Requires rooting to have advanced features
You can't go wrong with Spyic's clean user interface and cool features. It supports remote monitoring of social media platforms like Facebook, Whatsapp, Snapchat, and Instagram. The spy software has an accurately detailed location tracker that lets you view the places your child or spouse visits.
A mindblowing fact about Spyic is that its no-jailbreak version has several advanced features. You don't need to install the app on the target device. All it requires is the target's iCloud information. You'll be delighted to know that with just one subscription, you can track up to five devices; with the business subscription, it goes up to 25.
Honestly, this is an excellent bargain for the value it offers. Spyic has other common functionalities, such as viewing photos, reading social media chats, and call and SMS tracking. Besides, it provides a keylogger to let you track keystrokes.
---
9. Geofinder.mobi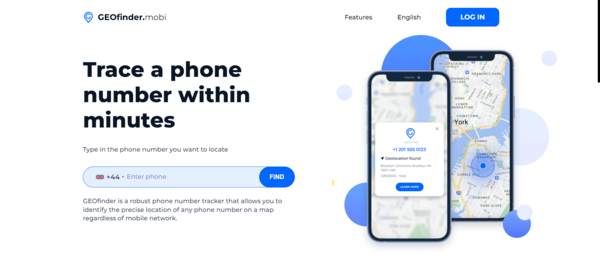 Pros
Easy to use
Tracks the target device's location on the map
Clean user interface
Geofinder.mobi is another spy app popular for its GPS tracking features. If your focus is knowing a person's location, this is your best option. Unlike some spy apps that require installing them on the target's device, this spy app just needs the phone number and country code.
The only gag here is that Geofinder.mobi requires the approval of the target device before you can track their location. This means you need their consent to monitor them. You can either send the location request anonymously or include your name.
However, the latter is advisable, as anyone will unlikely grant a stranger approval to monitor their activities. You may also opt to send a custom message through the app giving reasons you need the target device's location.
The best part of using Geofinder.mobi is it's compatible with all versions of iPhones.
---
10. Spyera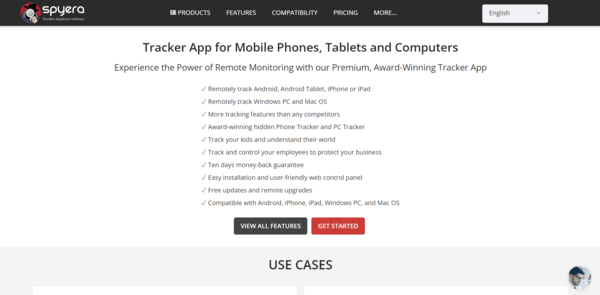 Pros
Tracks wireless and USB connection
Listens in on calls and live recording
Notifies the user of a SIM change
Remotely controls internet connection
Access to the target device's multimedia
If you want a phone spy app with unmatched instant monitoring potential, Spyera it is. It's well known for monitoring the computer activity of children and employees.
The spy app gives full remote access to the target device and provides social media monitoring, text message tracking, app usage tracking, and more sophisticated functionalities like call recording.
Besides, you can remotely turn the internet or WiFi connection on or off on the target device. Spyera also has an SMS deletion keywords feature that lets you create a list of phrases and words the app will flag. If your child receives an SMS including the flagged words, the spy app will automatically delete it. This functionality is of great value to parents, as it can prevent their exposure to inappropriate topics.
Another outstanding feature of Spyera is it allows you to turn off or restart that target device. Plus, you can monitor wireless or USB connections that were attained with the iPhone. Of course, these actions are entirely anonymous.
---
How do iPhone spy apps function?
Compared to Android, spy apps work differently on iPhones. Plus, how they work also varies among apps. Some require installing them on the target device you want to monitor. While others simply need iCloud details for access.
However, the best spy software functions inconspicuously in the background. They install themselves as a system file on the person's device. Best case scenario? You may not need to install them at all.
Spy apps that require installation run by recording the target phone's information and uploading it to an online server. So from the dashboard, you can view the person's messages, call logs, contact, location, and social media. You can also take actions, like restricting access to specific websites, deleting inappropriate apps, and blocking WiFi connections.
On the other hand, the iPhone spy apps that don't require installation work through iCloud to send online-related information. Your only issue with this method may be getting the target user's Apple login credentials. Once you have the target's Apple ID, it lets you log into their iCloud to gain full access to their passwords, videos, photos, and iMessages.
If you don't have iCloud credentials, opting for iPhone spy apps with two-factor authentication is advisable. This way, you can turn off the target's two-factor authentication before tracking their iPad or iPhone.
What are the benefits of an iPhone spy app?
There are multiple reasons people opt for iPhone spy apps. Imagine you want to monitor your child's online activity, ensure the safety of a loved one, or track a stolen device. Developing anything noteworthy that can help you efficiently do all at once would take ages.
Thankfully, this is where spy tools come in. You can remotely monitor the target user and protect them from the dark things of the internet. Here are the key benefits of spy apps:
1. Monitor children's activity
The internet exposes children to multiple inappropriate contents, so you mustn't let your kids access it without supervision.
Whether your kids are accessing adult sites, conducting inappropriate behavior through social media, or are victims of cyberbullying, you can stop this with a parent-oriented spy tool.
They let you block inappropriate websites and lock their phones to limit screen time. The best iPhone spy apps also provide geofencing and GPS tracking, which is an excellent boon if your kid gets kidnapped or lost.
---
2. Tracks employees' activity
You can protect your business and ensure efficiency at work with iPhone spy apps.
These tools allow you to view how employees use the company's devices. This will enable you to catch employees who trade business secrets with competitors or browse unproductive websites.
They are also helpful in tracking customer conversations and texts with employees to improve the business service.
---
3. Spying on a spouse
Cheating can be a traumatic experience. It can lead to anxiety, insomnia, and depression. Regardless of whether it's ethical to spy on a spouse, it's no news that using a spy tool will give you peace of mind.
This lets you monitor your spouse's social media to see if they're sending inappropriate messages. Spy apps can help you rebuild trust and feel safe about your relationship.
---
4. Tracking a device's physical location
iPhone spy apps help monitor a device's location. Many geofencing and GPS features notify you when the target user enters a specific vicinity.
This way, you can ensure your child's safety. With spy tools, you can confirm whether your child is genuinely at a friend's place for a sleepover or sneaking off to the club.
---
5. Monitors text messages and calls
Spy apps are crucial in helping you to know the conversations your children are having and whether they're talking to a predator. The best apps to spy on iPhone let you view outgoing and incoming messages, review call logs, read social media chats, and listen in on phone calls.
---
6. Tracks stolen mobile phones
Losing your mobile phone puts your privacy at risk. There's the possibility that your sensitive data and personal information may fall into the wrong hands.
Spy apps let you remotely lock the device to prevent usage. It sends a notification if the thief attempts to change your user ID. Their tracking feature is also helpful, as you can show the police your GPS data.
---
Can I spy on an iPhone with just the target's number?
Unfortunately, it's impossible to spy on an iPhone using just the phone number. If this were the case, anyone could virtually track you, your family, and your friends.
For in-depth spying, such as blocking inappropriate sites, tracking their location, and viewing messages, you must have their iCloud credentials or install the spy app on the target's device.
Can I spy on an iPhone without the iCloud credentials?
Definitely! If you don't have the iCloud password of the target device, there are a few ways to go about it. One of the ways is to use spy software like XNSpy and mSpy, as they don't require iCloud credentials.
Another way is to install the app on the person's iPhone manually. Ensure you notify the owner of the iPhone before gaining access to spy on it.
Are there any undetectable iPhone spy apps?
Absolutely! The best iPhone spy apps on our list are undetectable and difficult to remove. They work inconspicuously in the background, so the person won't know you're tracking their device.
Even when you have your child's or employee's consent, they won't know whether you're spying on them at a particular time. This doesn't mean there are no ways to see if someone is spying on a cell phone. A spy app simply compels the target user to use their device more responsibly.
Are iPhone spy apps safe?
Sadly, multiple subpar and shady iPhone spy apps exist like every other digital tool. Many advertisers claim their spy tool upholds users' privacy and doesn't work with third-party advertisers.
However, you can never be too sure, as cyber-attacks have become rampant lately. Therefore, using a spy app from a tested and trusted company is vital. Thankfully, the best iPhone spy apps we've reviewed above guarantee 99.9% proficiency and are safe.
Each boasts outstanding security and a solid reputation in the parental monitoring industry. We advise you to read their customer reviews and check the live demo before purchasing to clarify doubts.
Can I use free iPhone spy apps?
Getting a trustworthy free spy app for Android and iPhone is like finding a needle in a haystack. After much research, we concluded that many free iPhone spy apps are scams cybercriminals use.
With the inventive activity, resources, and time spent developing a spy app, it's unlikely that any developer will make it free. Of course, profit-making is the goal of building an app that extensively monitors a person's online activity.
Except you're an expert hacker, there's no way you can spy on an iPhone for free. The closest thing to a freemium spy software would be a free trial. Even that is rare in the spy app industry, as most websites prefer to provide a money-back guarantee and demos.
Are iPhone spy apps legal?
In many countries, tracking a device without the owner's consent is illegal. Nevertheless, this doesn't make them illegal by default. It depends on how you use them and the laws and regulations of your residence country.
Using spy software on your device or a phone you have permission to monitor is not unlawful. Hence, you can track the device of a child under 18. However, using spy apps for unethical purposes, such as harassing, stalking, or gaining unauthorized access to a person's information, is illegal.
To be safe, it's best to familiarise yourself with the legal restrictions regarding spying in your country. For example, US laws require that employers notify employees and obtain their written consent before monitoring their corporate iOS devices.
How to use an iPhone spy app
Installing a spy app is a straightforward process. The set-up should take at least five minutes, provided that it has a simple and easy-to-use interface.
Using mSpy, one of the best spy apps, here are the steps to install a spy app on an iPhone without the target user's knowledge:
Go to the mSpy website and click the "Try Now" button.
Purchase a subscription using your email.
Select iOS as the target device.
Choose a suitable pricing plan. We recommend the annual plan because it saves you over $37 monthly.
Go to the App Store and download the eyeZy app.
Launch the app.
Enter the target user's iCloud credentials.
Now, you can access the person's calls, text messages, emails, calendar events, and photos.
Also read: Is it possible to Hack iPhone?
Conclusion
Our comprehensive list of the best iPhone spy apps includes all you need to spy on a person.
Whether you want to keep your children safe from the dark things of the internet or protect your business interest, we have spy apps specializing in each facet. The best spy tools allow you to monitor a target device without jailbreak.
This provides an invaluable feeling of confidence and safety in your family and business. Remember that using spy apps unethically can affect your relationship or land you in jail. If you want a spy app for any reason, you can pick mSpy with your eyes closed.
FAQs
Our tests show mSpy is the best app to spy on iPhones. It's feature-packed, incredibly comprehensive, and easy to use. Notably, it lets you view deleted messages alongside every keystroke the person enters. Besides, it offers users a 14-day money-back guarantee if unsatisfied with its services.
There's hardly any spy app you can install remotely on an iPhone. Instead, you can only monitor the device remotely. This is after you've installed the spy app on the person's device or synced it with iCloud.
Yes. All the best iPhone spy apps on our list give you administrative control to monitor the target device.
One of the best iPhone spy apps that work with two factor-authentication is Spybubblepro. This app has all the functionalities to track text messages, GPS location, call logs, and more. Best of all, it works excellently despite the target iPhone having two factor-authentication enabled.
Spywares are pretty difficult to detect, but not impossible. You can use an antivirus/anti-spyware tool to find hidden iPhone apps or run a factory reset.
These terms mean the same thing. Jailbreaking is for iOS while rooting is for Android. Jailbreaking removes the manufacturer's restrictions, allowing you to access an iPhone's apps and files, and rooting gives you admin control of an Android device.
It depends on your iPhone model. Tools like mSpy, Cocospy, and eyeZy, don't require jailbreaking when running on iOS 7 to 13. But other models will require jailbreaking for you to access them.
The best way to spy on an iPhone is by downloading a spy app and setting it up on the target device.
It depends on your chosen spy tool and the subscription plan. But for most apps, the basic plan allows one device, while the business/family plan supports multiple devices.