VPN Planet, previously known as RUSVPN, was established in 2017. The company is headquartered in Romania and boasts an international team from diverse countries, including Egypt, Russia, Turkey, and Spain.
Although its last name, RUSVPN, might have implied a connection to Russia, it stood for Reliable, Unlimited, Secure. Since 2022, the VPN has operated under the name Planet VPN.
Previously, the VPN provider needed more comprehensive website data. However, it has made improvements in this regard. Nonetheless, the claim of being "the fastest and most secure VPN service" remains unsubstantiated.
If you want to learn more about this VPN, read this review representing our firsthand evaluation of Planet VPN.
Planet VPN: General panorama
Pros
Easy software to set up
Kill switch available
No browsing logs
Friendly and intuitive app
Freemium browser extension and app
Suitable for gaming
Cons
Variable speeds
Torrenting is slow
English only software
Customer service is not 24/7
Doesn't unblock Netflix USA
Few additional options
We tested Planet VPN's Windows and Android applications and their browser extensions. Both the extensions and clients (or apps) were user-friendly and well-structured.
Furthermore, in terms of pricing, Planet VPN proves to be a cost-effective VPN service (we will discuss pricing details later), especially when compared to CyberGhost and Surfshark.
However, when considering factors like speed and security, Planet VPN needs to improve compared to the leading competitors in this industry. There is undoubtedly ample opportunity to get better in these areas.
Planet VPN speed review
Planet VPN's distant servers performed quite poorly compared to nearby servers. One critical factor to consider when choosing a VPN is its speed. This affects most of your daily usage experience, including browsing, streaming, downloading, and gaming online. Key aspects of speed include:
Download speed – Usually measured in Mbps. It dictates how fast you receive data from an online server.
Upload speed – Similar to download speed, upload speed is measured in Mbps and determines how much traffic you send online.
Ping– It determines how reachable a host is. It's a key factor for gaming and is measured in ms.
Local speeds
We initially compared our base speed to the connection speed of a nearby Planet VPN server. It's common to experience some speed reduction when connecting to a VPN due to the increased distance your data has to travel to reach the server, as well as the encryption and decryption processes.
Nevertheless, with a premium VPN, the difference should be hardly noticeable. For optimal connection speed when browsing local websites, connecting to a server close to your physical location is advisable. Before connecting to Planet VPN, our base speed in the UK was 359.85 Mbps for downloads, and 234.60 Mbps for uploads, with a ping of 24 ms.
We began our test with a London server, and our download speed was reduced by only 15%, which is impressive. Obviously, we didn't see much difference when doing even data-intensive activities like streaming and gaming.
We conducted several Google searches and checked our Facebook notifications to evaluate the browsing experience. The web pages loaded promptly like we weren't using a VPN. Moving on to the second closest server in Dublin, Ireland, the speed was reduced by only 27%.
However, long-distance locations like Australia reduced my speeds by a staggering 88%. While all VPNs will inevitably slow down your connection, this was one of the most significant speed drops we've encountered. Since we started with high base speeds, we could still use the internet normally with Planet VPN. However, if you have an average or slow connection speed, it may become challenging to stream content or even browse smoothly.
---
Is Planet VPN fast enough for gaming?
When the nearby servers, Planet VPN had satisfactory ping rates, giving us a decent gaming experience. However, it's important to note that playing competitive online games with distant servers may significantly increase ping. For optimal gaming performance, most gamers prefer a ping below 30 ms. Unfortunately, with the far-away servers offered by Planet VPN, you are likely to experience excessive latency that negatively impacts smooth gameplay. If you intend to use Planet VPN on devices such as Xbox, Playstation, or others, you can set up the VPN on your router.
This configuration ensures that devices connected to your WiFi network are securely routed through the VPN. Besides providing privacy and anonymity, this setup offers extra protection against DDoS attacks and other malicious online threats that specifically target gaming environments.
---
Daily usage speed performance
In terms of daily usage, it is evident that Planet VPN's claims of awesome speeds are false. As anticipated, our link exhibited inconsistency, regardless of whether we connected to local or distant servers.
Opening multiple pages simultaneously resulted in significant delays, making Planet VPN unsuitable for users who prefer browsing with various tabs. For reliable transfer rates, we recommend considering a service like Surfshark.
On the positive side, Planet VPN exceeded expectations regarding streaming. Connecting to the nearest server yielded seamless playback of YouTube videos without buffering, and streaming Netflix was also smooth and uninterrupted.
We were nicely surprised to discover this provider had minimal impact on gaming, with no significant disruptions. However, due to the unreliable speeds experienced, it is essential to note that demanding games may still suffer from noticeable lag.
---
Safety and security of Planet VPN
Ensuring privacy and safety is paramount when considering a VPN. Many individuals seek VPN services to change their IP addresses and enhance online activity encryption. Therefore, we thoroughly test a VPN's security features to provide a comprehensive review – that includes Planet VPN.
Planet VPN says it is the "most secure VPN service." However, its safety measures must be improved compared to premium providers like ExpressVPN or Private Internet Access. Aside from a kill switch, Planet VPN lacks additional features like ad blockers.
Nevertheless, we rate the safety aspect at 7.5 out of 10. Here are our findings:
Security features are relatively basic, with no notable options beyond the kill switch.
Browser logs are not stored, but connection logs are retained.
Account creation only requires an email address and password.
Anonymous account purchase is possible through Bitcoin payment.
Protocols
During our previous testing, protocol information was limited when the provider was known as RUSVPN. OpenVPN was the default protocol, according to the provider's agents.
Currently, the website states that Planet VPN employs OpenVPN and IKEv2 protocols. Moreover, it supports PPTP and L2TP/IPSec. The Windows application allows manual protocol selection.
(Refer to our VPN protocols article for a more detailed understanding of these protocol options.)
Previously, we encountered problems with our actual location getting leaked. However, the website now asserts the presence of built-in IP/DNS leak prevention, marking an improvement in this regard.
---
Kill switch
Planet VPN boasts a functional kill switch option. A kill switch is a crucial feature provided by all primary VPN services. Without it, there is a risk of data exposure in the event of a disconnection. Planet VPN prevents such risks by offering the kill switch, which halts the internet traffic upon VPN disconnection.
---
IP, DNS, IPv6, and WebRTC leaks
Planet VPN protected our IP address and DNS requests. Upon connecting to a UK server, the leak-detecting tool confirmed that our IP address appeared to be located in the UK, while my DNS address showed a different location in Czechia. However, there were no indications of my actual physical location. In terms of leak tests, they typically assess the following areas of vulnerability:
IP leaks: These leaks can expose your true location, making you susceptible to various online threats.
DNS leaks: Such leaks pose a risk to your internet traffic privacy, as they can be intercepted.
WebRTC: This refers to the peer-to-peer communication between your browser and the websites you visit, which, if not properly protected, may inadvertently reveal your IP address.
IPv6: Sometimes, data may not pass through the secure tunnel, posing a significant security risk. Many VPNs disable IPv6 entirely to mitigate this risk.
Planet VPN demonstrated a secure performance in all four of these categories without any leaks. So, it will protect your data to ensure you remain private on the internet.
---
Privacy
Planet VPN emphasizes its terms and guarantees not to misuse your data. Before using any VPN, it's crucial to thoroughly research their policies to ensure that your data is not at risk of being shared with third-party advertisers or other entities. While it goes without saying that we do not endorse using a VPN for illegal purposes, it is still reassuring to know that your private information won't be sold.
Location
In terms of location, Planet VPN is based in Romania, which places it outside the jurisdiction of the 5/9/14 Eyes Alliances. These alliances involve governments sharing data on their respective citizens. This fact instills trust and indicates that Planet VPN is unlikely to be compelled to store and share your data in the future.
---
Planet VPN no-logs policy
One noteworthy aspect of Planet VPN's policy is that it doesn't retain logs of user activities. Their policy's transparency clarifies that the VPN will not hold your information. However, it does state that their legal department may get in touch if any copyright-infringing material is downloaded. VPN providers commonly adopt this practice.
Once again, it's important to emphasize that we do not condone illegal downloads, and as long as you use the VPN lawfully, this shouldn't be a concern. While it's not explicitly mentioned whether Planet VPN has undergone independent security auditing, it would be beneficial for boosting confidence in a company that handles your online traffic. It would be reassuring to see this undertaken by Planet VPN. Despite this small concern, their policy remains solid and trustworthy.
---
Information required by Planet VPN
Planet VPN only requests limited personal information during the account creation process. However, providing an email address is necessary to receive confirmation, and selecting a password is required for logging into the VPN application.
An encrypted email service will increase your anonymity level, together with a good password.
When purchasing an account, payment details are also required. However, paying with Bitcoin allows complete anonymity in obtaining the VPN service.
Alternatively, if you choose to pay by credit card, Decta Ltd. is in charge. It can access your details, but Planet VPN will not retain this information.
---
Planet VPN user experience review
Planet VPN's user-friendliness allows for a dual-perspective view. On the one hand, the app is straightforward and intuitive, which we find commendable. However, on the other hand, it lacks some of the beneficial features offered by other VPN providers.
As a result, there may be better choices for VPN enthusiasts. Overall, we rate Planet VPN's usability at 7 out of 10, considering the following factors:
Although some technical issues exist, the user interface is minimalistic, neat, and easy to navigate.
The installation process is quick and uncomplicated.
Planet VPN offers competitive pricing, especially with its three-year plan commitment.
There are multiple payment options available, including cryptocurrency.
The service provides a free app and browser extensions for Google Chrome and Mozilla Firefox.
Website and installation process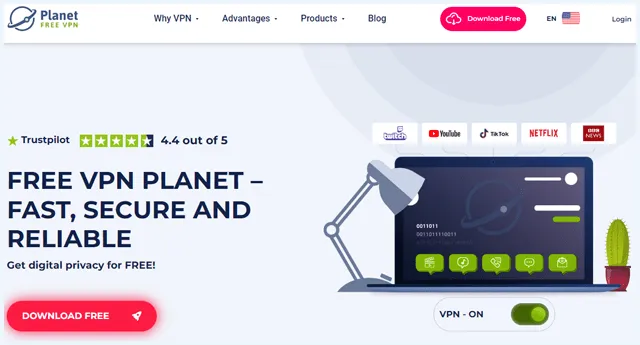 When it comes to the design, Planet VPN's homepage bears a resemblance to other VPN websites. It provides an overview of server locations, various plans and prices, information on features, and a list of available VPN benefits.
However, we need help with the clarity of information. The provider must distinguish between the advantages that specifically apply to their service and those that apply to all VPNs. The marketing approach intertwines public VPN benefits without highlighting what differentiates Planet VPN from its competitors. As a result, it becomes challenging for clients to discern the unique offerings of Planet VPN.
The website exhibits a few technical flaws. Despite claiming support for 10+ languages, it doesn't yet provide appropriate translations for all its subpages. Probably, the site is still working (or needs to work) on developing all subpages in more languages.
While this may be a minor concern for most users, it highlights areas for improvement for Planet VPN. Currently, the software and browser extensions are only available in English.
Installing the VPN, on the other hand, is a straightforward and swift process. Follow these steps to set up Planet VPN:
Visit the Planet VPN website.
Scroll down and click the "Get all the benefits" button under the "Premium" tab.
Choose your plan, provide your email address, and select a payment method.
Confirm your payment through the received email, redirecting you to your profile page.
Access the appropriate app for your device under the "Download" tab.
Download the installation file and, if necessary, restart your system.
Login using your email and password.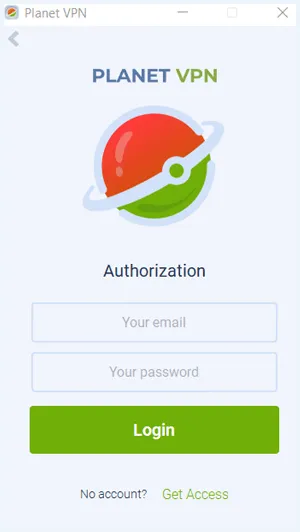 Click on the location you want to pick a server.
That's it! You are now ready to browse the internet using Planet VPN.
---
Planet VPN's interface and user-friendliness
Planet VPN presents a simple and intuitive app, emphasizing ease of use. Although it lacks some advanced features that competitors offer, the essential elements are well-organized and easily accessible.
The app includes a compact window that expands on request. Here, you can select your preferred VPN server, find a marked on/off button, and enable the kill switch feature. Additionally, you have the option to choose your desired encryption protocol.
For added convenience, Planet VPN provides browser extensions for Chrome and Firefox. Unfortunately, while these extensions are theoretically free, the free version is limited to a few servers in 5 locations, including Canada, the Czech Republic, the Netherlands, and the United Kingdom.
If you are a premium subscriber, the browser extension unlocks complete access to its servers.
Planet VPN is a user-friendly app that provides you with a great experience. It is simple and intuitive, which makes it enjoyable and easy to use. The features are well organized and include key elements and a compact window. It also offers browser extensions for Google Chrome and Firefox, but the free versions are limited in terms of functionality. To unlock their full potential, consider the premium version.
Windows/macOS
Installing the desktop applications for Planet VPN is incredibly simple. You only need to visit their website and download the appropriate .exe file. Once the download is complete, you can open the file and follow a few straightforward instructions. After that, you'll be all set to connect to the VPN using the free version or log in to your paid account.
Both the Windows and Mac apps are designed to be user-friendly. You'll have the freedom to choose your preferred server and easily establish a connection while the main screen displays your connection status. If you ever need to enable or disable the kill switch option, you can find it conveniently located in the settings menu, accessible with just a single click. Within the app's settings, you can select your preferred connection protocol, and we highly recommend choosing OpenVPN.
It offers simple and comprehensive instructions for installing and utilizing OpenVPN. Importing individual server configuration files can sometimes feel daunting, but Planet VPN's installation guide greatly simplifies the process, making it much easier to follow. You'll also find the guide useful for seamlessly importing your server configuration files into the app.
The VPN is widely regarded as the most secure VPN protocol because its codes are open-source. This means that it undergoes constant observation and scrutiny from third parties. If any vulnerabilities are discovered, they are promptly addressed and improved upon.
Android and iOS
The Android and iOS Planet VPN apps are user-friendly. We downloaded the Android version from the Google Play Store, and it was up and running within seconds. It's worth noting that a free version of the app is available for use.
When navigating the app, we had no trouble finding the kill switch feature in the settings and an auto-connect option. This convenient feature eliminates the need to select the same server repeatedly. However, it's important to mention that mobile apps do not offer protocol options. Instead, the app automatically adjusts certain connection settings within your device protocols.
Additionally, you'll find server recommendations within the app to assist you in narrowing down your selection. The iOS version is sleek and easy to use, although it may be a bit unclear regarding the level of security it provides. During our review of the app's details before downloading it, we couldn't find any specific information about the encryption it utilizes.
The description simply states that it employs 'strong encryption.' Nevertheless, after downloading the app, we had no trouble locating other security features, including the kill switch and auto-connect options.
We found it particularly helpful that the app lets you connect to your last selected location. This feature automatically connected us to the UK server, allowing faster web browsing speeds. These features can be easily enabled with just a tap in the settings menu, making it a highly user-friendly choice.
Considering the auto-connect, automatic network kill switch, and last-used location features, the VPN's iOS app is quite secure and user-friendly.
Extensions
Planet VPN offers free Chrome and Firefox browser extensions. The navigation experience is similar to the apps, but remember that these extensions only provide a proxy setup. As a result, while you'll receive basic security measures, there aren't many options available for customizing your protection. For example, features like the kill switch and the ability to change security protocols are not accessible within the Chrome extension.
However, this limitation is common among proxy VPN extensions. The primary function of these extensions is to conceal your IP address from the websites you visit, ensuring anonymity and facilitating access to geo-restricted content. While advanced features like the kill switch may not be available, it's important to understand that this is standard practice for VPN extensions.
---
Simultaneous device connections- Up to 10
Planet VPN supports up to 10 simultaneous device connections. We tested this feature with several of our devices, including laptops, desktops, tablets, phones, and smart TV, all the while connected to different server locations, and none misbehaved.
Furthermore, even when connected to different devices, our speeds still remained intact. Indeed, Planet VPN lived up to its expectations.
---
Pricing and payment options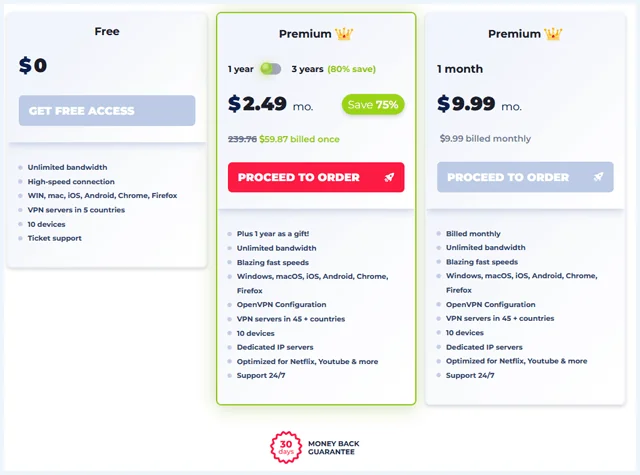 Planet VPN does not offer free access to its services. Instead, it follows a "freemium" model, where full access requires a paid subscription.
The free plan is available for Chrome, Android, iOS, macOS, Windows, and Firefox but limits your server network to five countries. To unlock additional features, a subscription fee is required.
Different subscription options are available at varying rates. For example, a one-month subscription costs $9.99, while a one-year subscription costs $3.99 monthly. The most cost-effective choice is the three-year plan, which amounts to $1.99 per month.
Planet VPN provides a 30-day money-back guarantee on its 1-year and 3-year subscription plans. But for monthly plan subscribers, the refund policy is viable within the first 14 days only. The user must clearly explain canceling the subscription to claim the refund.
Accepted payment methods include credit cards and Bitcoin.
Customer support
Contacting Planet VPN's customer service is relatively straightforward. A live chat feature is available on the website but exclusive to premium account holders. The response time may vary, suggesting the live chat agents are unavailable round the clock. However, when online, they typically respond within minutes.
Support can also answer via email, with a response time of approximately 24 hours. In our experience, a follow-up email elicited a response within an hour. However, it's worth noting that some staff members may not possess strong English language skills, which can occasionally result in responses that come across as unintentionally brusque and create a communication barrier. Generally, support is competent.
Server network
The size of a VPN provider's server network plays a crucial role in its versatility. A more extensive network facilitates more straightforward access to geo-restricted content and reduces the likelihood of overcrowded servers.
We rate Planet VPN's server network 7 out of 10 based on the following factors:
Users can choose their preferred server location but not the specific server.
Planet VPN does not offer Dedicated IP addresses.
Number of servers and locations
| Continent | Country |
| --- | --- |
| Europe | Belgium, Belarus, Czech Republic, Albania, Bulgaria, Cyprus, Estonia, Egypt, Germany, France, Finland, Italy, Greece, Latvia, Netherlands, Moldavia, Ukraine, Portugal, Poland, Norway, Spain, Russia, United Kingdom, Turkey, Switzerland, Sweden, Lithuania |
| South America | Brazil, Costa Rica, Argentina, Chile, Peru, Mexico, Colombia |
| North America | United States, Canada |
| Middle East | United Arab Emirates, Israel |
| Asia | Japan, Indonesia, China, Singapore |
| Africa | South Africa |
| Oceania | Australia |
According to the information provided on their website, Planet VPN states that they have a network of over 1,200 servers spanning 50+ countries. However, past experiences have shown that these boasts can be misleading.
For example, during previous testing, the provider advertised having 350 servers, while there were only 53 servers available. When we inquired about this, customer service mentioned that 300 servers were still undergoing testing.
While it is impossible to independently verify the accuracy of Planet VPN's claim of having 1.2k nodes, it appears to be another empty boast. The app does not allow users to select specific servers, only the desired location.
While Planet VPN boasts a vast server network, having a more extensive selection of servers is beneficial if your goal is to unblock content. That is why we recommend considering providers like NordVPN or ExpressVPN instead.
---
Does Planet VPN work in China? Yes
When our team reached out to Planet VPN's support, they reassured us that their service was compatible with China. This is a noteworthy feature since not all VPNs possess this capability, indicating Planet VPN's high level of security. If you have plans to visit China, this VPN is a favorable choice.
However, it's important to install the apps before you arrive since they may not be available for download within China. The Chinese government has imposed restrictions on numerous VPNs, but they focus on targeting the technology itself. There have been no reported incidents of tourists facing consequences for using VPNs in China.
Dedicated IP address
Regrettably, Planet VPN lacks dedicated IP nodes. In certain situations, having a personal server can be advantageous, as many apps and websites, such as Netflix, actively combat VPN usage.
In addition, with a dedicated IP, it becomes more challenging for servers to get wiser about VPN usage, reducing the likelihood of being blocked.
Does PlanetVPN support streaming?
Planet VPN struggles to bypass geo-blocks on various streaming platforms, including Disney+. However, it circumvented these restrictions on occasion, enabling us to enjoy high-definition streaming without buffering issues.
Despite this, we cannot wholeheartedly recommend this provider for streaming purposes, even if you only intend to watch Netflix, as other VPNs offer access to a broader range of regions and better performance.
Netflix
Regarding unblocking capabilities, we were pleased to find that Planet VPN effectively worked with Netflix US, granting us access to more content.
Despite being geographically distant, we experienced quick video loading times of only 6 seconds. However, it's worth noting that the France and Canadian servers also unblocked Netflix on some servers.
Unfortunately, servers in other locations like Australia couldn't access the site. When we reached out to customer support to determine the most suitable servers for Netflix, the live chat feature was unavailable.
---
Hulu, Amazon Prime Video, Disney+, and BBC iPlayer
During our test, Planet VPN couldn't unblock some streaming platforms. Many of them promptly displayed an error message, saying they had blocked the proxy connection. In some cases, we couldn't even load the websites properly. For example, the library was available when attempting to access BBC iPlayer, but the video couldn't play. Also, we couldn't access Hulu and Disney+ menus. Both platforms promptly detected the VPN and imposed restrictions, hindering access.
Similarly, Amazon Prime Video also detected and blocked the VPN. Given Amazon Prime Video's reputation as difficult to unblock, we weren't surprised by this outcome. However, it's worth we could access some websites such as Wikipedia, Reddit, Instagram, Vkontakte, and LinkedIn with Planet VPN.
---
Does Planet VPN support torrenting
Planet VPN hints at supporting torrenting. The VPN suggests that provided you're not violating copyright infringement; then it shouldn't be a problem. However, torrenting is considered illegal in most regions. As such, Planet VPN recommends that you take time to understand different jurisdictions to avoid legal fines or jail time. But with Planet VPN, you don't have to worry about cyber threats posed by torrenting. It hosts top-notch security features such as a kill switch and strong encryption to protect your connections and data.
Comparative analysis and recommendations
Planet VPN needs more features and overall performance than other VPNs in its price range, such as Surfshark and CyberGhost. While its browsing and streaming speeds are decent, they lack stability. Furthermore, Planet VPN's privacy and security measures are less robust than its competitors.
Given these factors, we suggest exploring better alternatives, and our list of the best VPN providers can guide you toward more substantial VPN options.
FAQs
Yes. It still does but under the name Planet VPN. However, they are not in any way affiliated with Russia.
There is a free trial with limited features, but you can upgrade to the paid version. Fortunately, Planet VPN offers a 30-day money-back guarantee, enabling you to test the premium version risk-free.
Yes. Planet VPN could access Netlix US on some servers. However, this can vary depending on your location and internet speed.
Yes, you can. However, you might experience slow speeds when torrenting on some servers.
Absolutely. Planet VPN doesn't store any logs and has a kill switch and strong encryption, making it quite safe.
You're likely to experience slow speeds when torrenting. However, you're likely to get decent speeds when using a server nearby.
It's highly advised against downloading Planet VPN modded APK as it exposes you to potential malware, viruses, and hackers. You can instead use the free trial version as it's risk-free.