Popcorn time is history now. The project shut down earlier this year, in January 2022.
When free video streaming websites are successful, the usual thing is for many mirrors to pop up all around the web so that even when the original website goes offline, the mirrors remain around, using the same source code to stream illegal content. This hasn't happened with Popcorn Time. The app's service is based on an engine that requires much more expertise than cloning a website. However, three clones appeared as an open-source project, but they haven't gathered the momentum that made the original project famous.
And using Popcorn Time always entailed a risk. Firstly, torrenting copyrighted material is illegal almost everywhere, and some jurisdictions actively pursue this type of cybercrime. Second, some fake apps appeared over time that were spreading malware.
Make no mistake, the threat to users is real. In 2015 the German authorities managed to extract the IP addresses of the app's users and had them face a legal process for illegally spreading copyrighted material.
Popcorn time is dead now, but BitTorrent is still around, and there are many other illegal video streaming websites on the internet. Depending on where you live, both activities risk you as a user. So if you want to use BitTorrent or other video streaming websites safely, you need to use a VPN for Popcorn Time and similar sites. Even if you're using legal video streaming services, a VPN is still your friend because it can hide all your activities from the prying eyes of any third parties.
This article will give you a list of 21 video streaming platforms that can meet your digital entertainment requirements without landing you in jail or paying a heavy fine.
In every case, using a VPN is still the way to go for two reasons: To hide your video streaming from your ISP so that it can't throttle your bandwidth. The second reason is that almost every legal video streaming service offers a different catalog for each country. A VPN will allow you to pass for a user of a foreign country so you can watch any catalog you want, wherever you are in the world.
Top ten alternatives to Popcorn Time today – Quick list
We will describe our twenty-one picks in detail further in this article. But if you're in a rush and you only want to know the best ten options as fast as possible, then here they are:
Legal copyright disclaimer:
Privacysavvy.com is a tech website. We publish guides, news, and reviews of security and privacy-related services and issues. We do not vet any website, app, or other services to ensure they have the legal rights to offer content of any sort. Every user is responsible for the media they use online. We assume that our readers are law-abiding citizens of their jurisdictions who comply with domestic copyright laws. Installing apps that do not come from official sources (Google, Apple, and Amazon apps stores) is risky, and each user needs to be cautious in this regard. Any user that chooses to watch video streamed from free websites or apps must ensure that he's not breaking any law — they can still see works in the Public Domain using free apps and websites. PrivacySavvy.com doesn't host, administer or stream any content or software.
The best twenty-one Popcorn Time alternatives in Aug 2022 – Detailed list
Popcorn Time came online in 2014. It became an instant user favorite for streaming movies and tv shows because it was free and easy to use. In addition, the press hailed it as a friendly app, and it harnessed a lot of interest all around the internet.
The app was a neat idea, whatever else you could say about it. A BitTorrent client downloaded a video file of the user's choice sequentially and with enough speed so that the app's media player could show it. Popcorn Time turned the BitTorrent P2P network into the world's largest video streaming platform.
Of course, it wasn't long before it ran into legal problems everywhere because most of the world's jurisdictions consider P2P filesharing illegal regarding copyrighted content.
However, the app thrived for years. This was possible because it became a bonafide open-source project that gathered a developer community around it. This came in handy because the original programmers left the project relatively quickly.
It wasn't long before the internal corporate word at Netflix was regarding Popcorn Time as serious (and unfair competition). Popcorn time got shut down in January 2022, but luckily many quality alternatives remain. Below you go with them:
1. Netflix
We start our list of alternatives to Popcorn Time with the most predictable option — Netflix.com. It's the world's largest and most popular video streaming service. It has a nice and friendly interface and vast content library (especially if you're in the US or use it through a US-based VPN server).
Netflix supports every major platform like Android, macOS, iOS, Windows, and even Linux. The variety of software allows you to have an excellent streaming and viewing experience across different devices. You can double the fun with a Netflix VPN if you need variety in content.
Downloading content for offline viewing is permitted, and the most obsessive Netflix users know about the secret codes that can unblock some arcane content.
Netflix requires a subscription, with the basic plan starting at 8.99 USD monthly. It's not the cheapest option, but it's legal, and it has such a wide variety of movies and shows that you'll find plenty of things to watch and enjoy.
The giant streaming service platform is even producing original content that's getting positive attention. Some of those shows are:
The Witcher
Umbrella Academy
The Crown
Ragnarok
Shadow and Bone
La Casa del Papel (Money Heist)
2. Disney+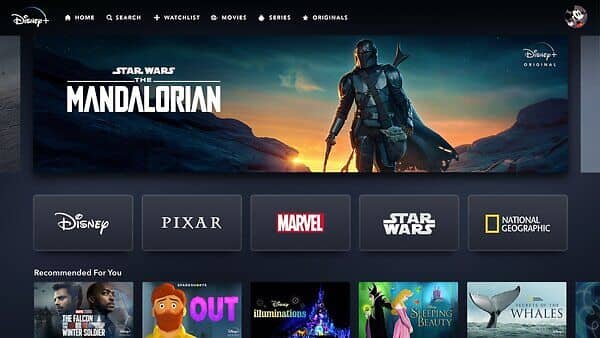 It's hard to think of a more prominent name in entertainment than Disney's. The traditional content associated with Disney would have been enough to make the company's incursion into streaming video an industrial milestone. However, Disney now owns the Marvel and Star Wars universes, so its new presence on the internet is enormous.
The Disney+ Hotstar app is available in India and a few other countries and includes live sports like cricket, football, and badminton.
You can use the Disney+ app in every primary operating system and streaming device — Yes, Roku too. The lowest monthly fee is 7.99 USD, so it's slightly cheaper than Netflix.
Some of the favorite shows on Disney's streaming service are:
The Mandalorian
Obi-Wan Kenobi
Loki
WandaVision
The Simpsons
Luca
Isle of Dogs
3. Peacock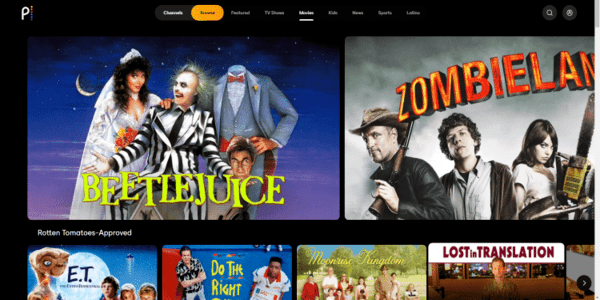 Peacock TV is a rarity. It's a free streaming video service that is legal and supported by a corporation (NBC and Comcast, in this case). You will need to put up with the ads, but it could be worth it since this platform boasts an extensive catalog of American content.
It also has two paid packages (Premium and Premium Plus) that will allow you to see the Premier League and WWE events. The Premium Plus options (9.99 USD monthly) is free of ads and will let you see some shows offline. But like many other platforms today, it's blocked to users outside of the UK, US, Ireland, Switzerland, Austria, Germany, and Italy. You'll need to use a VPN to access Peacock TV globally.
Shows in Peacock include:
The Office
30 Rock
Cheers
Downtown Abbey
Monk
4. Hulu
Hulu.com is also an excellent alternative to Popcorn Time. The service includes TV shows, movies, Hulu original content, and other premium content. It allows enjoying some live TV and sports channels.
Hulu is available for lots of devices. Besides the usual ones, Xbox, Apple TV, and Amazon FireStick are among them.
The service starts at 5.99 USD monthly, with ads. If you want live TV and sports, then the starting fee is 64 USD monthly.
One big drawback with Hulu is that it's available in Japan and the US only. But that won't stop you from watching it if you have a good VPN that can support video streams.
Here are some of Hulu's popular originals:
Future Man
Letterkenny
Castle Rock
The Great
Catch 22
5. HBO Max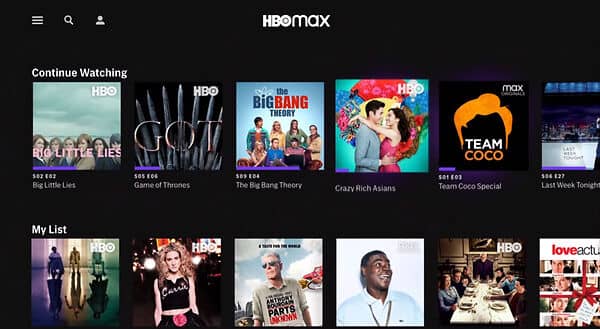 HBO belongs to a new happy family that includes two famous big brothers in AT&T and Warner Brothers. HBOMax.com is the on-demand video venture they are all offering together.
As the name would suggest, this app will get you all the HBO original content you already know and love. But you will also access the complete Warner Brothers catalog, CNN, and Sony Pictures. In addition, the service is ad-free, and the fee ranges from 9.99 to 14.99 monthly.
HBO Max is currently serving the US and a few Latin American countries so far. So if you're elsewhere and you want it, your VPN will do the trick for you.
Popular content on HBO Max includes:
Game of Thrones
Dune
Suicide Squad
Rick and Morty
The Looney Tunes
Friends
6. Amazon Prime Video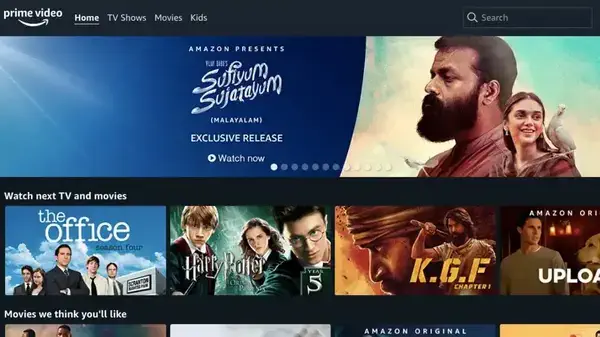 Probably the best video streaming service you didn't know you already had.
This is the one service that could probably challenge Netflix in terms of popularity and content. The Prime membership gives you access to the video streaming service, the music service, and all the Amazon Prime advantages that Amazon customers enjoy (free shipping on selected purchases and other perks).
Amazon bought MGM recently. This means that the catalog grew significantly to include a lot of classic movies — the whole James Bond collection, for a start.
Here are some popular shows on Amazon Prime:
American Gods
The Grand Tour
Carnival Row
The Expanse
The Handmaiden
7. Sony Liv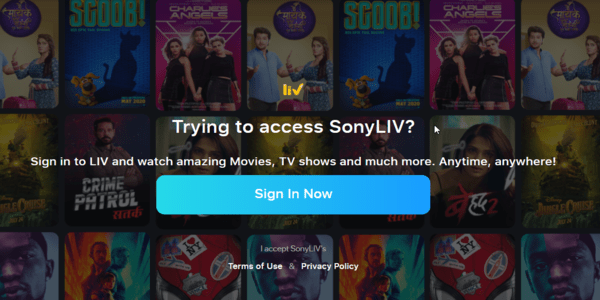 Users from India used to be the most numerous and enthusiastic Popcorn time users. This entry on our list is for them!
SonyLIV.com showcases India's most popular TV shows and Bollywood's bigger blockbusters.
SonyLiv's interface isn't the best one we've seen, but Indian users tend to be experts, so its many titles are more important than its usability. Of course, games and sports are also in the mix.
And one of the best things about SonyLIV is the price: 9.39 USD will get you six months of service. It's incredibly cost-effective. But to access SonyLIV in the USA and some other countries outside India, you'll need to use a VPN.
The platform offers ads for Android, iOS, and Amazon FireStick devices. If you're on a computer, you can use it with a browser.
Shows on SonyLIV include:
Scam
Hadh
Girls Hostel
Gullak
8. Crunchyroll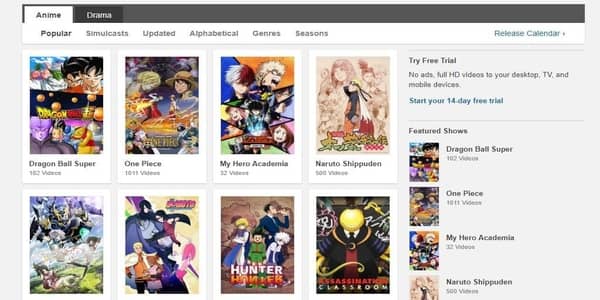 The Crunchyroll website is a niche platform focused on anime and manga. It started as one of the many illegal video streaming websites on the internet, but then it evolved into a legal service that provides fresh content to anime enthusiasts. The current owner is Sony, which bought it last year.
Crunchyroll is continuously updated with the latest content from Japan. As soon as a new episode of any given series is aired, it shows up on Crunchyroll before a day has passed.
This website has a free option, so you don't need to pay anything to enjoy the site's vast anime catalog. However, the free service has lots of ads and low resolution, and the updates become available about a week later. We recommend using a Crunchyroll VPN to ensure security when on it.
Some of the favorite animes in Crunchyroll are:
Naruto: Shippûden
Demon Slayer: Kimetsu no Yaiba
Jujutsu Kaisen
Fullmetal Alchemist: Brotherhood
9. Plex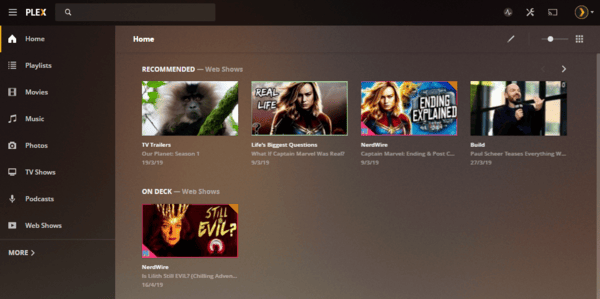 Plex is a different animal from the previous entries. It's a software platform for a media organization. As a Plex user, you can create a server that will store any content you want to put there. Then, you and anybody else you would like to invite can enjoy that content using the Plex app.
The Plex Pass, at 4.99 USD monthly, will let you record and save live TV shows for later viewing, as well as some premium features for music and sharing. You can also double the fun with Plex plugins.
10. PopcornFlix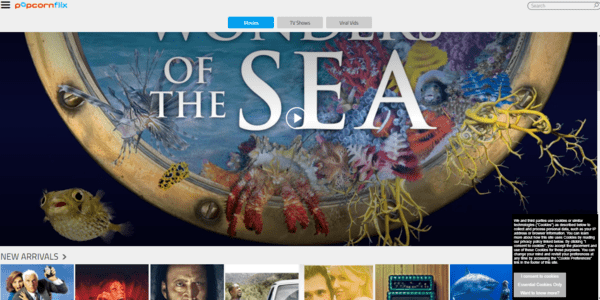 Yes, Popcorn had to come into the list somehow. PopcornFlix supports its free streaming service for TV shows and movies through ads. Screen Media Ventures own it.
This is not the site you want to see the latest shows or movies. But on the other hand, it's an excellent resource for finding classic titles.
You can enjoy PopCornFlix on every typical device and your Xbox One or Roku. Some of the titles on this platform include:
They call me Jeeg
Red Bad
Legends of King Arthur
Black Fox
The unofficial popcorn time alternatives
You have more options if you don't mind taking more risks to get your digital entertainment. However, some of the platforms in this second list include pirated content, so be aware and use these options wisely because you could get in legal trouble if you get caught in some jurisdictions.
We mentioned VPNs in several of the entries in the legal option. The purpose of a VPN in such cases is to enable users to unblock the catalogs that any given platform offers for a country other than yours.
A VPN is not about getting more content but staying safe with the following options. You are assuming a risk by using illegal video stream apps or websites, so it would be best to use caution by adopting a good VPN service to ensure no third party can figure out what you're doing.
Let us be clear about something: we are including the "unofficial" options for the sake of completeness. But we do not advise you to use them. Instead, the safest way to go is to stick to the video services in the previous section because they are all legal and do not pose any additional risk to your security.
11. 123Movies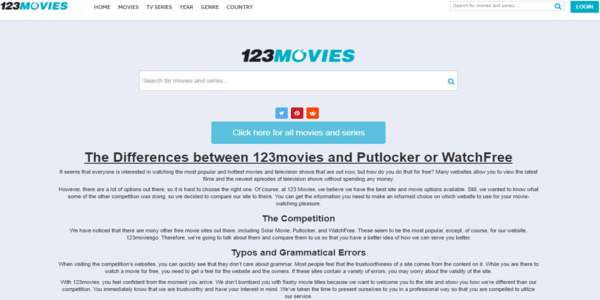 Only a handful of free video streaming websites have achieved popularity similar to 123Movies'. It was the place to see free movies and TV shows for years until it went down in 2018. While the original site is gone, many clones and mirrors remain active and serve a high number of users. However, caution is advised when using these mirrors because some of them are malware spreaders.
If your antivirus and premium VPN service is up to date, 123Movies is an excellent alternative to Popcorntime. The interface is fresh, easier to navigate, and offers a vast content catalog classified by genre, production year, and cast.
It's a website, so it should be accessible from almost any device.
12. Kodi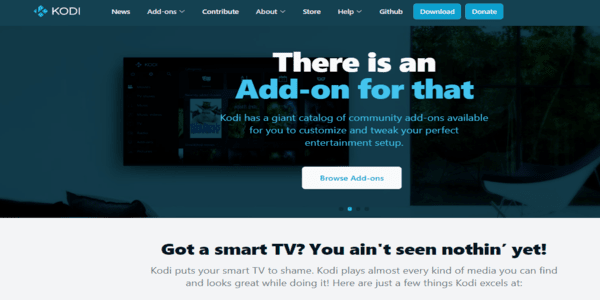 Kodi is among the most similar options to the original Popcorn Time. It's also an open-source media player that can handle all kinds of content. It's available as an app. It's friendly and pleasant to use.
Kodi allows you to use addons that can expand the app's functionality. So there are addons that will let you stream material from Netflix, YouTube, and ESPN, to name a few. But you should be mindful of the addons you select and ensure that you do not involve yourself in anything too illegal.
Kodi also plays music and does picture shows, so it's an all-around entertainment option. You can install it on your Apple TV or Raspberry Pi, even.
13. FlixTor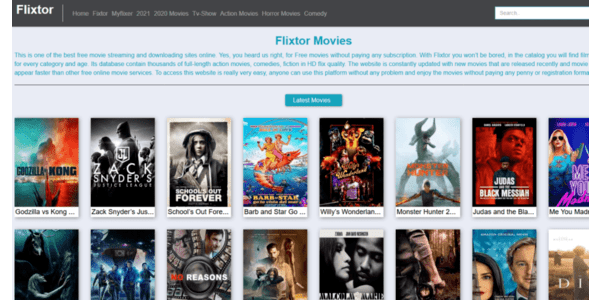 FlixTor has become one of the biggest names in the free streaming video website niche. The library is continuously updated with the most wanted recent blockbusters, so it's a good Popcorn Time alternative.
Regular users can watch movies from the last semester and TV shows released over the previous 90 days without paying a fee. However, if you want access to the entire FlixTor catalog, you must become a VIP member, which costs 14.95 USD monthly.
Be aware that FlixTor's alternative mirror sites and other websites in the network are constantly changing. Therefore, ensuring you're on the correct website is not always obvious. This is important because hitting the wrong websites can give your device a malware infection.
14. Putlocker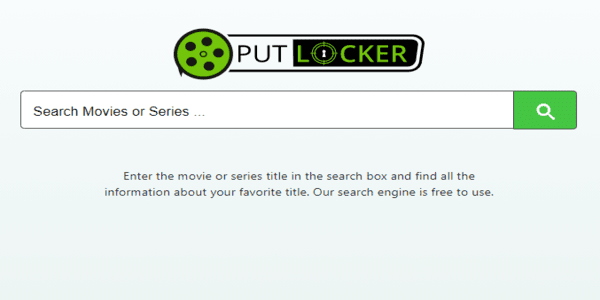 Putlocker is also a name in streaming digital video content. As often happens with illegal streaming websites, it achieved enormous success and then went down (in 2016). But the name goes on in many mirror websites that carry on streaming video throughout the web.
The site's interface is straightforward, and you'll get to the movie or show you want in fewer than four clicks. It usually includes the latest titles, but watch for malware and low-quality videos.
A VPN working in tandem with a good antivirus suite is also an excellent preventive measure if you try Putlocker.
15. Primewire
This is one of the best Popcorn Time replacements on the internet. The similarity to Putlocker and 123Movies is obvious.
You don't need to log in to an account to see Primewire's content. Unfortunately, while the streams are fast, the quality isn't the best.
The same warnings apply as with the other illegal options.
16. Zona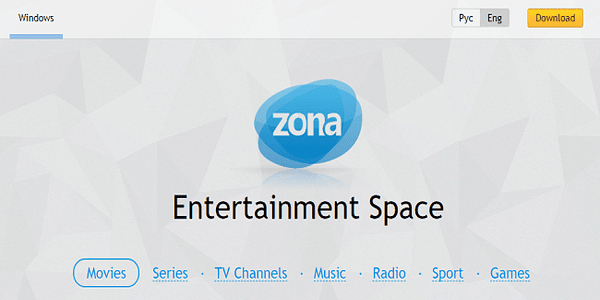 "The Popcorn Time" beater is one of the descriptions you'll find applied to Zona. However, it's also a video streaming software with an underlying idea similar to Popcorn Time — a BitTorrent client that downloads torrent movies so that you can watch them as the download progresses. So its streaming mechanics makes it the most natural alternative to Popcorn Time.
Zona uses torrents to provide users with movies to watch that are illegal, like in Popcorn Time. Moreover, some Zona apps have been known to include malware.
The critical difference between Zona and Popcorn Time is that Zona is not an open-source project. So while Popcorn Time is transparent, Zona's code is murky and could hide nasty things.
17. Duckie TV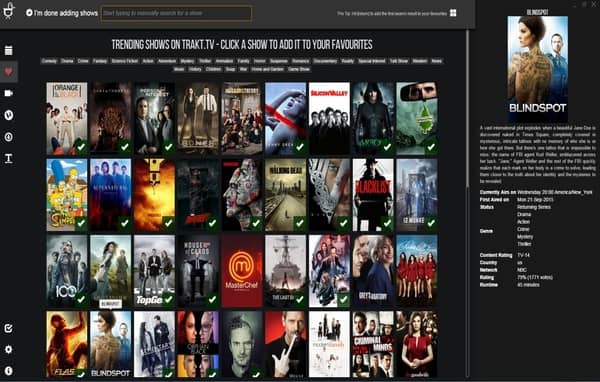 This is one of the alternatives that came closer to Popcorn Time while testing and researching for this topic. It has this nice feature: If you are your favorite shows to a calendar, it will track the network to know when the newest episode is available.
DuckieTV admits links with BitTorrent and uTorrent, and it will add the downloads to the queue on your behalf as soon as the new torrent hits the network.
The app exists in Linux, macOS, and Windows versions.
Ducky TV is also a torrent-based software, so the same legal concerns apply as with Zona and Popcorn Time.
18. Stremio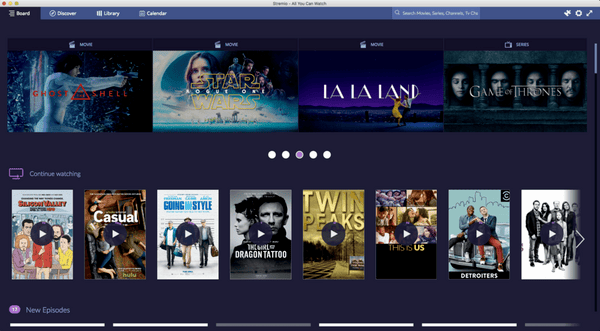 It's another media management solution designed to work across platforms like Plex or Kodi. The idea is to have all your media available in a single app in a highly customized way. A variety of plugins and addons helps to increase the app's value.
The apps come in Linux, Windows, macOS, iOS, and Android versions. Many Stremio.com plugins are going from the legal to the not-so-much. The illegal ones are pretty popular because they get you access to copyrighted films and TV shows without fees.
As with the other illegal options, there's no doubt that Stremio can give you lots of entertainment, but you should remain aware of the risks it involves, depending on your country of residence.
19. Rox Player
Here is another content management tool that can play different protocols, including P2P, DHT, HTTP, and IPTV. These options will make you forget the need to get more video codecs to see any videos.
Rox Player can also play torrent files while the download is in progress, like Popcorn Time and a couple of other players on our list.
Rox Player's main drawback is that it is a Windows-only software option.
If you're using Windows and you like Rox Player as an option, please ensure your antivirus suite is online and your current license is current.
20. Couch Potato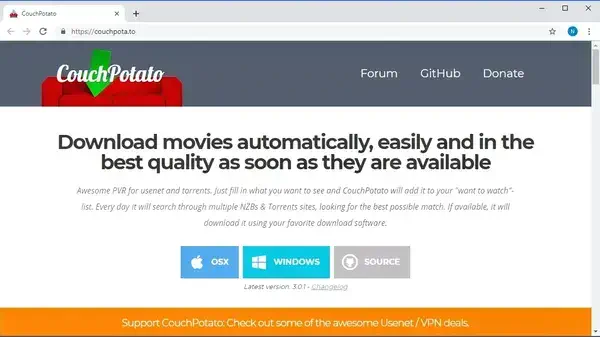 Downloading content in the most conventional sense hasn't been a feature in any of our alternatives for Popcorn Time. This is it.
With Couch Potato, you start by searching for the movie you want with the built-in search engine. Then choose the video quality you want. If your internet service is fast enough, you'll even be able to watch the movie before downloading it.
The Couch Potato Google Chrome extension can keep you updated with the latest movies and TV shows.
21. Gomovies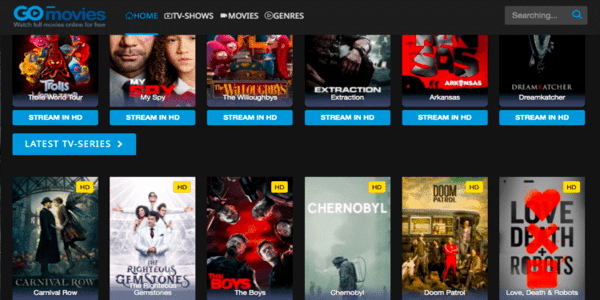 Our last alternative to Popcorn Time is an excellent video streaming website that gets you the latest shows and movies.
The quality in the latest titles improves with time as your first option could be a recorder copy that gets upgraded to a better version.
There is nothing to download, and you can see anything you want on the GoMovies website without an account, fees, or anything else.
The usual warnings apply regarding legality with Gomovies.
How did Popcorn Time become so popular?
Popcorn Time became such a massive success among internet users that Netflix itself came to consider it a threat. These are the reasons that made that possible:
The torrent-based architecture allows for the latest titles to become available quickly.
The installation process is painless, and the interface is friendly.
You don't need to wait for the whole movie to download to watch it.
Every user can include their favorite BitTorrent tracker to increase download speeds.
Are there any consequences of using sites like Popcorn Time?
Since we've mentioned the legal implications of using a particular class of websites and services that we've called "illegal" throughout this article, you should suspect that using Popcorn Time can have serious legal ramifications depending on where you live.
Every country has a different stance on copyright laws and rights. And even countries that honor the idea in their legislation do little or nothing to enforce it. However, some countries take it very seriously and will pursue any offenders with full force.
So are you in a lot of danger if you use a Popcorn Time illegal alternative? Again, it depends on where you live. But do not dismiss the risks. Several production companies have sued internet users for watching their shows illegally. That could be you if you're not careful enough.
Final thought and conclusions on Popcorn Time alternatives
We do not suggest or condone for you to use any of the Popcorn Time resulting forks and clones. Furthermore, we don't want you using any illegal video streaming platform, for that matter.
However, if you use any of the Popcorn Time alternatives on our list, you should have a top-notch VPN service to complete the task. And yes, we mean both the legal and illegal options.
The need for a VPN and an antivirus suite is evident in the case of illegal platforms. You will likely end up using a mirror or a clone, many of which are malware delivery systems. Also, some of them keep user logs that could end up causing you legal problems — it's not paranoia. There are such precedents.
If you are going to use Netflix instead (or any other legal option), the VPN still has advantages. For instance, many of the legal options on our list have limited availability. Also, you need to make your app or service think you're in a specific country to serve you. On the other hand, you could also want to see the content that the platform of your choice offers in other countries. In either case, the VPN will do that trick for you.
FAQs
Popcorn Time used the BitTorrent network to deliver copyrighted content to users without the copyright owner's permission. This is copyright infringement in most countries.
So the answer to this question depends on where you live, but only a handful of jurisdictions allow copyrighted content to be freely available without payment.
Popcorn Time is offline these days. So, strictly speaking, no legit app for this service remains. However, three forks appeared that claim to continue with the Popcorn Time legacy. If you want their legit apps, you'll need to get them from their GitHub repositories.
No, you don't need a VPN. But using one will enhance your experience significantly whether you're using a legal or an illegal Popcorn Time alternative.