The Bahrain GP Grand Prix is the foremost racing event people love to watch worldwide. Every year promises new locations, winners, and the all-too-familiar excitement of watching the cars weave, turn, drift, and speed off into victory.
Fans worldwide are often hyped and ready to watch their favorite drivers on the tracks, but not everyone can be there live. That's why there are many options to watch the live event. For example, if you are in the US, the best options to watch Bahrain GP are ESPN or ESPN2.
However, outside the US, you must try alternative means to access the Bahrain GP events. That is because, outside the US, the event is geo-restricted or not on any "free to watch" platforms.
The best option for watching the Bahrain GP 2023 from outside the US for free is using a VPN. This article discusses the best free and paid sports streaming websites and the best VPNs for safely watching this racing event.
Best platforms for Bahrain GP live stream – Quick list
Best premium streaming services:
Best free F1 streaming platforms:
Bahrain GP streaming outside of the availability zone
Bahrain GP is a prestigious sporting event popular globally. Since its content is often precious, it is only displayed to users with direct or paid access. This level of exclusivity translates to geo-restrictions, meaning only users in specific locations can view the events.
Bypassing this "geo-block" can be difficult since the content providers have a very active security scanner that blocks any unfamiliar IP address from accessing Bahrain GP streaming channels.
However, the best way to bypass this restriction is by using a robust VPN that can mask your IP address and online location, letting you enjoy an interruption-free streaming experience.
Best VPNs to unblock Bahrain GP live stream – Quick list
Four best premium streaming platforms to watch Bahrain GP live
The Bahrain Grand Prix is available to watch for users within and outside the US; there are several reliable streaming apps you can check out. These platforms are subscription-based but come at a reasonable cost.
Below are the top paid streaming platforms to watch the Bahrain GP 2023.
1. BBC Sport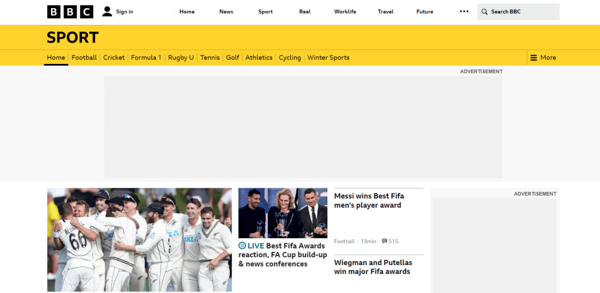 BBC Sport is a UK-based streaming platform where users can watch live sporting events such as the Grand Prix, Olympics, Commonwealth Games, Diamond League, and Wimbledon.
The BBC service is subscription based, costing $13.12/month to enjoy the Bahrain GP from the comfort of your portable device. The app is available for download on Android and iOS devices.