StreamEast is one of the most popular free sports streaming sites that allows you to watch matches, news, and events. It broadcasts various games, including Soccer, MLB, NFL, tennis, cricket, golf, boxing, basketball, etc., from around the world. However, it might not be safe or legal to watch StreamEast in your country because it shows copyrighted content. In some countries, the consequence may be a warning, while in others, you can be fined heavily or even incarcerated.
In this article, we'll look at the legality of StreamEast and whether it is safe to use the platform. Also, we'll suggest popular legal alternatives.
Disclaimer: This article only provides information about StreamEast and we don't condone piracy by any means. Also, we are not lawyers, so it isn't legal counsel. In addition, most countries have copyright laws that may constantly change, so be on the lookout. Finally, if you are unsure about your country's stance on piracy, contact a local legal expert before using free streaming sites like StreamEast.
Is it illegal to stream StreamEast?
Most countries value intellectual properties and protect them by enforcing strict copyright laws. That means authorities can be on your case for downloading or streaming copyrighted content. However, some countries allow it altogether or for personal use.
Therefore, you should check your country's rules regarding copyright infringement before using free streaming sites like StreamEast. Below is some countries' stance on piracy.
| | |
| --- | --- |
| Stand on piracy | Countries |
| Pirating is illegal | France, Germany, China, Australia, Britain, Italy, Finland, Japan, Portugal, Latvia, Russia, United States, South Africa |
| Piracy is illegal, but there aren't active prosecutions | Canada, Brazil, Argentina, Czech Republic, Denmark, India, Egypt, Greece, Israel, Mexico, Iran, Philippines, the Netherlands, Slovakia, Singapore, Romania, Uruguay, Slovenia |
| Piracy is permitted | Switzerland, Spain, Poland |
But why would one get into trouble for streaming copyrighted content without downloading it? We hear you ask.
Well, there is not much difference between downloading and streaming copyrighted content. That is because a video has to download first for you to stream it in real-time. It then gets deleted from your device when you leave the site.
Legal repercussions of using StreamEast
Apart from different laws, countries also differ in terms of the consequences of breaking copyright rules. For example, in countries like France, Germany, and Italy, you can be fined if you are caught downloading or streaming copyrighted content.
On the other hand, some countries are not keen on people using illegal streaming services, so you might only get a warning. Instead, they go after distributors of the copyrighted content.
Thus, whether streaming StreamEast is safe or legal depends on the country you're planning to watch it in. If that region allows such sites, you're safe. If not, you should better switch to any permitted StreamEast alternative platform to watch your favorite sports. (Scroll down to find some reliable StreamEast alternatives in this guide.)
How to watch StreamEast safely?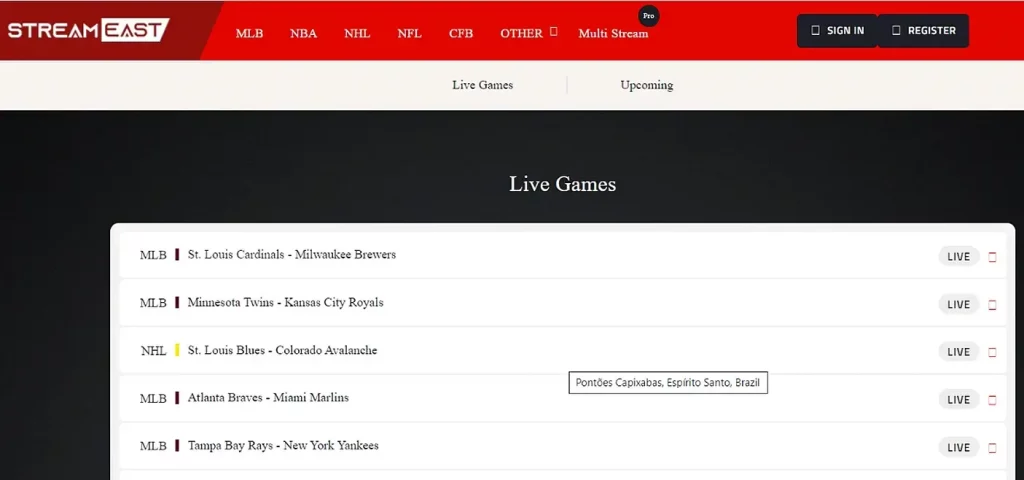 As explained above, you shouldn't access free streaming sites like StreamEast if copyright laws in your country are strict. However, some countries have lenient rules, and you can use it even if for personal use.
However, as long as you are streaming online, you should protect yourself from malware and spies. It includes installing an antivirus tool to prevent viruses and a VPN from securing your data and keeping you anonymous.
A VPN will keep you invisible online, but this is not an excuse to break the law. Also, while VPNs are generally legal, some countries prohibit using VPNs. So, we advise you to follow the local rules or consult an expert if you are unsure.
Risks of using StreamEast
The popularity of free streaming services is rising tremendously, but are they safe? That's a question you should ask yourself first to ensure security on StreamEast.