Technology has transformed how we do things, and almost everything is recorded online. At the same time, data has become the new most valuable asset and is in high demand. Cybercriminals are devising sophisticated ways to hijack devices and networks to steal data and make a quick buck.
These days, you are at constant risk of virus or malware attacks. That is why installing an antivirus is becoming a necessity. With the advent of cloud-based antivirus solutions, you don't have to strain your device or network to stay safe. It identifies and eliminates threats in real-time on the cloud.
This guide looks at the best cloud antiviruses to help you find an ideal option for your needs. Here are the top ten providers on our list.
Top 3 best cloud antivirus – Quick list
In a rush to pick a robust cloud antivirus solution for your network? Here are our top three recommendations.
Kaspersky Security Cloud – A robust multi-device security tool with plenty of security features at no cost.
Malwarebytes – Offers robust and inclusive real-time protection against sturdy malware and ransomware threats.
Webroot – Provides robust antimalware protection across the web with multiple scan options. Also includes a limited data backup facility.
What is cloud-based antivirus?
Cloud antivirus is a security program that keeps the malware information in cloud-based servers rather than on your device. Traditional antivirus uses your device's processing power to work, which can adversely affect the processing power.
Instead, you will need to install a small client program on your network that will connect to the antivirus provider. It will monitor all the software activity, analyze that data and send countermeasures instructions to your device. A cloud-based antivirus will proactively keep an eye on your entire network and act to prevent potential malware infections.
Read also: Best antivirus with VPN included
Best cloud antivirus for businesses
1. Kaspersky Security Cloud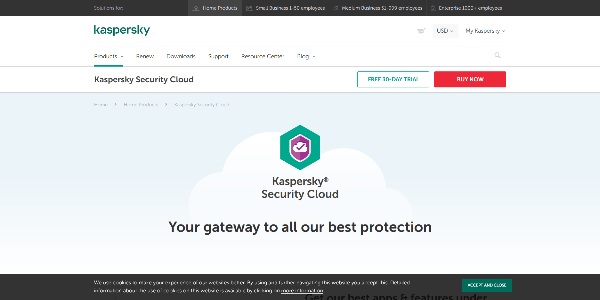 Kaspersky is one of the most popular household names in the antivirus industry. It is known for offering protection on many devices, including your smartphone, tablet, laptop, PC, and Linux. The Kaspersky Security Cloud is one of the best free cloud antiviruses with robust protection.
First of all, it is incredibly lightweight and won't affect your device's performance. Besides, it comes with numerous extra features, even though some are exclusive to paid plans.
The software uses a similar malware-scanning engine as other Kaspersky paid products. The free antivirus will not only prevent online threats but also gives you access to the company's Secure Connection VPN. Fortunately, it works well with Windows 7 and newer versions.
Kaspersky has a tool dubbed System Watcher that guards against ransomware attacks. Also, the gaming mode will prevent interruptions if scanning starts when playing a game. On the other hand, the Chrome, Firefox, and Explorer browser extensions will keep you safe from malicious websites.
Pros
Top-notch malware protection
A wide array of tools and features
On-screen keyboard
Cons