Technology has transformed how we do things, and almost everything is recorded online. At the same time, data has become the new most valuable asset and is in high demand. Cybercriminals are devising sophisticated ways to hijack devices and networks to steal data and make a quick buck.
These days, you are at constant risk of virus or malware attacks. That is why installing an antivirus is becoming a necessity. With the advent of cloud-based antivirus solutions, you don't have to strain your device or network to stay safe. It identifies and eliminates threats in real-time on the cloud.
This guide looks at the best cloud antiviruses to help you find an ideal option for your needs. Here are the top ten providers on our list.
Best cloud antivirus
1. Kaspersky Security Cloud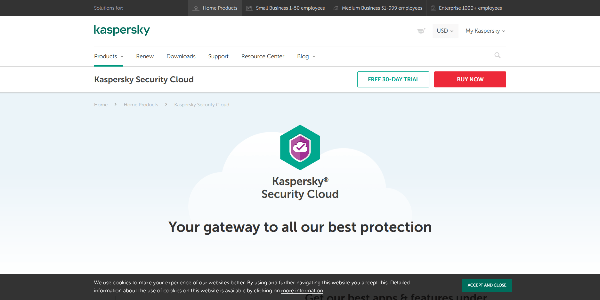 Kaspersky is one of the most popular household names in the antivirus industry. It is known for offering protection on many devices, including your smartphone, tablet, laptop, PC, and Linux. The Kaspersky Security Cloud is one of the best free cloud antiviruses with robust protection.
First of all, it is incredibly lightweight and won't affect your device's performance. Besides, it comes with numerous extra features, even though some are exclusive to paid plans.
The software uses a similar malware-scanning engine as other Kaspersky paid products. The free antivirus will not only prevent online threats but also gives you access to the company's Secure Connection VPN. Fortunately, it works well with Windows 7 and newer versions.
Kaspersky has a tool dubbed System Watcher that guards against ransomware attacks. Also, the gaming mode will prevent interruptions if scanning starts when playing a game. On the other hand, the Chrome, Firefox, and Explorer browser extensions will keep you safe from malicious websites.
Pros
Top-notch malware protection
A wide array of tools and features
On-screen keyboard
Cons
---
2. Malwarebyte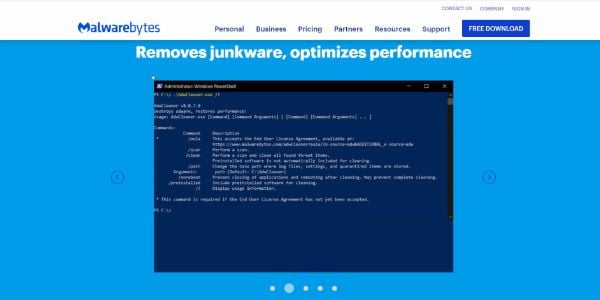 Malwarebytes is a comprehensive, secure, and powerful antivirus that will protect you against malware in real-time. It comes with advanced features, performing exemplary to detect and remove threats.
The real-time protection feature is sturdy. Malwarebytes uses four protection layers to keep you safe from all directions; malware, ransomware, web, and exploit protection. Fortunately, the four layers are the foundation of the software and run simultaneously.
On top of that, Malwarebytes uses heuristic analysis to identify and eliminate previously known viruses and malware. It does this by checking the program's relevant factors like behavior and structure.
The best part is that the cloud platform conveys endpoint protection through a unified endpoint agent. This minimizes lags and results in the instant identification and elimination of threats.
Pros
Free trial
Incredible detection and elimination rates
Four protection layer
Cons
---
3. Webroot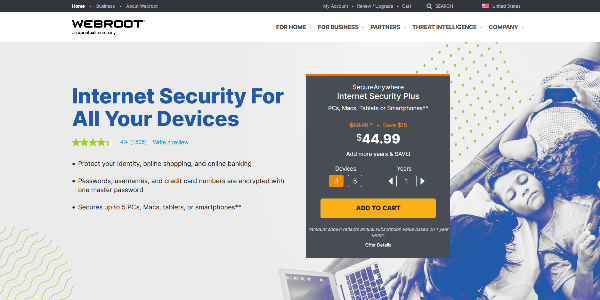 Webroot is another top cloud antivirus. Established in 1997, it offers malware and virus protection to both domestic consumers and businesses.
The antivirus has a scanning feature that checks files for malware and viruses. You can choose to perform a quick scan, full system scan, deep scan, or custom scan. Besides, it allows you to activate and deactivate the master boot record (MBR) scanning to eliminate potentially unwanted applications.
It uses a multi-vector protection system to keep you safe from threats across web browsers, emails, and files. The Web Shield features integrate well with Chrome, Firefox, and Explorer browser extensions to detect suspicious websites.
Webroot includes a backup and sync utility with up to 25GB of storage to store essential folders and files. On the downside, it cannot act as a complete backup system because it doesn't encrypt files on the server's side.
Pros
Powerful management console
30-day free trial
Easy to use
Cons
---
4. Sophos Endpoint Protection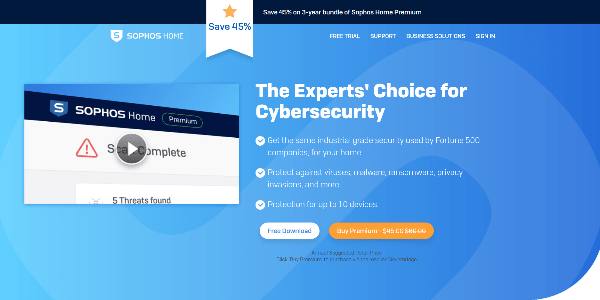 Sophos is a reliable antivirus that offers antivirus packages to general consumers and security software for businesses. It guarantees to remove all threats, including malware, viruses, rootkits, Trojans, spyware, and more.
This antivirus has a simplified management console, making it extremely easy to use. You can install it on the cloud or your organization's servers.
The company automates the entire process from discovery, investigation, and elimination of threats. This helps to reduce incident times, thus keeping you safe all the time. Rather than relying on signatures, Sophos identify threats even before they reach your device. It works online, so it won't affect your device's performance during the process.
Unfortunately, the provider mainly targets businesses and organizations. Nonetheless, you can send a request to ask for a quote depending on your needs.
Pros
Automated virus detection
Remote device management
Minimalist desktop app
Cons
---
5. Avast Cloudcare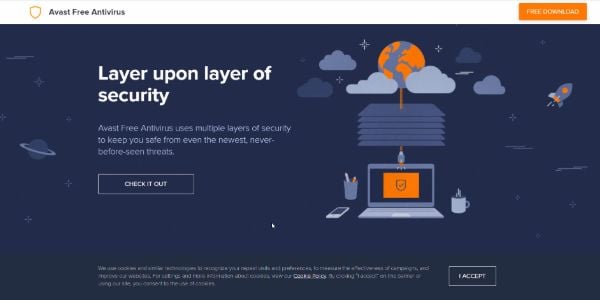 Avast also offers CloudCare – a cloud-based security platform for small and medium-sized businesses besides the famous free antivirus.
It has a single management dashboard where you will control all of your devices. The best part is that you can access it for troubleshooting, transfer files, and communicate with users remotely.
You can manage devices in real-time with a wide array of summaries and reports. Moreover, the changes you make on the dashboard happens to all connected devices at the same time. The antivirus has an inbuilt alert system, and you can configure it to notify you through email or SMS.
Avast Cloudcare will filter web content via a secure gateway. It also provides anti-spam and email protection, with the recent upgrade enabling it to handle patch management. Pricing will depend on your needs and business size. However, an online demo and free trial are available.
Pros
Connect multiple devices
Multilayered protection
Single dashboard
Cons
High system resource consumption
---
6. ESET Endpoint Security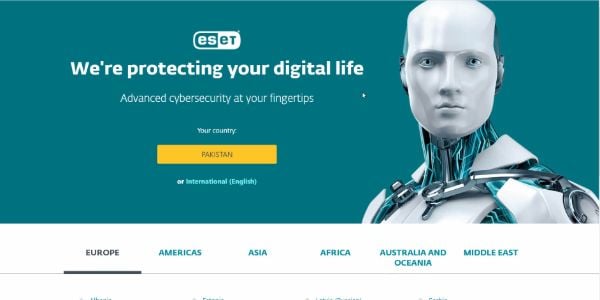 ESET is a Slovakian-based IT security company founded in 1992. It provides malware protection for both domestic users and businesses.
The malware scanner is highly-effective. It uses heuristics and AI technology to identify malware threats and act accordingly. Because the software is cloud-based, it won't affect your device's performance even during complete system scanning. In addition, endpoint protection can detect malware pre, during, and post-execution. This enables it to provide a high protection level for all devices.
Nowadays, most antiviruses have a quick scan feature to check for potential threats swiftly. ESET lacks this feature, but its scanner has one of the lowest CPU loads. This means you will not experience any slowdown on your device or network during system scans.
ESET allows you to purchase the services directly on its website for both clouds and on-premise solutions. Cloud protection covers five devices though you can add more online.
Pros
Easy to set up
Highly effective malware scanner
Inbuilt phishing protection
Cons
---
7. Bitdefender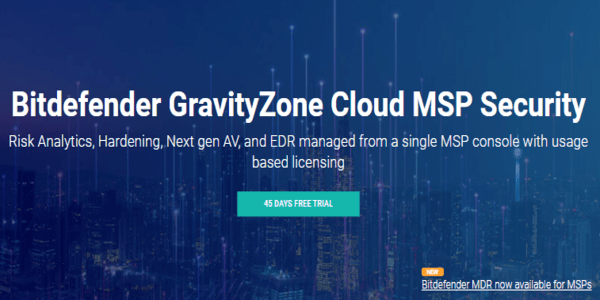 Bitdefender is a great security solution. It blends heuristics with signatures, machine learning, and other techniques to provide all-around protection.
Most of its features work great. You can use the optimization tools to reclaim space in your PC and improve its performance. Also, the parental control is highly customizable, with even geofencing and location tracking. Moreover, anti-theft protection is available on Windows.
The antivirus scanner is lightweight yet thorough. Bitdefender has a colossal malware database that it combines with machine learning to identify and counteract malware threats. The scanning process happens in the cloud, so it won't eat your disk space or affect your device's performance.
Pros
Ransomware protection
Advanced parental controls
Anti-theft protection for Windows
Cons
The password manager is too basic
---
8. Avira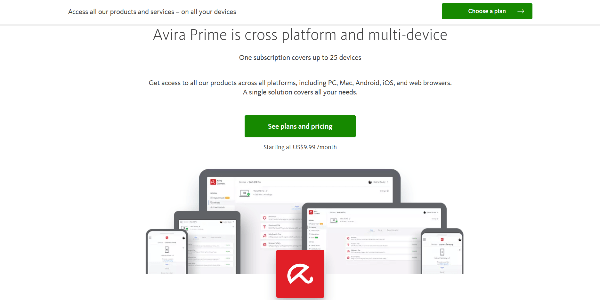 Avira is another famous brand in the antivirus industry. It is exceptionally lightweight but also very reliable. The software is effortless to download, install and manage, unlike other antiviruses on the market.
It provides a comprehensive selection of tools for all major devices, including Android, iOS, Windows, and macOS. Some of the tools include real-time scanning, web and ransomware protection. Use the 'Smart scan' to quickly scan your device for viruses and other security threats.
The antivirus scanner is perhaps the most advanced and fastest engine on this list. It will detect and eliminate all types of malware and even block stubborn ransomware. The cloud platform will initiate automatic scanning in real-time to maintain your safety always.
Pros
Quick scan option
Solid anti-phishing layer
Highly configurable
Cons
Unreliable web protection feature
---
9. McAfee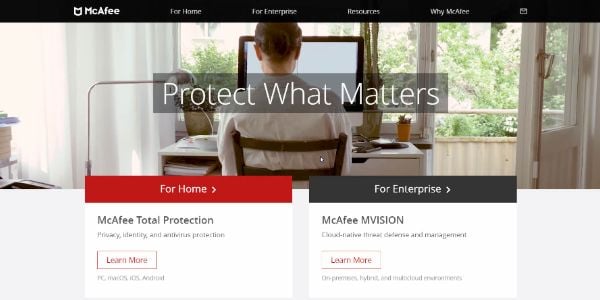 McAfee is a well-established security company known for its mid-range antivirus. It has recently separated from Intel, restructured its UI, and improved its services significantly.
The software will keep you safe from malware, viruses, ransomware, and spyware threats. McAfee will also protect you from suspicious websites.
More so, Total Protection provides numerous useful features. They include encrypted storage, PC performance optimization, password manager, multi-device compatibility, Safe Connect VPN, and more.
It offers both quick and full scans. The quick scan feature is efficient and will take a few minutes, depending on the device you are using. However, the full scan may take some more time but is still reasonable.
Pros
Identity-theft protection
Minimalist interface
VPN with unlimited data
Cons
---
10. Panda Antivirus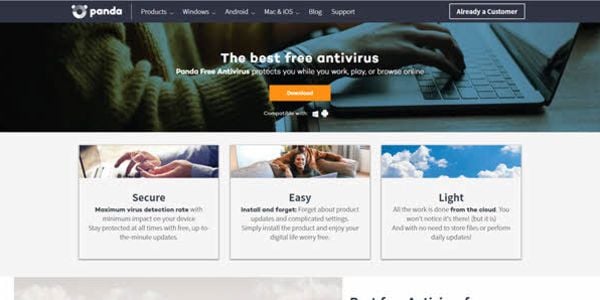 Panda is a prominent antivirus and one of the most user-friendly in the market. It has a high detection rate and will protect you when browsing, working, or gaming. The installation process is straightforward, and the software has frequent updates for all-around protection.
The malware scanner will identify and neutralize malware threats in real-time. Additional security features include performance optimization, web protection, password manager, VPN, gaming mode, and parental controls. You will also get a rescue kit, USP protection, and file encryption.
Panda is an excellent choice if you are looking for a user-friendly, feature-packed security suite. It also offers a wide range of plans at different prices to cover a variety of budgets. Finally, all its packages come with a 30-day money-back guarantee.
Pros
Minimal system impact
Easy to use
File encryption tool
Cons
---
What is cloud-based antivirus?
Cloud antivirus is a security program that keeps the malware information in cloud-based servers rather than your device. Traditional antivirus uses your device's processing power to work, which can adversely affect the processing power.
Instead, you will need to install a small client program on your network that will connect to the antivirus provider. It will monitor all the software activity, analyze that data and send countermeasures instructions to your device.  A cloud-based antivirus will proactively keep an eye on your entire network and act to prevent potential malware infections.
Read also: Best antivirus with VPN included
How to choose the best cloud antivirus?
It is essential to choose a suitable antivirus for your needs, but the numerous options available can be overwhelming. The cloud-based option has made the decision even harder. Here are some of the most important things you need to consider.
Your antivirus needs
An antivirus is a crucial tool to detect and protect you from malware, viruses, Trojans, and ransomware. However, the antivirus needs will differ depending on the number of the device, email traffic, network size, etc.
---
Budget
What is your budget, and how far are you willing to stretch? An affordable antivirus subscription can offer sufficient protection for domestic and small business users. Nowadays, you can find reliable providers such as Panda and Avira that charge a few dollars. This small investment will give you the peace of mind that comes with antivirus protection.
On the other hand, larger organizations with more extensive hardware will need a broader antivirus package. Due to sensitive data and numerous devices at risk, you should consider comprehensive options like Kaspersky and Sophos.
---
Features
Last but not least, you should consider the features an antivirus offers. Antivirus with more features will require bigger systems. However, a lightweight option like Avira will use less RAM, power, and storage space.
Weighing up your budget against your security requirements and hardware will enable you to get the antivirus that suits your needs. Bear in mind that you can always start with the free trial before subscribing.
---
Why should you use a cloud-based antivirus?
Advanced malware detection
If your devices have a malware infection, they can affect your entire network. With the traditional antivirus, you will have to download the software on your device to prevent imminent threats. However, you can do this remotely with a cloud-based solution stopping malware before they infect your network. In addition, it does the scanning automatically in real-time, so you will always remain protected.
---
Reduces strain on the processing power
Traditional antivirus software that you have to install on your device can significantly slow it down. Besides, you will have to scan and update the software, which is time-consuming manually. However, failure to do so can put you at risk of malware infection. On the other hand, a cloud-based antivirus uses cloud technology and machine learning, which does not need human intervention.
---
Improved efficiency
Cloud-based antivirus improves protection and efficiency because it works from a central server. Plus, virus updates and scanning are done automatically and in real-time. This helps to significantly decrease the waiting time between discovering a threat and neutralizing it. 
---
All-around protection
You may think you don't need an antivirus solution because you are careful online. Although you should always be cautious online, an antivirus is an essential security layer. For example, you can compromise your security if you load a webpage when your browser has a zero-day vulnerability.
---
What is our take on cloud antivirus?
We have looked at some of the best cloud-based antiviruses to make it easy for you to choose the right one. The biggest question is whether the cloud antivirus is the best solution for your business. Compared to traditional antivirus solutions, a cloud antivirus's main advantage is the lower impact on systems.
Cloud vs. traditional antivirus – what is the difference
It is vital to have antivirus on your device or network to prevent harmful malware. However, deciding between a cloud-based and a traditional solution may be a bit difficult. Which one is the best?
Traditional antivirus
A traditional antivirus works by scanning files and checking them against a virus database. It will eliminate any threat to keep you safe. However, there is a lag between identifying a threat and taking action. Also, hackers are using sophisticated methods to launch attacks on devices.
Furthermore, an antivirus should be up-to-date with virus definitions to work optimally. With traditional software, you have to update it manually. This means new emerging viruses can easily bypass it and attack your device or network.
---
Cloud-based antivirus
A cloud-based antivirus is a solution to the above issues. The virus definitions are stored on the provider's servers instead of your device. So, it will not require your device's processing power to check for threats. 
More importantly, cloud-based options use AI technology to scan in real-time. This means there will be no lag for a hacker to exploit between threat identification and action.
---
Is cloud-based antivirus as effective as traditional antivirus?
Cloud-based solutions require an internet connection to offer complete real-time protection, which is a potential weakness.
It is a fact that cloud antivirus relies on the internet for its functionality. This means that a malware or virus that disconnects the internet can cause a malfunction.
Another major issue with cloud-based antiviruses is offline protection. How safe is your device or network when offline? Unlike before, the latest versions of most cloud antivirus offer protection even when you are offline.
All the antivirus packages we have on this guide use innovative technology to keep an offline record of threats.so, those criticizing cloud-based antivirus solutions are not up to speed. The cloud antivirus is evolving rapidly and now offers the best protection when both online and offline.
The biggest priority for small and medium-sized businesses is uptime and productivity. A cloud-based antivirus will keep you safe against malware or virus infections without straining your hardware resources. Moreover, since it works automatically, your team will concentrate on priority tasks, thus increasing productivity.
Note:
Neither the cloud-based nor traditional antivirus is 100% breach-proof. Also, a cloud-based option is more efficient and reliable even more than the most experienced IT team. Nowadays, cybersecurity threats are evolving at a rapid rate to rely on manual practices. A well-established provider will maintain a high protection level and improve your security.
Conclusion
Cloud antiviruses are evolving at a rapid rate and may soon replace mainstream antiviruses. With a cloud-based solution, you can manage all devices and information centrally. Also, it carries the scanning process on the cloud instead of installing it on your device.
We have looked at some of the market's most reliable cloud-based antivirus services. Many of them provide support for regular consumers and businesses. Go further and explore their websites for information before settling on any provider.
FAQs
A cloud-based antivirus solution is a way to go to protect against malware and viruses. It is powerful and requires fewer resources to offer complete protection against any threat, even emerging ones. So, choose a cloud-based antivirus if you want to remain safe always.
Yes. The files you send to the cloud server may contain a virus that can potentially infect the servers. Besides, viruses can infect your device or network if you download such files from the cloud. Therefore, ensure you scan all data before downloading to be on the safer side. A reliable cloud services provider should put sufficient security measures to prevent malware infection.
Preferably, you'd want an antivirus that effectively cleans and removes the infected files. A cloud antivirus will act in real-time to move the infected file into quarantine. This will help to prevent the infection from spreading. From here, the software will remove the suspicious files or delete them completely.
A traditional software program will slow your device's performance, especially during scanning. However, the story is a little bit different with a cloud antivirus. The software is cloud-based, so it will not interfere with your device's performance. Besides, it carries out its functions in real-time, offering you protection all the time.