Today, more than ever, it has become even more complicated to protect every single phone and gadget your kids use, let alone monitor their activities online.
Luckily, alongside good stand-alone parental control apps, many quality antiviruses with free parental control are available. This option is a modern-day solution to modern-day problems. Yes, it is now impossible to keep kids away from technology. But it is still possible to keep them safe despite their exposure.
A parental control antivirus software helps you protect your kid's devices from viruses and malicious websites. It also helps block harmful or inappropriate content and monitor your kids' social media and web activities. Not only that, but it also protects your devices from the danger of the web, making your whole family safer.
Aside from your children's cognitive and explorative growth, there are still more important things, such as their health and safety. There are a few antivirus software out there that factor in the importance of parental controls this 2023.
Why you need to use parental controls
Although technology has definitely been a good tool in educating children (in certain aspects), cybercriminals' risk is still there.
It can't be stressed enough how valuable the benefits of using parental control antivirus are. More than anything, it protects your kids from the dangers of what's known as cybercrime, which is very prevalent today.
Besides that, you can also monitor their web history and use it to help them be more mindful of what they do online, especially what they post on their social media accounts, which can affect their online reputation. There have been several reports regarding certain "accidents" that kids would post online that could tarnish their online reputation.
As a parent, it is important to guide them through the web and safely navigate the internet. A parental control antivirus will also let you regulate how long your kids can operate their gadgets to have more time on the essential things.
Last but not least, it lets you back up the data from their devices so they won't lose anything meaningful or useful. With the inevitable use of technology for the younger generation (for educational and other personal purposes), it is essential to protect even your child's data.
9 best antivirus software with parental controls
Getting the best antivirus software entails finding the best supplier that prioritizes parental controls. Although several antivirus programs exist today, it is rare for them to put parental control at heart.
Here are a few antivirus software that prioritizes parental controls just as much as you do: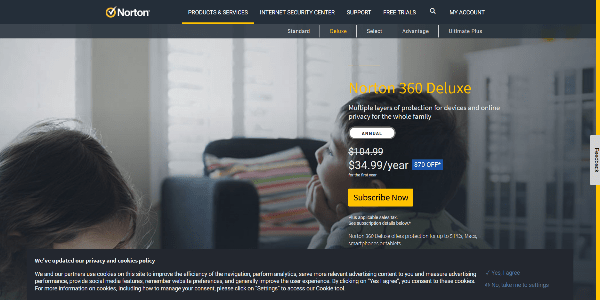 Norton 360 Deluxe is a premium antivirus and privacy software. As its name implies, it offers 360 degrees of protection for the entire family, which is quite comforting because this antivirus software provides what the grownups want. It also gives the user what the family needs.
It has robust tools to help you secure every aspect of your online presence. However, its highlight tool is its Norton family parental control, which has these key features:
Location Supervision. Be informed about the location of your kids.
Mobile App Supervision. Regulate what apps they can only use and review what they've downloaded.
School Time. Lock your child's device to school and learning apps to prevent distractions during school time.
Search Supervision. Find out what they're searching for on the web.
Time Supervision. Schedule when and for how long your kids can use their devices.
Video Supervision. Find out what videos they are watching online.
Web Supervision. View their web history and block harmful and inappropriate websites.
These features will be less effective if you don't have easy access to them. Luckily, it has a very convenient parental control dashboard, which you can view anywhere you are, and that provides you with a bird's eye view of your child's online activity, making safety just within your reach.
---