Let us tell you something the antivirus software industry doesn't want you to know: you can't scan an iOS device for viruses. No, you can't, honestly. You see, iPads and iPhones have a security feature known as "sandboxing." It's called that because it allows every app to play only within its own "sandbox."
Everything is categorized that way, so no app on your device can change any other app, file, or process. And that's why viruses can't infect an iOS system. Even if they get inside, they can do nothing once they're there.
So what is the authentic meaning of a phrase like "iOS antivirus"? What it means is "internet security for iOS." This notion refers to various features that keep iOS devices safe. That is necessary because, out of the box, this hardware is not protected against many online security threats. Those include:
Device theft
Browser trackers
Data-stealing apps
Unsafe public WiFi hotspots
Phishing links
We swept the so-called "security" iOS universe. It took us dozens of hours to go through scam apps, useless apps (free and otherwise), and security apps in the App Store that won't do the job. We sought software to deliver protection without hidden fees or fishy trial periods. Thankfully, we found five such apps – that's the good news.
However, the so-so news is that no single free security app for iOS includes all the features you will need to keep your device safe. But, if you know your data and privacy are worth more than a modest monthly fee, you should look at Norton's iOS app, which is nothing short of fantastic.
This article will show you the best "antivirus" apps for your iOS devices (iPads and iPhones). These are not virus scanners but security tools that offer many valuable features to enhance your online security. These features go from protection in public WiFi hotspots to integrated VPNs. So let's look at the best five security apps for iOS systems today.
Best iOS antivirus apps – The quick list
5 best antivirus for iPhone and iPad Today – The detailed list
1. Norton 360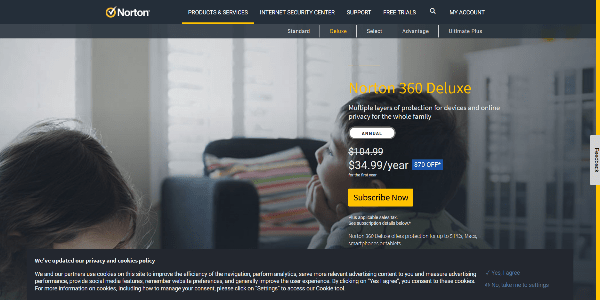 Nobody rivals Norton in the security software industry for reputation and antiquity. It serves more than 20 million users worldwide. And that's no surprise since this tool works well and keeps many people safe.
Let's have a look at Norton's offer for iOS devices.
Norton 360 is a very active tool that protects you in several ways. For example, it will filter out spam text messages that could include phishing links. Also, it will warn you about unsafe public WiFi networks. It also patches up a variety of vulnerabilities.
The Web Protection feature will keep you away from infected websites. And there's also the Dark Web Monitoring tool that lets you know when your personal information has been leaked.
Additionally, this app enables you to use a VPN (but only if you live in the countries where it's available).
There is no free version, and the fee will seem a bit steep for many users. But you can use its 14-day trial version before investing in this software.
So the price may be high for the market, but it's the best out there, and if you take your security seriously, investing in Norton 360 merits some serious thought.