Once upon a time, there was a network of very successful movie streaming websites in Vietnam. The network included five domain names that became very popular worldwide by providing free pirated material to their users. The Motion Picture Association of America once referred to this handful of websites (including GoStream) as the "most popular illegal sites."
In 2017, the US ambassador to Vietnam started holding talks with the country's Minister of Information and Communications, Truong Minh Tuan, about fighting the plethora of illegal video-streaming websites based in the country. The network of those five websites we already mentioned was on the ambassador's list (123Movies, GoMoves, GoStream, MeMovies, and 123movieshub). It took a while, but the ambassador's efforts came to fruition when the five websites went down, at last, on 19 March 2018.
However, when an illegal video streaming website becomes notorious, many clones start popping up everywhere else on the internet. Thus the new websites perpetuate the original website's functionality. And the authorities usually do not pursue the new clones for reasons only they understand. Unfortunately, this is precisely what happened with GoStream.
So GoStream is alive through several clones. Of course, the original website is gone, but the replacements are almost precisely the same in terms of functionality, and you can still use them.
Legal disclaimer: This is merely an informational article and is not intended to promote piracy in any way. We are strictly against all such acts. Also, we are not legal advisors of any sort, so don't take any information you read on this page as legal advice. We encourage you consult with a local legal expert in case you are unsure about copyright laws in your country.
Is the GoStream site safe to use?
We covered the basics above. But should you use GoStream.site at all? This is the question that we will explore in this article. Unfortunately, the answer isn't straightforward because illegal video streaming sites can complicate your life unnecessarily. After all, the clones bring on many new complications to the table.
There is a minimal amount of information you need to know about GoStream. First of all, it offers a comprehensive catalog of movies at no charge to its users. Second, the website itself stores no content. Instead, it aggregates the links that point to the servers where a specific title is held. It's a link hub more than a streaming server.
Third, several clones are pestered with ads. These are not just annoying. Many of them have the potential to spread trackers and other malware, so there are websites in this network that are a genuine security risk. And last but not least, GoStream is illegal in most of the world's jurisdictions. This is why it's free and has no geo-location locks.
Is GoStream a legal website?
The most likely answer to this question is "no." There are three countries in the world where you can own copyrighted material without paying for it legally as long as you do not use it commercially. And there are a handful of other countries in which there are no copyright protection laws. So unless you live in San Marino, Eritrea, Turkmenistan, and a handful of other jurisdictions, GoStream is an illegal website because it distributes copyrighted works without any authorization and compensation for the copyright's owners.
That means before you go ahead and decide that GoStream is your cup of tea, we encourage you to find out everything you can about your domestic copyright laws and your government's stance on them –some governments pay lip service to copyright protection and do little or nothing to enforce them, some others are very serious about this issue and using a website like GoStream could create severe problems for you.
In essence, it all depends on your place of residence. And it goes like this: Poland, Spain, and Switzerland allow you to have or use pirated material as long as it's for personal purposes only.
But then, the countries that criminalize piracy but do not enforce the law actively include Slovenia, Uruguay, Slovakia, India, Romania, Singapore, Mexico, Israel, the Philippines, Czech Republic, Denmark, Netherlands, Iran, Greece, Egypt, Brazil, Colombia, Argentina, and Canada.
Lastly, the countries that consider piracy illegal and prosecute it are the US, South Africa, Russia, Portugal, Latvia, Japan, Italy, the UK, Germany, France, Finland, China, and Australia.
And now, let us consider the difference between downloading and streaming a movie. Some users believe that both things are essentially different processes that have nothing to do with each other. But alas, it is not so. From the legal point of view, there's no significant difference between downloading and streaming.
And even from the technical point of view, both processes are almost the same, with the only difference that, after streaming, no physical copy of the data remains in storage within your devices. But the information traveled the internet to your device, bit by bit, and you saw the movie at your leisure.
The relevant thing is the legal meaning that both terms have, and in both cases, you're breaking the law in most of the world. So do not try to deceive yourself. If you live in a jurisdiction hostile to illegal streaming, GoStream can get you in trouble.
Let's be even more clear about this issue: streaming a movie is precisely the same as downloading the film from a torrent site at the correct speed to see it in real-time and then deleting the resulting file once you're done.
The legal consecuences of watching GoStream.Site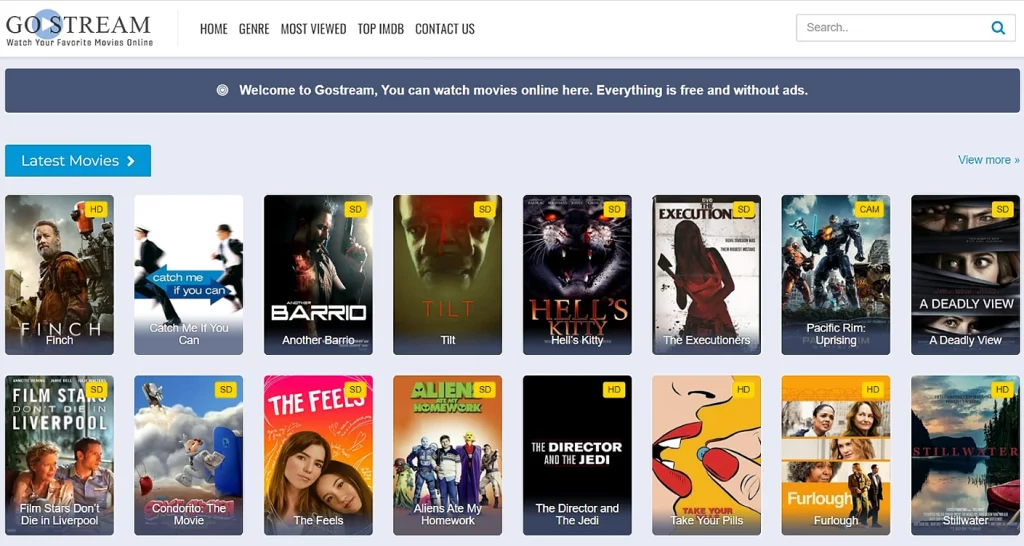 Every jurisdiction has a different way of dealing with copyright issues, and every government also deals with infractions in its own way.
However, in most countries in the world, if you get caught using copyrighted material illegally, you'll be issued a warning, which will be the end of it. But if you are in, say, Germany, you could get a heavy fine for this behavior.
Granted, proving that you've used a service such as GoStream or another website in its family is not so easy. After using it, there is little evidence left behind, and finding it needs a thorough digital forensic analysis.
You can even ensure that no such evidence remains if you are careful enough and keep your browser's cache clean. However, "difficult" is not the same as "impossible," You should bear in mind that there are other ways to catch you red-handed such as tracking your IP address.
As we mentioned before, not every country puts much effort into prosecuting copyright infringements. Even countries that take this issue more seriously prefer to go against those who distribute the illegal content and not against the viewers.
Does that make you safe? Not in the least. If a governmental agency cracks the infringing servers down and gets its hands on the user logs, they could find your IP address there. Then, a fine could find its way to your mailbox–and these fines can be very high indeed.
So how can I watch GoStream safely?
Let us be clear about something: Using GoStream is illegal in many of the world's countries. Consequently, we do not condone using it in any country where it's against domestic legislation. However, there are many other countries where websites like GoStream are legal enough, even if it's only for personal use.
If you are in one such country where GoStream is ok, you're free to use it at your leisure. But you should still be exceedingly careful because GoStream and its sister sites pose other risks (security, mainly). So you should be aware of those risks and take the measures you need to remain safe.
This brings us to the Virtual Private Network or VPN. It is the swiss army knife of the digital era, and in the current times, we consider having a premium VPN service essential to secure the best possible digital lifestyle.
So the answer to the question of watching GoStream safely is: yes, you can watch GoStream more safely by always using a VPN.
The VPN helps in several ways:
It encrypts all the traffic outgoing and incoming to any protected device. That prevents any third party from figuring out what you're doing.
The VPN spoofs your IP address so that any interaction you have with online servers, such as the GoStream servers, won't know your actual IP.
It keeps your original digital address away from any logs that GoStream or any of its mirrors have.
The best VPNs in the market offer several additional features, including ad blockers. This is excellent news for the GoStream users because the currently available clones are clogged with unwanted ads that have been known to spread all sorts of malware.
Two of the most popular VPNs are SurfShark and ExpressVPN. ExpressVPN is the best-established name in the VPN-verse that we recommend using with GoStream. It's been around for ages, always providing the most advanced service. Surfshark is a newcomer. But one that has made a name for itself very quickly by providing top-notch service for a meager price. ExpressVPN, on the other hand, is slightly more expensive than the industry average, but as it remains the best VPN out there, so it's worth it.
Besides having a VPN online whenever you're streaming videos from GoStream, it's essential to have a good antivirus suite online, especially if you're using a Windows or a macOS computer. Kaspersky is the best one by far, and it requires that you buy a license.
The VPN and the antivirus suite will ensure your safety against malware; the VPN will secure your digital identity, as conveyed by your IP address, and keep you anonymous online.
It will also prevent any external observers from making heads or tails of your activities. Please notice this: you're still at the mercy of your government if you're acting illegally, so be aware of your legal environment and don't take risks you don't need.
How dangerous is it really to watch videos on GoStream?
We've explained already why using GoStream and other similar free movies websites can be dangerous from a legal point of view. And the risks of getting fined or even doing time are real in some countries. But there are other risks that we haven't described in detail, and they mostly have to do with safety.
So is GoStream a safe website to use? Unfortunately, we can't give you a simple binary answer to this question because it depends on the local environment and the team that hosts the website.
The first thing to realize is that GoStream hasn't been around for years. The original website, hosted in Vietnam, is not available anymore. However, its legacy of sorts remains with us because its huge success spawned many clones and mirror sites.
These websites are in the hands of a third party that had nothing to do with the original GoStream. It doesn't take a lot of expertise to come up with a GoStream clone and bring it online with a few modifications tailored to meet the new owner's goals –most frequently, making money through clicks.
So each mirror is slightly different. Each one is designed according to the owner's wishes. Some have more ads, some fewer. Then the ads can be clean or delivery systems for malware. But these environmental factors can vary significantly from site to site, so it's impossible to say if the whole GoStream experience can be safe. It's all about the individual mirror you prefer and how that mirror is designed.
There are no standards when it comes to this loose family of mirrors. The only common thing is the GoStream philosophy and links.
Couldn't we even give you something of an average of safety for the GoStream mirror network? Not really. The collection of GoStream mirrors includes both safe websites and dangerous ones. And this is a case in which averages won't give you any meaningful information. Suppose that we should tell you that, on average, using GoStream mirrors is "pretty safe" (which we're not saying it is). What is the use of that if your favorite mirror turns out to be the most dangerous one?
So on this issue, the best information we can offer you is this: as long as you use any GoStream mirror, both your antivirus and VPN are online, and your chances of remaining safe are pretty high.
So here's what you need to remember from this section: GoSite isn't around. Instead, its mirrors are. Each is built accordingly to the owner's wishes.
That means any given mirror can be safe or not. But you can avoid any risks by using a premium VPN and antivirus software at all times.
And, to be honest, having a top-notch VPN and Kaspersky always online on your computer should be as fundamental as having an operating system. It's not an optative luxury for geeks. It's the price you pay for doing business in the digital age.
Is a VPN really going to keep me safe at GoStream.Site?
There is no general answer because not all VPNs are created equal.
However, if the VPN you have in mind is a truly premium service (NordVPN, ExpressVPN, SurfShark, PIA, Cyberghost), then the answer would be: yes, your VPN will surely keep you safe at all times when you're watching GoSTream videos, along with your antivirus software.
We've explained the precise mechanics of a good VPN service that will ensure your security everywhere on the internet, GoStream included.
The best VPNs to keep you safe at GoStream in 2022
1. ExpressVPN

Best all-around VPN to use a site like GoStream safely. Fast speeds. Lots of servers. Keeps no logs.

3,000 VPN servers scattered in more than 90 countries

Solid AES-256-bit encryption

Web leak protection for all widely-loved browsers

Has P2P (torrenting) optimized servers

Kill switch

Strict zero-logs policy

Up to 5 simultaneous connections per account

No questions asked, 30-days money-back guarantee
Pros
Accepts cryptocurrency/anonymous payments

Fast speeds for streaming and downloading

Top-notch security and privacy features
Cons
Fewer connections simultaneosly
ExpressVPN is usually the best VPN we can think about for any task, and video streaming is one of those tasks. This VPN will get you to any GoStream clone you'd like and any other video streaming platform, legal or otherwise.
The speeds within the ExpressVPN network are far higher than what you'll need even to support HD video streams, and the connections are solid and reliable. So no buffering.
This service takes your privacy seriously as it keeps no user logs, has only RAM-based servers, and provides you with an ad blocker.
---
2. NordVPN

A speedy VPN provider. Enables accessing GoStream online safely. Impeccable security and no logs.

5,400 VPN servers in 60 countries 

P2P (torrenting) optimized nodes

Robust AES-256-bit encryption

Zero-logging

Boasts kill switch feature

Allows 6 connections simultaneously

Web protection

Multi-Hop mode (double encryption)

30-days of money-back guarantee
Pros
Heavy focus on security and privacy

Excellent customer support

Affordable long-term packages
Cons
Not all servers support P2P traffic
NordVPN is among the most advanced VPN services regarding technology, speeds, reliability, and privacy. In addition, it has effective split tunneling, kill switch, DDoS protection, DNS leak protection, and many other extra features.
This VPN includes CyberSec, which blocks every website known for hosting malware and gets rid of every ad. Thus, your streaming experience is faster, smoother, more reliable, and more convenient.
As happened with ExpressVPN, NordVPN is an excellent option for online video streaming because it can unlock any video streaming platform under the sun successfully.
---
So how may I proceed to access GoStream?
Let's say that you live in a country that allows free and legal access to GoStram, that you have an antivirus suite installed and working in your system, and a premium VPN account. Then all that's left for you to do is use Google to find a proper GoStream mirror by running a simple search.
It's quick, simple, and if it's legal where you live, there's nothing to stop you.
Legal alternatives to GoStream
GoStream lets you watch a vast amount of numbers for free. That's why it's such an appealing option for so many users worldwide. But, as we've explained earlier, it has the disadvantage of being illegal almost everywhere. So this begs the question: aren't there any legal and free video streaming websites? Unfortunately, hardly.
The reason for this lies within the very mechanics of content distribution. Legal websites must have the copyright holder's blessing to offer any given movie for streaming.
That entails negotiating an agreement, and such agreement includes conditions such as how much money the streamer must pay and what are the regions of the world in which he's licensed to offer the content. Logic and economics take over from there: legal video streaming websites need to pay for the content they distribute, so they charge you for the service.
There are legal video streaming services on the internet. They are the safest way to get access to copyrighted movies and TV shows. And they usually also have better video quality and functionality. Yes, you have to pay for them, but the fees are typically low if you consider the number of titles they offer.
Let's review some of the best legal video streaming services on the web so you can consider using one or several of them instead of GoStream. There's a caveat: You should still have an antivirus and a premium VPN even with these sites. More on that later. So this is our list:
Please notice this: many of the legal options in our list are not available worldwide. However, they are all available from within the US (and it's also typical that US-based users are treated with the best service in terms of variety), and overseas users generally have to settle for an inferior catalog.
But there's no need to despair; this is when your brand new VPN account will serve you even better than with GoStream: you can use your VPN network to spoof an IP address from the US (pick a VPN server that's based there), and then every platform in the list will become available to you and treat you with the best catalog it offers.
Our final thoughts on GoStream
It's easy to put everything you need to know about GoStream in a few words: it's not legal, it's not safe, and it doesn't even exist anymore. It went down four years ago, and there's nothing left of it except for mirrors and clones. And that makes those residual websites potentially more illegal and unsafe.
Free video streaming sites are tempting. They're free; they have a lot of content. But they can also get you in lots of trouble, so it's not such a straightforward thing that they're such a great idea.
However, if using GoStream in your country is legal, you can solve the security and privacy problems posed by this website by taking two simple measures (which you should always be using already, anyway): having a premium VPN service and good antivirus software.
So yes, you can always use GoStream safely and enjoy it. But it remains a terrible idea if you ask us. There are plenty of legal video services on the internet that can quench your thirst for digital entertainment at a minimal cost. It would be best to consider using one of those before GoStream or similar websites.
In any case, the one thing to remember is this: you need a VPN. Always use a VPN. Whether you want to use it to remain safe at GoStream or other things, a VPN such as ExpressVPN will always give you so many additional advantages, tools, and services that you will soon wonder why you waited so long to have one.
And the VPN will give you the one thing we want for all our readers: it will help you stay safe online!
FAQs
It depends on your country of residence. But unless you live in Spain, Poland, the Netherlands, or a country that doesn't honor any copyright agreements, you can be pretty sure that GoStream is thoroughly illegal in your country.
It all depends on where you live. For example, the German government pursues these activities thoroughly, and if you get caught, you could have a hefty fine and even do some time. On the opposite side of the spectrum, in Switzerland, you can have pirated material in your possession without breaking any law as long as you only keep it for personal use. In other words: the relevant answer for you depends on your domestic legislation. It's up to you to find out what is your government's take on copyright laws and copyright infringements.
The thing to understand about GoStream is that it doesn't exist anymore. It went down in 2018 as the US government pressed the Vietnam authorities to fight the many illegal video-streaming websites operating from the country. The websites that are not passing for GoStream are digital replicas of the original one (mirrors and clones). An individual team makes each clone of developers. Each one has a particular purpose, so they tweak the original GoStream source to suit their needs. Consequently, each clone is different, and the prevalent security risks are different in every case. So again, there's no general answer. However, you can be sure that whatever GoStream mirror you prefer, you should never use it without a VPN and an antivirus.
It is a question that can be answered thoroughly and generally! Yes, there are many legal alternatives to GoStream. These include HBO Now, Hulu, YouTubeTV, Sling TV, Disney Plus, Amazon Prime, Netflix, and more.