The Google Play store shows four million reviews for Turbo VPN. That's no small feat, and it's even more significant when you realize that the app is rated with 4.5 stars. So this is a virtual private network (VPN) with an extensive user base in the Android ecosystem at least. That alone makes it worth it to write an honest review of Turbo VPN. And that's what you'll get in this article.
If you know some of my other writing for this site, you'll know that ExpressVPN is always my first choice whenever I need VPN services. However, my unbiased review of Turbo VPN will give you all the relevant information you need to know about this VPN service so you can decide if this is the vendor you need.
Turbo VPN is headquartered in Singapore and China. Singapore is one of the leading tech hubs in Asia, of course, as is China. But the latter country is openly hostile towards VPNs, so it's a bit surprising that a VPN as successful as Turbo VPN is located there.
The provider's claim to fame is closely associated with its free service. So yes, you can use Turbo VPN for free if you choose, but hold your horses: free VPNs are awful news most of the time. Free VPNs have to pay their bills somehow, and if you're going to use one, it's vital to make sure that they won't fulfill their obligations by turning you into their selling product (more on that later). This is why it matters to understand a free VPN business model before you join it.
As I dug into Turbo VPN's world, I found a few things I didn't like at all. Having no customer service whatsoever available doesn't help my confidence either. Overall, I find using Turbo VPN a scary proposition, to say the least. Because I don't consider the lack of fees an advantage for VPN networks, I find it hard to understand why those four and a half million users in Google Play chose Turbo VPN over a genuinely excellent service such as ExpressVPN. But keep reading; answers are on the way.
Turbo VPN key data at a glance
| | |
| --- | --- |
| Data cap | Fair usage policy |
| Speed | 41Mbps (my base speed was 100Mbps) |
| Logging policy | Intrusive logging |
| Data leaks | No |
| Jurisdiction | Five-Eyes member |
| Servers | 21,000+ |
| IP addresses | Not disclosed |
| Countries | 45+ |
| US Netflix | No |
| Torrenting | No |
| Works in China | No |
| Support | Email & Online Resource Only |
| Official Website | https://turbovpn.com/ |
Turbo VPN's pricing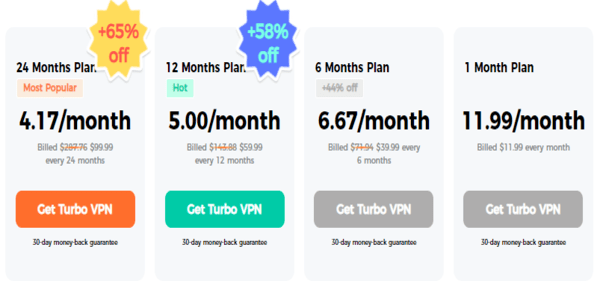 I mentioned already that Turbo VPN is mainly used and known as a free VPN, so the VIP package available is easily ignored. Maybe that's not such a bad thing when you see that the monthly fee is 11.99 USD (which is higher than the market standard, if you pay just one more dollar, you can get ExpressVPN or NordVPN that are vastly superior).