India is renowned for its colorful festivals and exceptional train network for its large population. And, of course, Bollywood movies and Indian drama serials are more popular than ever today. Many people outside it want to watch Indian channels in the USA, UK, Canada, Australia, and other countries for good reasons.
One such is, one thing that's often not mentioned is Indians' obsession with culture. No matter where an Indian goes, he'll always look for a connection with his roots and traditions. Perhaps, that's why Indians living abroad always look for ways to keep up with their favorite Indian channels and shows.
Thankfully, there is an effective way to watch your favorite Indian shows overseas. Whether in the UK, Europe, Australia, the US, or the Middle East, you can still access your favorite TV channels such as Star Sports, Voot, Hotstar, SonyLiv, or Ozee TV. That would be great, right?
There are multiple ways to avoid geo-restrictions on these channels, so you can watch your favorite show. But a VPN is the most reliable method that works out of the box for unblocking Indian content outside of it. Want to know all about it? Then come along as we discover how to watch Indian channels overseas.
Best way to stream Indian channels in the USA or anywhere else
Typically, if, for example, you try watching Voot from anywhere else in the world aside from India, here is what you will see:
Voot is not available in your country right now.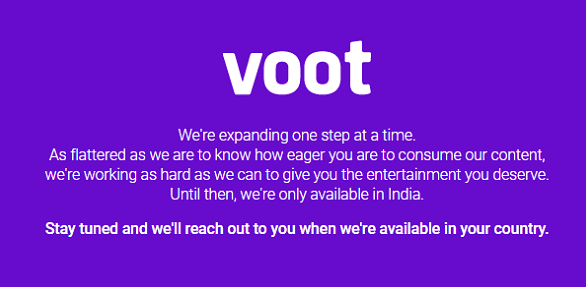 The inability to access such sites is owing to the licensing agreement by owners and content distributors that places geo-restrictions on the content played outside the host regions. Hence, streaming platforms cannot broadcast content for free outside these areas.
For Indian networks, most of its content is free in India but not outside the country. However, viewers outside India can still watch Indian shows and programs using a VPN. Let's see how this can be done, shall we?
How to watch Indian channels abroad using VPN
With the four easy steps outlined below, you will be able to watch your favorite Indian shows from the US or anywhere else in the world:
Select a VPN of your choice and create an account with it. We highly recommend ExpressVPN for unblocking Indian channels abroad because of its high-speeds and excellent security on offer.
Open the VPN app and log in with your account details.
Next, connect to an Indian server from the long list provided.
Now proceed to your favorite Indian channel.
During our tests, we successfully unblocked Voot, as you can see in the screenshot provided below. We also succeeded in watching other channels and platforms like Hotstar with ease.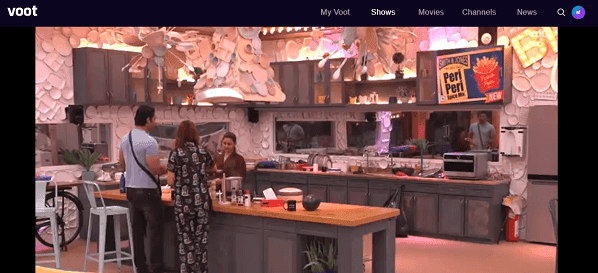 There you go; in the above example, you have successfully unblocked Voot outside India! It's that simple. Next, follow the same steps to unblock other channels like Hotstar, Colors, Ozee TV, or Yupp TV (you name it). Hotstar has an extensive list of Tamil, Punjabi, Malayalam, Hindi, Telugu, Gujarati, Kannada, and Bengali content, along with a hundred live channels.
Why is a VPN needed to watch Indian TV outside it?
As noted earlier, users typically cannot access Indian channels abroad because they are geo-restricted. The websites and apps feature a tracking system that perceives the country and city where the user is at the moment. Hence, you won't be able to catch up with your favorite shows and channels. However, with the aid of a VPN, this can be circumvented.
The Virtual Private Network (also known as VPN) changes your device's IP address into an IP address of the country where the channel isn't geo-restricted (India, in this case). It fools the tracking system into thinking you are still in India, thereby granting you access to all the shows and channels in India while in other countries.
Besides, VPN conceals your activities online, a feature that prevents internet providers from regulating your internet speed. Having a VPN is a smart move for everyone for numerous good reasons apart from its unblocking capabilities.