GPS location technology helps pinpoint an exact location, making it easy to find accurate directions to your school, workplace, home, or another place. Also, it will help you find a distance from one place to another or the amount of time you need to reach there. The problem is that this accuracy can compromise your privacy.
Fortunately, you can change your location with third-party GPS spoofing apps to protect your privacy. This will also improve your experience when playing location-based games like Pokemon Go. This article will look at the top 11 apps to fake your GPS location on Android and iOS devices.
Top apps to change GPS location – The quick list
Why would you want to change your GPS location?
There are many reasons why you may want to change your GPS location.
For instance, you may want to set up a fake GPS location to trick a dating app, such as Tinder, that you are located miles away. That is helpful if you are planning to relocate and want to get ahead in dating.
Also, spoofing your GPS location can be helpful when playing location-based games like Pokemon Go. For example, rather than going outside to pick a different character, you can change your GPS location in the comfort of your home.
Usually, most streaming services like Netflix roll out new releases in a selected number of countries. So, spoofing your GPS location will enable you to watch the latest TV shows and movies that aren't available in your country.
Websites use your GPS location for internet tracking. That helps them to impose geo-restrictions, monitor your online behavior, and blast you with ads. Spoofing your GP location will prevent websites from seeing what you are doing and improve your online privacy.
Related read: How to change Chrome location.
Best fake GPS location spoofing apps today – Detailed list
There are tons of GPS location-changing software for Android and iOS devices. Here are the top 11 options you can use.
1. Fake GPS Go Location Spoofer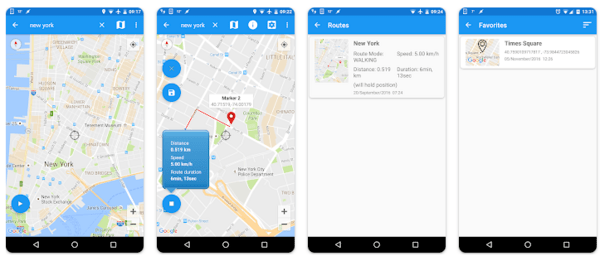 | | | | |
| --- | --- | --- | --- |
| Download | Compatible with | Total downloads | Last updated on the official app store |
| The download source | Android | 10M+ | January 25, 2022 |
Fake GPS Go Location Spoofer is one of the best fake GPS apps for Android, available as a free and paid version.
The app has plenty of features on the free version, but you will get more when you upgrade to the paid subscription. Thankfully, you can start to spoof your location on the go without rooting your device. However, your device should be running on Android 6.0 and above.
Some of the essential features on the paid version include the joystick mode, making playing games easier. Also, it has a GPX import feature that enables you to program routes with standard GPS data files.
This is also an excellent GPS spoofing app for Pokémon Go as it has locations of Pokestops and Pokemon Go Gyms to find your favorite characters.