Voot is an exponentially growing mainstream Indian on-demand entertainment service. You can unblock Voot in the USA or other countries outside India if you have a VPN and use the method covered in this article.
Unarguably, Indians are huge TV and cinema lovers. India also boasts the world's largest film industry, Bollywood, which is even greater than what Hollywood has to offer.
However, Indian television has received many setbacks over the last few years, mainly due to OTT services. And according to a recent study, digital content production has an 8.2% year-over-year growth rate. As per the estimates, the number of OTT subscribers might reach half a billion in 2021. It, therefore, will have made India only second to the US regarding the film market and revenues.
There are several streaming services in India already. The Eastern cultural and political giant has more than 25 services that users can choose from. India is the home to Voot, Hotstar SonyLiv, Netflix, Disney+ Hotstar Premium, Jio TV, Airtel XStream, and Amazon Prime Video.
Hotstar has the lion's share of India's film market and enjoys over 300 million subscribers. However, the other services also get a considerable amount of the cake. For example, Voot is a rapidly growing platform with more than 60,000 hours of quality Indian video content from MTV, Nickelodeon, Zee5, and Colours.
But it is unavailable outside India due to geo-restrictions (more on it later). So this guide will walk you through an easy way to access Voot in the USA, UK, Australia, and anywhere globally using a VPN.
Watch Voot anywhere outside India – Quick guide
Short on time? No problem. Below you go with a quick walkthrough of the process to enjoy Voot in the USA or any other country worldwide:
Sign up with a tested VPN that offers HD streaming on Voot and stealthy security. ExpressVPN is our number one recommendation because of its fast servers and dependable security features.
Install the VPN app on your device and open it.
Sign in with your credentials created while signing up for the VPN.
Connect to a VPN server in India.
Now open the Voot app or go to its website to stream all the movies and television series you want to watch.
Keep reading if you have extra time and want to gain further knowledge. We are confident you'll find it all worth it.
What is Voot?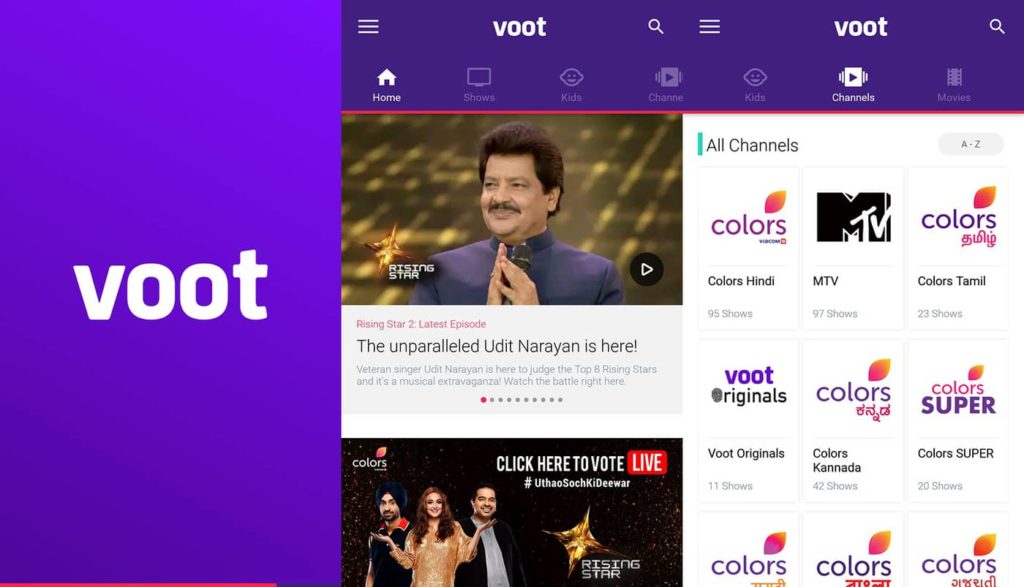 Voot is an Indian on-demand streaming service like Hotstar, Hulu, and Netflix, to name a few. Launched in 2016, Voot allowed people to watch premium quality content for free. Voot Free streaming makes revenue from the advertisements on its platform.
Today, Voot enjoys over 100 million monthly active users, becoming the second-largest ad-based streaming service. Most of their content is available in different languages, including Gujarati, Marathi, Hindi, Kannada, Bengali, Tamil, and Telugu.
While compared to Netflix's 207+ million users, the Indian streaming service still has to do some work. Yet, it is doing great. Voot has hit this success because of the reality TV shows and dramas that dominate the platform.
Viacom 18, the company that owns Voot, produces programs of the genre that keep attracting people. The Bigg Boss and Balika Vadhu are some of the most popular shows on it.
In early 2020, they started their Voot Select service, which allows paid subscribers only. Premium subscribers will now find Voot video streaming content unavailable on the original free platform.
As one of the most popular Indian streaming services, Voot is considering expanding to other parts of the world. Hence, they are bringing the paid version and expanding their library to include more content.
Furthermore, the service has partnered with Virgin TV in the United Kingdom to expand its reach to Europe and America in the next few years.
However, even though Voot has enjoyed staggering figures and statistics quickly, they still have a long way to go before they can compete with Hotstar. Being a leader in streaming services in India, Hotstar currently has 150 million active users a month. It also boasts a more extensive selection of movies and TV shows.