The best thing about streaming movies and TV shows is having a place to access them all simultaneously. This way, you can watch your favorite content without fearing missing out. As cable TV slowly withers away, people now opt for streaming search engines that help them conduct cross-platform searches to keep tabs on trending and new releases.
Most streaming sites integrate seamlessly with popular streaming services like Netflix, Amazon Prime Video, Hulu, HBO Max, and more to access your favorite content under one roof. The best part is that these sites don't require creating an account and offer free access to a vast content library.
Rather than hopping from one streaming site to another to find the one that suits you, this article discusses the best streaming search engines. Most will enable you to get streaming services in one app or web platform for free. These sites are worth checking out and enable you to watch online movies and manage your favorite content easily.
Disclaimer: PrivacySavvy does not guarantee, endorse, or vouch for the content below. We are not liable for any claims that come up. PrivacySavvy does not promote or encourage piracy by any means.
Best streaming search engines – Quick list
Before we review all the streaming search engines in detail, here's a summary of the top 10 sites.
Best streaming search engines today – Detailed list
1. Just Watch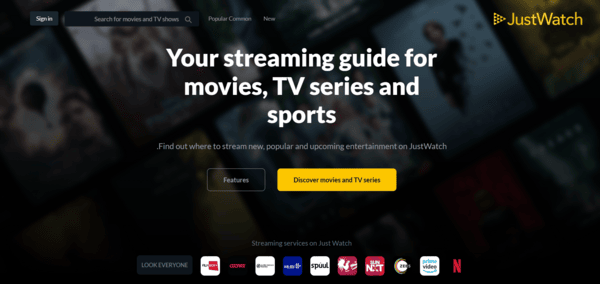 Just Watch is a popular streaming search engine for movie lovers to stream movies from one place. The app integrates with streaming platforms like Amazon Prime, Hulu, HBO Max, and Netflix. By searching for the title of your preferred movie on Just Watch, you can find where to watch it without the hassle of switching between streaming services.
You can also view upcoming movies, previously released films, and new releases on this search engine. In addition, the free streaming app is simple to use because it has a category-based design, making searching for content easy. The site has over 55,000 news programs, movies, and television series.
The best part of Just Watch is you can watch it on the go, as it's accessible from the web, Android, and iOS. Its recommendations are excellent because it uses AI to track your history and show similar programs and movies for you to watch.
Unfortunately, the site is only available in 50 countries. This means people living in restricted areas will need a reliable VPN to access it.
---
2. Reelgood Movies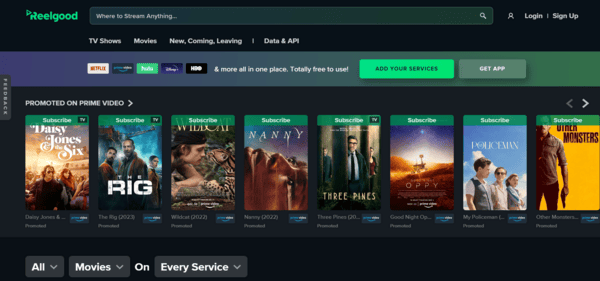 If you're looking for a platform to view the newest streaming releases and deals from any device, Reelgood Movies is for you.
The search engine has content from services like Netflix, Disney Plus, HBO, and Hulu. As an entertainment enthusiast, you'll find its events category exciting. Reelgood Movies search results also tell you which streaming platform has your preferred movie. Aside from directing you to where to watch a movie, the site has options like movie rental or purchase.
It also notifies you of when a new movie drops, so you can quickly watch it before spoilers ruin the excitement. On Reelgood movies, you can access curated collections and view Rotten Tomatoes and IMDb scores to get insights on the next movie you wish to watch.
---
3. Roku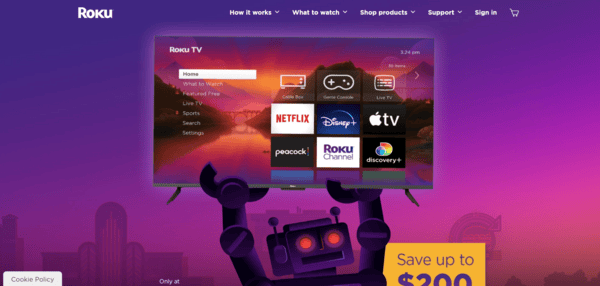 Looking for the easiest way to stream entertainment on your TV? Try Roku. This streaming search engine has thousands of channels to choose from. It's accessible on both iOS and Android devices.
It also makes finding what you want to watch easily on your Roku streaming device. You can search by actor, title, or director to watch a particular content. A commendable thing about Roku is it features numerous genres besides the common ones like romance, comedy, action, thriller, and history movies. It even has a wider catalog than Netflix.
However, some channels require a subscription. Without signing up, you can use Roku to find movies. What's more? The streaming search engine is available in English in the United Kingdom, Canada, and Ireland and in Spanish in the United States and Mexico.
---
4. Vudu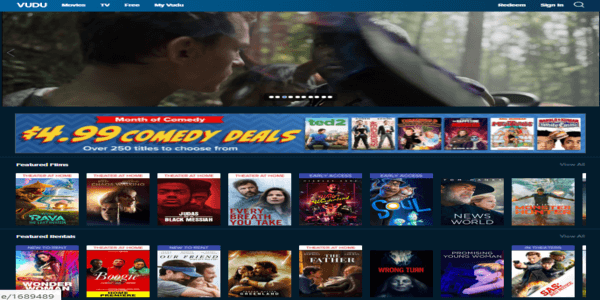 Vudu presents a simple way to organize your digital movie library. Walmart owns this service and launched it in 2007 as a Vudu box.
You can watch thousands of cost-free TV series and movies online through the site. It allows you to create a list of your favorite movies and shows in such a way that you can quickly find them. Unlike other streaming sites, you can buy DVDs at Walmart and go home with digital copies.
If the email on your Vudu is the same as your Walmart account, you'll find it convenient to convert your Walmart DVD and Blu-Ray discs to digital copies. This way, you can watch your favorite Vudu content anywhere and anytime.
---
5. Stremio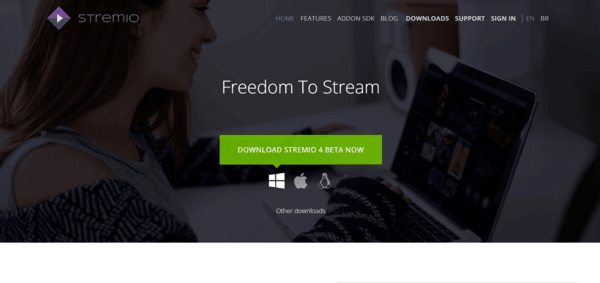 Stremio is popular because of its vast collection of Hollywood movies and TV channels. This platform requires that you install add-ons before streaming content. Thankfully, these add-ons don't take up much space on your device and connect you to several media servers worldwide.
The website has multiple categories with separate sections for movies, live TV channels, and TV series. Features like no ads streaming experience, on-demand video services, and torrenting capabilities make it a top-rated free online site. No wonder why it's one of the most-loved torrent search engines, too.
Stremio has an attractive and intuitive user interface, so you'll find signing up easy. Not just that, it has a dark mode feature that makes streaming movies at night comfortable. It also prioritizes users' privacy, collecting no data besides your name and email.
Alternatively, you can sign up with its Guest Mode option, which requires no credentials. The site is set to include Anime in its categories. It supports various devices, including Mac, Windows, Linux, iOS, and Android.
However, some of its user-created add-ons might be geo-blocked. Also, some might threaten your privacy or even be malicious. Fortunately, a quality Stremio VPN is all you need to protect yourself from potential risks and unblock its add-ons.
---
6. Yidio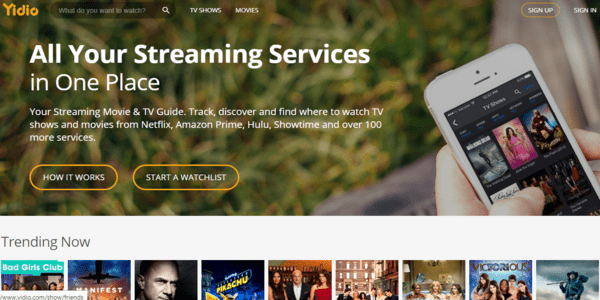 Yidio allows you to access all your streaming services in one place. It has over one million TV shows and movies. With this platform, you can search, discover, and track where to watch movies online.
Once you sign up on the website, you can create a watchlist to keep all your must-watch shows under one roof. This way, you can also get notifications when new episodes drop. Yidio has numerous bots that monitor platforms like Netflix, Showtime, Hulu, HBO, and Amazon Prime to present recommendations based on your favorite movies.
The platform isn't free. It charges $2.99 to rent movies and $1.99 per series episode. Yidio's design engages users with celebrity gossip, movie premieres, interviews, social media trends, and behind-the-scenes clips.
---
7. Freecast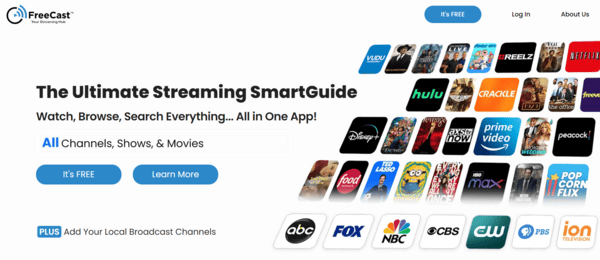 Rather than switching between streaming services to look for movies, you can use Freecast to watch specific content across all streaming platforms. The app is available for download on Apple Store and Google Play Store. Creating an account on this platform is easy.
Its basic plan is free, while its premium plan costs about $29.99 monthly. With Freecast, you can access content from several paid subscriptions under one roof. Besides, its unified search works for all streaming platforms.
---
8. PlayPilot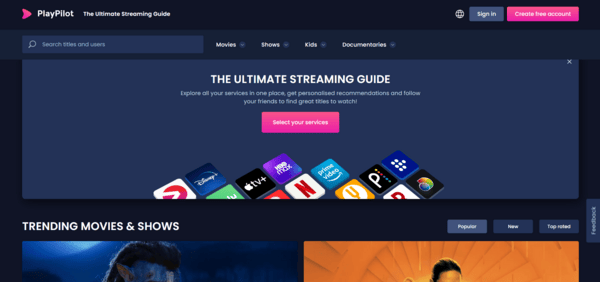 PlayPilot is a streaming aggregator website that shows all available content from Amazon, Netflix, and many more. The app enables you to effortlessly search, browse, and track your favorite content online. You can also connect with friends to see their watchlists and ratings.
Alternatively, you can filter content using the IMDb rating, actor genre, or production year. PlayPilot is also great for instant notifications when your favorite movie or TV shows are available.
---
9. Watchworthy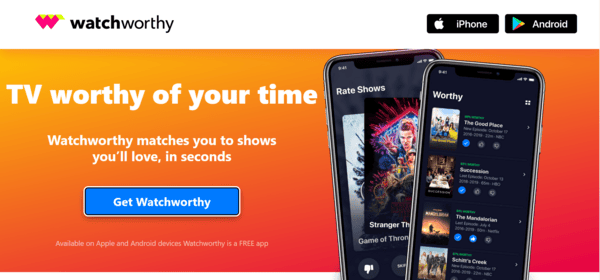 Watchworthy lets you stream movies and read TV show reviews online. You can use this streaming software as a guide to quickly discover films that interest you. Its movie review section lets you gain valuable insights into the content that other users find exciting.
Based on your rating of popular TV shows, Watchworthy curates personal recommendations just for you. What's more? As you rate more shows, the more refined your feed becomes. This site supports over 50 popular streaming platforms like Netflix, Hulu, HBO Max, Amazon Prime Video, and Disney Plus.
With Watchworthy, streaming gets more interesting. Its home screen presents recent premieres, trending entertainment content, and the latest releases from your subscription streaming services.
---
10. Qewd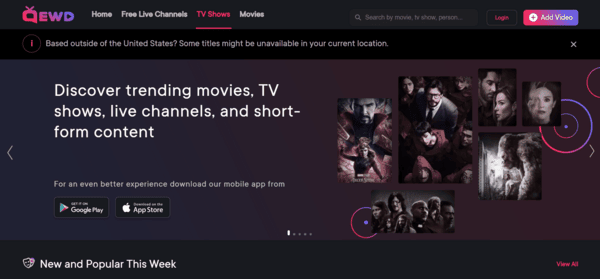 This is a goldmine for discovering new movies and TV shows across multiple streaming platforms. Qewd lets you connect with friends and family on social media platforms. This way, you can even get recommendations from movie influencers in the entertainment industry.
It works excellently on both Android and iOS devices. Its search feature has filters that make looking for your favorite content easy. Besides, you can bookmark movies, create watchlists, and track your favorite content in the feed.
---
11. 123movies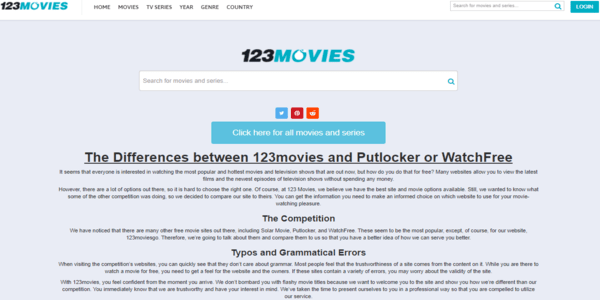 From classic series like The 100 and Game of Thrones to new arrivals, 123movies is an excellent option for movie lovers. You can find movies from literally any category on this site. It's compatible with Android and iOS devices, but you can access content from its website.
It houses over 50,000 movies and continuously updates its data with new content. Despite its vast collection of moves, the site has excellent sound and picture quality.
Unfortunately, the site has numerous copyright issues, so you should use a VPN to access 123movies.
---
12. Can I Stream It?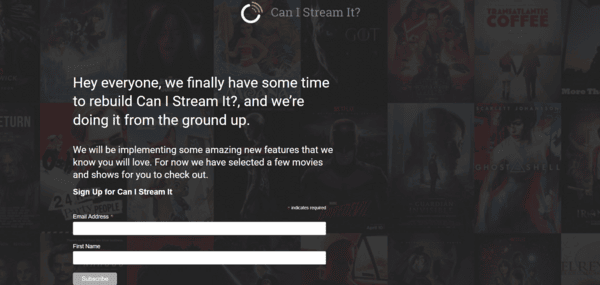 Can I Stream It offers you numerous streaming tools to have a personalized experience. This streaming aggregator allows you to manage multiple streaming platforms to find your desired entertainment.
With the help of this website, you can watch popular TV series like Lucifer, Avengers, Black Panther, and Superman. It also offers streaming recommendations.
---
13. GoMovies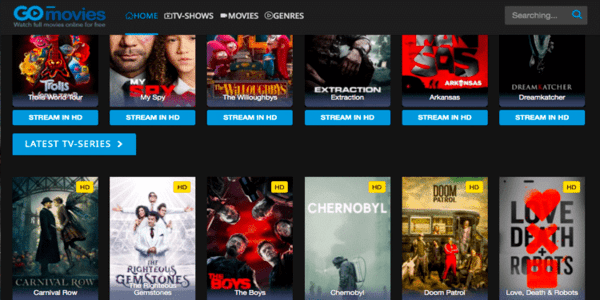 If you love watching top-rated movies at no cost, you can check out GoMovies' fantastic collection. You can easily access this service on the web, and it's compatible with devices like Android, iPhone, Windows, Linux, Samsung, Chromecast, and Smart TV.
To improve your movie search, the site features several categories. You will find it all on this site, whether sci-fi, action, thriller, romance, fantasy, horror, or comedy. Besides, you don't need to create an account to access its content.
All you need to do is visit the site, tap the search box, and type your preferred movie. Unlike most streaming site aggregators, GoMovies is available in most geographical locations. Besides, it's safe and legit as the site has a copyright to the content available.
---
14. TV Guide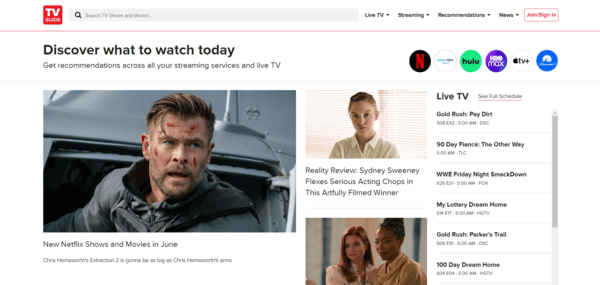 TV Guide lets you access both new and old movies without hassle. It provides quality videos and features like comedy, drama, and action. The simple interface makes it easy for streaming beginners to find movies within minutes.
The site boasts Live TV and TV listings. Besides, you can read the latest breaking news on movies or celebrities and watch full episodes of your favorite TV shows. TV Guide app integrates with Netflix, Hulu, Amazon Prime Video, HBO Max, and Paramount+.
---
15. uNoGS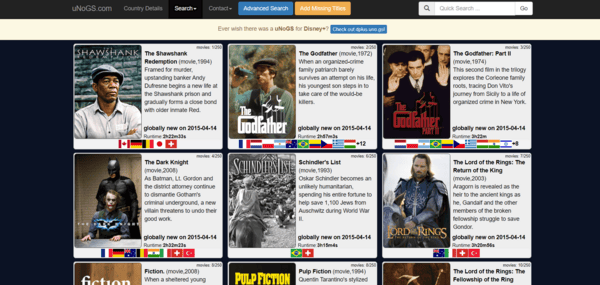 The "unofficial Netflix online Global Search" (uNoGS) is a site that allows you to search Netflix's global catalog. You can use the search bar to find movies according to the year of release, IMDb rating, title, actor, and genre.
This streaming site is available in the 244 regions that show Netflix. uNoGS updates its database regularly so users can keep up with the volume of shows and movies on Netflix. The exciting thing is that it gives recommendations using your watch history to help you discover new movies.
---
16. Sidereel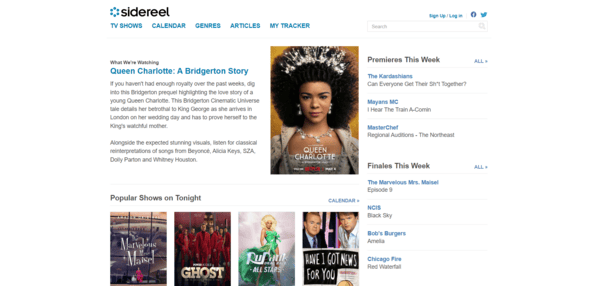 Sidereel is an independent streaming site that only provides access to streaming information and links. This means you must use another streaming site to watch its movies.
The website uniquely displays newly uploaded episodes to watch your favorite series quickly. Sidereel also has access links to show schedules and movie episodes in case you want to watch them on a streaming platform or normal TV.
This site also lets you view movie ratings and watch recaps, news, and reviews about TV shows. Sadly, Sidereel has multiple annoying pop-up ads that can affect your viewing experience.
---
17. Google Play TV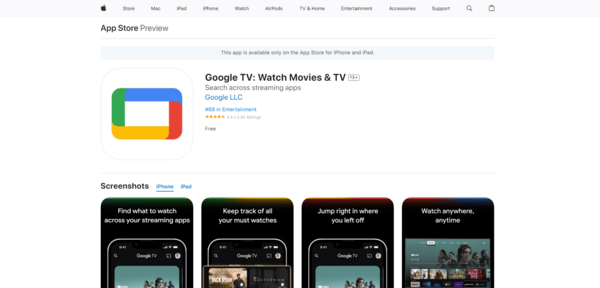 Google Play TV is a free streaming site with over 700,000 movies. Here, you can watch the latest TV shows and blockbuster movies. And there's more. You can also get a nostalgic feeling from its epoch of traditional film and TV shows unavailable on cable TV.
Its app is available on both Google Play Store and Apple App Store. The site tracks your watch history and recommends movies across popular subscription streaming platforms. But the best part is its shop section, which lets you rent or buy content directly.
---
18. Zona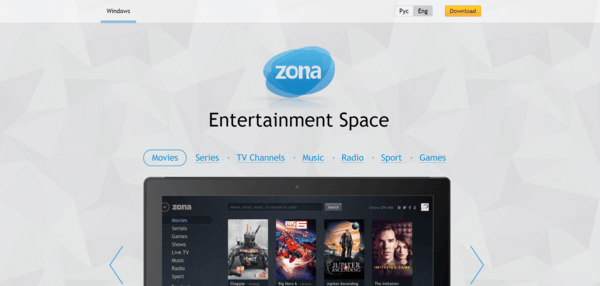 Zona surprisingly has an eclectic catalog of animation and blockbuster movies you may not find anywhere else. It works well with Mac and Android devices. You don't need to create an account to access its content.
The search engine has over 90,000 movies, 150 TV channels, and 10,000 TV shows. In addition, Zona categorizes its channels into news, education, adult, sports, and kidvid.
---
19. CouchTuner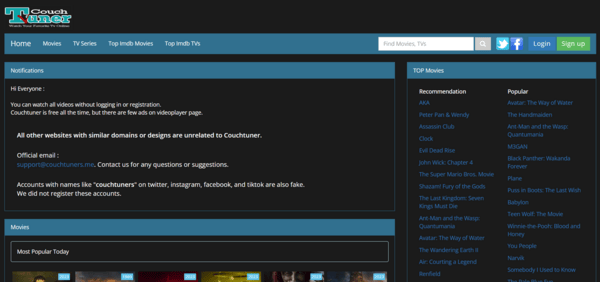 CouchTuner is another excellent streaming site with over 30,000 movies to watch online and download for free. It has streaming apps like Android APKs, differentiating it from other streaming sites.
With CouchTuner, you don't have to worry about frustrating ads. Plus, it has features like 3D fan art, streaming guides, and trivia, making watching movies fun.
---
20. ChilliMovie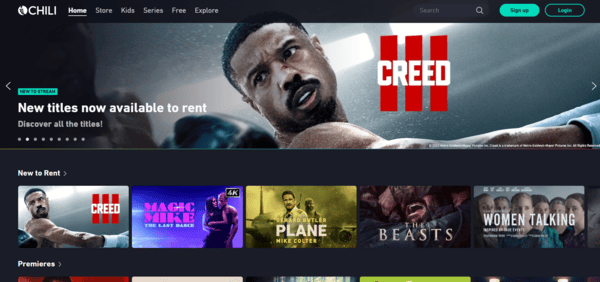 ChiliMovie lets you download, stream, and record videos from popular TV channels and streaming platforms like Netflix, Amazon Prime Video, Hulu, and Disney Plus. It has one of the most responsive customer support; you can use its 24/7 live chat feature to get help.
This website also offers streaming options for anime series and kid shows. Moreover, its interface is straightforward to use.
---
21. PutLocker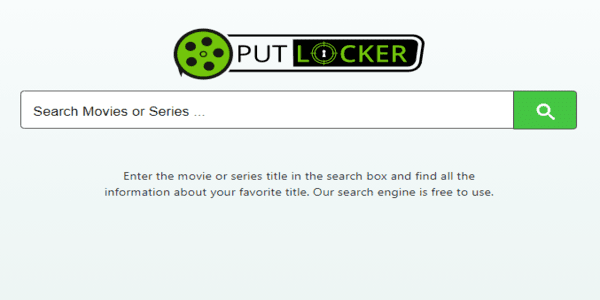 PutLocker is a great site in terms of streaming quality. It has a huge movie collection and constantly upgrades its database with fresh content.
Although it has pop-up ads, you can use an ad blocker to ensure an excellent streaming experience. For easy accessibility, you can save your favorite movies in a list style.
---
Where can I watch a specific TV show or movie?
You can watch a specific TV show or movie on all platforms covered in this article and some of the best streaming sites on our list here. A movie may be available on Hulu; tomorrow, it's no more. Luckily, you may still find it on Netflix for a while before it's also taken down.
In cases like this, you'll need a streaming site to know if the content is available on other platforms like Disney Plus, HBO Max, and many more. Besides, most streaming sites have a download feature that lets you have the movie on your device when it's largely unavailable.
Undoubtedly, this saves the time and money you'll spend ransacking multiple streaming services to find a specific TV show. Why subscribe to just Netflix and Hulu when you can access both, plus Showtime, Acorn TV, Disney Plus, HBO, and so on, from a single app?
What's the best streaming search engine?
Depending on your movie preference, you may veer more to a particular streaming search engine than another.
Just Watch is our top pick for a streaming search engine. This site goes above and beyond to ensure a seamless streaming experience. Aside from its simple interface, it provides personalized recommendations using your watch history.
The streaming site has the latest movies and TV shows alongside streaming guides through Netflix, HBO Max, Hulu, Amazon Prime Video, and many more. Users can also see previously released films and upcoming releases. With it, there's no limit to how much content you can watch daily.
Conclusion
The best streaming search engines offer the best choice of movies and don't require you to sign up. And with a VPN, you can safely access them to enjoy wide server coverage, fast speeds, and additional security.
The excellent news about using streaming sites is that you don't need to limit yourself to just one. You can use a number of them without breaking the bank. It all depends on the type of content you want to consume.
FAQs
VPNs are essential in helping you access geo-restricted content. You can use a VPN to change your IP address and unblock multiple streaming sites. Sadly, not all VPNs can unblock popular streaming search engines like JustWatch and Reelgood Movies. Therefore, our most recommended VPNs for streaming movies online are ExpressVPN and NordVPN. They help protect your privacy and security while on the internet.
These sources give you access to various movies and TV shows. You can use their search bar to skim through content based on genres like Sci-Fi, horror, action, romance, thriller, comedy, documentary, and many more.
Many such platforms support Android and iOS smartphones. Besides, they work excellently with smart TVs. You can also access them on a desktop device or gaming console.
We highly recommend using a reliable and trusted service like ExpressVPN before browsing streaming search engines. Most of them have annoying commercial advertisements that can infect your device with malware. A VPN will help protect you and your device from cyber-attacks and malware.
Streaming content for free is not a crime, but watching it on sites that violate copyright law is illegal in most territories. As a result, most free illegal sites are not accessible in many countries because they have run-ins with copyright issues. Hence, installing a VPN to mask your identity and protect yourself is ideal.