The loyal bunch of Apple users (Mac computers, iPhones, and iPads) have lately found how their systems annoy them with an Apple Security Alert pop-up message. The supposed reason for this pop-up is to inform the user that the device in question is hacked, infected with a digital threat, or that important information is at risk.
The message is well done and looks legitimate, but it's a scam. It's meant to make the users afraid enough to cough up some money and personal data and help unwittingly to spread malware.
While the message looks legitimate, it's essential to remember that sending security warnings has never been Apple's cup of tea. It's a fake. If you come across it, you should avoid clicking on its content, and you must never follow the instructions it issues. Your device is fine, and the only risk, in this case, is you falling for a scam.
This article will tell you what this thing is, how it accomplishes a nefarious goal, and how to get rid of it once and for all.
The quick guide to protecting your device from pop-up scams
Get a good antivirus suite. TotalAV works well in both iOS and macOS if you'd want us to recommend one.
Perform a full system scan.
If the scan reports any malware, follow the instructions as the antivirus says.
You're done!
So what is this alleged Apple Security Alert?
The Apple Security Alert is a false pop-up message alleging that your iOS or macOS device is hacked, so your information is threatened. This alert usually comes after paying a visit to a fishy website or from a redirection when a potentially unwanted program is installed on the device.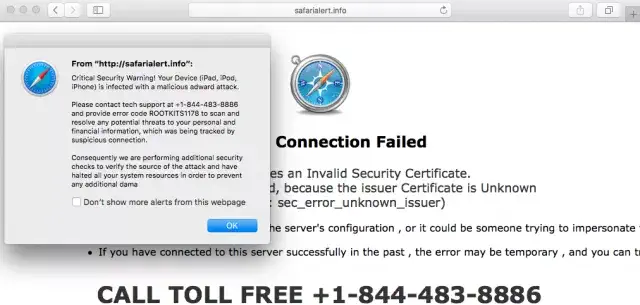 The pop-up serves the purpose of spreading fear — which is why some are calling it "scareware." It aims to scare you enough to follow instructions to see you giving away personal and financial information.
But, of course, when the criminals behind the scheme get their hands on that data, they can use it for profit. So the first thing you need to understand is that nothing is happening. The message is not authentic, nobody has hacked your device, and your data is as safe as usual.
Signs of the Apple Security Scam virus
Since the internet is fraught with real digital threats and malware that could infect your beloved Apple Device, it could be tricky to locate the cause of your Apple Security Alert scam virus. So let us give you four signs that are useful in determining this.
Redirection to untrusted websites. If a PUP (potentially unwanted program) is on your device, it can start a campaign of redirections to fishy websites. These websites promote other harmful things or ask for your information so you can win a prize.
Fake emails. You could allegedly receive fraudulent emails from Apple stating that the company detected malware on your device. The messages will also attempt to persuade you to take action. As they say, you'll be incurring real danger if you do.
Unsolicited publicity. Are new intrusive ads appearing while you browse the web? Out of nowhere?
Scam calls impersonating Apple. You could also start getting calls from supposed Apple employees. They could ask you to give them information. This is another sign.
Misleading pop-ups. You could start seeing ads saying your device has a severe security problem.
Getting rid of the fake Apple Security Alert pop-up on different devices
The fake pop-uṕ can show itself when you visit a suspicious website. In this case, it will go away as soon as you close the website. However, if the alert comes from malware installed on your device, you need to locate the cause of the problem and uninstall it.
So let us explain how to get rid of this fake security alert once and for all, whether it's on your computer or your iPhone.
Mac
The PUP that is causing the virus warning to show up has most probably several components hiding around your operating system. So it takes several steps to eliminate them. Here's what you do.
Use a Mac antivirus: