It is no secret that the live TV streaming site, USTVGO, has shut down. So, why not switch to some alternatives and continue streaming your favorite content instead of hoping for USTVGO to resume?
If you visit the official website or its clone site USTV247, you will see the message "Sorry, we are closed." In addition, users have reported that they cannot load the website on their browsers, which means the site may be gone for good.
However, just because the site is unavailable doesn't mean that your streaming days are over. There are good alternatives to USTVGO that can help you stream live TV channels when you want. This guide details the shutdown of the USTVGO website and lists the best USTVGO alternatives you can find.
Top 5 USTVGO alternatives – Quick list
In a rush to watch your favorite sport right away? Here are the top five alternatives you can stream instead of USTVGO.
Please note that PrivacySavvy does not support or condone piracy in any form. As you search for alternatives to USTVGO, you must ensure that the content you access is legal and respects copyright laws. PrivacySavvy is not responsible for issues that result from unverified streaming sources. Those potential issues include data breaches, hacked devices, or ISP logging. Using a VPN such as ExpressVPN when streaming online on any such website is also crucial.
What is USTVGO?
USTVGO was a popular streaming site offering free live TV channels from the United States. The site's best feature was its simple video player, which loads quickly and provides a buffer-free stream. In addition, the ads on the USTVGO website were fewer than those on other websites.
This site featured over 80 popular channels, which include CNN, Cartoon Network, Fox, Discovery, ESPN, Disney, Fox Sports, NBC, History, ABC, Showtime, Science, truTV, TCM, CBS, WWE Network, HBO, and Cinemax. USTVGO also featured simple navigation, a smooth interface, a program guide, and no pop-ups.
Sadly, some recent developments, like the absence of the USTVGO discord server and the absence of the Twitter account, hinted at the platform's sudden departure, which was confirmed shortly after. As a result, users may no longer have access to the site or its features.
Why did the USTVGO site shut down?
Without official word from the site's administrators, it is impossible to pinpoint the reasons for the abrupt closure. However, legal pressure may have forced the website owners to shut down the platform, or they may have received a cease-and-desist notification.
Based on the history of these streaming platforms, we can expect the service to reappear under a different name. In the meantime, you can look at some USTVGO alternatives — and continue to watch movies free online and stream other video content.
10 best USTVGO alternatives – Detailed list
There are numerous free alternatives to USTVGo. If you need help deciding between many options, check out our list of free USTVGO alternatives for streaming live TV channels below.
1. DaddyHD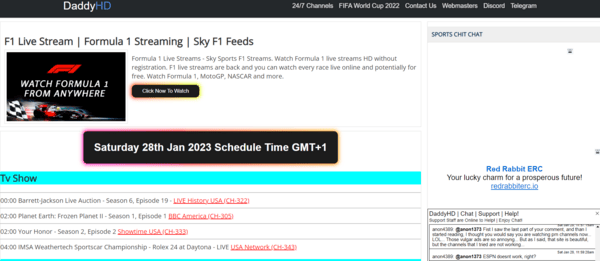 DaddyHD is an excellent alternative to USTVGO because it provides more than 120 live television and other United States and Canadian sports channels. In addition, this streaming site offers free streams, and you can watch live channels from all genres, including movies, entertainment, sports, and more.