Streaming services have eliminated the limitations of looking for cable TV subscriptions. When everything is available with a mere internet connection, why go wired?
CNNgo is one such service that has expanded the viewership of the long-known and popular CNN. Thus, the media source that enjoyed massive popularity among the people for a long is now available online as CNNgo.
However, not many of you could enjoy this service as CNNgo is typically available within the United States only.
Does this mean you'll keep on missing your favorite content?
Certainly not!
Let's learn how to unblock CNNgo outside the US through this extensive guide.
A quick guide to watching CNN Go outside America
Choose and subscribe to a reliable VPN provider. Ideally, your VPN should support fast streaming without compromising your online privacy. We recommend using NordVPN.
Install the VPN app on your device(s). Download the VPN app on your device where you want to watch CNNgo. You can also install the respective VPN clients on all your devices (if your VPN supports multiple device connections).
Log in to CNNgo. Simply use your cable subscription credentials to sign-in.
Start streaming. Once you step into the world of CNNgo through its official website, you're free to watch anything you want there.
What is CNNgo?
Don't be confused if the word 'CNNgo' sounds familiar. You guessed it right – it's the go-to online version of the popular channel CNN.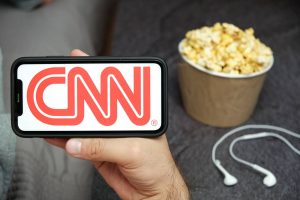 CNNgo started off in 2014 as an online streaming platform featuring CNN cable version's content.
Accessing CNNgo requires the users to enter their cable subscription credentials, after which they can watch the platform for free. This free availability makes CNNgo different (and better) from its predecessor CNN Pipeline, which required users to pay extra to watch content besides news.
With CNNgo, you can simply use your cable subscription details to sign in to CNNgo. After that, you can watch CNN news live, CNN International, or HLN broadcast.
You can also watch your favorite program as the online version even hosts all CNN full episodes as pre-recorded ones.
With this online platform, CNN has taken care of users' comfort by offering support for all major devices. It means you can easily watch CNNgo on your smartphones (both iOS and Android), computers (Windows and MacBook), or others such as Roku, Chromecast, Apple TV, or Android TV.
The only limitation with CNNgo is that you necessarily need a cable TV subscription to it. But that's not a big deal since you're likely to have it already.
Can I access CNN Go Live outside the US?
As a standard, CNNgo is typically available within the United States. Unfortunately, it means that the users outside the United States can't watch CNNgo abroad.
Although you can visit their website or the app, the moment you try to start streaming, you'll likely see this error.