5 best VPNs for Nigeria in 2021 for privacy, bypassing censorship, and fast streaming
Are you unable to use Twitter or any other platform? Turn to these best Nigeria VPNs to evade bans and censorship and stream your favorite content.
Internet freedom has been deteriorating in Nigeria since the 2019 elections. The government maintains that it doesn't censor its citizens, but journalists and bloggers are continually arrested for expressing conflicting political views.
On June 4th, the Ministry of Information and Culture suspended Twitter's operations in the country indefinitely. The ban took effect immediately after the policy was announced, and many Nigerians couldn't access their Twitter accounts.
A virtual private network (VPN) will help you use Twitter (and other platforms) and stay anonymous online. By encrypting your traffic and hiding your IP address, nobody can see what you are doing. I tested over 50 services, and now I present you with the top 5 best VPNs for Nigeria.
Top 3 Nigeria VPNs – The quick list
Are you short on time? Check out these rigorously tested top VPNs that work well in Nigeria:
ExpressVPN – My top pick VPN for users in Nigeria. Uses advanced encryption and high-speed servers placed worldwide. It has impressive unblocking capabilities, so you'll access anything you want.
Surfshark – Affordable Nigerian VPN that offers unlimited simultaneous connections. Some of its features, such as camouflage mode and MultiHop, are rare to find in other VPNs.
Private Internet Access (PIA) – A vast global server network, including in Nigeria. It also offers an effective ad blocker and allows you to customize the encryption.
Quick guide on setting a VPN up for Nigeria
Subscribe to a VPN and download it. Ensure you get only the one that can bypass geo-restrictions without compromising your connection speed and privacy. My number one recommendation is ExpressVPN, courtesy of its vast server pool, military-grade encryption, and fast speeds.
Connect to a VPN server located in a country, depending on your need. If you want to bypass censorship on Twitter or other similar sites blocked, connecting to any server outside Nigeria will do. But if you need to unblock streaming services, you'll need to connect to an appropriate server. For example, connect to a UK server to stream content from BBC iPlayer when visiting Nigeria. Likewise, if you wish to access US Netflix, connect to a server in the USA. (You get the idea, right?)
Begin browsing whatever you want! That's it. All your online activities alongside identity are protected while you can now enjoy the internet at full freely.
Best VPNs in Nigeria today
Not all VPNs can bypass the Nigerian government's restrictions and censorship. So, I set out to research and test the best VPNs that actually work in Nigeria. My list features reliable providers that will hide your online activities and actual location. In addition, they are easy to use and come with a money-back guarantee.
1. ExpressVPN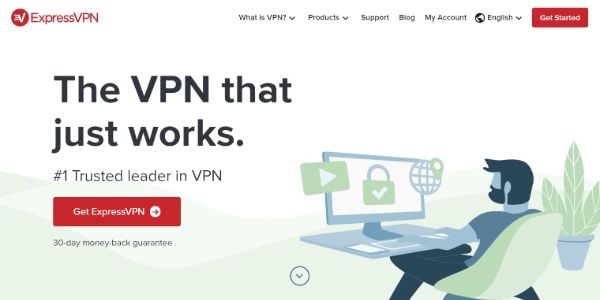 Key features:
3000 servers in 94 countries
AES 256-bit encryption
Network lock
Zero-logs policy
Unlimited bandwidth and data
30-day money-back guarantee
ExpressVPN is my top pick VPN for Nigeria. It employs sufficient security measures, has a massive server network, and does not keep any logs.
Let's look at how the VPN will keep you safe. First, it uses AES-256 military-grade encryption to protect your traffic and data. The encryption is reinforced with a 4096-bit RSA key, AES 256-bit cipher, and SHA-512 HMAC authentication. This is to ensure that your connections are near-impossible to break.
Another critical security feature ExpressVPN uses is the perfect forward secrecy. It will change your encryption key every time you start using the VPN. This will make activities from your previous session unrelated to the current one.
Moreover, the kill switch will keep your traffic on the encrypted loop even when the VPN drops. ExpressVPN terms it as Network Lock and is automatically enabled, so you wouldn't require configuring it manually.
The Nigerian government has instructed the federal prosecutor to arrest and prosecute those who use the Twitter app. However, with the combination of these security features, they cannot trace your activities or location.
In terms of privacy, ExpressVPN follows a strict zero-logs policy. This means that it does not retain any logs of your connection or activity. The only data it keeps is the information you provide when creating an account, which is common in the industry. Furthermore, the provider is based in the British Virgin Islands, a privacy-friendly country.
It has a massive server network of more than 3,000 servers in 94 countries with the best coverage in the US. This makes it convenient to access US geo-blocked streaming services such as Peacock TV, OxygenTV, etc. Unfortunately, ExpressVPN does not have servers in Nigeria, but you can use nearby ones like Algeria, Egypt, or Kenya. As per my tests, these servers still provided fast speeds as if I was connected to a local server.
On the downside, ExpressVPN packages are slightly pricier than its competitors. Nonetheless, it offers a 30-day money-back guarantee where you can test the service before subscribing.
Pros:
High-speed servers
User-friendly apps
Reliable customer support
Cons:
2. Surfshark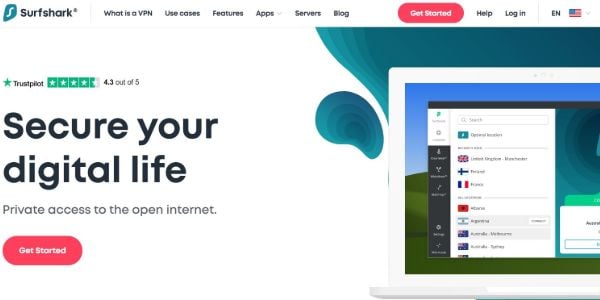 Key features:
3200 servers in 63 countries
Unlimited simultaneous connections
AES 256-bit encryption
Automatic kill switch
CleanWeb feature
30-day money-back guarantee
Surfshark is the best budget-friendly VPN for Nigeria. But is it safe, or will it help you bypass the government's censorship? The answer is, yes.
The VPN uses industry-standard AES 256-bit encryption that is almost impenetrable. It means your ISP, government agencies, and other third parties will not access your information.
There are four protocols you can choose from to secure your connection. OpenVPN and IKEv2 have stood the test of time and are pretty standard. I was impressed to see Surfshark is also offering WireGuard that is hailed to be faster and more secure. The VPN also provides Shadowsocks protocol that will help you circumvent Nigerian internet censorship.
Surfshark's automatic kill switch is easy to activate and will protect your connection if the VPN disconnects suddenly. The best part is that it is available on all apps, including Amazon Fire TV Stick.
This VPN allows you to double up your encryption by routing your traffic through two servers instead of one. The MultiHop feature adds an extra layer of encryption, making it impossible to track your online activities. However, by doing so, your speed will slow down significantly.
The camouflage mode, also known as the obfuscation feature, will hide your VPN traffic, making your connection seems like regular traffic. Even if the Nigerian government bans the use of VPNs, you'll still maintain your privacy.
Surfshark VPN respects your privacy with a strict no-logs policy. This means it will not collect your browsing history, session information, IP address, or any identifiable information. The provider is also based in the British Virgin Islands, an ideal jurisdiction for a VPN company.
One of the biggest perks of subscribing to Surfshark is the unlimited simultaneous connections. With a single subscription, you can connect as many devices as you want, which is an excellent value for your money. Remarkably, Surfshark is compatible with all major operating systems, including Windows, macOS, Android, Linux, and iOS.
Pros:
Solid speeds
Unblocks all popular streaming sites
It does not limit the number of connections
Cons:
Slow connection on some servers
3. Private Internet Access (PIA)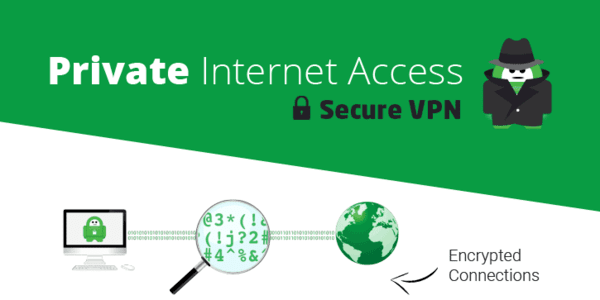 Key features:
23,474 server in 77 countries
AES 128/256-bit encryption
MACE feature
DNS leak protection
30-day money-back guarantee
Private Internet Access (PIA) is a great VPN for anonymity in Nigeria. It is also well known for its zero-logs policy, massive server network, and much more.
The VPN allows you to choose the encryption algorithm for your connection. It has set the 128-bit encryption as the default. This encryption is much faster and highly secure, but not like 256-bit encryption. Luckily, it is easy to switch between the two encryptions depending on your connection.
OpenVPN is the default protocol on all the apps, and you can choose between TCP and UP options. The iOS app is the exception as it uses IPsec protocol. You can also configure L2TP/IPsec, SOCKS5 proxy, and PPTP. Private Internet Access has also recently introduced WireGuard that is becoming popular because of its convenience.
You'll have more freedom to control your online activities with the split tunneling feature. It allows you to which traffic to encrypt and which will remain on the regular connection. However, it is only available on the desktop app.
PIA is headquartered in the US, so it must abide by the Patriot Act and hand over user information. Fortunately, the provider's privacy policy clearly states that it does not log or collect identifiable data. In fact, it has been compelled to corporate with authorities in two instances but didn't have any data to provide.
Unlike many top players such as ExpressVPN, PIA has an Adblocker known as MACE, which you can easily activate in the settings. It is available on all apps except iOS and will block trackers, adware, and malware. I tested it on several ad-filled websites, and it performed exemplary.
PIA boasts an enormous server pool, with over 23,474 servers and proxies in more than 77 countries. With many servers, congestion is unlikely, so the connections will be smooth. Also, if you are disconnected from a particular for whatever reason, there are many other server options to choose from.
Pros:
Fast speeds
Customizable security features
Unblocks streaming sites
Cons:
4. PrivateVPN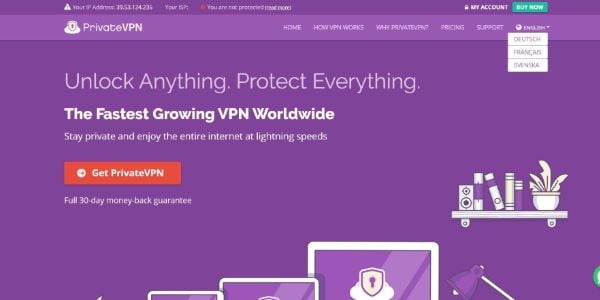 Key features:
200 servers in 63 countries
Kill switch
P2P support
AES 256-bit encryption
30-day money-back guarantee
PrivateVPN is an easy-to-use but high-performance VPN service for Nigeria. Its strengths are a zero-logs policy, robust security, and consistent connections.
Like PIA, PrivateVPN allows you to choose from two encryption algorithm. AES 256-bit is the most secure but makes the VPN runs a bit slower than 128-bit encryption. It also supports various secure protocols, including L2TP, IPsec, OpenVPN (UDP/TCP), PPTP, and IKEv2.
PrivateVPN will prevent your traffic from leaking with the automatic kill switch. There is also DNS/IPv6 leak protection to safeguard your connections. This means that your data will remain completely secure even if the VPN drops unexpectedly.
Unfortunately, PrivateVPN is based in Sweden, which is part of the 14-Eye Alliance. However, the provider is dedicated to maintaining your anonymity and privacy. According to its privacy policy, the provider does not retain or log any usage or traffic data.
One of the major issues with PrivateVPN is the small server network. Currently, it is operating around 200 servers in 63 countries, which is relatively small compared to its rivals. The problem is few servers are likely to become congested quickly, causing slow connections. However, the company is constantly adding new servers and will hope its network will continue to expand.
PrivateVPN has native apps for almost all devices, including Android, Windows, macOS, and iOS. The good news is that the app's interface is user-friendly and extremely easy to navigate. It also offers manual configuration guides for Kodi, Linux, and compatible routers.
Pros:
Strong encryption
Does not keep logs
Fast connections
Cons:
5. IPVanish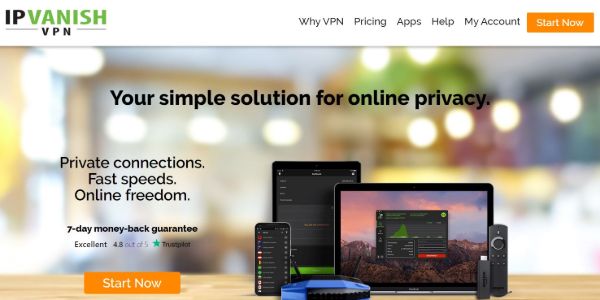 Key features:
1,600 servers in 75 countries
No-logs policy
AES 256-bit encryption
Automatic kill switch
DNS leak protection
30-day money-back guarantee
IPVanish is an all-around VPN for Nigeria with an impressive list of features. The provider emphasizes security, privacy, and speed, easily edging out the competition.
It uses military-grade AES 256-bit encryption to protect your data and connections. This is a high-level security feature, and even if the Nigerian government spies intercept your traffic, they can't decipher your data. By default, IPVanish uses OpenVPN protocol, but you can also switch to IKEv2 and PPTP. There is also perfect forward secrecy that will ensure your past activities are unrelated to the current session.
Around 2016, IPVanish complied with authorities that led to the arrest of a user. However, the VPN has improved its logging practices and now has a strict zero-logs policy. In addition, it has been acquired by StackPath, and the new management guarantees to maintain user anonymity.
One thing that impressed me is that IPVanish owns and manages its servers instead of renting from third parties. This gives it greater control over the accessibility of the servers, which is good for privacy.
Go to the settings and activate the traffic obfuscation feature or 'scramble' on the mobile app. This is helpful if you don't want your ISP and other third parties to know that you are using a VPN.
IPVanish is compatible with all major operating systems such as Windows, macOS, Android, iOS, and Linux. Luckily, IPVanish allows unlimited simultaneous connections on a single subscription. This means you can connect as many devices as you want.
Pros:
Dependable security features
It does not limit the number of connections
Allows you to hide VPN activities
Cons:
No Bitcoin payment option
Why you need a VPN in Nigeria
A VPN is a simple tool but will come in handy in many ways in and outside Nigeria. Below I look at some of the ways a VPN is helpful:
Bypass Nigerian Twitter suspension
The Nigerian government recently announced that it had suspended Twitter in the country. This is in response to the platform deleting the president's tweet for violating terms of use. The ban took effect on 5th June Saturday morning where millions of users complained that they couldn't access their Twitter accounts. Amnesty International has termed it as a threat to free speech and should be reversed with immediate effect.
The best way to bypass Twitter suspension in Nigeria is to use a VPN. If you connect to a server in another country, you can easily access your Twitter account. Besides, it will protect your data and anonymize your online activities.
Access geo-blocked content
Many streaming services use geo-blocks to restrict content to specific geographic locations. This means that the content is not uniform in all countries. For instance, the Nigerian Netflix library is different from that of South Africa. Netflix US has the most extensive catalog, and a VPN with servers in the US will help you access it.
WiFi protection
Public WiFi is becoming rampant, and nowadays, you can get a hotspot almost everywhere from restaurants, libraries, airports, etc. The problem is that they come with security risks. For example, a malicious actor can track your activities and even steal your data. A reliable VPN will hide your browsing history and information to keep you safe.
Is there also any limitation of a Nigerian VPN?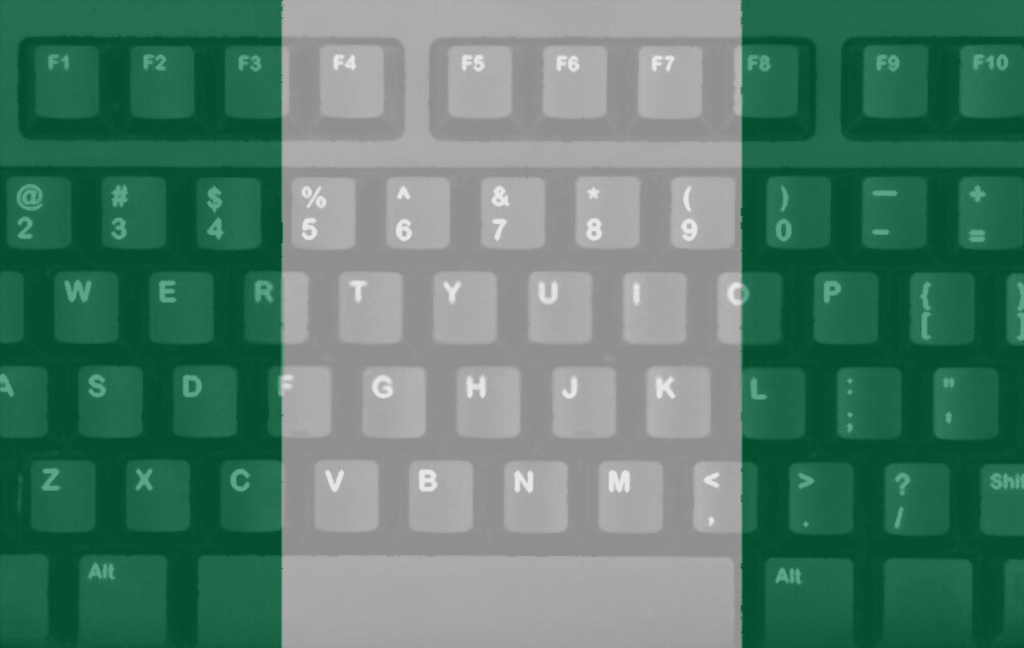 VPNs have been trending in Nigeria after the authorities banned Twitter in the country. However, before you start using a VPN, these are the things you should know:
Reduced speeds
Because of the encryption process that VPNs use to keep you safe, your internet speed will slow down. With poor quality VPNs, the speed reduction will be significant such that you can't perform any task. However, some reliable services such as NordVPN mitigate the effects, and the drop in speed will be barely noticeable.
Data vulnerability
A VPN will safeguard you from the snooping eyes of the authorities, but the service provider can still access your information. It can retain the data to sell to advertisers or even track your location, especially free VPNs. That is why I strongly advise you to choose a VPN that strictly observes a zero-logs policy.
Not completely safe
Using a VPN does not mean that your internet connections will become anonymous 100%. A VPN only encrypts your traffic and hides your IP address. However, it won't protect you if you download corrupted files or visit malicious sites.
Take a subscription or go dry
Completely free VPNs are loaded with dangers and can compromise your security and privacy. Running a VPN infrastructure is costly. So if a provider is not charging users, it has to source money from somewhere else. The most common way to bring in revenue is to sell user data. That's why I recommend only using premium providers and never go with a free VPN service.
Things to consider when choosing a Nigerian VPN
There are hundreds of VPN services available so choosing the best one isn't easy. Here are the things you should look out for when selecting a VPN for Nigeria:
Robust security
I suggest you choose a VPN that uses AES 256-bit encryption. This is military-grade encryption that will ensure nobody can access your data or intercept your traffic. A kill switch is another security feature a reliable VPN should have. It will prevent your information from leaking out of the encrypted tunnel if the VPN connection is lost.
Logging policy
How does the provider handle user data? Dig into the privacy policy to see the VPN's logging practices. The best Nigerian VPNs should have a strict zero-logs policy. This means that they don't retain any personally identifiable data like your IP address, timestamps, or DNS requests.
The jurisdiction of the provider is also an essential factor to consider. Some countries, such as the ones that form the 14 Eye Alliance, force companies to keep users' data. So, choose VPNs located in privacy-friendly regions such as Switzerland, Panama, and the British Virgin Islands. I did a comprehensive review, and these are some of the best log-free VPNs you can use.
Server network
One of the primary uses of a VPN is to bypass geo-restrictions. Therefore, you should choose a VPN with a global network so you can access content and services from anywhere. For example, some providers such as ExpressVPN and NordVPN have extensive networks. With many server options, there will be no congestion hence faster speeds.
It would be better if the VPN has servers in Nigeria. It'll help you to browse with a Nigerian IP address and access local sites when you travel or live abroad.
Speed
If you want to avoid slow downloads, video buffering, and gaming lag, choose a VPN that won't decelerate your connections. In fact, if your internet service provider (ISP) was throttling your bandwidth, a reliable VPN should improve your speeds.
Usually, connecting to nearby servers offers better speeds because your traffic travels a shorter distance. However, you won't notice the difference with a reliable service even when you connect to servers in a faraway country. You can check out our guide for the fastest VPNs available.
Value for money
All VPNs are priced differently, with many services offering various packages. In most cases, long-term plans are more affordable, and some providers even thrown in significant discounts. For example, NordVPN's two-year plan has an excellent value for money, considering the features you'll get.
Nowadays, most VPNs provide a money-back guarantee where you can reclaim your money if you are unsatisfied with the service. The period can range from a few days to a month or more. If you are on a budget, read this guide on the best cheapest VPNs on the market.
Can I download a free Nigeria VPN?
Yes, you can, but you'll be putting yourself at risk. It is important to know that entirely free VPNs are not safe. This is because many of them do not have the necessary security measures to safeguard your connections and data.
In fact, a CSIRO study found out that the majority of free VPNs have malware. In addition, they use trackers to access sensitive data on your device. Others don't have a clear logging policy, so they might be retaining your data to sell to the highest bidder.
Besides security and privacy issues, many free VPNs perform dismally. Usually, they have fewer servers and too many users, causing congestion. So, in most cases, the speed will be sluggish with massive buffering and lagging. Generally, free VPNs will give you an awful experience.
Instead, you should go for the free versions of premium VPNs like Tunnelbear. Although you'll be deprived of some of the features, it'll still protect your connections and data. Fortunately, you can upgrade to reasonably priced packages to access more features.
Wrap up
The Nigerian government suspended Twitter indefinitely in the country after the President's Tweet was deleted. A reliable VPN will help you to avoid the restrictions and access Twitter and other blocked services. And, help you stay protected while online.
Regrettably, authorities have threatened to arrest and prosecute anyone found using some platforms such as Twitter. The VPNs on this list provide the necessary features to keep you safe and maintain your anonymity. If you want me to narrow the list down, my top recommendation is ExpressVPN because of its watertight security and fast speeds. The service backs its offering with a 30-day no-questions-asked money-back guarantee, which speaks a lot about what you as a user will get from it.
FAQs
Is using a VPN legal in Nigeria?
Is there a free VPN with Nigeria location?
How will a VPN help me get a Nigerian IP address?
What is the best VPN to torrent in Nigeria?
About the author
Ruheni Mathenge
Tech researcher and writer with a passion for cybersecurity. Alex is a strong advocate of digital freedom and online privacy.