VPNArea, a Bulgaria-based VPN provider owned by Offshore Security EOOD, owns and established in 2021. It is worth considering, although the service is a relative newcomer in the market. The VPN has over 100 servers spread across 55 countries worldwide, with regular ones situated in Switzerland, a privacy-friendly jurisdiction.
This VPN offers many robust features that enable you to browse, torrent, and stream without issues. For example, you'll get reasonably priced plans, dedicated IPs, and unblock Netfix, which only a few VPNs provide.
Moreover, VPNArea offers excellent privacy and security tools, including a kill switch, malware protection, robust encryption, double VPN, ad blockers, stealth VPN, and a zero-logs policy. Also, it allows you to use eight devices simultaneously on a single account.
The service provides apps for popular operating systems such as iOS, Windows, Amazon Fire Stick, macOS, Linux, and Android. It also supports the IKEv2 protocol, which enables the servers to work with third-party app providers. In case of any issues, while accessing VPNArea, you can contact its responsive customer support via a 24/7 live chat tool.
Check out this thoroughly to explore more about VPNArea.
JURISDICTION
Based in (Country)
Bulgaria
Eyes alliances
No
Internet's foe
No
LOGGING
Logs Traffic
No
Logs Bandwidth
Logs Timestamps
Logs DNS Requests
Logs IP Address
ACTIVISM
Anonymous Payment Method
Email
Takes Bitcoin
PGP Keys
Meets PrivacyTools IO Criteria
Gives back to Privacy Causes
LEAK SECURITY
1st Party DNS Servers
No
OpenVPN
Supports IPv6
OBFUSCATION
Supports Multihop
Supports Obfsproxy
Supports TCP Port 443
Supports SOCKS
Supports SSL Tunnel
Supports SSH Tunnel
PORT BLOCKING
Auth SMTP
P2P
Allowed on some servers
SPEEDS
US Server Average %
0
Int'l Server Average %
23.72
SERVERS
Dedicated or Virtual
SECURITY
Strongest Data Encryption
AES-256
Default Data Encryption
AES-256
Strongest Handshake Encryption
Weakest Handshake Encryption
AVAILABILITY
# of Countries
55
# of Connections
8
# of Servers
186
Linux Support (Manual)
Yes
WEBSITE
# of External Trackers
1
5 persistent cookies
5 proprietary APIs
Self-issued SSL certificate
B grade server SSL rating
PRICING
$ / Month (2-Years Pricing)
3.21
$ / Connection / Month
9.90
Free trial
No
Money-back guarantee (Days)
30
ETHICS
Contradictory logging policies
Falsely Claims 100% Effective
Yes
Incentivizes Social Media Spam
POLICIES
Requires Ethical Copy
Yes
Forbids Spam
Yes
Requires Full Disclosure
No
AFFILIATES
Give Full Disclosure
No
Practice Ethical Copy
Overview
VPNArena is a service from Bulgaria. It has good performance and privacy features. The speeds are also excellent, as it's one of the fastest networks we've tried recently.
Now that the Netflix/VPN combo has become all-important, this VPN offers several Netflix streaming hubs you can access anytime. In addition, it's suitable for torrenting (the network includes many dedicated P2P servers that make your torrenting experience smoother, especially with large files). And those users who want a static IP address can have it for a very competitive price in several spots around the globe.
It offers ad-blocking and anonymous payment options and sticks to a strict no-log policy.
Short on time? Here are our key findings
Pros
VPNArea offers over 100 servers in 55 countries across the world. Also, it offers dedicated servers that enable users to access restricted locations such as China and Russia
We effectively unblocked multiple streaming platforms like Netflix libraries in the UK and US, Amazon Prime Video, BBC iPlayer, Hulu, and more
The VPN service is compatible with popular operating systems such as Android, macOS, and Windows
VPNArea provides advanced security features, including double VPN, robust AES 256-bit encryption, a kill switch, and Stunnel servers
It offers reasonably priced plans starting at $3.21 per month and a risk-free 30-day refund policy.]
When connected to this VPN, the upload and download speeds experience a 10% to 30% drop.
The VPN service has a strict no-logs policy and does not collect or store user data
It has 24/7 responsive customer support via email ticketing, a FAQ page, and a live chat option
Cons
The desktop app acks a dedicated main screen. So, it directs you straight to the server map when you connect
Distant servers provide slow speeds
The company's background
VPNArena's parent company is Offshore Security EOOD. It's been around since 2012, so it's a bit of a surprise that a VPN this good hasn't gathered more market momentum.
Bulgaria may not be the most tech-savvy country you've ever heard about, but it's a good privacy jurisdiction. It doesn't belong to any of the "Eyes" alliances, and it's not a close partner to the US or the UK, which are heavily committed to citizen surveillance and have persuaded their allies to follow suit.
As VPN-friendly jurisdictions go, Bulgaria is one of the best options in Europe.
Pricing and refunds
VPNArea offers three plans: monthly, yearly and biyearly. The respective prices are 9.90, 4.13, and 3.21 monthly.
The prices for VPNArea are slightly below the market average in each of the three plans. So this is a vendor that offers a service above the average for a competitive price. Take NordVPN, for example, a superior VPN provider that charges the average fee. VPNArea is slightly cheaper, and the service is not so far from NordVPN's, so you can expect value for your money.
Unless you want a static IP, all three plans will give you the same features. Unfortunately, that's unavailable for plans longer than a year.
The only piece of data you must provide to subscribe is an email address. If you pay with Bitcoin or any other anonymous payment options, you don't need to give away any more personal data.
Here's a rare feature in VPNs: you are allowed to share your account with others. Other vendors prohibit this. VPNArea enables you to do it, which means you could share the cost with other users.
There are two refund policies available: the monthly plan has a 14-day money-back guarantee; the yearly and biyearly plans have a 30-day money-back guarantee.
Apps and device compatibility
VPNArea offers macOS, Android, routers, Windows, and iOS apps. In addition, it is available for platforms like Android TV and Fire TV. However, the VPN does not include a Smart DNS feature, which comes in handy when connecting to devices that don't support VPNs. Also, it doesn't have browser extensions.
Apps
You can download the VPNArea apps on platforms like Linux, routers, Android, macOS, Windows, and iOS. The table below shows a summary of variations of the VPNArea apps:
| Device | Kill switch | Protocol | Split tunneling | Port forwarding | Proxy | Stealth Protocol |
| --- | --- | --- | --- | --- | --- | --- |
| Android | No | IKEv2, OpenVPN | No | Yes | No | Yes |
| iOS | No | IKEv2, OpenVPN | No | Yes | No | No |
| macOS | Yes | IKEv2, OpenVPN | No | Yes | No | Yes |
| Windows | Yes | IKEv2, OpenVPN | No | Yes | No | Yes |
All of the above devices use the OpenVPN protocol as default. However, the IKEv2 protocol is only available automatically in the iOS app. You must manually configure it on Android, macOS, and Windows devices using the instructions provided in the web dashboard.
VPNArea for Desktop
The VPNArea desktop app includes various outstanding features that enhance the user experience. However, it has some drawbacks, such as lacking a main screen, so when you log in, you are redirected to its server list.
Additionally, disconnect and connect to another server manually if you wish to change locations. This VPN provider is one of the few VPNs that provides similar apps for Windows and macOS.
---
VPNArea for Android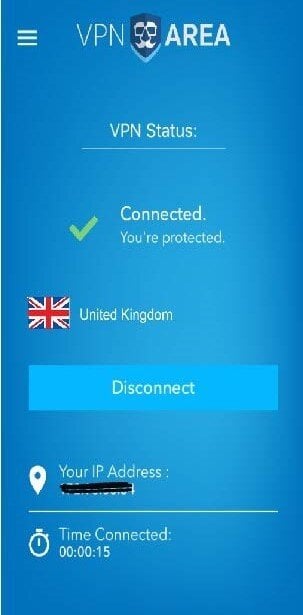 The Android app is considerably superior to the iOS app. This is because it offers more servers that are optimized for streaming and features like double VPN.
The app has a fresh layout and design that includes the most compelling features accessible in the desktop version. It allows you to filter and select servers according to functionality, with the 'Special' tab displaying double VPN and streaming-optimized servers.
Moreover, you can tweak VPNArea's Anti-DNS Leak feature, which links you spontaneously to the VPN's DNS servers rather than your ISPs. Also, enabling the Persistent VPN tunnel automatically reconnects you to the last server used if your online connection is interrupted.
Unfortunately, the Android app does not include a kill switch, split tunneling, or an ad blocker. So, if you need these features, you should opt for VPN services like ExpressVPN to avoid data leaks if the VPN's connection drops.
---
VPNArea for iOS
VPNArea's iOS app is straightforward compared to desktop and Android apps. It provides you with the option of selecting OpenVPN and IKEv2 protocols. The default OpenVPN protocol is the best because it is considerably safer than IKEv2.
Unluckily, like Android apps, it lacks crucial features such as an ad-blocker, split tunneling, and a kill switch.
---
Fire TV app
We tested the Firestick App on the Amazon Fire TV stick, but it was unreliable. This is because it made logging in difficult despite its quick download process.
Additionally, the app was nearly similar to the Android version, but it was more challenging to use. The app did not include any sound effects or animation to show us the option was chosen in the app. We recommend using a top-tier VPN service like ExpressVPN, which offers a simple-to-use Firestick app.
---
Games consoles and streaming devices
Although this VPN service doesn't have a Smart DNS feature, it supports various router models. This means you can still use it on gaming consoles and streaming gadgets that don't work with VPNs. Generally, you'll be able to safeguard all your internet-connected devices. Moreover, you can manually configure VPNArea on streaming devices like Kodi and Amazon Firestick. However, if you want to access your game consoles instantly, this VPN is not ideal. ExpressVPN is an excellent alternative for buffer-free streaming and online gaming without lags.
---
Ease of use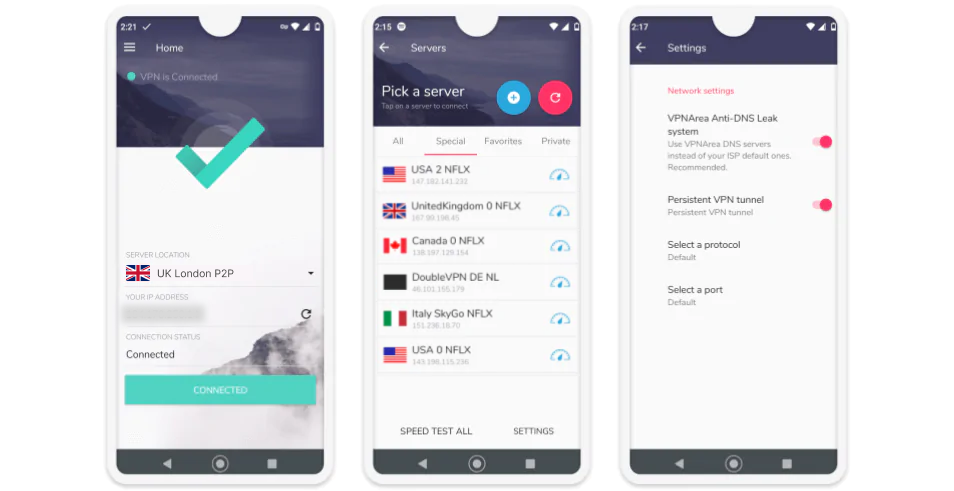 The desktop apps for VPNArea are simple to install and navigate, but the user experience is not smooth, and the design is obsolete. Also, you might encounter some problems while attempting to log in to the desktop app.
You can connect to the VPN server by clicking the server, then tap the blue 'CONNECT' button, and enter your username and password. It is advisable to save your credentials to avoid inputting them whenever you want to access the VPN. VPNArea provides settings for:
Automatically connecting to the most recently used VPN server
Launching the VPN on system startup.
Saving your username and password
The VPN server list is divided into helpful tabs like obfuscated, streaming, and torrenting. Also, you may sort the servers in terms of speeds, percentage load, or distance. Moreover, it allows you to use the search bar at the top of the window to look for Stunnel, torrenting, or Netflix servers.
Furthermore, the VPN settings include easy-to-use switches. It also has a feature that allows you to toggle between displaying the server distance in miles and kilometers. In addition, the VPN app appears as a tray when minimized, but Windows will enable you to alter it back to the taskbar via the settings tab.
Streaming – Does VPNArea unblock streaming platforms
VPNArea uses its dedicated IPs to unblock various Netflix libraries. In addition, it functions efficiently with HBO Max, Disney+, and Amazon Prime Video. Unfortunately, it works occasionally with BBC iPlayer and does not unblock Hulu.
Below are the major streaming platforms that work with VPNArea:
| Streaming site | |
| --- | --- |
| Amazon Prime Video | Yes |
| Hulu | No |
| BBC iPlayer | Yes |
| Disney+ | Yes |
| All 4 | Yes |
| Netflix US | Yes |
| HBO Max | Yes |
| YouTube | No |
| ITVX | Yes |
| Hotstar India | No |
VPNArea is a decent option for streaming content on most platforms. However, if you want to regularly access Hulu or BBC iPlayer, utilize a reliable VPN service like ExpressVPN.
Dedicated servers for Netflix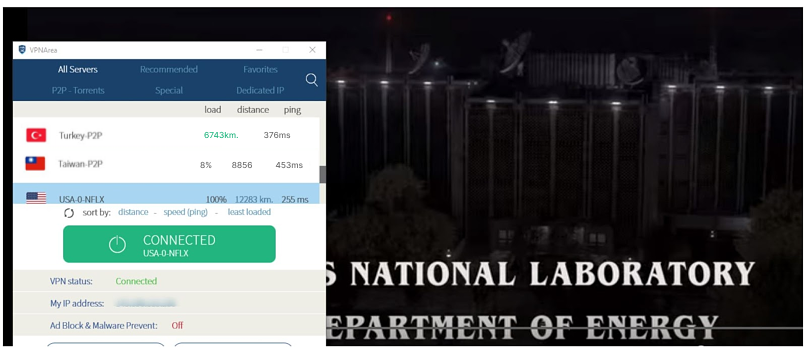 This VPN service now offers 5 dedicated servers for accessing Netflix. They are identified with 'NFLX' initials in the app. For instance, to stream UK Netflix or iPlayer, connect to 'UnitedKingdom-0-NFLX' and click on 'USA-0-NFLX' to watch US Netflix.
We got different results while streaming using VPNArea. The UK streaming servers gave us difficulties while trying to connect. The service should add more dedicated servers in multiple locations to provide users access to additional Netflix libraries while acting as a backup for failed servers.
The following are our test results of the servers that unblocked Netflix:
| Location | Able to connect | Unblocks Netflix | Server name |
| --- | --- | --- | --- |
| United Kingdom | Yes | Yes | United Kingdom-0-NFLX |
| United States | Yes | Yes | USA-2-NFLX |
| United States | No | No | USA-0-NFLX |
| Italy | Yes | Yes | Italy-SkyGo-NFLX |
| Canada | Yes | Yes | Canada-0-NFLX |
Moreover, VPNArea's customer support verified that its servers unblock Netflix libraries in the UK, the US, Italy, and Canada.
---
Inconsistency while unblocking BBC iPlayer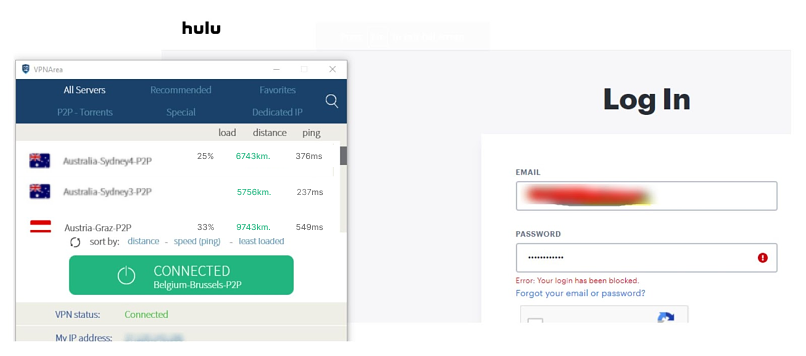 We got varying experiences while streaming BBC iPlayer with VPNArea during our test. Without buffering, We simply connected to the 'UnitedKingdom-0-NFLX' server, the only UK streaming server. However, this is not always the case since the server functions on some days and fails on others.
---
Torrenting – Does VPNArea support P2P sharing
VPNArea is a decent VPN service for torrenting. During our test, it offered us a fast bitrate speed of 8.2MiB/S and supported torrenting on 132 servers. Additionally, the VPN has robust encryption and a strict no-log policy, allowing it to keep your P2P activity anonymous.
The table below shows an overview of VPNArea's performance during our torrenting tests:
| Torrenting quality | Test result |
| --- | --- |
| Average Download Bitrate | 8.2MiB/s |
| Number of P2P Servers | 132 |
| Kill Switch | Yes |
| Logging Policy | No Logs |
| Port Forwarding | Yes |
In our most recent VPN test, the average download bitrate was 8.2MiB/s, with IvacyVPN, one of its biggest competitors, recording the best speeds of 10MiB/s.Furthermore, this VPN offers port forwarding to enhance your speeds, a valid no-logs policy, and a kill switch to protect your IP address from being monitored. You can easily explore the server list to look for a specific P2P server, typically labeled 'P2P'. For instance, the 'Canada-Toronto2-P2P' server is a torrenting server located in Toronto, Canada.
Server network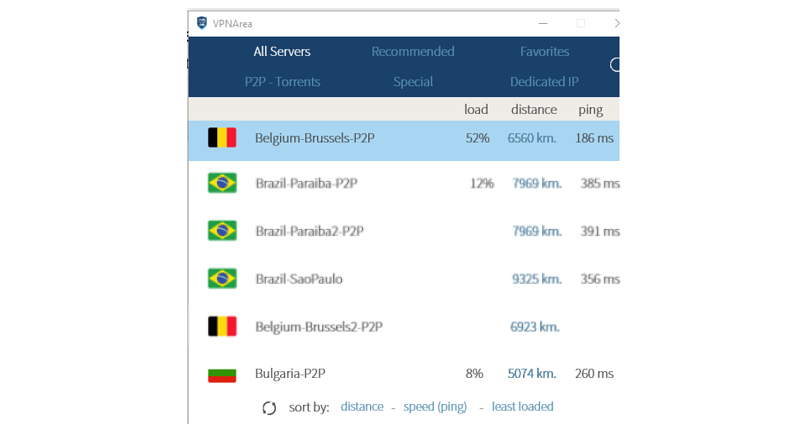 VPNArea boasts 100+ server locations distributed across 55 countries globally. The network supports OpenVPN and IKEv2 protocols. Also, all the servers have large bandwidth to enable you to do data-intensive activities like streaming, torrenting, and gaming effortlessly.
Moreover, the VPN service has Stunnel servers. This feature allows users from countries with tight censorship, such as China, to access restricted content securely.
Moreover, the VPN focuses on the user-to-server ratio, ensuring optimum network performance. In addition, it includes a server monitoring tool, which enables you to check the number of people connected to a particular server. This option allows you to select a server with fewer users to avoid server congestion and enhance performance.
VPNArea servers are spread across various regions, with the majority in Europe and America. The following table outlines the number of servers located on every continent:
| Continent | List of servers |
| --- | --- |
| Europe | Netherlands, Greece, Hungary, Indonesia, Israel, Portugal, Spain, UK (Manchester, London), Italy, Bangalore, Switzerland, Moldova, Iran, Sweden, Germany, Turkey, Norway, Romania, and Poland |
| North America | Canada-0-NFLX, Canada (Toronto, Montreal), Mexico, USA X-Stunnel (Illinois, Florida), the USA (New York, Chicago, Dallas, San Jose, Phoenix, Seattle, Atlanta, Los Angeles, Miami) |
| Africa | South Africa |
| Asia | China, Japan, Singapore |
We also tested how fast various servers established a connection, and some took slightly longer while others did not connect. The best functionality of VPNArea was the ability to connect to China servers, a rare feature in most VPNs.
VPN tunneling protocols
The VPN has adopted the IKEv2 VPN tunneling protocol recently. While it's not the golden standard, as OpenVPN or very quick, it's safe and relatively light. IKEv2's main advantage is that it clings to the VPN server link even when the local environment is hostile or highly variable. And this is what you want when you move around with your tablet or smartphone.
We've already mentioned specialized servers for video streaming services and P2P networks, but there is another set of servers: the Stunnel servers. These nodes provide traffic obfuscation, which is the most advanced and effective way to secure your traffic. In addition, it makes everything look like HTTPS, so anything you do, including torrenting or video streaming, flies under the radar because it seems like the usual HTTPS. More importantly, obfuscation is the encryption technique that allows VPNs to work from China, beating the Great Firewall, or in any other network where VPNs are banned or blocked.
Security – Is VPNArea secure
VPNArea supports the military-grade IKEv2 and OpenVPN encryption protocols. However, it does not include the WireGuard protocol, regarded as the safest and fastest.
The service offers a robust encryption solution that employs AES 256-bit with SHA-256 algorithm and 4096-bit RSA keys, making it nearly impossible for hackers to decipher.
Moreover, it provides a functional kill switch for Windows and macOS apps. This tool is essential for avoiding data leaks because it automatically disconnects your internet traffic in case your VPN connection drops. Unfortunately, this tool is not accessible on the mobile apps.
Besides the robust encryption and custom DNS servers, VPNArea offers specialized servers that improve your online security. For example, Stunnel servers obscure your VPN traffic and make it look like normal traffic. Also, it has Double VPN servers that reroute your VPN traffic through two servers before reaching their destination. This feature adds a layer of protection, minimizing the possibility of cracking the tunnel and tracking your online activity.
The VPN service also provides malware protection and an ad-blocker to protect you from malicious sites and intrusive ads.VPNArea's official site offers a bug bounty to trustworthy hackers who find any vulnerabilities in its clients. This shows the company's obligation to keep you safe. We also used ipleak.net to test for DNS and IP leaks, and the servers did not reveal our real location.
Privacy – Will VPNArea keep you private?
VPNArea follows a strict no-logs policy. It only collects non-identifiable information, including your username, email address, transaction ID, and password. However, it is not fully trustworthy as its policy has not been independently audited yet. Additionally, it is based in the European Union (EU), which does not have the finest jurisdiction for data privacy.

Offshore Security LTD, the owner of VPNArea, is located in Varna, Bulgaria, and therefore is subject to EU data retention laws. This implies the VPN service may hand over your recorded data to the authorities if required. On the other hand, this VPN's computer system is located in Switzerland, a country with no data retention laws. This might hypothetically preserve your privacy to some extent.
Moreover, knowing who owns Offshore Security LTD is a little challenging. It is linked with Dimitar Dobrev as the founder and Pastor Awitta from Kenya as the firm's Managing Director. Also, we did not find the firm in the Bulgarian Unified Trade Register. However, it is not exactly a deal breaker for VPNs, but it is essential to have guarantees regarding your online activity and personal information.
The VPNArea privacy policy
And now, let's talk about privacy. Remember, privacy is not security. It's not about technology but human decisions. A VPN can respect and protect your privacy by keeping no user logs at all.
The VPN's privacy policy is very clear about privacy:
We do not monitor, record, or store logs for any single customer's VPN activity. We do not monitor, record, or store any login dates, timestamps, incoming and outgoing IP addresses, bandwidth statistics, or any other identifiable data of any VPN users using our VPN servers.
This is the kind of privacy policy we want to see from VPNs.
So VPNArea is a good choice for privacy enthusiasts, and it also delivers in terms of performance, data security, anonymity, speeds, and bandwidth.
Speeds in the VPNArea VPN
Using a VPN will always cost you something where speeds are concerned. That is because the encryption in your device and the server, and the traffic rerouting, take time. So it's a trade-off between speed and security. But, of course, every user wants to retain enough speed to preserve the functionality they need to perform their online duties.
Fortunately, the best VPNs can give you military-grade security without sacrificing a lot of speed. So in many cases, you won't notice any drops in speeds unless you measure them carefully. As it turns out, VPNArea is one of the best services in this regard.
We tested several of the VPNArea servers for speed, and we were pleasantly surprised to find out that the speeds are impressive everywhere.
The Amsterdam and Berlin servers allowed us to keep up to 96% and 86% percent of our baseline speed. The best server was based in the UK with 97%.
And how about the US? The New York server gave us 93% of baseline speed, and we found the same for the Dallas server.
The results for Canadian servers were every bit as good.
These speeds are impressive if you consider that VPNArea hasn't adopted WireGuard. WireGuard is the most advanced, open-source VPN protocol. It's designed with efficiency in mind, using the most advanced encryption techniques to ensure both maximal speeds and security. It is the protocol behind the great success of NordVPN, Surfshark, and ExpressVPN regarding speeds. So tweaking OpenVPN and IKEv2 to come up with speeds that can challenge those that WireGuard has in other VPNs is a substantial technical achievement, and VPNArea has managed it.
Does VPNArea work in China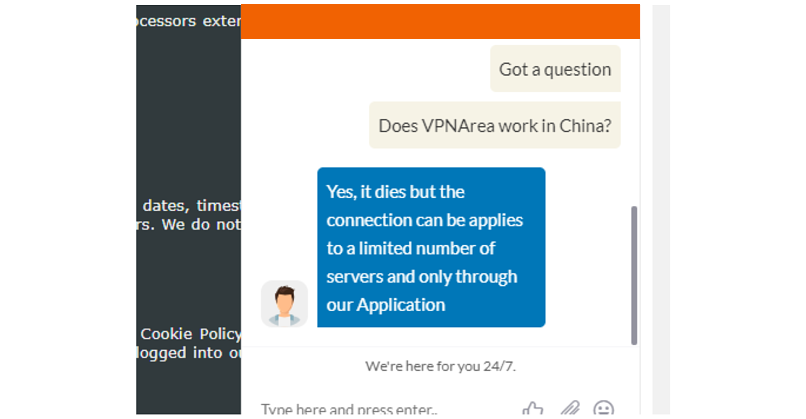 VPNArea used to be a superb option for China, but it now struggles to circumvent The Great Firewall. Fortunately, the service has X-Stunnel VPN servers, which mask your connection as typical HTTPS traffic, allowing you to work around the censorship. However, this feature is only supported on macOS and Windows desktops.
Furthermore, it is among the best VPNs for China, with efficient obfuscation servers in Singapore, Japan, and Canada. These servers are also suited for nations with strict censorship, such as the UAE, Saudi Arabia, Russia, Iran, and Turkey.
Customer support
Customer support is an area that VPNArea improved significantly recently by adding 24/7 live chat support, which is a standard feature with the best services.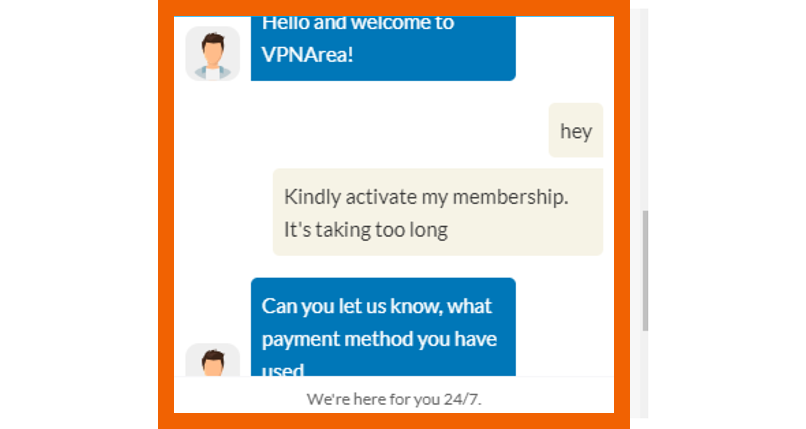 If you go to the website's bottom-right corner, you can get instant access to the support system. When we tried it, we waited for fewer than 60 seconds to have a friendly and competent agent ready to help us.
There is also a ticket system you can use through email.
The website is simple and has a forum where you can interact with other users and post questions or suggestions.
VPNArea free trial
There is a 30-day money-back guarantee with VPNArea. So you can sign up for an account and use it for up to thirty whole days. If you decide by then (or before) that Bulgarian VPNs are not your cup of tea, you can ask for your money back, no questions asked.
The company is sure its service is good enough to persuade new users to keep it after the first month. And we found this VPN to be so good in every regard that we can only agree with it.
VPNArea alternatives
1. ExpressVPN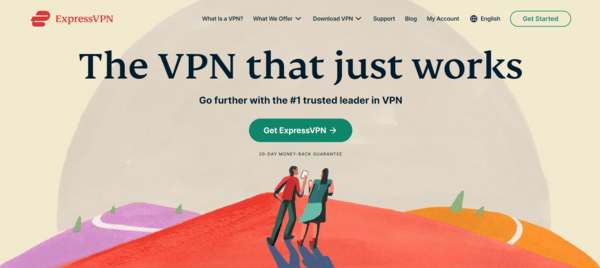 This VPN service offers top-notch privacy and security features, including AES-256 encryption, a kill switch, a zero-logs policy, RAM-only servers, the Lightway tunneling protocol, and more. It also has additional features like threat protection that protects you from malware and split tunneling for managing applications that connect through the VPN.
ExpressVPN offers blazing-fast speeds with constant speeds even on distant servers. It has a vast server network distribution that allows users to connect to many servers globally. In addition, it offers superb unblocking and streaming capabilities while also circumventing geographical restrictions on most platforms.
---
2. Private Internet Access (PIA)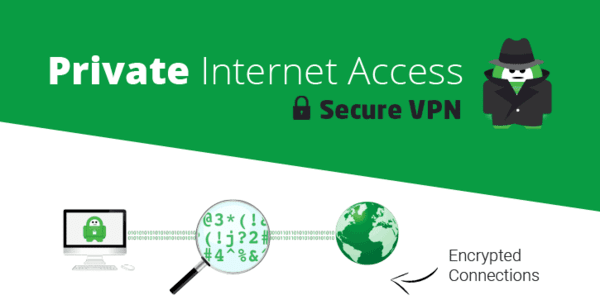 PIA boasts one of the largest networks, with over 29,000+ servers spread across 84 countries globally. The wide network allows you to avoid server congestion, slow speeds, and VPN bans. Furthermore, the VPN service recently launched servers in each US state, allowing you to access an IP address in all 50 states.
This VPN provider employs robust security features such as customizable encryption of 128-bit and 256-bit AES, IP and DNS leak protection, a reliable kill switch, split tunneling, and a malware protection tool. Additionally, you can use the service risk-free thanks to its 30-day refund policy.
---
3. NordVPN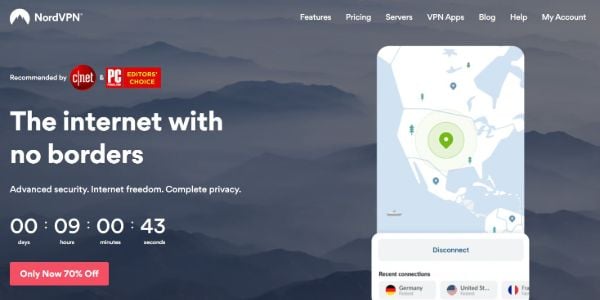 NordVPN has quite a good reputation in the industry for its top-notch security, privacy, and superfast speeds. It boasts an extensive network of over 5,500 servers in 59 countries, enabling it to bypass the most rigorous VPN ban attempts.
It provides high-quality security and privacy features such as threat protection, split tunneling, a kill switch, robust AES-256 encryption, and a strict no-logs policy.
Moreover, the service offers 24/7 customer support via a live chat tool, FAQs, and email in case of any inquiries. It is compatible with popular operating systems, including iOS, macOS, Linux, Windows, and Android.
---
Conclusion
VPNArea surprised us. It's an excellent overall VPN vendor that meets the higher standards in every regard, from privacy to connection speeds.
The apps work well (except for that buggy issue with Windows, which is minor anyway).
There are specialized servers for BitTorrent users without any data transfers or bandwidth limits.
But the most impressive features are the obfuscated servers and the ability to unblock any Netflix website consistently. Unfortunately, too many VPNs claim they can deliver on both things. In reality, only a handful of top-notch VPNs can do both things correctly, and VPNArea is on that selected club. And while it's not the cheapest VPN out there, it packs a lot of value for your fee.
So is VPNArea for you? If you value privacy, security, the ability to do torrents, see Netflix from everywhere, and have your traffic obfuscated, then yes, VPNArea is a good VPN for you to join.
FAQs
Yes, VPNArea safeguards your data with great security features like AES 256-bit encryption, a zero-logs policy, double VPN, ad/malware blockers, IPv6/DNS/WebRTC leak protection, and a kill switch available on desktops. However, the VPN service lacks crucial advanced features such as split tunneling, RAM servers, and perfect forward secrecy. We recommend using a top-notch VPN service with extra features like ExpressVPN.
VPNArea offers decent speeds on nearby servers but slow speeds on remote servers. During our tests, we barely noticed any speed issues on local servers. However, videos and sites took a bit longer to load from distant locations like Europe, Japan, and Australia. A reliable alternative like ExpressVPN maintains fast speeds irrespective of the server you connect to.
Yes, VPNArea is effective at unblocking Netflix. It includes streaming-optimized Netflix servers in Canada, Italy, the UK, and the US. In addition, it works with BBC iPlayer and Amazon Prime Video, although Disney+ and Hulu blocked us because they discovered we were using a VPN.
Luckily, yes. This VPN service supports torrenting on all servers in over 50 countries, and it works with top clients like Vuze, uTorrent, and BitTorrent. Additionally, it has full leak protection since it passed all of our leak tests. Unfortunately, it only offers a kill switch on Windows, its zero-logs policy is not independently audited, and download speeds on distant servers are sluggish. Also, it lacks a split tunneling feature, which enables users to route torrent traffic via the VPN to get better speeds. For P2P traffic, we recommend using a great VPN provider like ExpressVPN.