Are you a France.tv live enthusiast who wants to be able to see it when away from France? Welcome! We will show you how you can unblock France.tv anywhere outside France.
Formerly known as France Pluzz, France.tv is a free video and on-demand video streaming service that allows you to see the content from all the French TV channels. So any France.tv user can watch France Télévisions, the national TV network, among others, for free.
France.tv is available as a mobile app or with a web browser. There you can find French TV series, films, the latest news, children's content, documentaries, and more.
The problem with France.tv is that it only serves users based in France. It's geo-locked. Try to see any videos from this platform elsewhere. You'll get an error telling you that the video is unavailable in your area.
However, you can still watch France.tv from anywhere you are in the world, even outside France. The key is to have a premium VPN service.
How to unblock France.TV Live when you're not in France
We have plenty of information to share with you about France.TV and VPNs. But if you're in a rush and can't wait to start watching France.TV, here's the quick set of instructions.
Sign up with a top-notch VPN provider. ExpressVPN is the best option in this case.
Launch your VPN app or client and log in.
Choose a server in the VPN network located in France.
Go to France.TV, sign-up, and enjoy the content you want!
How does a VPN help to unblock France.TV Live Online?
France.tv Live is meant for the use of French residents only. If you're not within France, the platform's servers will know because of your IP address and will prevent you from watching any content.
France is an influential country, regarding culture, around the world. On top of that, about 30 million French people live outside the country. So there is plenty of demand for French TV content outside the country.
Since the video platform's servers figure your location out according to your IP address, if you can show them an IP address from France (even if you're away), they will think you're a domestic user and treat you accordingly.
Good VPNs will always hide your IP address from the rest of the world. Instead, they assign you a new IP address, depending on the server you choose in their VPN network. So when you connect through your VPN's network using a server located in France, you'll get a French IP address. From that moment until you disconnect, you are in France as far as the rest of the internet is concerned.
So all you need is a VPN. But not any VPN will do. It has to be fast, reliable, and secure, with plenty of French servers. Thus the VPN will allow you to unblock France.TV live content wherever you are in the world, as long as you pick a VPN server in France. Not only France.TV, you could unblock CANAL Plus, French Open, and more once you have got a VPN.
5 best VPNs to see France.TV online anywhere
VPNs are like any other digital product. There is a vast and overcrowded market with a handful of excellent VPNs and another handful of terrible options on the other side of the spectrum. Then the rest fall somewhere in the middle. However, if you want to unblock video streaming websites regularly, you'll need to have one of the best VPNs.
We've put together a list that includes the five best VPNs you can use to watch France.TV Live, wherever you are. These vendors are the best in the business. Their server networks are expansive, their servers are fast and reliable, they have top-notch security features, and they offer many additional features useful for many tasks besides watching French television.
1. ExpressVPN

Our top recommended VPN for watching France.tv. With top-notch features the service make easy for you to access France.tv anywhere in the world.

More than 3,000 VPN servers in 90 countries globally

AES-256-bit encryption

Boasts web leak protection on all browsers

P2P sharing

Automatic Kill switch

Zero-logs policy

Allows 5 simultaneous connections in one subscription

30-day money-back guarantee
Pros
Fast speeds across all locations

Good customer support

Water-tight security
ExpressVPN is the biggest name in the VPN world and our top choice for watching France.TV Live outside France. The network includes three French servers (2 in Paris and 1 in Strasbourg). Each of them can unblock France.TV and get you a smooth, buffer-free streaming experience at any resolution.
But the network has more than three thousand other servers scattered around 90+ countries. This vendor's servers' ability to bypass geo-blocks means that you will be able to see any video streaming service from any country –and, yes, that includes US Netflix.
Your account allows you to connect five devices simultaneously to the VPN, and a 30-day money-back guarantee is available.
---
2. NordVPN

One of the best VPNs overall for any online task. With its great unblocking capabilities you can have access to France.tv effortlessly.

More than 5,300 VPN servers spread in 60 countries

P2P optimized VPN servers

Solid AES-256-bit encryption

Zero-logging

Kill switch feature

Allows up to 6 simultaneous connections per account

Boasts web protection

Multi-Hop (double VPN) mode

30-days money-back guarantee
Pros
Strong encryption

Great connection speed

Low-budget packages
Cons
Some devices require manual setup
NordVPN is also one of the best VPNs you can use to see France.TV Live.
It is one of the industry's most versatile, fast, and advanced VPNs. The server network is vast, boasting 193 servers in France alone. Each one is optimized for streaming, so you will be hard-pressed to find another VPN in a better position to give you the best possible experience with France.TV Live.
It offers six simultaneous connections for every account and a 30-day money-back guarantee.
---
3. Private Internet Access (PIA)

An affordable and extensive-server network for unblocking France.tv anywhere in the world.

More than 30,000 servers in 84 countries

Allows P2P (torrenting)

AES 128/256-bit encryption

10 simultaneous connections per account

Effective kill switch

DNS and IP leak protection

30-days money-back guarantee
Pros
Boast an extensive server network

Fast and effortless installation process

Allows anonymous/crypto payments
Cons
No whitelisting / app exclusion
Private Internet Access (PIA) has the largest server network in the VPN-verse. Thirty thousand servers around the globe can't fail to have plenty of France-based servers that will help you stream all the content you would like from France.TV Live.
While video streaming is not the task at which PIA shines most, it's good enough for France.TV Live platform. The speeds at PIA are slower than with our previous two options. However, they are still fast enough to support video streams without problems.
---
4. IPVanish

A well-established VPN service that goes decently-well while unblocking France.tv outside France.

More than 2,000 VPN servers in over 57 countries

Allows P2P (torrenting)

Effective kill switch feature

AES 256-bit military-standard encryption

Strict no-logs policy

Allows unlimited connections per account

30-days money-back guarantee
Pros
Unblocks France.tv

Decent speeds

Vigilant live chat support
Cons
Free trial is not available
IPVanish has about 1,500 servers in 57 countries, including France, the relevant country for our purpose.
The connections in IPVanish are very reliable, stable, and fast. Getting a link to one of the servers online takes a blink only.
It is one of the best-reputed VPNs regarding security.
The French zone of the VPN network doesn't have city-level server locations for you to choose from. But as long as you select France, you'll be able to get the French IP address you need.
---
5. Surfshark

Best affordable VPN with premium services to unblock France.tv in any country globally.

More than 3,200 servers across 65 countries

AES-256-bit encryption

Supports P2P sharing

Built-in kill switch

Zero-logging policy

Double VPN (multi-hop encryption)

Unlimited simultaneous connections

30-day money-back guarantee
Pros
Affordable pricing

Unblocks France.tv

Comprehensive security and privacy
Cons
Free trial limited to mobile users only
Surfshark is the latest market disruptor in VPN-land. The young vendor offers a service that can rival NordVPN or ExpressVPN for a fraction of the cost.
It's fast, reliable, and secure, allowing unlimited network connections to every user.
Surfshakr's network has five servers in France. However, two of them are specialized in double VPN connections. These are more secure servers, but the extra security comes at the cost of speed. So they are probably not the ones you should choose to unlock France.TV Live outside France. The remaining three servers (Paris, Marseille, and Bordeaux) are fast enough for any task you want, video streaming included.
This provider is often referred to as a "budget VPN" because the subscription fees are so low. But don't be deceived. It is the most cost-effective service you'll find on the internet. In addition, it's versatile, powerful, stable, and secure.
---
France.TV's available content
If a channel or show is made in France and available in France, it's in France.TV Live, for the most part. So let's have a look at the entertainment offer it has.
TV Channels
TF1
Franceinfo
France 2, 3, 4, and 5
Culturebox
Okoo
France TV Slash
---
TV Shows
Meurtres à…
Les pouvoirs extraordinaires du corps humain
Les Enquêtes de Morse
Le Crime Lui Va Si Bien
Affaire Conclue
The Bay
Envoyé Spécial
Engrenages
Marseille
Le Chalet
Dix Pour Cent
---
Device support on France.TV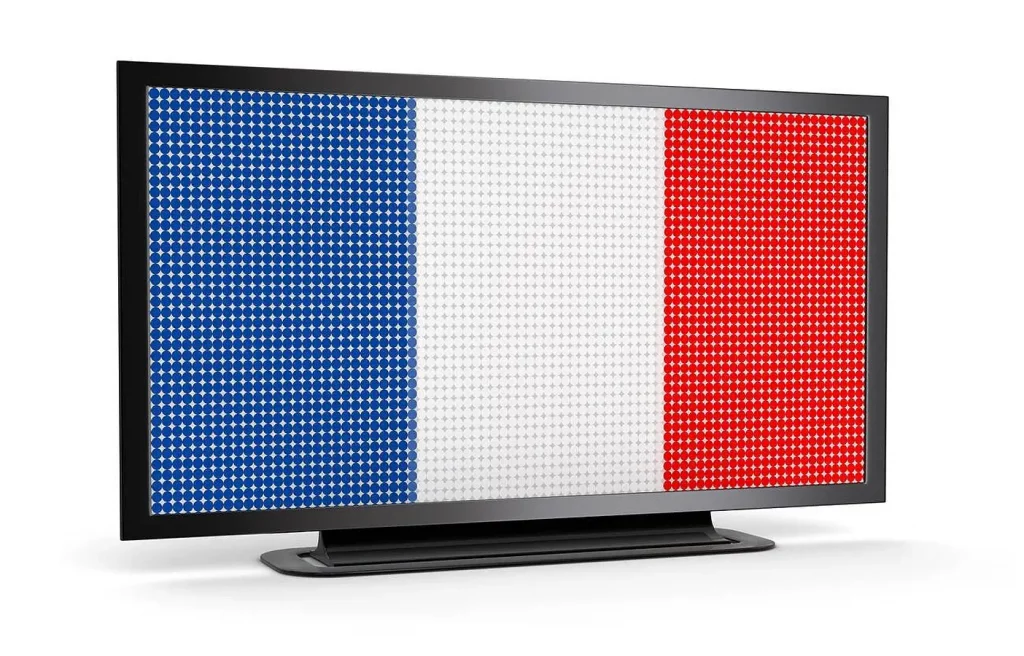 Unfortunately France.TV doesn't support any hardware that's too exotic unless you see it using a browser.
The video platform is available on the web or as an app or client. The supported devices are those that work on the most popular operating systems only: macOS, Windows, iOS, and Android.
Installing France.TV app on an Android device when you're away from France
The France.TV app is available in the Google Play Store for you to download, but only if the store thinks you're in France. If you run a search for it while you're elsewhere, you won't find it. So getting the app needs a bit of tweaking with your Google Play country, and here's how to do it:
Choose a VPN service. ExpressVPN would be best.
Find the app or software client that your VPN offers for your device. Download it and install it.
Launch your VPN app or client.
Log in using your VPN credentials.
Choose a French server.
Go to Google Play Store. Click on the account picture and then on "Add another account."
And a new Gmail ID. One that is new to the Google Play Store.
Complete the new account's setup process.
Return to Google Play Store and run a search for France.TV app.
Download and install the app.
Sign in. Start watching!
Which French.TV channels you can or cannot watch?
3 French channels you can watch for free
Suppose you're not interested in joining an excellent VPN to watch French material. In that case, it's a shame because the VPN will enhance your digital life in many additional ways. However, there are still three French TV channels that anybody can watch from abroad without paying fees.
France24. This channel is tailored to the French living abroad. It's a world news service done from the French perspective.
BFM TV. This French channel is devoted to news and weather forecasts. It's the most famous French news channel available for users anywhere.
LCP. La Chaine Parlamentaire is like a French CSPAN channel. It broadcasts the activity from the National Assembly and the Senate of France.
---
14 French TV channels usually not available to outsiders
The channels in this list are for users based in France only or those with a VPN or a subscription to French streaming services.
TV5 Monde. It's not a channel but a network that has several channels, each localized for a particular francophone audience. These channels include TV5 Canada, TV5MONDE Europe, TV5MOND Pacifique, and TV5MONDE. Etats-Unis.
Arte. This bilingual French/German channel is about culture and the arts. However, Breaking Bad and other successful shows are also on the menu. Every show has a version in each available language, so it's a great learning resource.
Euronews. It is a European news channel that covers culture, technology, and other exciting topics besides the news. The channel's language is formal, and there's a transcript for every video, so this is an excellent resource if you want to improve your French.
Eurosport. It's a channel about European sports, as the name suggests.
RTBF. It is a Belgian TV channel with a wide variety of shows.
TF1. TF1's market share of 19.2% makes it the most popular TV channel in France. It broadcasts a variety of American and French shows.
M6. Another popular option. Its flagship show is Kaamelott, a hysterical French show.
France2 is the largest public TV channel. It covers news and culture but also films and TV shows. Unfortunately, you can only see it with a VPN, despite being a public channel.
France3 is another element in the French public TV network. This one is focused on cultural and educational content, with many regional features.
France4 is the public TV channel for children.
France5 is about documentaries and educational content.
France Ô is a TV channel for overseas territories like Martinique and Guadeloupe.
i-Télé is a news channel. It's known for reporting the latest events almost as soon as they happen.
Gulli features cartoons and other content for children, including some international shows.
---
Wrapping up
So now you know that watching France.TV Live Online is not only possible but straightforward even outside France. It takes nothing but an excellent VPN to unblock French content abroad. Once you have it, you can watch any channel and show on the video platform at your leisure! We hope you'll enjoy it!
FAQs
Hardly. Most free VPNs do not have the functionality or resources you will need to unblock France.TV. Even if you found a free VPN that could do it, you shouldn't use it. Free VPNs create a lot of privacy and security problems. Some of them are even known to hijack your bandwidth and other resources.
That depends on the country where you are. VPNs are legal in most of the world's jurisdictions, but if they're not where you are, you'd be breaking the law.