Perfect Privacy is a Swiss company that puts it out of the international surveillance alliances (out of the reach of the most common spying agencies). It has a strict no-data logging policy, and it splits tunneling through several servers simultaneously.
It has a kill switch, most servers allow torrenting, and your info stream splits into four different servers.
The average internet user lacks the expertise to judge correctly how good a VPN is. It's all about striking a balance. You want your VPN to protect all your internet traffic (including web traffic, of course), so that's genuinely bulletproof. At the same time, it's not supposed to disrupt your experience by slowing down your traffic too much. After all, we're not dial-up users anymore, and as strong as nostalgia can be for some things, this is a thing where we don't feel the need to go back. So, how is a "normal" user supposed to choose a VPN? Hopefully, by reading this as well as some other of our reviews.
We will have a look at Perfect Privacy, a Switzerland-based VPN service. First, we will give you the pros, the cons, information about the corporation itself, and the VPN's most crucial selling points; we will have a closer look at its encryption abilities and other internet protocols. The Perfect Privacy will have to walk the walk in our tests and figure out if it leaks any data or slows down internet traffic in any meaningful way.
Once we've done all that, we will summarize the service's subscription options, customer support, and, last but not least, in the smartphone era, the mobile app. There's plenty for us to do and for you to discover so, let's get going.
Perfect Privacy key features at a glance
| | |
| --- | --- |
| Servers | 55 servers in 26 countries |
| No-logs policy | Yes |
| Torrenting available? | Yes |
| Kill Switch | Yes |
| Split tunneling | Yes |
| Based in country | Switzerland |
| Free version | No |
| Simultaneous devices | Unlimited |
| Money-back guarantee | 7 days |
The pros and cons of Perfect Privacy at a glance
We'll dive in-depth into Perfect Privacy's features. But before we do, let's have a general look at the service's highlights, the good and the not-so-good.
We start with the things we like. First, the company is based in Switzerland, a country whose neutrality is legendary. It's not even in the European Union. That geopolitical fact is relevant for users because the country is outside of any international surveillance alliances, which is excellent for privacy. The service keeps no logs at all of your activity, which is the least we must expect from any good VPN.
Also, it has a kill switch. Yes, this sounds like a dramatic feature out of a Mission Impossible flick, but knowing that when your VPN connection is lost, the service will ensure your traffic stops and the windows are closed. Thus your data is protected, and so are your anonymity and privacy. Cascading your traffic through several servers in tandem also adds extra encryption layers making it harder for unwanted attention to know what you're doing.
On the other hand, Perfect Privacy is a bit pricy. The cheapest plan sits at 8.95 USD (the competition's pricing starts at a third of that most often). In addition, the latency can rise above 160%, which means that Windows users will not be overly happy with speed performance.
If you like the company's offer so far, let's keep digging. Next, we will give you some background information on the corporation itself.
Meet the company

Perfect Privacy owns 55 servers scattered in 26 countries. That is good, but not a lot (other providers have private servers in, say, over 90 countries). That being said, if there is a server in your country that's good enough for you to be sure you'll be well taken care of, the company's lack of international presence needs not to be relevant to your decision. Just make sure to do your due diligence and find out if there's a server available near you before spending your money.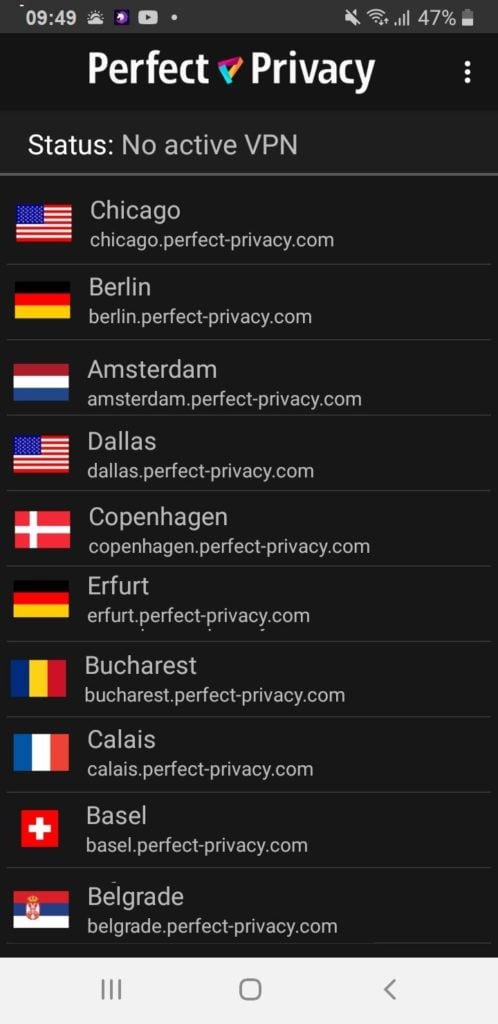 The company is based in Switzerland. That alone is an excellent thing for you. The Swiss government's commitment to neutrality is legendary. It remains a strong priority, so the alpine country is not in the European Union, and it's remained away from any international surveillance alliance.
That means that Perfect Privacy's liability to hand over any customer data to the relevant authorities is much lower than companies in other countries (and since they don't keep any logs, they don't have so many beans to spill, anyway). The Swiss national constitution protects freedom and privacy. Swiss citizens are about 70% of the state surveying online activities, yet, no governmental abuse cases have come to the surface so far. Crucially, using a VPN in Switzerland is 100% legal.
Perfect Privacy features