Parental control apps are necessary to keep an eye on your young kids and even teenagers. These apps can also track your child's physical location, set screen time, and block questionable websites or apps. In addition, some of them log texts and calls to let you see who your child is communicating with. Such monitoring gives you peace of mind that your children aren't accessing harmful or inappropriate content.
Remember that even the best parental control tool cannot do everything. Hence, the most effective way to ensure your children behave responsibly online is to have a compressive approach. First, consider explaining what they can or cannot access and letting them know you monitor their devices. After that, you can monitor your children's activities without fearing violating ethical or moral obligations.
As for the ways to monitor your kids online, this in-depth article lists the best parental control apps to use today. You'll also learn how to help your kids safely navigate the digital space.
Top parental control tools – The quick list
Are you short on time? No issues. Here is a summary of the best parental control applications in this guide.
Want to discover more options here? This article features 16 apps you can use to monitor kids' activities and ensure they stay safe online.
Factors to consider when choosing parental control apps
People approach parenting differently depending on the period, background, preferences, and the family's unique needs. Similarly, the parental control app you choose should fit well with your parenting approach. We have refined some general factors to consider when searching for various parenting control apps.
Reviews: User comments and ratings are very important when choosing a parental control app. The users will always comment about the advantages and the disadvantages of a particular app which can give you an insight into whether it can solve your problem. Always go for highly-rated applications with positive user reviews.
Features: Parental control apps have features such as panic alerts, text, and web filtering, location tracking, social media monitoring, activity reports, etc. It is upon you to choose an application that has the features that you want the most.
Budget: There are free parental control applications, while others charge for their services. Depending on the features you are looking for, choose an application that gives you value for money and fits your long-term budget for money.
Types of devices: Some platforms and devices don't support some parental control apps. Therefore, look for an application that works with the device used by your child.
Child's age: If your child is young, you need an app that offers activity reports and web filtering features. However, if your child is younger, you need an application with more advanced features, such as text and social media monitoring.
A good parental control app should have monitoring, locational, safety, and reporting features at an affordable price to fit families of all sizes. For instance, geofencing is a popular parenting control app feature that allows parents to set location boundaries on a child's device and receive alerts when children cross them. GPS location tracker allows you always to see the child's location. It is important to monitor your child's screen time, social media, and online activity to ensure they are safe online.
Privacy and parental controls: Filtering vs. spying
The parental control tools on this list let you control what your child can or cannot access online. This way, you create a safe space for your child to explore their curiosity. However, other tools allow you to spy on your child's habits online.
Ideally, it would help if you prefer regulating what they can access rather than spying on your kids, especially teenagers. In addition, it can help to foster and encourage healthy online habits in your child.
Complete analysis of the best parental control apps
Since the following parental control software apps have undergone aggressive testing, you can trust them to keep your children safe. These apps have all the necessary features to monitor your kids, such as location monitoring, filtering technology, and much more.
All the applications listed below work with both Android and iOS.
1. Bark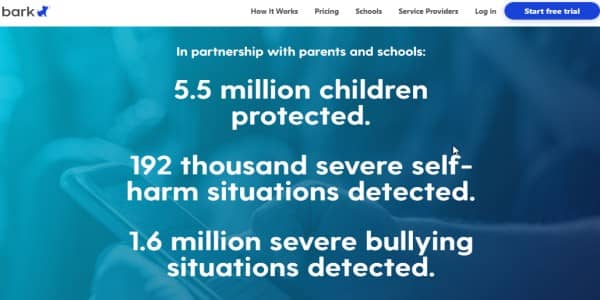 Bark is our top pick parental control app. It is a flexible tool that will enable you to create a healthy environment for your child in many ways.