Parental control apps are necessary to monitor your young kids and even teenagers. These apps can also track your child's physical location, set screen time, and block questionable websites or apps. In addition, some of them log texts and calls to let you see who your child is communicating with. Such monitoring gives you peace of mind that your children aren't accessing harmful or inappropriate content.
Remember that even the best parental control tool cannot do everything. Hence, the most effective way to ensure your children behave responsibly online is to have a compressive approach. First, explain what they can or cannot access and let them know you monitor their devices. After that, you can monitor your children's activities without fearing violating ethical or moral obligations.
As for the ways to monitor your kids online, this in-depth article lists the best parental control apps to use today. You'll also learn how to help your kids safely navigate the digital space.
Top parental control tools – The quick list
Are you short on time? No issues. Here is a summary of the best parental control applications in this guide.
Want to discover more options here? This article features 16 apps you can use to monitor kids' activities and ensure they stay safe online.
Factors to consider when choosing parental control apps
People approach parenting differently depending on the period, background, preferences, and the family's unique needs. Similarly, the parental control app you choose should fit well with your parenting approach. We have refined some general factors to consider when searching for various parenting control apps.
Reviews: User comments and ratings are essential when choosing a parental control app. The users will always comment about the advantages and the disadvantages of a particular app which can give you an insight into whether it can solve your problem. Always go for highly-rated applications with positive user reviews.
Features: Parental control apps have features such as panic alerts, text, web filtering, location tracking, social media monitoring, activity reports, etc. It is upon you to choose an application that has the features that you want the most.
Budget: There are free parental control applications, while others charge for their services. Depending on the features you are looking for, choose an application that gives you value for money and fits your long-term budget for money.
Types of devices: Some platforms and devices don't support some parental control apps. Therefore, look for an application that works with the device used by your child.
Child's age: If your child is young, you need an app that offers activity reports and web filtering features. However, if your child is younger, you need an application with more advanced features, such as text and social media monitoring.
A good parental control app should have monitoring, locational, safety, and reporting features at an affordable price to fit families of all sizes. For instance, geofencing is a popular parenting control app feature that allows parents to set location boundaries on a child's device and receive alerts when children cross them. GPS location tracker allows you always to see the child's location. It is essential to monitor your child's screen time, social media, and online activity to ensure they are safe online.
Privacy and parental controls: Filtering vs. spying
The parental control tools on this list let you control what your child can or cannot access online. This way, you create a safe space for your child to explore their curiosity. However, other tools allow you to spy on your child's habits online.
Ideally, it would help if you prefer regulating what they can access rather than spying on your kids, especially teenagers. In addition, it can help to foster and encourage healthy online habits in your child.
Complete analysis of the best parental control apps
Since the following parental control software apps have undergone aggressive testing, you can trust them to keep your children safe. These apps have all the necessary features to monitor your kids, such as location monitoring, filtering technology, etc.
All the applications listed below work with both Android and iOS.
1. Bark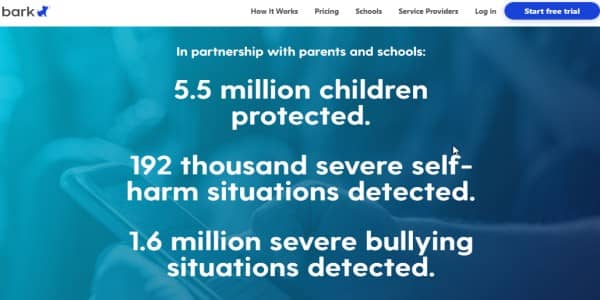 The Bark is our top-pick parental control app. It is a flexible tool that will enable you to create a healthy environment for your child in many ways.
The app allows you to monitor the activities of various social media sites, including WhatsApp, Twitter, Snapchat, etc. Its purpose is not to restrict your kid's internet usage but to regulate what they can access.
Bark has a 24/7 detection feature that alerts you whenever it identifies a potential risk. It can include cyberbullying, signs of suicidal thoughts, online grooming, and more. For instance, it'll notify you if your child starts looking for suicide or depression-related content so that you can act accordingly.
The app has an intuitive dashboard showing easy-to-read activity reports that allow you to monitor your kids' activities even when busy.
This app can monitor iMessages/text messages, videos, photos, notes, voice memos, Chrome web browsing, WhatsApp messages, and Kik messages for inappropriate content. Having iMessage monitoring capabilities shows it's a quality iPhone parental control app.
Pros:
Intuitive interface
24/7 monitoring of emails, social media apps, and browsing activities
Easy-to-read reports
Cons:
Lacks discrete location tracking or geofencing feature
iOS app may be difficult to install for some users
---
2. Kaspersky Safe Kids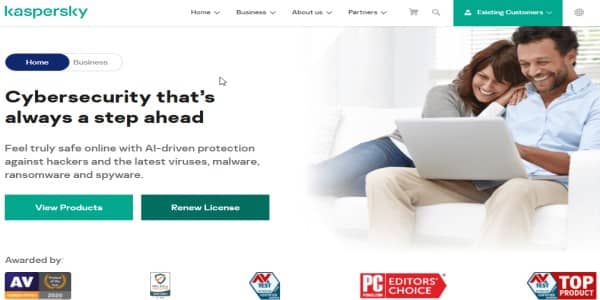 Kaspersky Safe Kids is an ideal solution for parents because it has comprehensive protection features. It also offers both free and subscription-based versions.
The free version comes with a lot of helpful settings. For example, it has a blacklist option that blocks inappropriate and harmful content. Other features include app usage control, content filtering, and screen time management.
Upgrading to the premium version will give you advanced tools like geofencing and real-time GPS location. Also, you can use social media monitoring, battery tracker, and instantaneous alerts if your kid tries to access malicious content.
Pros:
Dedicated location tracking/geofencing feature
Affordable cost
Free version available
Cons:
App design isn't impressive
The web app may be slow sometimes
---
3. Net Nanny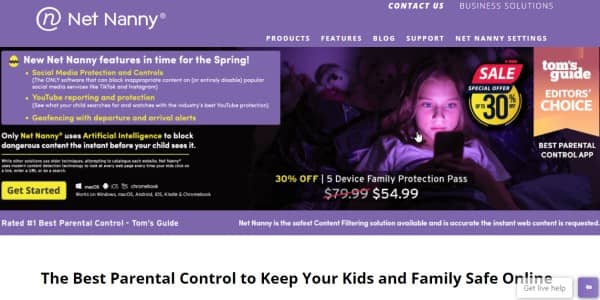 Net Nanny is a reliable parental control app with robust safety features to keep your children safe online. It's compatible with all the major operating systems, and the interface is easy to navigate.
The app has a content filtering feature to block age-appropriate content. For example, you can block 18+ content and even create custom categories. This feature masks many things, including explicit photos, rude words, and adult videos, without restricting your kid's internet usage.
It'll notify you instantly if your child attempts to access blocked websites or apps. Moreover, the app will also send weekly activity reports so you can stay in touch with your kid's online activities. Unfortunately, it automatically erases the logs after 30 days.
Pros:
Catchy app design
Robust web filtering
Real-time alerts
Cons:
Expensive costs
No free trial
---
4. Qustodio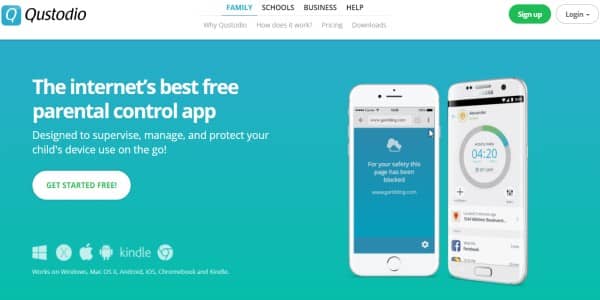 Qustodio is another top parental control application letting you create online boundaries for your child. There is a free version with basic options, but you can upgrade to the paid version to access more features.
The app's filtering technology is enabled by default to protect your child from harmful online content all the time. It even can block specific websites like social media platforms and gaming sites. The app will also help you create screen time by setting daily limits.
Qustodio's dashboard is intuitive, making monitoring your child's activity easy and ensuring they use their devices appropriately. It works in incognito mode and can track more social media sites than other parental control apps. If you like comprehensive reporting, you can request weekly or monthly reports.
Regrettably, the SOS panic feature is only available on Android devices. It allows your child to promptly send you a location-based notification if they are in trouble. Qustodio also has a family locator that lets you track your kid's location from anywhere in real-time.
Pros:
Robust social media monitoring
Cloud-based app
SOS panic feature
Cons:
Expensive pricing
Web filtering isn't intelligent
---
5. Mobicip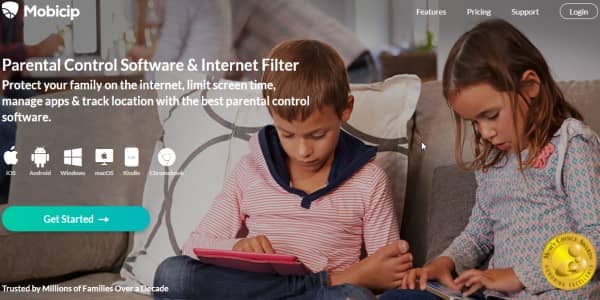 Would you like to have the complete attention of everyone in the family? Mobicip allows you to lock all household devices simultaneously at a click of a button. Additionally, you can block video streaming apps and sites to limit your child's distractions.
The app has a clean interface and minimalist design to support effortless navigation. You can also configure the settings and track your kid's activity from a central place. It also helps create daily and weekly screen time limits for all the connected devices.
Mobicip lets you check up to four weeks of your kid's browsing history from the control panel. It also has a useful content-blocking feature that prevents your child from accessing specific sites and apps.
Pros:
Tremendous device compatibility
Robust content blocking
Screen time limits
Cons:
Awful customer support
Some customers complain about the limited free trial
---
6. REFOG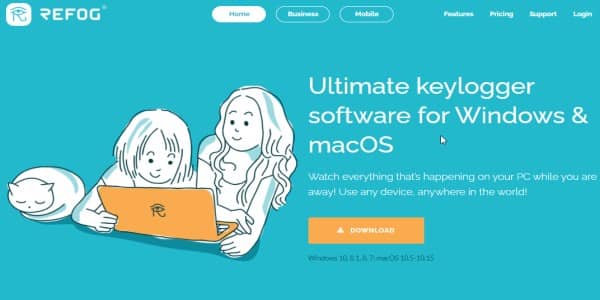 REFOG tracks your kid's keystrokes, allowing you to see anything they text or search. This is great if your child uses the untraceable app to bypass the parental control software.
Another remarkable feature is webcam monitoring. You can watch your kid's activities in real-time to ensure they're not distracted when doing homework.
The app provides extended activity reports that you can access easily on your online account. Sadly, REFOG does not have mobile support, limiting your ability to track your child's activities on your smartphone or tablet.
Pros:
Smart keylogging
Supports webcam shots
Swift installation
Cons:
Lacks mobile support
Lacks web filtering
---
7. SentryPC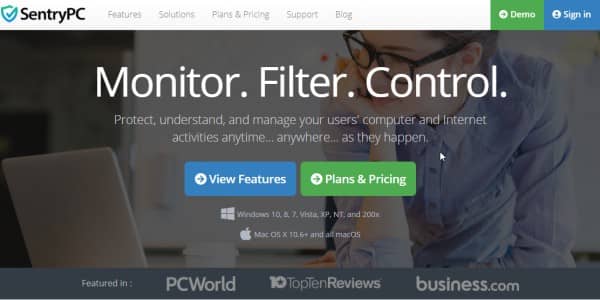 SentryPC is your best bet for Google's parental control on Windows and Mac. It provides comprehensive activity monitoring as well as extensive content filtering. You can also set a usage limit on each PC your child uses.
The SentryPC dashboard lets you see detailed logs of your child's activities on their devices. More importantly, you can even monitor keystrokes and take screenshots randomly.
It has simple-to-read graphs and other visuals to keep you in the loop with how your children use their devices.
You'll get a notification if the app detects naughty activity. It also lets you block it and instantly apply a new filter if it is concerning.
On the downside, SentryPC does not offer a mobile app. Nonetheless, you can still go ahead with your kids' cell phone spying and access the dashboard on your tablet or phone's web browser.
Pros:
Detailed activity logs
Smart web filtering
Good for PC monitoring
Cons:
---
8. WebWatcher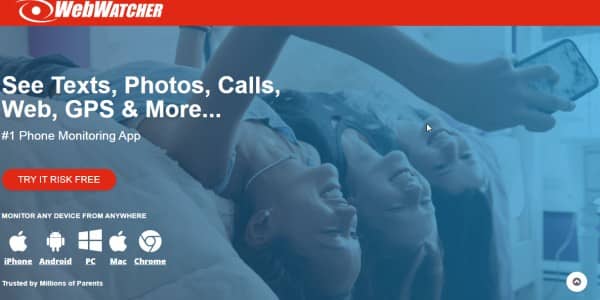 WebWatcher is an easy-to-use parental control app that you'll install in less than 5 minutes. So, it is a good option if you are a beginner and don't want anything complicated.
The most appealing thing about this parental app is its flexibility. For example, it lets you check detailed data on your kid's activities. You can also trust the app's notification system that generates instant alerts if it identifies any risky behavior.
Besides, you can see things like deleted texts, call logs, and screenshots to keep your child safe from potential predators. The app also has a GPS locator to view your kid's real-time location. However, the app misses out on the geo-fencing feature.
WebWatcher's biggest downside is its slightly higher cost than its rivals and has no money-back guarantee.
Pros:
Intuitive interface
GPS tracking support
It doesn't require jailbreak for installation
Cons:
Costly subscription
Only one device is offered with a single subscription
---
9. Surfblocker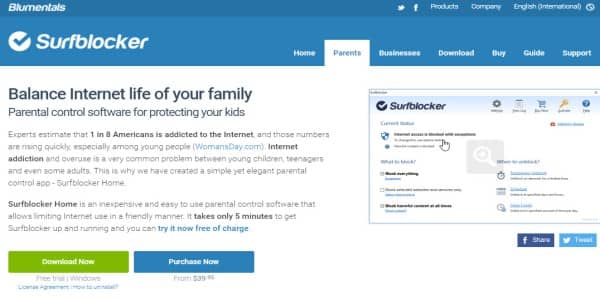 Surfblocker is an excellent parental control app but is only compatible with Windows devices. However, you will still get complete monitoring tools and brilliant filtering to protect your child from inappropriate online content.
The app's interface isn't as flashy as its competitors, but it is effortless to set up and navigate. Surfblocker is designed to prevent kids from accessing inappropriate content when using their devices.
You can also block specific sites and apps to keep them away from your child's reach. You can even prevent your children from accessing the internet during certain times of the day with a password. This feature makes it an excellent tool for reducing distractions when doing homework.
Pros:
Impressive monitoring
Easy to install
Smart content filtering
Cons:
---
10. Norton Family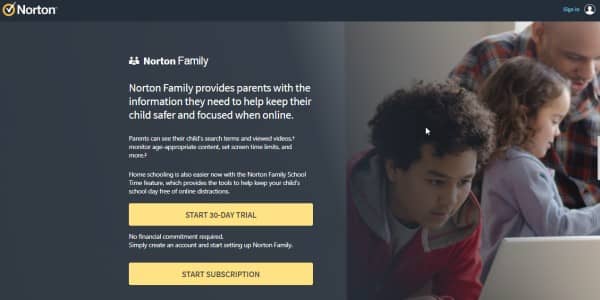 Norton Family is a reliable option if you want parental control on Android. It has all the necessary features to monitor your child's activities.
The app lets you lock your child's internet access on their devices when you want. It can be helpful to ensure concentration during school hours.
Norton Family gives you a detailed report of your child's internet search history to understand their interest better. For example, it shows you the sites the kid visits more frequently and the content they are accessing.
The app will send you an email alert when your child tries to open restricted content or a blocked site. You can then have a conversation with your child if it is concerning.
Pros:
Tremendous monitoring features
Customized scheduling
Offers geofencing
Cons:
Mobile apps aren't impressive
---
11. Boomerang Parental Control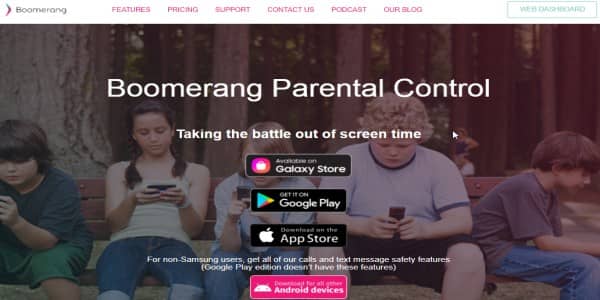 You should ensure your children spend their online time productively in this digital age. Boomerang is an exceptional parental control app that will help you control how your kids use their devices.
It lets you view the texts your child sends or receives on their device. If the app detects suspicious phone numbers or the use of inappropriate words, it'll notify you.
Boomerang allows you to pause your kid's online activities at any time. As a result, the child cannot access anything on their device on the internet. You can also track the children's location by setting a boundary.
Pros:
Offers location tracking
Affordable pricing plans
User-friendly
Cons:
Limited iOS functionality
Supports mobile devices only
---
12. OurPact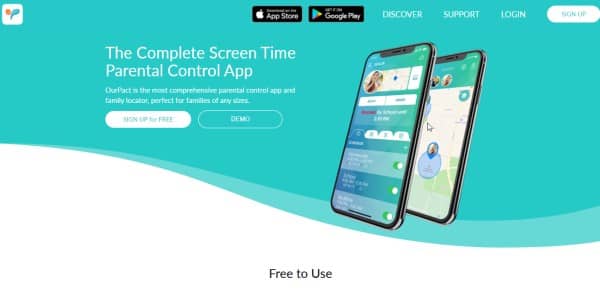 OurPact is the best iOS parental control app available today. It is an easy-to-use and effective tool that will help you monitor your child's online behavior. As a parent, it gives you the web history to track what they are accessing.
Like Qustodio, OurPact has a family locator feature that lets you share the live location of your child's device to deal with emergencies. For example, it can be helpful when a child is stuck on a route and if the device is stolen.
Not all apps are appropriate for children. OurPact allows you to categorize apps as per schedule, permanently blocked, and always allowed. You can even stop those you don't want your child to access.
Pros:
Offers free version
Location tracking feature
Supports app categorization
Cons:
Glitchy apps
Lacks call and text monitoring
---
13. MamaBear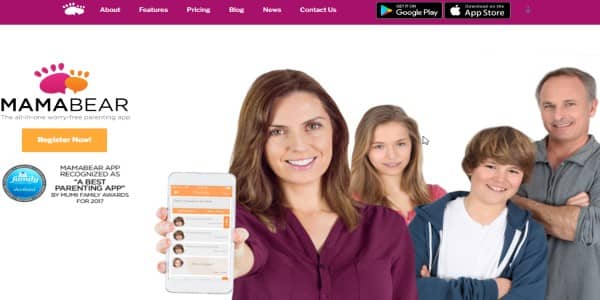 MamaBear is a superb YouTube parental control app. It will help you control your child's usage time on the platform and the kind of videos they can watch. Besides YouTube activity, you can also monitor what the children post and other interactions on social media sites.
You can always keep track of your child's location with the location tracker. Its alert system also notifies you whenever your child goes out of range.
One of MamaBear's most unique features is the speeding alert feature. It alerts you if your kid is driving beyond the speed limit. It is a great feature to ensure that the children drive safely even if you are not there.
Pros:
Dedicated YouTube monitoring
Location tracking feature
Driver safety alerts
Cons:
The free version is riddled with ads
Lacks call monitoring
---
14. Google family link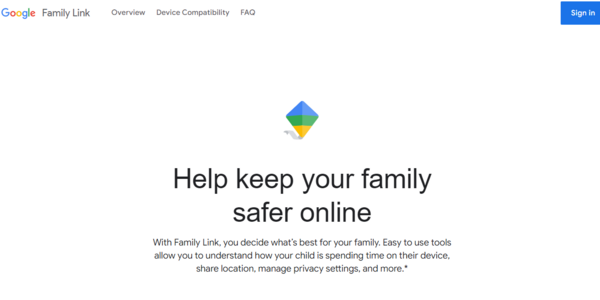 The app allows parents to control kids' activity on their mobile phones for free. With the app, you can limit their downloads, screen time, and content purchase. You can also track the location of the connected device. Google family link is available on Android and iOS devices.
The app allows you to monitor your child's activity without being easily noticed. However, it does not have many functionalities compared to other apps.
The app lacks basic functionalities such as website blocking, real-time monitoring, and in-depth reporting, among other features.
Pros
There is no limit to the number of devices or profiles
You can remotely lock your kid's device
Allows you to monitor your child's device in a less invasive manner
Cons
Lots of ads
Parental control functionalities are limited once the kid turns 13 years
---
15. Kidlogger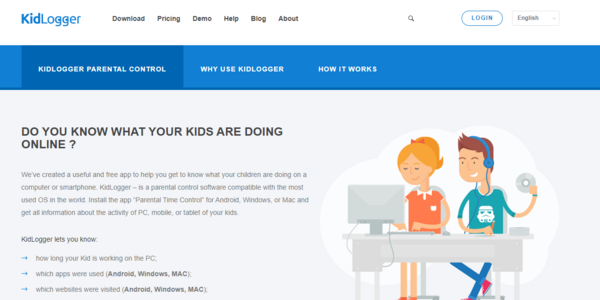 Kidlogger provides a variety of functionality for free. The app is ideal for those who don't wish to pay monthly subscriptions. This service helps detect your child's location, monitor app usage, block specific apps, record call numbers and time, limit video game play time, and record Skype chats. It is compatible with iOS, Android, Windows, and macOS.
The app provides you with two paid versions; standard and professional. A standard subscription costs $9/ 3 months, $18/ 6 months, or $29/ year. The version allows you to monitor 5 devices and retains log history for 30 days.
Professional packages will set you back $29/ 3 months, $49/ 6 months, or $89/ year. This version allows you to monitor up to 10 devices and keep a history log for 60 days.
Kidlogger's free package has limited features. The package has limited disk space for storing history logs. It offers 9MB of space compared to 100 MB in the standard version and 500 MB in the professional version.
Pros
It has a free version
Effective monitoring
Affordable
Intuitive UI
Cons
Blocking is not allowed
The free version is limited
Limited iOS features
---
16. Eset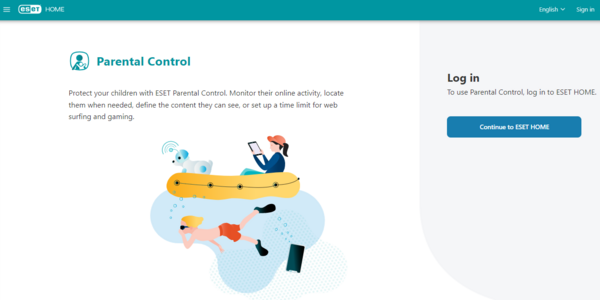 While most apps rely on subscriptions to unlock various functionalities, Eset offers a variety of features on the free version. After installing the app, you can monitor kids' web activity, set a limit for specific apps, view the activity logs, limit what apps they install on their devices from the Google Play store, and limit their purchases.
With the annual premium plan, they offer web filtering and geolocation. You can monitor your child's online activity using the Eset web version. The premium subscription starts at $29.99.
You can also opt for the Eset multi-device security10 starting at $79.99/ year for 6 licenses. The functionality offers security for macOS, Android, Windows, and Linux devices.
The 30-day free trial allows you to test all premium features. However, after 30 days, you can only continue using the features by subscribing to their premium plan.
Pros
Filters the web
Tracks child's location
No limits on devices or children
Allows online configuration
Cons
No iOS version
It does not allow text/ call blocking
---
Benefits of parental control programs
Today's parents are bringing up kids in the modern age of digitization. Nowadays, children are using devices such as smartphones from an early age. That is why you must use parental control tools to monitor your child's online access.
Here are some main benefits of parental control apps for better understanding.
1. Monitor your kid's devices
Parental control gives you visibility into your children's devices. As a parent, you ensure that your children engage in healthy online practices. You can check the installed apps, most active apps, online time, etc. In addition, SMS tracking, app usage tracking, and call monitoring will help you know your child's day-to-day activities.
---
2. Shield your child from inappropriate content
Almost every parental control software has a feature to block sites and apps inappropriate for kids. For example, you can stop your kids from watching age-restricted content. In addition, you can prevent children from downloading applications without your permission.
Moreover, some parental control tools boast features to monitor social media sites. It will keep you in the loop on what your child is uploading or downloading on those platforms.
---
3. Screen time control
Watching funny videos, listening to music, and playing online games can be addictive to children if not done in moderation. It can have a detrimental effect on your kid's physical and psychological well-being. So, with a parental control app, you can schedule your child's time on these apps. You'll get a notification whenever the kid exceeds the time limit.
---
4. Tracks your kid's location
Maintaining your kid's security is not only about monitoring their online activities. Fortunately, you can keep your child's device connected and track their location. These apps can even help you to set a restricted area. You'll be notified immediately if your child goes beyond the safe boundary.
---
5. Peace of mind
Parental control apps give you inner satisfaction and peace of mind that your child is accessing safe online content. These apps also help prevent cyber threats affecting your child's well-being.
---
Children and the social media
The internet has become widespread such that even children use it today. According to a Common Sense Media survey, the use of cell phones has spiked across all age groups, as the following table depicts.
| | | |
| --- | --- | --- |
| Kids' percentage owning smartphones | 2015 | 2019 |
| 18 years old | 77% | 91% |
| 15 years old | 71% | 83% |
| 12 years old | 41% | 69% |
| 8 years old | 11% | 19% |
The survey showed that children between the ages of 8-12 years spend an average of 412 hours a day online. On the other hand, kids aged 13-18 stay online for about 7 hours a day. They spend most of their time playing games or watching videos, especially on YouTube.
What does this mean?
Today's kids grow up in an environment different from what their parents experienced. For example, the abundance of social media platforms has simplified communications. Besides, it helps the kids manage relationships and enjoy a greater sense of family. Similarly, through these platforms, children develop new skills, learn about other cultures, take online classes, and have an outlet to express their creativity.
However, what's worrisome for a parent is that their child may be exposed to online bullying, violence, predation, and other evils. Many social media platforms use 'likes' and 'followers' to measure popularity. Nonetheless, this can lead your kid to connect with strangers having bad intentions.
In short, your kids' online experience depends on how they use the internet. Therefore, parental control tools can help you define your child's online habits. Still, you must converse with your child to get the best results from the parental control apps. Teach your children to use online resources responsibly. It will help them form a healthy relationship with the digital environment.
How to help your kids navigate online safely
Depending solely on parental apps to control your child's online content reach can give you a false sense of security. Nowadays, kids are more tech-savvy and will always find ways to circumvent parental control apps' restrictions. However, talking to your child about the importance of installing the app on their device can be handy.
Many family counselors out there keep urging that you have open and regular conversations with your teens. It will help them make better decisions online, even when you are not watching them. The discussion can start by explaining why you install the parental control app. Make them understand that you are the device owner and have the right to check it occasionally.
After establishing the general rules, the parental control app will reinforce them. Nevertheless, like with other apps, malfunction and glitches can occur. Therefore, maintain a good relationship with your child to come to you if they encounter something inappropriate.
How to use Windows 11's Parental Control Feature
To set up the Windows 11 parental control feature, create an account and then control its screen time and access to specific applications and websites. Search for the 'settings' feature in the Windows search bar and click Accounts. Then head over to 'Family & other users' and click 'Manage family settings online or remove an account.' This will take you to the Microsoft family safety website, where you enter your credentials to log in to 'Family Safety.' All accounts and devices connected to that account will be listed, including your child's account.
You can now add your child's account by logging in with its credentials, then head back to the Family Safety webpage and click your child's account. You will see setting and changing permissions categories in the left pane.
How to monitor and change parental control permissions
The overview tab shows your child's activity. It contains information such as the amount of money spent, games played, and screen time. You may not always have time to review all this data daily, so you can scroll down to activity settings and toggle on the button below 'Activity Reporting.' You can monitor your child's activities on all their devices. Additionally, you can receive weekly emails if you toggle on the button below 'Send a weekly email to me.'
Configure parental control to monitor spending
You can add money or a credit card to the spending category and even set every purchase to request your approval. Additionally, you can set it to push notifications for every purchase.
---
How to use parental control to filter content
The content filter tab allows you to restrict the applications and websites that your child can access. This is important because some sites and apps contain inappropriate content, which can negatively affect a child's development. However, search filters and activity reporting only work with Microsoft Edge. You can block all other web browsers and restrict your child from using Microsoft Edge to enforce filters.
---
How to use parental control to limit screen time
Parental control apps will enable you to set a daily schedule to limit your child's screen limit. Click 'Screen Time' on the left pane and set the time allowed for each device daily. You can click on the days to change the time limit settings. The interface has a slider where you can set the number of hours your kid is allowed to use a device. You can even set the intervals from what time to what time. Then click Finished to save the schedule.
---
Ways your children might bypass parental control software
Children are intelligent and naturally curious. This curiosity propels them to take on various challenges and find solutions. While parental control applications have excellent features to monitor, track and report children's activities online, they are not foolproof. Your child can use these methods and tools to bypass the parental control software and dive deeper into the web.
Google Translate Proxy: This is a handy free tool to unblock a website. It works by setting a language you do not speak in the text input field, entering the URL you wish to access, and waiting for Google to translate it automatically. The translated URL becomes a link under Google and is no longer under the main website. The website can be slow, but it works fine.
"Accidental" Image Viewing: InPrivate and Incognito browsing modes still adhere to most safe search filters, reliably blocking content and relaying the details to concerned parents. However, even with these settings, if a child combines the right words, a search engine may fail to filter a few sensitive images on the 'image' tab. This is because search engines host a cache of content in their server, so when a search is entered, there is no specific URL, and many images are rendered.
Portable browsers: Browsers have evolved from the old internet explorers to advanced, fast, and secure browsers. Some of these browsers come with handy features and extensions to bypass restrictions. Additionally, beware of launching Tor browsers from a USB stick. Tor browser is centered around anonymity and privacy by rerouting traffic to different servers worldwide. This makes it difficult to monitor what a user is doing online.
VPNs: Adults use VPNs to bypass geo-restrictions and maintain online privacy. VPNs encrypt your online traffic in a secure tunnel masking your online activities. Many free VPN options are available over the internet though they come with speed and data caps. It is, therefore, extremely difficult to monitor your child's activities when they use a VPN. Not even your ISP can do it because they only see encrypted data. Some VPNs could store user data on their server, but they are not likely to share it with you.
Different Wi-Fi: You may have access controls within your network, but if your kid uses a different network with no restrictions, they can access whatever they like. If your neighbor has not secured their Wi-Fi networks, your kid will likely connect to that network and explore the internet.
Changing or Brute-Forcing Passwords: If you have used a weak password, such as your birthday date, your kid can log in and change settings without you knowing. Some older and tech-savvy kids can use social engineering or even phishing methods where they send you fake security emails to get the password and alter settings. Some tech-savvy kids can even use advanced tools to brute force their password and change the settings to their preference.
Proxy sites bypass restrictions and filters by diverting traffic via an innocent address. For instance, an address like "whatiwanttowatch.com" may be redirected to Hide.me and unlock the restrictions. Proxy sites work by diverting your request to an external server that fetches the results on your behalf. The proxy may be listened to by content filtering applications, but the app cannot filter the content itself. Thousands of proxy sites are available, and any kid can use them for free to bypass parental control applications.
What can you do?
There is little you can do to stop a curious and determined person with all the information they can access online. Sometimes a child might even use a different network, leaving you clueless about their online activity. However, the following step can point you in the right direction.
Educate them and yourself: Prohibition alone cannot successfully control parental access. Indeed, sometimes it increases a child's curiosity leading them to explore other alternatives. Generally, children don't like content restrictions, and the older they get, the more rebellious they become. It is essential to have honest conversations with your child about online content and how their devices can negatively influence their life. You can also enforce some rules, such as barring them from carrying their devices to bed to reduce their screen time and online activity.
Upgrade your toolkit: A device's inbuilt settings and tools are easy to bypass and change. Therefore, you should upgrade to a tool like Google family link to track and report the websites and applications they visit online. Additionally, Google Family Link can prevent children from installing some applications. You can even involve their teachers to recommend the best entertainment and educational applications.
Apple parental control app controversy
A legal tussle is expected between tech giant Apple and several parental control app development companies after Apple allegedly threatened to restrict the apps' functions or remove them entirely from the app store. The issue became controversial because the crackdown occurred when Apple launched its parental control feature, Screen Time, in iOS 12. According to the New York Times, many third-party parental control applications on iOS have more features than those in Apple's settings.
The developers complain about the short notice and the unclear nature of the violations they are accused of. Qustodio and Kidslox are two of the affected applications, and they are accusing Apple of exercising unfair levels of control over its rivals. Both companies are set to file a legal action at the European Commission's competition authority. Previously, a highly rated parental control app called OurPact was accused of violating App Store guidelines on using Mobile-Device-Management (MDM) software to control kids' phones. It was removed from the app store.
Apple has maintained that the crackdowns are meant to protect the user from apps that request too much helpful information and are in no way trying to promote their product. The tech giant further concedes that the Mobile-device- management platform is highly invasive and should not be used by third parties to collect sensitive information such as browsing history, camera permissions, email accounts, and location.
A few questions still need to be answered; why didn't Apple bother with parental control apps before developing their own? Is Apple trying to force its own product on users? Why has Apple not offered alternative APIs to achieve parental controls? This is the controversy. Only time can tell what will happen to the thousands of users who have already paid for the services of these applications.
Can parental control cross the line?
These applications are similar to spyware apps used to monitor other people's devices secretly. For example, they track the location and record cellphone conversations and text messages. So, the main difference between the two apps is the intent.
In some countries, snooping or eavesdropping on a spouse or colleague without their consent is immoral and illegal. But conversely, parental monitoring is somehow ethical as you protect your child from inappropriate content.
Some parental control applications secretly allow you to install them on the child's device. But, as mentioned earlier, kids are nowadays well-versed with technology and eventually find out. It can, in turn, damage the trust you should have in your child. By contrast, if your child discovers you are monitoring them secretly, they'll try to find workarounds.
Thus, you must learn to differentiate between too much and enough monitoring.
If you aren't interested in your kid's online activities, they might feel you don't care about them. As a result, they will turn to validation from elsewhere online, which can be dangerous. In contrast, too much monitoring can make your child lie or hide their online activities.
Conclusion
Besides on the playground, these days, you also have to protect your children online. Cyber threats targeting kids like predators, bullying, and misinformation keep evolving, and your kids may be in danger.
Open communication should be the first line of defense to combat these issues. However, parental control apps will help you avoid anything inappropriate or harmful to your child.
The choice of the best app depends on your needs. For example, NetNanny may be ideal if you have young children. On the other hand, families with teens can choose the Bark app to provide a comprehensive suite of tools. To decide better, you must review your needs to use such an app and whether or not that app satisfies your requirements. You can then get the tool and protect your kids online.
Happy parenting!
FAQs
The apps shared above are simple to install and use. Many are super easy to control, even the most advanced ones. However, if your child uses an iPhone, choose apps that do not require jailbreaking.
While kids hate being monitored, it's upon you as a parent to control what they consume online. Therefore, you're advised to monitor kids, especially during their adolescent age.
Ideally, you should install the parental app when giving your children their first phone. If the child is old enough, discussing the reason behind installing the app is good. It would help to tell them that the restrictions would change as they grow older.
Since parental control apps also monitor your kid's location, it is crucial to secure the data. However, the apps reviewed above are safe and employ sufficient measures to protect your child's privacy.
Children can easily be influenced or fooled by what they see online. Parental control tools play a significant role in preventing this from happening. They allow you to set user permissions, set usage time, apply web filters and block inappropriate content.
Subscribe to a reliable VPN provider to protect your whole family. It will hide your IP addresses and secure internet connections on all your devices. Besides, you will also unblock geo-block content from around the world.
Kids hate being monitored. As such, it is best if you do so without them knowing. There are a variety of apps that offer free service. However, of all the free apps presented above, Kaspersky seems to top the list.
Apple placed restrictions on parental control apps to protect users from intrusive apps. However, before imposing the restriction, apps used mobile device management (MDM) that allowed third parties to access and control your data. Apple rendered this a violation of privacy and called upon companies to adjust or do away with MDM.
However, some critics argue Apple wanted to reduce competition and ensure users use its built-in service. Sadly, the screen time feature on iOS is easy to bypass; hence it's advisable to use the abovementioned apps.