Parental control apps are necessary to keep an eye on your young kids and even teenagers. These apps can also track your child's physical location, set screen time, and block questionable websites or apps. In addition, some of them log texts and calls to let you see who your child is communicating with. Such monitoring gives you peace of mind that your children aren't accessing harmful or inappropriate content.
Nonetheless, remember that even the best parental control tool cannot do everything. Hence, the most effective way to ensure your children behave responsibly online is to have a compressive approach. First, consider explaining what they can or cannot access and letting them know that you monitor their devices. After that, you can monitor your children's activities without fearing violating any ethical or moral obligations.
As for the ways to monitor your kids online, this in-depth article lists the best parental control apps to use today. You'll also learn how to help your kids safely navigate the digital space and much more.
Top parental control tools – The quick list
Are you short on time? No issues. Here is a summary of the best parental control applications listed in this guide.
Want to discover more options here? Read along as this article features 13 apps in total that you can get your hands on to monitor kids' activities and ensure they stay safe online.
Our criteria for choosing top parental controls
There are thousands of parental control software in the market. Hence, choosing the best for your needs can be challenging.
Therefore, after extensive research and testing, this guide mentions the best parental apps based on the following criteria.
Performance – Does the app function as it should be? For example, is it effective at blocking what the child shouldn't see?
Features – What features sets it apart from its competitors? Does it deliver all the features, or is it just a marketing gimmick?
Setup and installation – How easy is it to configure on different devices? What issues exist midway and how much time does the setup process take?
Ease of use – Is the interface user-friendly?
Privacy and parental controls: Filtering vs. spying
The parental control tools on this list let you control what your child can or cannot access online. This way, you create a safe space for your child to explore their curiosity. However, other tools allow you to spy on your child's habits online.
Ideally, it would help if you prefer regulating what they can access rather than spying on your kids, especially teenagers. This can help to foster and encourage healthy online habits in your child.
Complete analysis of the best parental control apps
Since the following parental control software have gone through aggressive testing, you can trust them to keep your children safe. These apps have all the necessary features needed to monitor your kids, such as location monitoring, filtering technology, and much more.
All the applications listed below work with both Android and iOS.
1. Bark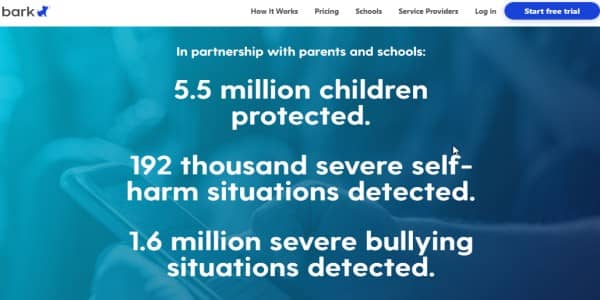 Bark is our top pick parental control app. It is a flexible tool that will enable you to create a healthy environment for your child in many ways.