Businesses handle sensitive information that they must protect in the face of modern adversities like hacking, spying, and data theft. With the Covid-19 outbreak, more companies are shifting their operations online while employees are working remotely from home. This is why every business should find a way to protect its data and resources. The best way to do so is to use a virtual private network (VPN).
Some VPNs are designed explicitly for the general public, while others are suited for businesses and corporations. These business VPNs typically offer dedicated IP addresses and servers, unlike consumer VPNs.
In this guide, we'll look at the best VPNs for businesses, why businesses need to use VPNs, criteria for choosing a business VPN, and much more.
Quick summary of the top business VPNs
Best VPNs for business
A VPN is an essential tool to have for any business. While there are many providers in the market, not every service is suitable for businesses. We ranked our best business VPNs based on the following factors:
Speed and stability
Strong security
Offer services to business
Apps for operating systems
1. NordLayer

Undoubtedly the best VPN for small and large businesses. The VPN protects business networks against cyber threats and facilitates secure remote working environments.

5,000+ servers in 60 countries

Supports P2P sharing

Double encryption

Automatic kill switch

6 simultaneous devices

Web protection

Double VPN feature

30 days money-back guarantee
Pros
Easy to use

24/7 live chat

Top-notch privacy and security
Cons
Some servers do not support kill switch mode
NordVPN is one of the most popular brands in the VPN industry. Besides offering services to general consumers, it also has a robust solution for businesses dubbed NordLayer (formerly NordVPN Teams). This is a business-oriented VPN service with high-quality features and outstanding performance.
It makes everything more manageable with the centralized dashboard and dedicated account manager. This will allow you to control permissions and manage user accounts. The VPN has well-designed apps for all popular devices such as iOS, Windows, Android, and macOS. In addition, it is also compatible with OneLogin, Okta, GSuite, and Azure. You will also get priority support at any time if you face any issues.
The provider is constantly expanding its network by adding more servers and locations. Currently, it is one of the biggest providers in terms of server numbers. There is a dedicated server for internal use, and each account is assigned a dedicated IP address.
NordLayer comes with plenty of security features to protect your business's data and other resources. They include AES 256-bit encryption, perfect forward secrecy, double data encryption, and much more. Even if malicious actors successfully intercept your traffic, they won't be able to decrypt and read the data. The comprehensive zero-logs policy clearly states that the provider does not keep any logs. These claims have been verified by PricewaterhouseCoopers AG Switzerland, a reputable audit firm.
NordLayer offers an automatic kill switch to protect your privacy all the time. It will stop traffic flow from your device as soon as it detects your VPN connection is dropping.
---
2. Perimeter 81 Business VPN

The best business VPN from a professional cloud and network security company. Its end-to-end encryption fends off any probable network intrusions.

700 servers in 36 locations

AES-256-bit encryption

P2P sharing

Kill switch feature

Split tunneling

DNS leak protection

Allows 5 simultaneous connections

30-day money back guarantee
Pros
Dedicated management console

Seamless scaling

Customizable plans
Perimeter 81 is perhaps the best VPN for all types of businesses. It comes with three plans that you can choose depending on your team's requirements and size. Employees can use numerous devices and switch between them wherever. This is a powerful VPN platform with business-tailored features.
One of the most striking features is the zero-trust network. It offers secure access to web applications and prevents data loss without compromising efficiency. Furthermore, it provides one complete security platform easily manageable from the cloud. This helps to reduce the total cost of ownership (TCO).
The good news is that it allows you to scale as your business grows, eliminating the need for extra hardware. In addition, the VPN integrates with Amazon S3 and Microsoft Azure SIEM. Unfortunately, it only supports five team members.
It has an easy-to-navigate online dashboard that you can manage even without a college degree. Your employees will be able to access the files, apps, and other business resources secure from anywhere. The software works well with all major operating systems, including macOS, Linux, Windows, Android, and iOS.
Perimeter 81 uses state-of-the-art security features such as AES 256-bit encryption, WireGuard, OpenVPN, Wi-Fi security, and two-factor authentication. The automatic kill switch is a great feature that prevents the traffic from leaking if the VPN stops unpredictably.
When you sign up, you will get exceptional customer support, regardless of the plan you choose. There is also a 30-day money-back guarantee so you can use the service without risking your money.
---
3. ExpressVPN

This industry leader empowers organizations and staff alike to secure their online activities by offering tons of safe and fast-speed servers.

3,000 servers in 94 countries

AES-256-bit encryption

DNS leak protection

Supports P2P

No-logging

24/7 live chat

Network-lock feature

Allows up to 5 connections simultaneously

30-day money back guarantee
Pros
Excellent performance and technical specification

High-level encryption

Dependable customer support
Cons
Few simultaneous connections for a business
ExpressVPN is not a specialized business VPN but is an exceptional consumer VPN that offers high-quality services. It is an excellent choice for businesses because of its top-of-the-line features. Besides, it's one of the fastest VPNs we have tested.
Almost every VPN claims to offer high-level protection. However, if you drill down to the details, the substance cannot back the claims. ExpressVPN uses AES 256-bit encryption together with a 4096-bit RSA certificate and SHA-512 HMAC authentication. Furthermore, it has dedicated DNS servers and uses TrustedServer technology on its entire network. Other essential security features include Network Lock (automatic kill switch), split tunneling, DNS leak protection, and more.
The provider boasts thousands of servers spread out worldwide. Fortunately, it has compatibility across nearly all operating systems, including Windows, Android, macOS, Linux, etc. There are also Chrome and Firefox secure browser extensions.
One of the major complaints is that it is slightly pricier than its rivals. However, it allows you to use the service to the fullest risk-free with a 30-day money-back guarantee. You can ask for a refund at any time before the days elapse.
What's more, ExpressVPN is incorporated in the British Virgin Islands, so it won't be required to retain your information. Also, the provider observes a strict no-logs policy. This means there will be no data even if western government agencies summoned it.
The downside is that it is not generous with its simultaneous connections with only a maximum of five devices. Luckily, it has apps for a wide range of routers, so you can add more devices.
---
4. Encrypt.me

A modest VPN supporting small businesses to secure their online activities from snoopers. Its feature-rich apps suffice to repel most cyber threats.

120+ servers in 75+ locations

AES-256-CBC encryption

P2P supporting

24/7 live chat support

Unlimited simultaneous devices

30-day money back guarantee
Pros
Simple to use and intuitive interface

Unrestricted simultaneous devices

14-day free trial
Encrypt.me is an excellent choice for small businesses as it supports only two team members. However, it provides an unlimited simultaneous connection which means you can use as many devices as possible.
The VPN works well with all the major platforms, including Windows, Android, macOS, and iOS. The apps are super easy to use, and the security is superb with private endpoints, auto-secure, and DNS leak protection. It also has content filtering that allows you to block malware, ads, and attention-grabbing sites like Facebook and Twitter.
You can easily control and manage the entire team from a single account, with each employee getting their own apps. Customer support is available 24/7 through the chat or ticketing system in case you need any help.
---
5. VyprVPN

This resilient provider offers dedicated Business VPN solutions enriched with dedicated IPs, seamless integration, and multiple servers.

700+ servers in 70+ countries

Supports P2P sharing

AES 256-bit encryption

Automatic kill switch

30 simultaneous connections

30-day money-back guarantee
Pros
Owns and operates its servers

Reliable customer support

Great performance
Cons
Scarce information regarding the business plans
VyprVPN is a top-tier VPN platform with exceptional services. The VPN owns and operates its entire server network, which results in improved security and extraordinary performance.
Its business version, VyprVPN for Business, comes with a dedicated account manager, multi-user management, and global server coverage. This provides unrestricted access to the business's data and resources from anywhere around the world.
There is also VyprVPN for Business Cloud. It offers a dedicated server, giving you total control of the whole stack. You will also get a dedicated IP address and secure access point. This will help to protect your internet connection, lock down your cloud infrastructure and provide flexibility to connect existing apps. Each account supports ten simultaneous connections, and you can easily add multiple servers to QA, Dev, and Sales teams.
Regardless of the plan you choose, you'll get superb speeds. The VPN offers impressive features such as Chameleon protocol and NAT firewall to prevent VPN throttling and blocking. Customer support is available via email and live chat. The 7-day free trial allows you to test the services without risking your money.
---
6. Twingate
It is not a VPN, but a highly trusted VPN replacement network that ensures your business data remains completely safe from cyber threats.

100 servers on different locations

AES-256-bit encryption

P2P sharing

24/7 live chat

Up to 5 simultaneous connections

14-day money-back guarantee
Pros
Simple to use with a central console

Protects the whole network

Use military-grade encryption
Cons
Costly as it is billed per user
Technically, Twingate is not a VPN. This is a zero-trust network designed to keep your business data and other resources secure. It works by giving access permissions to devices that want to connect to a network.
There are mechanisms to ensure the entire network is not affected if one of the devices is compromised. It will deem anyone trying to access the network 'untrusted', giving access only to authorized users. You can even decide to provide access to certain parts of the network to specific employees.
The significant difference between VPNs and Twingate is the point of access. Whereas VPNs provide multiple access channels to the internet through servers worldwide, Twingate's entry point is a single way. Once the Twingate client has been established, only devices with the necessary permissions will access the network.
Because the VPN data goes through the internet, the traffic is susceptible to hacking and other types of attacks. Twingate is the best solution for businesses as it works like split tunneling. It will make the internet traffic route outside Twingate while protecting the traffic to access your business' data.
It is easy to set up and use with an intuitive web-based admin console. Since devices have to connect to the central admin console, Twingate can allow your business to scale easily. You can add and reduce devices as you want on the network.
---
7. Torguard

Its dedicated Business VPN comes with multiple subscription plans customized according to the needs of big and small businesses.

3,000+ servers in 50+ locations

AES-128/256-bit encryption

P2P sharing

DNS/IPv6 leak protection

Zero-logs policy

Up to 8 simultaneous devices

7-day money back guarantee
Pros
Advanced features

Expert-level configurability

A vast number of servers
TorGuard Business VPN is a powerful service with a massive network of over 3000 servers in more than 50 countries. You can customize the package to suit your business needs, starting with eight connections.
It will protect your connections with AES 128/256-bit encryption and SSL/SSH tunnels. Also, you will get the usual list of protocols, including PPTP, OpenVPN, SSTP, IPSec, and IKEv2. Additionally, the DNS/WebRTC/1Pv6 leak blocker will prevent any leakage, maintaining your privacy.
The stealth feature will mask your VPN activities, allowing you to bypass DPI, circumvent restrictions and access online business resources. Easy-to-use apps are available for Windows, iOS, macOS, and Android devices.
With the massive network, you will get improved speeds as there will be no congestion on the servers. The connections will remain consistent no matter the server you connect to. In case you face any issue, you can contact customer support at any time.
---
Why your business needs a VPN today?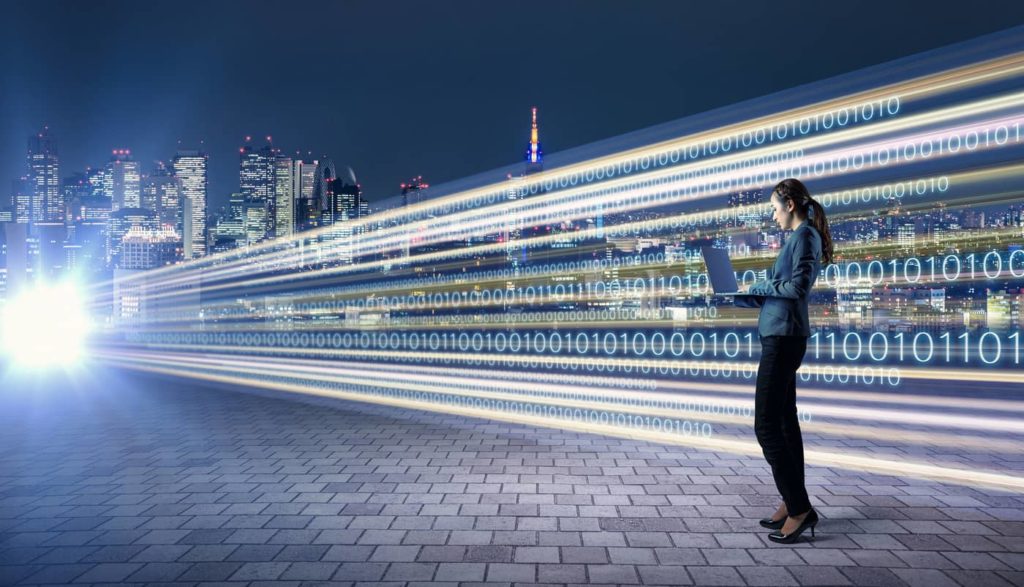 These days, any business that transmits its data through the internet is at risk of getting hacked. Data is precious nowadays, and hackers are using all means to acquire it. Unfortunately, even a simple email can expose your business to potential cyber threats. A virtual private network (VPN) is the best solution to prevent this from happening.
The benefits of a VPN are extensive. For example, it will enable your business to scale securely. A growing business will add more computers, servers, and other devices to its network. Many (if not all) are internet-enabled, so a VPN will protect their connections.
Public Wi-Fi hotspots, especially those that automatically connect without requiring passwords, are breeding grounds for hackers. Many people don't know the dangers of public WiFi and will jump on any hotspot to save data. A VPN will safeguard the connection between devices and your business's network, preventing leakage.
Moreover, a VPN is an excellent tool to bypass geographic restrictions. For example, the Chinese Great Firewall blocks numerous websites, so a VPN is almost compulsory if you work there. Many VPNs on our list have servers distributed in different parts of the world. You can circumvent the geo-blocks by connecting to a server in a country without restrictions.
Many VPNs use anti-spyware and anti-malware on top of the standard security suite. This will protect your devices and network from Trojans and viruses.
Read also: Best proxy service providers for business
The difference between a business and personal use VPN
Most personal VPNs cannot meet business needs either due to server reliability and account limitations. These are some of the primary differences between personal and business-specific VPNs.
Number of connections
Personal VPNs are designed for a single user, with many providers allowing between 5-10 simultaneous connections. These are a few connections for a business. That is why a VPN for businesses covers every user at once without the need to create multiple accounts.
---
Server reliability
Personal VPNs allow several users to connect to a single server. This can easily cause an overload resulting in slowdowns and slow speeds. In contrast, a VPN for business will have a dedicated server hence greater reliability and speeds. You are also likely to get a dedicated IP address to access the server from anywhere.
---
Administration
The business VPNs on our list have a software suite that enables you to control the network users. For example, you can add or remove devices and users as necessary. Setting up the administration is straightforward. Besides, the providers offer a dedicated network administrator or 24/7 priority support to assist you with any issue. However, with many personal VPNs, you can't control anything on the app.
---
Flexibility
Business VPNs are flexible and can evolve with the ever-changing business needs. This means they can scale up and down if a need arises.
---
Software
Usually, VPN providers offer different software for general consumers and businesses. The software used for general consumers is similar to all users with the same installation process.
---
Protection
Personal VPNs safeguard individuals' online activities from third parties such ISPs, hackers, and governments. These VPNs prevent snooping and protect data.
Business VPNs will protect the business's network together with all employees. This enables firms to keep their activities private and protect vital online assets. Some VPNs even allow administrators to monitor employees' internet traffic.
---
Criteria for choosing the best business VPN
The VPN industry has exploded exponentially in the last few years, with a new server emerging almost every week. So, trying to find the best VPN for your needs can be overwhelming. The best way to identify the best business VPN for your needs is to balance utility and cost. Here is the criterion to use when evaluating the available options.
Security
A VPN works by scrambling your traffic, thus keeping you safe and secure when using the internet. Therefore, you have to choose a VPN with either 128 or 256-bit levels of encryption. Some VPNs even fortify the encryption with extra security features such as perfect forward secrecy, HMAC authentication, etc.
---
No-logs policy
The logging policy is another critical factor you need to consider when choosing a VPN. Some providers strictly follow a no-logs policy, which means they do not collect to store any identifiable data. This helps to keep you completely anonymous. However, some VPNs claim to be no-logs, yet they collect logs behind the scenes. So, if you are concerned about your online privacy, dig deep into the logging policy.
---
Server network
An extensive server network with servers distributed worldwide is advantageous to businesses with a roving workforce. This means employees can connect and work from anywhere. What's more, a massive server network distributes user load among the servers and minimizes bandwidth's effect. Some VPNs even offer dedicated IP servers, which will help to reduce overload and lags.
---
Speed
Normally, a VPN works by encrypting your traffic, a process that will impact your speeds. However, many factors can affect your connections, such as your server location, time of the day, etc. You should choose a VPN that uses high-quality servers and has implemented the necessary measures to minimize speed loss.
---
VPNs you should avoid for business purposes
When choosing the best business VPN, you would want a provider that emphasizes your data protection. However, not many VPNs fulfill their side of the bargain, and these are the services you should avoid.
1. Betternet
Betternet is one of the most popular free VPN on the market. However, a study found out that it contains malware, stores identifiable logs, and redirects users' traffic to other web pages. Besides, its servers are unreliable, offering slow speeds.
---
2. HolaVPN
Hola is an Israeli-based VPN extension for Chrome. In 2015, studies found out that it was turning users' devices into exit nodes. The service is also known for selling user bandwidth to third parties. This is an outright privacy violation, and you should never use it.
---
3. ProXPN VPN
Although this VPN offers unlimited data transfer and claims to have a zero-logs policy, you should avoid it completely. It cannot say to be a genuinely no-logs VPN if the provider stores logs before destroying them. Moreover, the app is not frequently updated, its security certificates have expired, and Twitter handles stopped working.
---
4. PureVPN
PureVPN is a well-known VPN provider. However, it collaborated with the FBI to trace Ryan Lin, a Massachusetts resident, alleged to be stalking an unnamed woman. Ryan had used PureVPN to conceal his identity, but the company gave him up after the victim complained. This is despite the company claiming to have a zero-logs policy.
---
5. VPNSecure
VPNSecure is based in Australia, a member of the 5-Eyes countries. A 2016 research paper found that the service has substantive IP and DNS leaks. Additionally, it uses the same concept as Hola of turning residential users into 'egress points' (exit nodes). That is why you should keep away from it to stay safe.
---
Conclusion
These days, online data breaches are a common occurrence and becoming a threat to businesses. Exposing customer information can result in disastrous consequences, whether intentional or due to a cyber-attack.
That is why businesses have to start using virtual private networks (VPNs) to protect data and other resources. By channeling your network traffic through secure servers, a VPN will encrypt your data, making it impossible to intercept it.
The best business VPN should use a combination of high-end security features and dedicated servers for utmost protection. If you'd want us to narrow the list down, we would recommend going with NordLayer as it's the very best solution for companies employing remote workers and for single business users. However, if you must settle down with a VPN for teams, Perimeter 81 Business VPN will serve you the best.
FAQs
Yes. A VPN is a great way to protect your business information. It will keep snooping eyes away from your network and protect your remote workers. The cost of a security infiltration is much higher than subscribing to a VPN service.
Generally, pricing will depend on the business VPN provider. In most cases, there will be several packages priced differently and with varying durations. Some providers offer significant discounts for a large number of employees.
A VPN offers plenty of benefits. First of all, the anonymity it provides will protect your employees as well as your business's data and systems. Employees can work remotely from anywhere globally and have the same access level without worrying about geo-restrictions. The encryption process dispels concerns about security issues.
It is effortless to set up a business VPN. Your employees will need to install the VPN app on their devices to access the VPN's features. They can then encrypt the data leaving their devices by connecting to a server. If you operate your own VPN server, you can host apps and files on it. Employees will have to connect to the server to access the network. However, you will need to find a way to control user credentials, like using passwords.
A free VPN may seem like a good option for a business to cut down the overheads. However, these VPNs are risky and can compromise your security and privacy. First of all, they have a few (mostly congested) servers, causing slow connections. Also, they have weak encryption putting your business at risk of getting hacked to steal data. There are also reports of free VPNs inserting tracking cookies into their software.