YouTube includes plenty of channels aimed at the world's younger audiences. They are among the world's largest communication channels regarding subscribers and number of views. Did you know that?
Well, YouTube does know. There is a lot of business potential catering to the internet's kids. That's why the video streaming giant launched YouTube Kids in 2015.
There is no doubt that children love to watch videos on YouTube, more so on YouTube Kids, where videos are interesting, high quality, and kid-friendly. YouTube Kids, however, has been criticized for its overly branded content, advertising, and inappropriate clips like pornographic and violent footage.
So the fact that YouTube Kids is online raises the inevitable question: is it safe for children? What risks does it pose to kids? Does it have any parental controls? What are they? This article will answer those questions and many others pertaining to this video platform.
YouTube Kids: What is it? How does it differ from regular YouTube?
YouTube Kids is a version of YouTube aimed at reaching internet users younger than 13 years old. You can use it as a website or as a free app. The typical content on the platform includes TV shows, music, educational resources, and user-generated videos explicitly done for children.
The platform is colorful and features whimsical sound effects. The navigation is picture-based. So it's all done with kids in mind, and it's indeed friendly and fun for the youngest. In February 2021, this website boasted 35 million weekly viewers from more than 80 countries.
But we have good news for parents: children can't become YouTube Kids viewers just like that. First, a parent must perform the initial setup and decide on parental control customization. Then, you can come up with as many as eight user profiles. Each will have an age range so that it can only view the content suited for said range. There are three groups:
Preschool (4 and younger).
Older (9 to 12).
Younger (5 to 8).
There is an algorithm in charge of video curation according to age group. But it's far from perfect, so there have been many examples of videos deemed inappropriate for its age group, and ads have found their way into the kids. So how safe is YouTube Kids for children when we consider all factors? Keep reading.
How safe is YouTube Kids?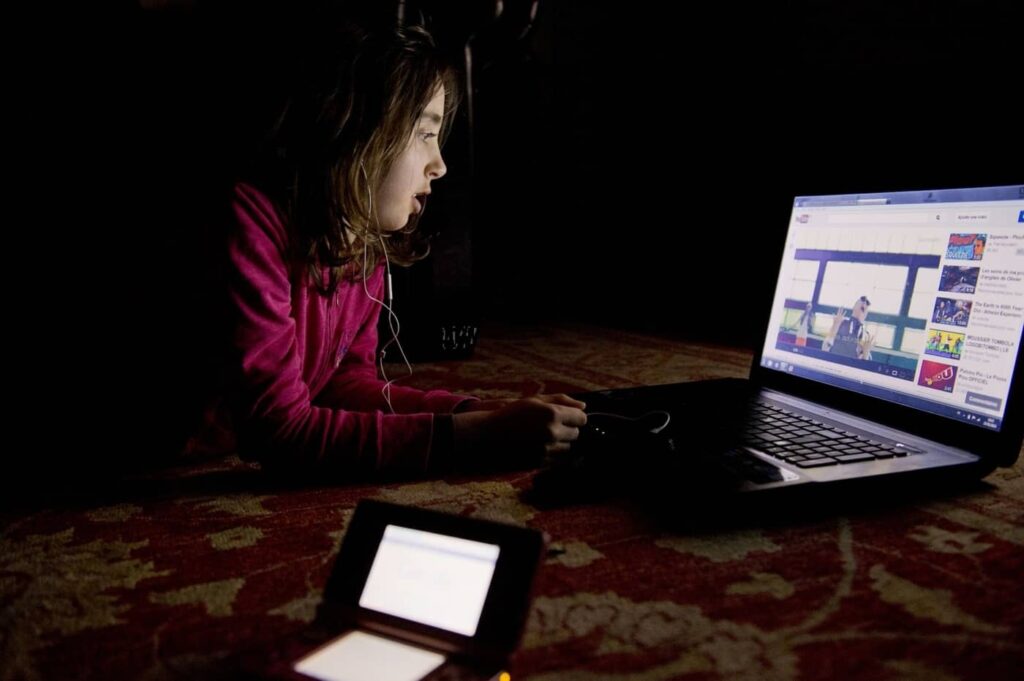 The videos in YouTube Kids come from your regular YouTube platform. An algorithm chooses them as appropriate for children so they can also be shown on the YT Kids website. It goes without saying that algorithms are never perfect for this kind of task. Nuances are beyond a computer's ability.
That being said, YouTube's algorithm for selecting children-friendly videos is not bad at all, and the website is safe for the most part. However, a small probability will always remain that something will slip through the selection process that could be disturbing for kids.
Take Squid Game, the Netflix show that became viral recently, thus sparking the appearance of video content. Unfortunately, some of it has been targeting children. Perhaps, this is one of the reasons why YouTube is blocked in some countries.
How is that possible when this show is exceedingly violent and obviously meant for adults only? Well, the thing about a TV show that becomes as successful as Squid Game is that it quickly becomes incorporated into pop culture, even if not for long. And children are avid consumers of pop culture. Often, they are experts at it, easily outdoing their parents. However, Squid Game remains a potential danger to a young child's mind.
Adult content has been tweaked for younger audiences before. For example, in 2017, the New York Times published an article showing how a series of videos included some beloved cartoon characters doing and saying things that were lewd, violent, or disturbing in some other way. This happens because the algorithm sees the characters in question and automatically considers them suitable for a younger audience without considering what they are doing or saying.
Google noticed the fiasco (Google owns YouTube), so it decided to have more human beings involved in the selection process. The human monitors see the videos personally to ensure they are okay for kids.
And a worried parent can report or block a video if it's not suitable for the youngsters. The problem with this solution is that it tends to happen only after the parent's kid has already seen it.
Read also: Is TikTok safe for Kids?