Have you been wondering, "What is VPN Gate?" This review explains it all, along with a quick look at the providers' history.
In 2013, at the University of Tsubaka, Japan, a group of researchers decided to conduct a network experiment. They've identified three problems, and the experiment should proffer solutions.
The first problem is that government firewalls restrict access to certain websites, creating internet censorship. China is a classic example of this, hence the popularity of VPNs in that region. The second is that IP addresses expose users' details and can implicate them, and the third is the increasing risk of cybercrime.
To address these problems, they developed a VPN that utilized the bandwidth and CPU of volunteer computers worldwide. They called it VPN Gate.
What is VPN Gate?
VPN Gate is a free pseudo-VPN service that became operational in Japan in 2013. It's an academic research project by the academia and students of the Graduate School of the University of Tsubaka, Japan.
According to the official website, this research aims to expand the knowledge of "Global distributed public VPN relay servers."
Despite its recent launch, VPN Gate has seen wide adoption, mainly due to its free and open-source nature. It uses a network of globally distributed volunteer servers to bypass restrictions in many countries.
VPN Gate is beneficial in regions with strong censorship, such as China and North Korea. Becoming a volunteer also requires no registration. You can use this service on different devices and operating systems, including iPhone, Android, Windows, Mac, and iPad.
VPN Gate overview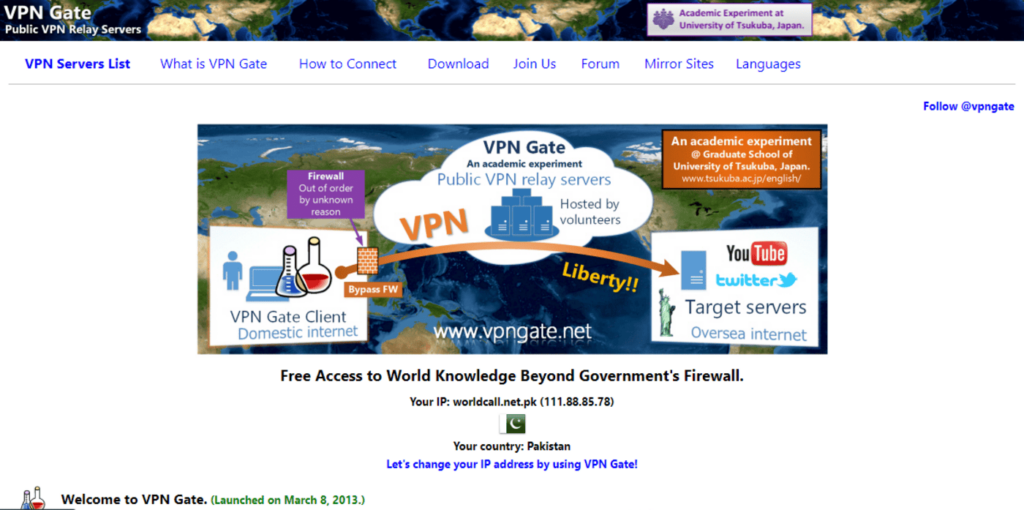 VPN Gate looks promising, but the sheer number of risks it poses means you must be careful if you decide to use it. It works on various platforms and can bypass firewall restrictions.
This VPN, however, logs the records of your details and activities. It runs on an extensive network of volunteer servers that come and go randomly. Due to this, its number of network servers isn't static. As a result, connecting to the VPN may not always give a pleasant experience.
One thing this VPN has going for it is its free and generally accessible nature. The developers, however, state on their website that they may take the project down if they encounter certain issues.
Pros and cons
Pros
Free to use
Does not require registration
Open-source and globally distributed servers
Works on Android, iPhone, Mac, and many operating systems
Bypasses restrictions in China
Has numerous mirror servers
Cons
Leaks DNS and IPv6
Hard to find a working server
Logs personal details
No support for Linux
How does VPN Gate work?
VPN Gate is a free and open-source project monitored and maintained by volunteer servers worldwide. The developers allow anyone to register and become a volunteer and contributor.
Thanks to this extensive network of different registrations, VPN Gate works in the following ways:
The volunteer computer hardware becomes a server for the service.
Each server has a dynamic address that can change at random periods.
Servers can appear and disappear anytime, meaning an IP address may not always connect to a VPN server.
Each server can successfully route your traffic, setting up an encrypted tunnel.
To use the VPN, you connect to a server in your desired location to access the online content.
The VPN disguises your IP and makes browsing from that location seem like you're actually browsing from there.
VPN Gate streaming (Netflix, Disney Plus, Hulu, BBC iPlayer)
Streaming services, such as Netflix and Amazon Prime, and certain websites have restrictions. For VPNs, bypassing these restrictions is a market advantage many advertise on their websites. Some VPNs even have dedicated servers for bypassing resilient platforms, such as Netflix, with their anti-VPN feature.
VPN Gate can bypass restrictions, but this isn't reliable. For example, accessing Netflix US requires connecting to servers in the United States, which VPN Gate has a few of. These servers can also come off and on randomly, interrupting the video you're currently watching.
We couldn't find any UK server in the servers' list, so accessing UK-based streaming platforms, such as BBC iPlayer, was impossible.
Although VPN Gate could access Netflix, the streaming quality was subpar compared to top streaming VPN providers. Videos took long to load, only to stop and then buffer at intervals.
Speed: Is the VPN Gate fast?
VPN Gate's speed is poor and unreliable. This is the online consensus; our conclusion regarding VPN Gate is the same after a thorough review. Although for a free VPN, expectations weren't exactly that high.
The challenge with VPN Gate's speed is that it doesn't depend on server connectivity. Sometimes, server speed remained the same before and after connecting to the VPN. Other times, it dropped so much that it looked as if there was no VPN connection.
Peak server speeds exceeded 90 Mbps during specific sessions of the speed test. However, when we changed server locations to regions more than 5,000 miles away, there was no considerable difference in speed. Ideally, the speed should drop marginally due to distance and the presence of fewer servers.
Even the top VPNs will experience a speed change with such a distance difference. Although it was difficult to connect to every server, this is understandable given the open-source nature of the VPN. Servers appear and disappear randomly, and some may not be working now.
Other times, server speed was so slow that it struggled to reach 5 Mbps. Areas with more volunteer servers, like Asia, recorded speeds close to 2 Mbps, while farther locations with fewer servers, like North America, couldn't reach 1 Mbps.
Is VPN Gate's speed good enough for daily internet use?
Due to the observed inconsistencies in server speed, we wouldn't recommend this VPN for activities like streaming and gaming. These may get frustrating.
You can watch high-quality videos at high speeds, but this can quickly change. Your game may suddenly begin to lag, or your video may begin to buffer.
Server locations can sometimes also be questionable. For example, you may connect to a Japanese server, but the test can show your location as France. This can cause a very noticeable difference in server speed.
---
VPN Gate servers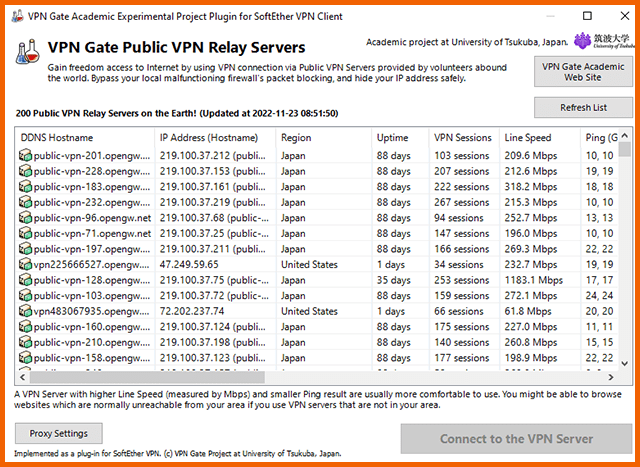 No VPN can survive without functional and reliable servers. Given its non-conventional nature, VPN Gate doesn't have a network of extensive physical servers in different locations worldwide. Unfortunately, this translates to a bad VPN experience.
Connecting to a server is a complex and elaborate process that beginners may struggle with. Volunteer servers are also unreliable because they may be offline once the owner shuts down their computer.
Numbers of servers
VPN Gate has about 9,000 servers to which you can connect. This number can increase quickly since anyone can register as a node or volunteer network. These servers can also shut down at any time, meaning that the number can decrease as it increases.
When you connect to any of these volunteer networks, you use the computer's internet to access the machine's processing power (CPU) and bandwidth. This has two drawbacks:
Availability – Any server to which you have connected can become quickly unavailable if the person turns their computer off or encounters issues. If you're using the VPN to access geo-blocked content, this may expose your IP address and revoke your access.
Bandwidth – You should brace for low bandwidth while sharing the server with another person. If the volunteer uses their computer for a high bandwidth activity, such as playing online games, their connection speed may be significantly slow.
---
Server location
VPN Gate states on its website that anyone can register to volunteer regardless of location. With this, the service could have thousands of servers in different locations worldwide. Most of its servers, though, happen to be in North America and Asia.
In fact, for every five servers in Asia, we saw one in North America, and then there were locations in Europe and South America. Below is the list of locations with a VPN Gate net server:
Canada
Thailand
Vietnam
Islamic Republic of Iran
Germany
Sri Lanka
United States
Argentina
Venezuela
If you need a server, you may find it faster by using the CTRL+F function on your computer. Type the country's name, then wait for a list of the servers you can connect to in that country.
---
Security: Does VPN Gate keep you safe?
Fundamentally, VPNs should provide a level of data encryption and privacy. This is the reason many individuals use them ahead of ISPs. Top VPN providers have constant AES-256 encryption, a no-logs policy, a kill switch, and, sometimes, an antivirus.
Again, VPN Gate falls short of most of these standards. Below, you can find a thorough analysis of how secure VPN Gate is.
Logging and privacy
You should know that VPN Gate doesn't have a no-logs policy. A text in a well-hidden section of their website says,
An access log entry will be stored on the log file of the VPN Gate Public VPN Server. The same information will be transmitted to our logging server by syslog-like protocol with SSL-encrypted communication.
The site goes ahead and lists all the logged information, including:
Date and time
ID, IP address, and hostname of destination VPN Server
Type of VPN protocols (SSL-VPN, L2TP, OpenVPN, or SSTP)
The site claims this will only happen if an anonymous user connects to or disconnects from one of its public VPN servers. However, VPNs shouldn't log any data regardless of the situation. This is essentially what makes them private.
Since VPN Gate also uses volunteer servers, the individual using the servers can have access to your personal information. In the FAQ section of the website, a text reads,
It depends on the "Logging Policy" of each VPN Gate server. The Logging Policy is declared by the operator of each VPN Gate server.
That means, as a registered user, you risk your data and traffic being snooped upon by unknown individuals worldwide. VPN Gate says every logged data will clear after a maximum of 2 weeks. This, though, is enough time to cause serious harm.
---
Protocol
VPN Gate uses the popular protocols that you see in other VPN services. VPN Gate operates on the SoftEther VPN client, which supports L2TP/IPsec, OpenVPN, and MS-SSTP. You can choose between these protocols online, but we recommend OpenVPN.
Security-wise, VPN Gate encrypts your data using the same 256-bit AES encryption that other top VPNs use. Since this service uses a network of volunteer servers, your security depends on the encryption that your node has. Many of these servers still use the 128-bit encryption, which, while secure, isn't as strong as the 256.
---
Kill switch
The kill switch has become a standing feature of many VPNs today. It checks for a drop in the network connection and automatically disconnects the user's computer if it detects one. This is because a drop in connection affects the VPN's privacy and encryption feature, exposing you.
This feature is essential as it enables the network to keep to its promise of ensuring user privacy and security. VPN Gate lacks this crucial feature. While fully connected, VPNGate can still leak IP and other details, which means a kill switch wouldn't do much.
If a kill switch is important for your online activities, consider going for ExpressVPN. Its Network Lock feature blocks all traffic until the VPN fully restores connection, and it works when power flickers, the network changes, or your computer sleeps.
---
IPV6, DNS, and WebRTC leak protection
Leaks are security flaws computers exhibit when connected to the internet. These flaws can seriously compromise your privacy, so VPN vendors integrate various leak protection measures in their apps. We analyzed VPN Gate for these protection features, and below, you'll find our results:
1. IPV6 leak
VPN Gate failed all the IPv6 leak tests carried out on it. Using an IPv6 test tool, we checked before and after connecting to the VPN. The results showed that both local and public IP addresses were still visible.
Also, although we connected to servers in Japan, VPN Gate still showed our original connection. This indicates errors in protecting IP addresses, making the VPN a red flag for purposes that require utmost security.
---
2. DNS leak
Luckily, VPN Gate successfully protected DNS leaks. We checked our IP addresses before connecting to the VPN. We then chose remote servers, confirmed a successful connection, and checked the IP addresses after. VPN Gate provided numerous DNS servers, but they had a different IP address than the original.
---
3. WebRTC leak

VPN Gate also passed the WebRTC test. It showed that we were browsing from Japan, where the server is, rather than our actual location.
WebRTC is a framework for real-time communications (RTC) using text, video, and audio. When you're having a video or voice call with someone, your real IP address could also leak, which exposes your location. A WebRTC leak can help you protect this.
Usually, VPNs will effectively prevent IPv6 and DNS leaks but struggle with the WebRTC leak. This seems to be different with VPN Gate. This may be because each server has different hardware specifications, and some can better protect against leaks than others.
---
Is VPN Gate free?
Since its launch in 2013, VPN Gate has been completely free and openly accessible. You don't need to pay any fee to use any of its features, and the service aims to remain that way for as long as possible. Any online user can also view their forum, but you must register to post, which is also free.
Beyond the security risks, the VPN Gate project can also end on time. The developers clarified on their website that the service may stop running in case of legal, technical, or project member challenges.
Is VPN Gate good for torrenting?
Technically, you can torrent with VPN Gate, but we do not recommend this. Attempting to torrent on another person's computer can seriously reduce or even cripple their connection speeds.
You could also put the other person at risk, which may backfire since they have your details. They could direct the authorities to you if you download something illegal with their server since VPN Gate logs all of your records.
Required information
VPN Gate requires no registration to use the service, so there's nothing like a VPN Gate password. You only need to visit the website and install the client to use the VPN service. Registrations only become necessary when you decide to volunteer to be a server.
The VPN can, however, still collect various information about you. This makes the absence of registration counterintuitive.
Service duration
The free nature of VPN Gate affects its longevity. We found this on the same FAQ page,
We have a strong desire to keep the service stable for more than eight years if possible. However, if unavoidable reasons would occur (for example, technical problem, legal problem, or project-member problem), the service might end earlier.
Even though the service has been running for over ten years, it can close anytime. If you need uninterrupted and long-lasting VPN service, we suggest you register with premium but affordable VPN providers, such as ExpressVPN, Private Internet Access, and Surfshark.
Usability: Is VPN Gate user-friendly?
Regardless of how feature-rich a VPN might be, these become useless if a user can't access them. For this reason, VPN developers often go the extra mile to make their website and app simple, intuitive, and user-friendly. They place the features where the user can easily find them and increase appeal.
We analyzed various aspects of VPN Gate's usability and arrived at the following conclusions:
Website design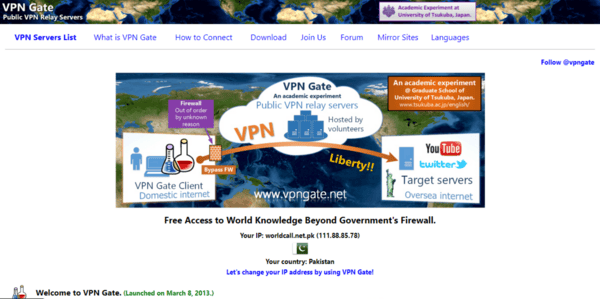 VPN Gate's website design is bare-bones and lacks any element of interactiveness or appeal. It's functional but doesn't look like something we'd be interested to review if not for its VPN Gate's free nature.
The homepage contains an infographic of how the VPN works and shows your location and IP address. There's a menu bar where you can quickly jump to the FAQ section, the download screen, and the forum.
---
Installation and activation on Windows
To install the app on Windows, you can follow these steps:
Visit the website, hover on the "Download" option, and click on "Download VPN Gate Client." Now, from the downloads offered, select "Download SoftEther VPN Client + VPN Gate Client Plugin" to download on your device.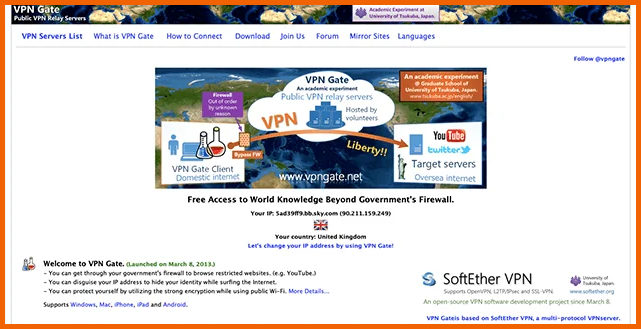 Wait for the download to complete, then extract the resulting zipped files. Then, open the VPN Gate client application.
Tap "Next" in the welcome window that pops up.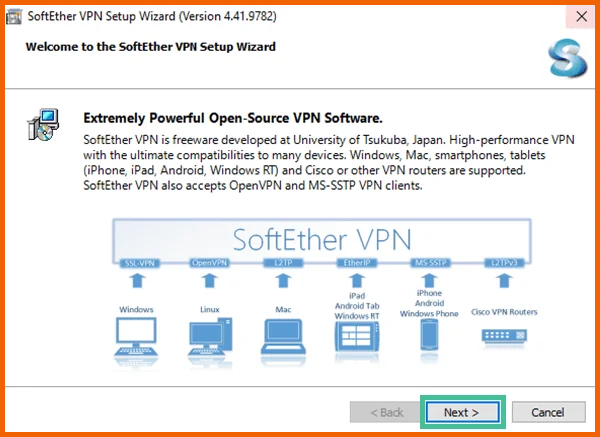 Tap "SoftEther VPN Client" on the following screen. This should begin the installation process.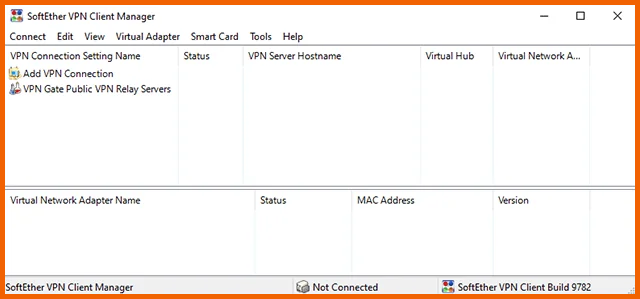 Select the directory where you wish to install the file.
Wait for the installation process to finish. This should take only a few minutes.
Once the setup ends, tap "Finish" to connect to the VPN.
---
Installation and activation on Mac

VPN Gate also works on Mac if you use one and want to check out the platform. Below is the installation process:
Visit VPN Gate's website, go to the download section, and scroll to the bottom of the page.
Tap "Download SoftEther VPN Server" to save the version of the app compatible with Mac.
Search and install "Tunnelblick" on the internet. This is the OpenVPN client for macOS.
Return to VPN Gate's homepage and scroll down to "Public VPN Relay servers" by volunteers worldwide.
Connect to any of these servers and download the "OpenVPN Config file" from the seventh column.
Go back and run "Tunnelblick" and click on the icon at the upper right corner of your screen in the Apple toolbar.
In the following screen, tap "VPN Details" to see a list of possible configurations. This should be empty for now.
Go to your list of downloaded files and drag the "OpenVPN Config file" into the empty window.
Ensure you accept the setup that displays on your screen. You may do this for every computer user or just your account.
Finally, tap "Connect" to begin your free VPN connection.
---
Mobile applications
Currently, VPN Gate has no official mobile applications for iOS and Android. If you're using a smartphone that runs either of these operating systems, you may first visit the website's download section. Then, scroll down to learn how to use it on your device.
For smartphones, VPN Gate works via their built-in, manual VPN feature, which requires a separate setup process. Note that there's an app on the iPhone's app store called VPNGate. However, it is a separate app unrelated to the VPN Gate service discussed in this review.
---
Ease of use and appearance
VPN Gate has an extremely basic interface on Windows, allowing you only to connect and disconnect. Hover over the VPN relay server and right-click on it. Tap "Connect" in the pop-up or "Disconnect" if you're done with a session and wish to revert to regular internet usage.
For macOS, VPN Gate works via Tunnelblick, which has a more appealing interface. Both applications are, however, not ideal for beginning users.
---
Pricing and payment method
VPN Gate and its associated clients are currently free and accessible to everyone. According to the first question in the FAQs, "VPN Gate will NEVER be a paying service in the future."
We are operating a VPN Gate Service at the National University of Tsukuba. Japanese national universities have a general rule to prohibit any profit activities.
Does VPN Gate work in China?
VPN Gate works in China as it has Chinese servers, but you can't find them in their public VPN servers list. Instead, you must visit the forum and request access to Chinese servers. Someone from the admins will then ask for your email and send you the configuration files.
Customer support
For VPN Gate, customer support is primarily the FAQ section on the website. You can find almost all the details about the service or how to fix common issues.
VPN Gate also has a forum where users and enthusiasts discuss the service and suggest ways to improve it. You can post a question here or answer questions from other users. You can browse the forum as a guest user but must register to post.
VPN Gate alternatives
Need affordable and high-quality VPN service? Here are some worthy alternatives to VPN Gate:
1. ExpressVPN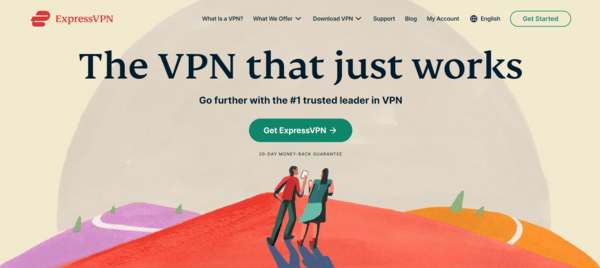 ExpressVPN is a renowned VPN with a legacy around its vast, ultrafast internet server network. With AES 256 encryption, you can also trust ExpressVPN for enhanced security privacy and security. ExpressVPN's 35,000 plus servers in 94 countries mean you can bypass geo-restriction for most regions and access anything you want online.
It is one of the few VPNs that can work in China, so you may worry less about firewalls. ExpressVPN also applies the no logs policy. The VPN deletes your DNS queries, browsing history, and IP addresses as you browse, preventing anyone from tracking you with them.
This VPN is compatible with all major devices, including iPhone, Windows, Mac, Android, and web extensions. You can also complain or make inquiries through its live chat, as its customer support is available 24/7. These numerous features make ExpressVPN a must-have VPN and rightfully justify its price.
---
2. Private Internet Access (PIA)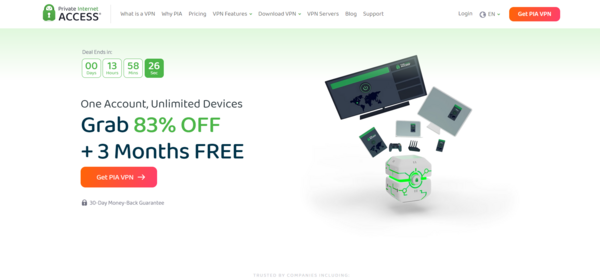 PIA is popular for being low-cost and lightweight. Despite this, it provides many of the features you find in other higher-end and expensive server networks. It's one of the largest VPN providers by the number of available servers, thanks to its over 28,000 servers in 60 countries.
PIA's servers are fast and support high-definition videos up to 4k resolution. It can also bypass various restrictions, enabling you to enjoy online video and game streaming.
PIA emphasizes user security and privacy, featuring DNS leak protection, malware and ad blocker feature, 256-bit encryption, and a customizable kill switch. Its core competitive advantage, though, remains its cheap subscription fees. You can get a 3-year deal at $2.03 per month and an extra three months for free.
---
3. Surfshark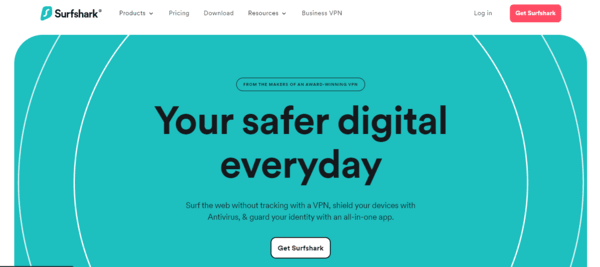 A high-quality VPN, Surfshark's defining feature is its support for simultaneous connections on unlimited devices. You can connect your smartphone, computer, Smart TVs, and Smart TV accessories without any lag or drop in the internet speed. Surfshark has a NoBorders feature that enables it to bypass firewalls in high-restriction areas such as China.
An initial fee of $2.39 also makes Surfshark very affordable and one of our recommended low-cost VPNs. Subscribing to a three-year plan gives you three months for free. You also have a 30-day money-back guarantee to claim a refund if you are unsatisfied with the features or services.
For enhanced security, Surfshark uses the WireGuard, IKEv2, and OpenVPN protocols to secure your data, together with 256-bit encryption. Its customer service is also friendly, and you can access it through its website or apps on Windows, Android, iOS, Linux, and macOS.
---
Conclusion
To sum up, we advise you to proceed with caution when using VPN Gate or avoid it completely. Instead, you can choose one of our low-cost alternatives. If you're still unsure which to choose, we recommend starting with ExpressVPN.
Have you used VPN Gate recently and would like to share ideas? You can leave them as comments below.
FAQs
Government firewalls are one of the reasons the developers created this app, and they advertise it all over the website. This also explains why VPN Gate is popular in China, as it helps bypass government firewalls and restrict access to certain websites.
You can connect to VPN Gate first, then to Tor, to set up a Tor over VPN connection. Both services operate similarly by utilizing a network of volunteer servers. However, adding Tor to VPN Gate may create additional problems, such as slower internet speed and compromised security.
While VPN Gate is a free VPN itself, its mechanism differs from conventional VPN services. We recommend that users stay clear of free VPNs as they can have shady motives. Hackers may have developed them to steal people's data or sneak malware into their computers.