The Japanese graphic novel culture has a vast fanbase worldwide, and the serialization of every title makes the fans eager for the next issue. They can never get enough, even getting eager to browse Manga sites to find the best content online. Manga is not just for kids or youngsters; falling acceptably close to streaming sites covered in this article, it has something to offer to readers of every age.
Therefore, it's not surprising that many thousands of websites purport to provide access to manga content. Instead, they carry out surveys and spread malware through advertising, which can be a security threat to your device.
So, if you want to know the websites where you can read manga online safely and reliably, stay with us and read the rest of this article as we show you the best working sites offering Manga content on today's internet.
The best ten manga websites – Quick list
Here are the top ten choices to read manga online if you are in a rush.
If you want more sites and more detail on the top ten picks, keep reading to see our complete list.
What is manga?
Manga is the Japanese style of comic books and graphic novels. They are usually printed in monochrome instead of full color.
This art form has gained much popularity in the rest of the world over the last few years, just like anime has. One great thing about manga is that so much content has been poured out over the previous decades that any new enthusiast will find plenty of titles to read. There are also hundreds of current manga titles. And this vast catalog guarantees that there is something for every taste.
However, where can I read this manga, we hear you ask? It is an especially relevant question if you are away from Japan, so let us give you a list of reliable and currently available manga websites.
What is a manga website?
Manga websites offer comics and graphic novels in the manga genre, produced and published in Japan. You can point your browser to one of these websites, pick your favorite manga title, and start reading immediately. These websites have become a worldwide trend recently. They have lots of content and attract huge traffic from manga fans who reach out to them worldwide.
The first manga appeared in 1874. From that moment, the number of titles has kept growing steadily for over a century, and the reader base has exceeded Japan to reach the whole planet.
So you are not alone. There are millions of other avid and consistent manga readers throughout the earth. Let alone the people looking to watch cartoons online for free, which is relevant to manga, too.
In addition, thousands of mangas are available to read online free of charge. However, finding the original material worth reading is difficult because the internet is flooded with fanmade comics.
This article will show you the best manga sites on the internet. They are reliable and keep you current on the latest manga developments.
Disclaimer:
Before we move on to the list, let us say that we are entirely neutral about the quality of every site we mention in this article; nobody is sponsoring us. We only seek to provide the best information we can.
Also, we do not promote or condone piracy. However, if you enjoy manga so much, it would be only fair for you to compensate the creators of the content you like, so we encourage you to use a paid service to read your manga if you can.
Last but not least, some of the websites in our list could be subject to geographical restrictions. So you may need to use a VPN service with a server inside the correct country if you want to open them. We recommend ExpressVPN.
The 30 best websites to read manga online in 2023 – Detailed list
The land of the rising sun is known for various cultural and industrial products ranging from Casio watches to state-of-the-art solid-state devices. Manga is another Japanese product that has gained recognition from the rest of the world in recent decades.
Unfortunately, these works of art remained untranslated for a very long time, which limited the interest they could gather from outside the country. However, nowadays, most new content gets translated quickly, and the original Japanese publications come out both in the original language and an English translation simultaneously.
So, without further ado, let's show you the list of the best websites to read manga online in 2023.
1. BATO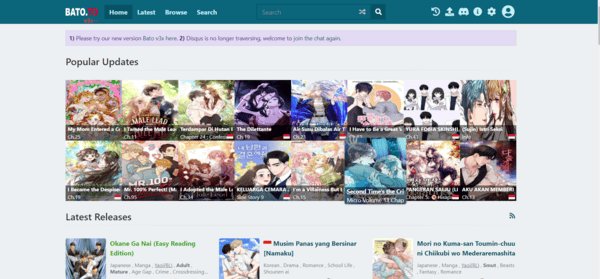 Price: Free
Site URL: https://bato.to/
BATO has an appealing and advanced layout that makes finding your favorite manga title easy. It offers many manga titles and genres, including science fiction, sports, action, romance drama, and much more. It's a trendy manga website that is always online. It's also an open-source project which allows users to upload additional manga content to improve the general collection.
You can find the most recently published titles in the latest tab so that you can keep up with the trends. Updates happen every hour so you can stay current on the latest developments.
It also has a discussion forum to interact with other manga fans worldwide. You can optionally link your account to your Facebook profile. It's undoubtedly one of the best manga sites on the internet.
---
2. MangaDex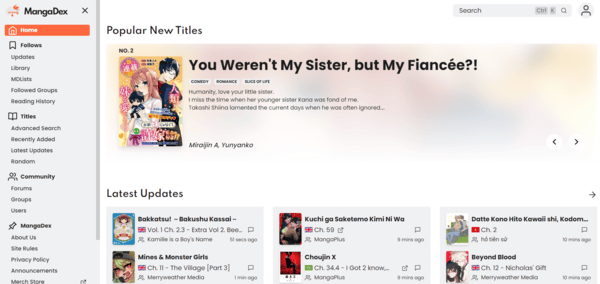 Price: Free
Site URL: https://mangadex.org/
This website also gives you access to many manga series free of charge. Unlike many other manga websites, it has no advertising, so it's popular among enthusiasts.
Almost every manga genre is represented in the website's collection. In addition, the members enjoy this site's forum, where they discuss their favorite manga titles, fan theories, future developments, and the latest episodes.
It offers premium features for those who sign up, such as bookmarking your next watch, access to a community forum, and follows. It's the perfect manga site for many readers as it's free, has no ads, features a comprehensive catalog, and offers several interesting additional features.
---
3. Crunchyroll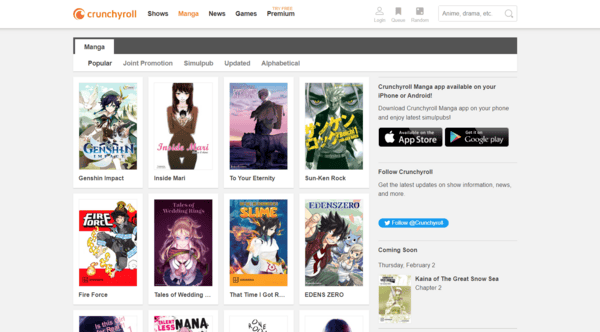 Price: Free and Premium
Site URL: https://www.crunchyroll.com/comics/manga
Crunchyroll is a website with a plus. It's famous as a video streaming platform specializing in Japanese content, such as anime. However, it also features a free manga section among the world's best.
This website offers plenty of additional value as it has applications for both Android and iOS platforms designed to improve your reading experience. The layout is simple and intuitive, so even the youngest users can easily navigate the video or manga content in the app or the website.
The forum has separate sections for manga, anime, and news. You can create your own polls to make things more interesting, but you need to create an account before taking advantage of the site's more advanced features.
Full access to both anime and manga content requires a paid subscription. However, there is a two-week free trial for first-time users, so you can try the premium experience before you commit any of your money.
---
4. Manga Fox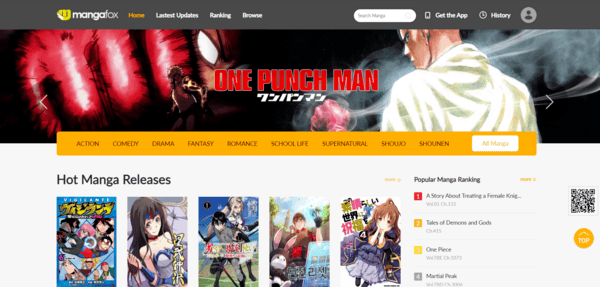 Price: Free
Site URL: https://fanfox.net/
This website boasts one of the best-organized manga databases. It has more than 20 categories for you to choose from or search. Every file is hosted on the website, so you will never be redirected to other places to read your content.
It features a host of premium materials, and it's free. Millions of users worldwide rely on it to keep up with their latest favorite manga periods.
It has a very light layout which loads very quickly on most browsers. Unfortunately, it has a few ads on the side that irritate you. However, there are no pop-ups, which is something to be grateful for.
---
5. Manga Doom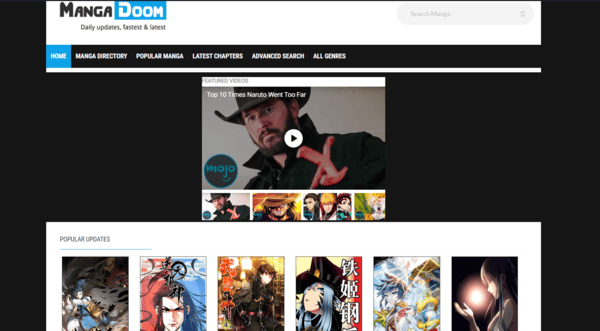 Price: Free
Site URL: https://mngdoom.com/
Manga Doom is worthy of any top manga website list. It has a vast manga database that keeps growing by the hour as the site adds more and more new chapters. A lot of hard work goes into this website, but the owners keep it free of charge, even as it offers plenty of premium content. Publicity funds this website. However, it's less annoying than on other sites.
The layout is straightforward, with a search bar on top, so you can directly find the title you want. In addition, creating an account on the site allows you to interact with other manga lovers worldwide.
---
6. Niadd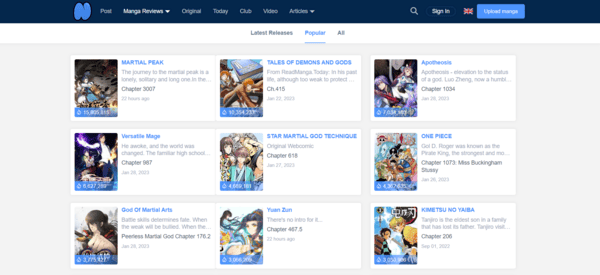 Price: Free
Site URL: https://www.niadd.com/list/Hot-Manga/
This manga platform is a little faster and more efficient than most other options because the home page is relatively small, featuring an immaculate layout.
The manga offering is extensive and completely free. It has no ads, which makes the experience much more enjoyable. The "Surprise" button lets you choose your next title to read whenever you need more clarity.
Categorization goes by genre, but there are also direct links to the latest releases and many other helpful features. The search feature is beneficial as it saves you from scrolling around to find your desired title. It's among the best manga websites, no doubt.
---
7. Manga Freak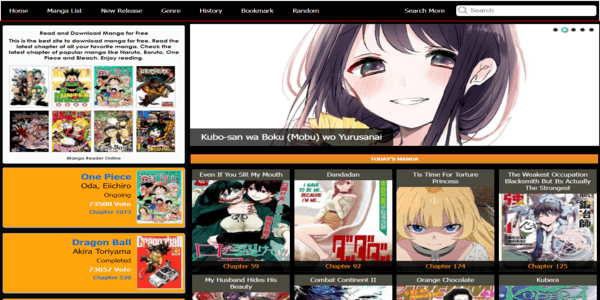 Price: Free
Site URL: https://w14.mangafreak.net/
Most of the space on these web pages is advertising. But it could be more annoying, except for the redirections, which often take you to adult websites, so beware. However, the database is complete and exciting, and the updates happen reliably often. It's also an attractive option because it's completely free.
A search bar on the top of the page can quickly get you to the manga you want. Despite the prevalence of publicity and redirections, it's one of the best manga websites on the internet.
---
8. MangaPark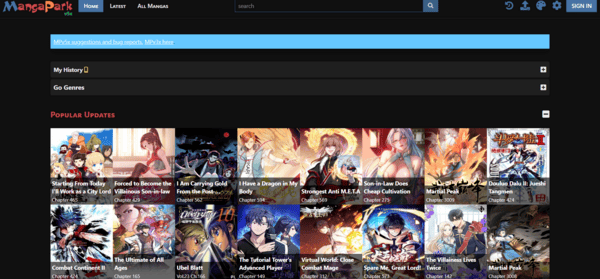 Price: Free
Site URL: https://mangapark.net/
It is probably the most intelligent manga website out there. Every popular title it's available here, and the layout is exceptionally user-friendly so that even the less experienced users can find their way around easily. You can change the website's theme to dark if you wish, and the database covers almost every genre.
Some advanced features, such as bookmarking your wish list, are available to registered users. There is a reading history, so you don't get confused about the chapters you've already covered, and the cookies allow for faster loading of every chapter.
It's reliable, searchable, and quick, so it could be one of the best options if you like the site's philosophy.
---
9. VIZ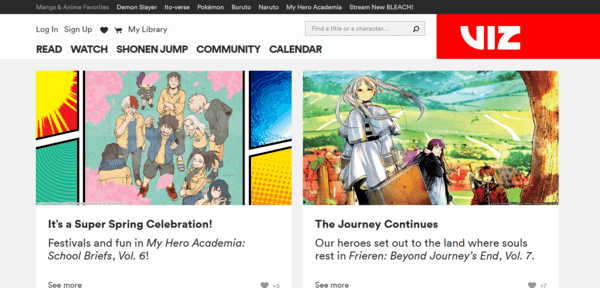 Price: Free
SIte URL: https://www.viz.com/
It's among the most famous manga websites hailing from the United States and features a video streaming section for anime. It's also one of the oldest websites on the Internet since it's been online for 34 years already.
Rating is as essential as a genre within the website's classification system. It features thousands of manga titles and recently launched a mobile app. The website belongs to the most prominent graphic novel polisher in the United States, which also holds almost 1/4 of the country's anime market.
---
10. Mangainn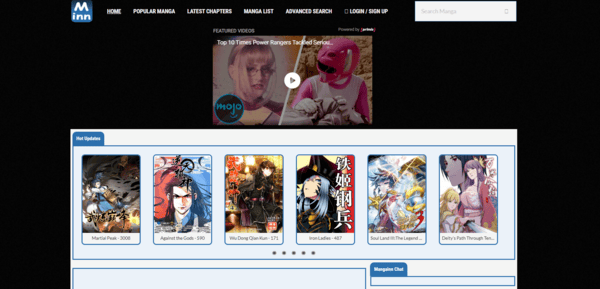 Price: Free
Site URL: https://mangainn.net/
It is among the best-known websites for reading manga online, most prominently in the United States of America.
The enormous manga library includes all genres and types translated into English. It's safe and user-friendly for every manga fan.
The catalog is continuously updated, so the collection keeps growing daily. Your search features include several filters and other options so that you can be very specific about your search and find your wanted volume quickly.
---
11. ComicWalker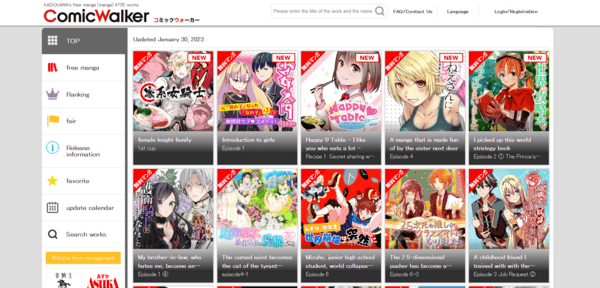 Price: Free
Site URL: https://comic-walker.com/
It started in 2014 as a video streaming platform for Japanese manga. Since then, it has kept expanding to include other media types, so the library now includes a collection of Chinese comics.
The website also has a mobile app, which intends to increase its share of the English market. However, it's already an essential player in the Japanese and Chinese markets.
The layout is clean, easy to use, and packed with helpful search features. The manga purists amongst our readers will consider this option one of the best on our list.
---
12. Comico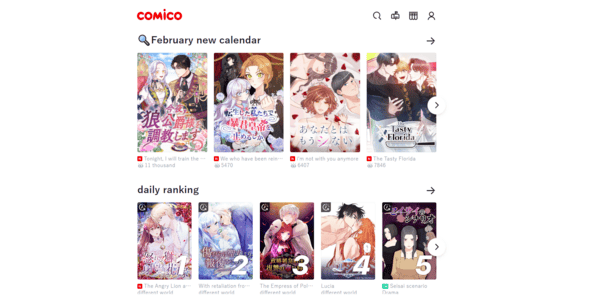 Price: Free, Premium
Site URL: https://comico.jp/
This one hails from Japan, the Holy Land of manga lovers, and it's been around since 2013, serving the international manga community. NHN Japan owns this platform and has seen it slowly but surely keep expanding to the rest of the world. It's now present in several Asian countries where manga fans have been exceedingly receptive.
The website is free; however, it also has a subscription plan that allows paying customers access to additional series and premium features. The site's library is of excellent quality, including many recent manga works acclaimed by the world's experts.
Updates are frequent, and here you will always be able to find the most recently released titles and chapters. This one is for the most hardcore manga fans.
---
13. Honto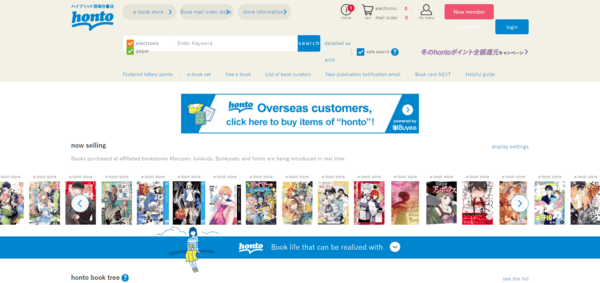 Price: Free
Site URL: https://honto.jp/
It is one of the most respected websites among those manga fans who can read original Japanese works. The collection is perfect, including several exciting categories from drama to gender-bending, and it's one of the best websites when you are looking for a specific title.
The attractive layout and the website's friendliness make it easy to navigate. However, this website only offers a little content for international users because most of it's content is in Japanese with no translations.
---
14. MangaKakalot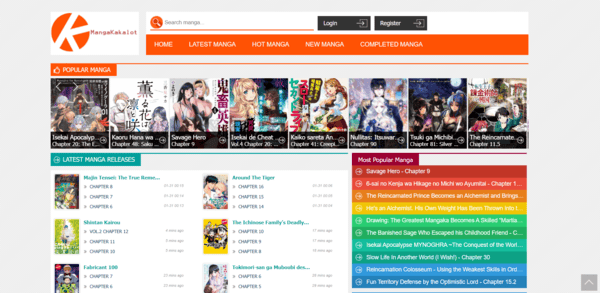 Price: Free
Site URL: https://mangakakalot.com/
The site has an excellent anime collection without any pop-up ads, which makes it a favorite among many users. It's completely free, and it covers every popular genre.
The layout is immaculate, and registering is optional, but it will allow you to get further manga recommendations from the site.
---
15. NineManga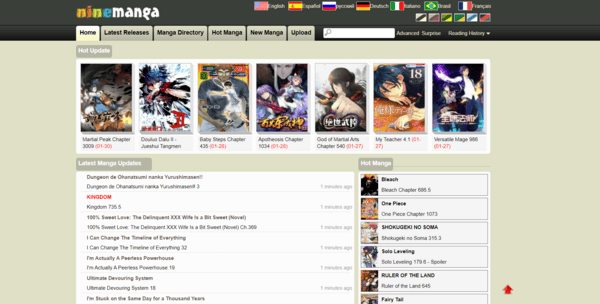 Price: Free
Site URL: https://ninemanga.com/
It is another free manga website featuring a balance between all popular and classic manga works and many of the latest releases. So this is one of the best places to go if you're looking for vintage titles. However, it will succeed you in keeping you current too.
The layout is very functional, and it's available in seven languages. In addition, it allows you to choose the color according to your preference.
---
16. Free Comic Online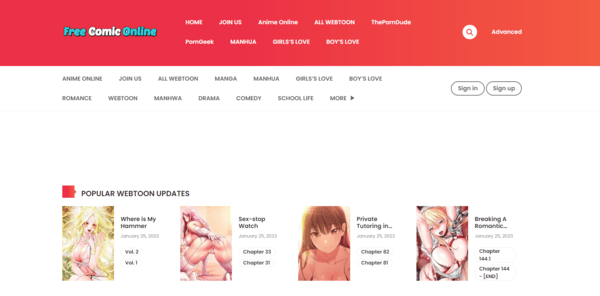 Price: Free
Site URL: https://freecomiconline.me/
It is a relatively new website. However, it has managed to scan many manga titles, thus populating an extensive manga library that has attracted many users quickly because they are carefully chosen to be among the most popular worldwide.
It is probably the best manga site for those readers who like highly eroticized content that dominates your website's catalog.
---
17. INKR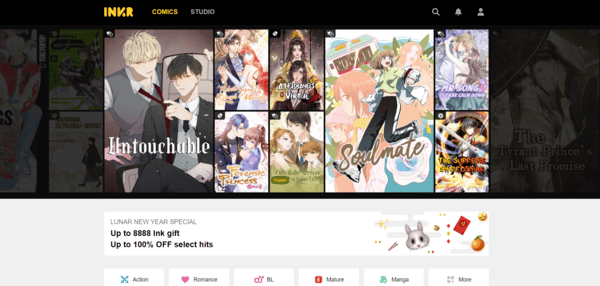 Price: Free
Site URL: https://comics.inkr.com/
This website is free, popular, and offers an app to showcase its extensive collection of manga comics.
The layout is minimalistic but functional, so the website is light on browsers and works very fast. The app is also very well designed, which helps enhance your reading experience.
---
18. Holy Manga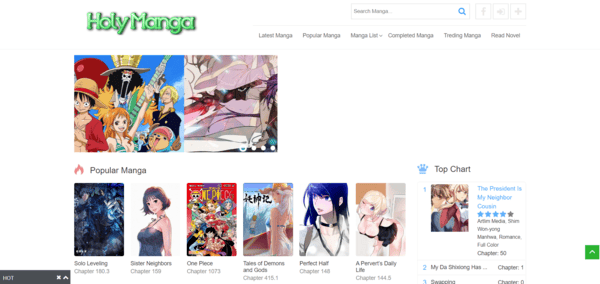 Price: Free
Site URL: https://w30.holymanga.net/
The manga library is vast, and it includes all kinds of popular genres, which you can enjoy without paying a cent. The layout is straightforward and intuitive because it's well-organized. It has some erotic ads and graphic content, so be careful where you browse it.
Read also: Best KissCartoon alternatives today
---
19. MangaJar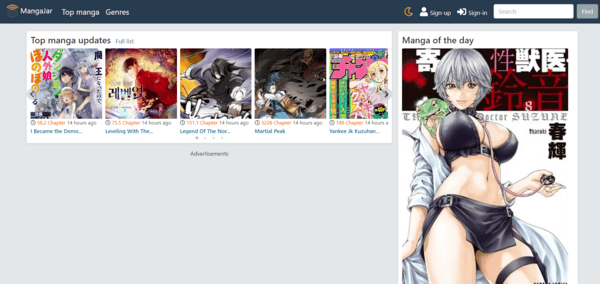 Price: Free
Site URL: https://mangajar.com/
This website's collection contains over 10,000 well-written manga series. Its simplified interface allows you to access new manga content easily.
Although the layout of this website appears basic, it is more functional than most other manga platforms. Furthermore, most of its features are hidden behind the login window, requiring you to sign up to enjoy the full experience.
---
20. Manga Komi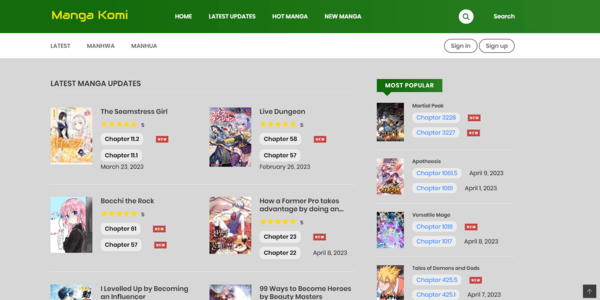 Price: Free
Site URL: https://mangakomi.io/
It is a decent option for accessing manga genres like manhwa or manhua, as well as the manga website of YaoiScan, from the home page.
Manga Komi is not extensive as other manga websites because its library only holds about 5,000 manga series. Fortunately, most of its English-translated collection is rare, making it a favorable option to discover newly published manga comics.
---
21. MangaSee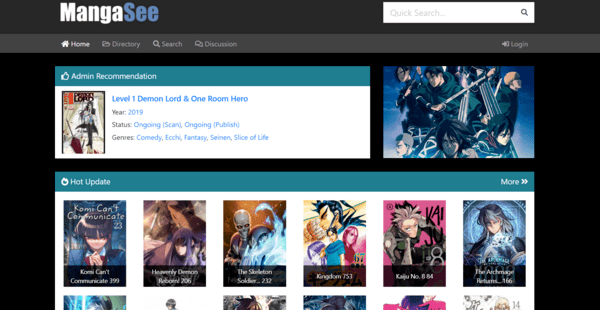 Price: Free
Site URL: https://mangasee123.com/
The global audience's biggest challenge is acquiring a translated version of Japanese manga. As a result, many good smaller series aren't recognized worldwide.
This manga site prioritizes bringing the unpopular manga series to the global audience by collecting manga from various translators and updating them in its library. It also provides an officially translated series, making it suitable for manga users outside Japan.
---
22. Anime-planet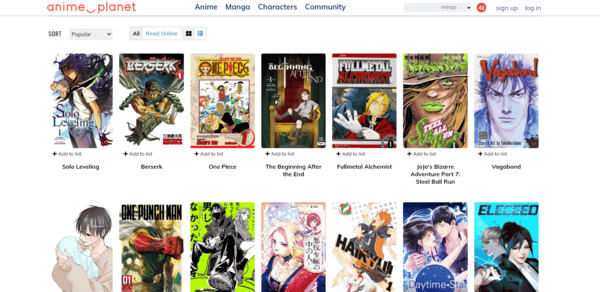 Price: Free
Site URL: https://www.anime-planet.com/manga/all
This website is among the top prominent anime streaming websites because it contains over 45,000 legal anime episodes. It also includes a section with thousands of manga comics for users to read.
The website has a search filter for manga series based on their ratings, publishers, volumes, tags, chapters, and more. Furthermore, it does not support malicious pop-up ads but only Google Ads, which are not annoying, making it a user-friendly platform.
---
23. MyAnimeList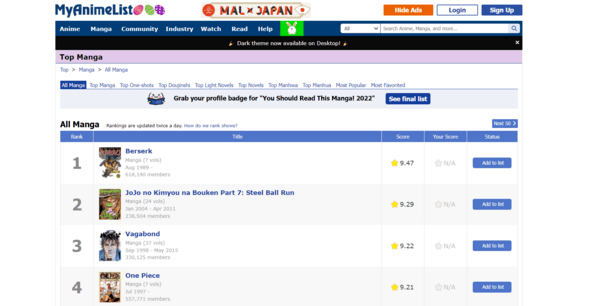 Price: Free
Site URL: https://myanimelist.net/topmanga.php
This website offers a platform to find the latest anime videos, anime and manga series, novels, manhwa comics, music videos, trailers, etc. The platform also allows users to write their reviews which will aid you in discovering the best anime and manga releases.
It has an extensive library of manga comics classified under various sections like genres, themes, demographics, explicit genres, magazines, and more. Also, every category includes subcategories, making exploring manga and comics simple.
---
24. Comixology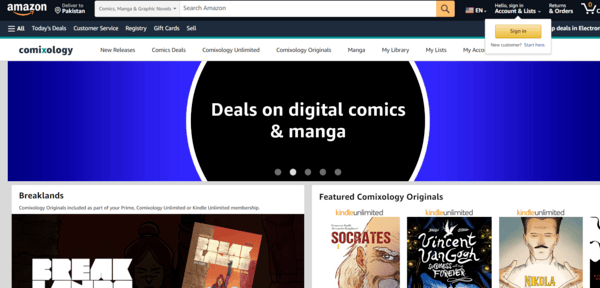 Price: Premium
Site URL: https://www.amazon.com/kindle-dbs/comics-store/home?_encoding=UTF8&merchant=&ref=nav_ya_signin&#nav-top
Amazon supports this website and has a diverse collection of digital comics such as Manga, Marvel Comics, comics from DCU, and more.
Thankfully, it has English-translated every graphic novel they have in its catalog. Unfortunately, the website does not have free offers, but you can purchase comics and manga at a fair price. It also has a simple user interface.
---
25. Book walker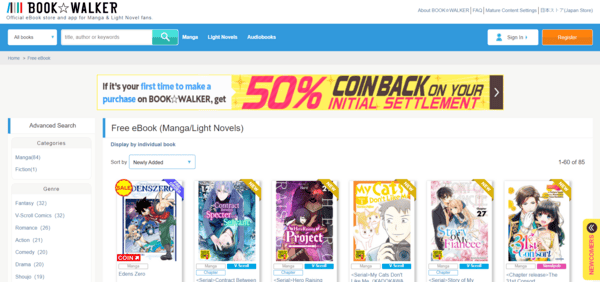 Price: Free, Premium
Site URL: https://global.bookwalker.jp/free/
It is a well-known website where you will pre-order unreleased comics or purchase the most popular manga titles. Also, it has a vast library of manga ebooks that anyone can download in any format by creating a free account.
The website's layout is well-designed and spotless, making exploring simple.
---
26. Mangaz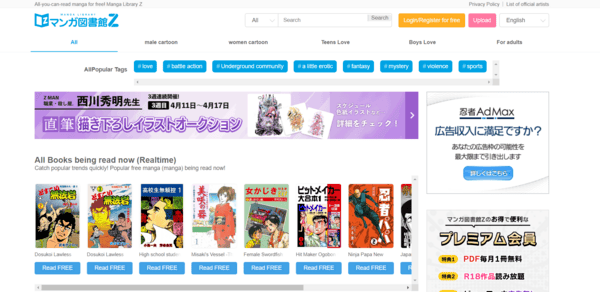 Price: Free
Site URL: https://www.mangaz.com/
This website has the most appealing appearance because of its white and baby pink color scheme. Also, it sorts manga content under female, male, and age groupings.
The site offers over 10,000 different manga titles that it updates occasionally. It also includes a few odd manga contents that are hard to access elsewhere.
---
27. MangaEffect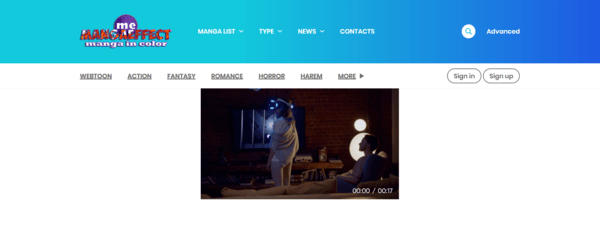 Price: Free
Site URL: https://mangaeffect.com/
This is a well-designed website where you will easily find different types of manga, manhua, and Manhwa comics. Moreover, it includes a series of ecchi and soft Yaoi, making it suitable for all manga readers.
The website has an interesting collection of about 4,000 manga comics, including the top 100 manga in a colored version.
---
28. EbookRenta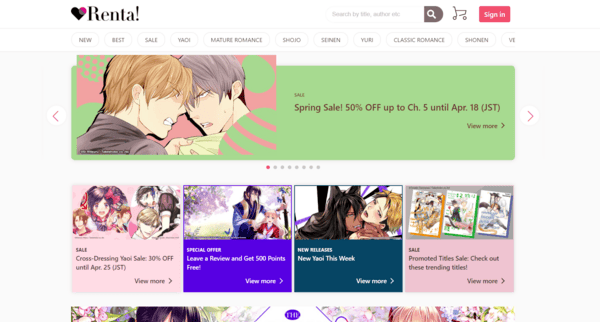 Price: Premium
Site URL: https://www.ebookrenta.com/
This is a superb platform for purchasing manga comics. It offers nearly all old and new manga comics translated into English in various genres.
Unfortunately, it is premium, so you must sign up for an account to access the content. However, there is a renting option for manga e-books from $1 to $20.
---
29. Manga club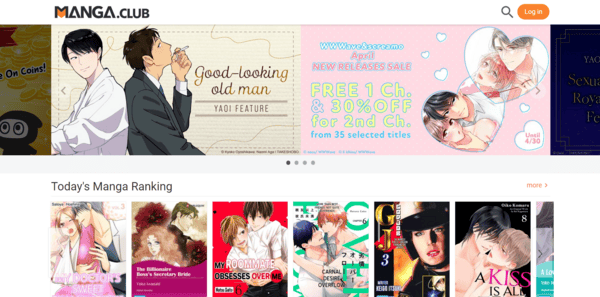 Price: Free
Site URL: https://www.manga.club/
This website offers a large collection of premium manga comics in its library for free daily.
After signing up for your free account, you can only browse manga content online because it does not have a downloading option. Fortunately, it has an engaging user interface.
---
30. Mangago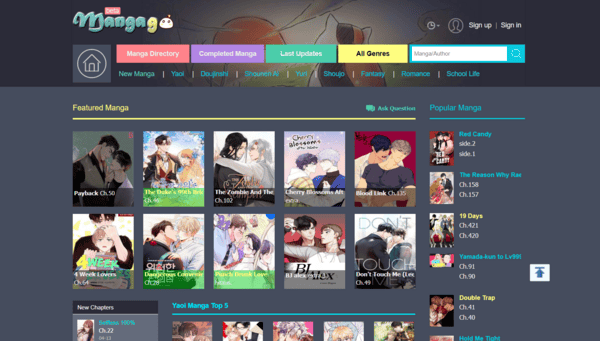 Price: Free
Site URL: https://www.mangago.me/
This website has a vast assemblage of manga comics from various genres. Thankfully, it has categorized the content based on their genres, making exploring new manga to read easy. The search option is limited because you can only use the author's name or the title. However, its user interface is straightforward, with a section of the most recent manga comics and the top five from each genre when you scroll down.
---
What to look for in a Manga website?
Most manga sites and apps are either pirated or have many ads. So, you should be cautious when selecting manga apps or sites because it might be difficult to identify copyrighted content, which might land you in legal trouble.
A legitimate and reliable manga website should constantly provide new updates of comics and chapters, be free from annoying ads, have a user-friendly interface, allow registered users to interact, and have a large database.
How to read Manga online?
To read manga online, follow the instructions outlined below:
Open your browser and enter the top manga website's URL. Alternatively, you can click on the site URL, which will take you directly to the website.
Search or choose the manga title you wish to read.
Click on the magazine icon that you have chosen.
Start reading the magazine from the manga website!
Is reading manga and comics dangerous
Using illegal hosting sites to read manga and comics may appeal if you are on a budget. However, you'll eventually pay a higher price. For example, some may compromise your security by installing malware on your device or even steal your sensitive information to sell to third parties.
Therefore, use our recommended sites above or research thoroughly to ensure the sites you visit to access manga or comics aren't illegal or dangerous.
Are Manga sites illegal?
Manga sites may violate the law if they spread their content without a copyright permit. The site owners can face legal consequences if caught, but because it is hard to monitor them, authorities unusually punish them by deactivating the platforms.
However, using manga sites is entirely legal in most regions globally, except for countries with strict copyright laws. You are unlikely to incur legal repercussions for using these services, but you should be wary of malicious sites that might threaten your privacy and security.
What are the risks of using Manga websites?
These sites are subject to various security concerns, detailed below:
Malicious software: Illicit sites typically have all types of ads and pop-ups that are inevitable from clicking. Opening these ads may allow viruses to infiltrate your device, compromising your privacy and your device.
Accidental torrents: Unplanned torrent downloads may occur when accessing manga sites, turning your otherwise legal visit illegal. This may place you on the radar of the government.
Poor security measures: Most illicit websites do not use secure servers, placing your device at risk by simply visiting them. So, you should use extreme caution if the sites request your personal information.
Signs of illegal manga sites
The following are some red flags that you are using a shady manga or comic website:
Options for torrenting: Most countries prohibit torrenting activities. So, finding a torrenting option on any manga or comic platform indicates suspicious activity.
Everything is free: Nothing in life is free. As a result, any website that provides a free library of recent hits is likely sketchy.
Many Ads: Many websites rely on ads to make money when they do not get enough from your subscriptions. Illegal websites are less concerned with creating a user-friendly environment than trustworthy sites are. Therefore, they display inappropriate ads and pop-ups.
Lack of affiliation: All legal websites must have a permit from publishers and content creators. Those that lack any official affiliation are likely unlicensed and untrustworthy.
Upload of scanned content: The latest manga and comics uploads are all high-quality digital content. Any comic recently uploaded in gritty scans is most likely illegally shared.
How to stay safe when visiting mange sites
Some manga sites may appear legitimate but are conduits of hackers to steal your information. Also, they can infect your device with harmful viruses. Fortunately, you can use a VPN to protect your connections when using manga sites.
In most cases, new editions are first released in Japan before being distributed elsewhere. Moreover, some titles are only available in Japan. However, a VPN will enable you to get a Japan IP address to access manga content and stay up-to-date with debuts.
Top VPNs for reading manga websites safely
Most manga sites are free, although others are only available in Japan. These platforms host interesting manga and comics that have yet to reach a global audience. You can unblock these websites using the top VPNs listed below.
1. ExpressVPN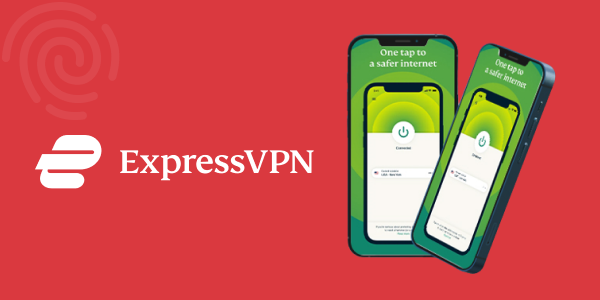 Key features:
Over 3,000 fast VPN servers distributed across 94+ countries
Robust AES-256-GCM data encryption
A network kill switch
RAM-based servers
A strict no-logs policy
A reliable split-tunneling feature
A 30-day money-back guarantee
ExpressVPN is our top recommendation for anyone looking to unblock manga content from anywhere globally. Its fast speeds ensure you can view manga content online or download it without interruption.
It has a decent network of 3,000+ servers in over 94 countries, including Japan.
The VPN employs bullet-proof AES-256 encryption for solid security, a no-logs policy, RAM-only servers, and a Smart DNS function that unblocks nearly every manga content.
Furthermore, the provider does not record identifiable information to keep your online activities private. Also, it is based in the British Virgin Islands, which is privacy-friendly and isn't part of the 5/9/14 Eye Alliance.
ExpressVPN is compatible with virtually every operating system, enabling you to access manga sites on any device you want. This includes common platforms like Windows, Android, iOS, macOS, and Linux. Also, it works well with many router brands and allows you to connect up to 5 simultaneous devices on a single account.
Pros:
Fast speeds for seamless browsing
A strong network that overcomes attempts to block VPNs
It unblocks most geo-restricted content, including manga sites
Cons:
It is expensive in comparison to other VPNs
---
2. Surfshark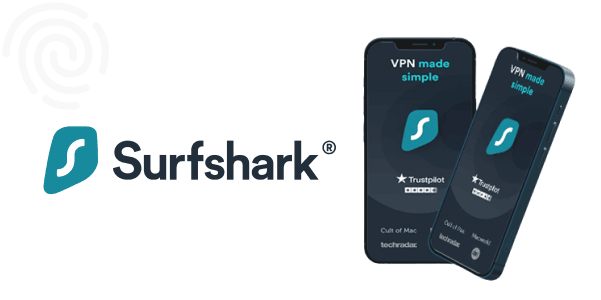 Key features:
3,200 VPN servers across 100 countries
AES-256 Military grade encryption
Effective Split-tunneling
RAM-only servers
P2P support
A smooth kill switch
An unlimited number of concurrent connections
Surfshark is a well-known VPN provider with cutting-edge technology for protecting your connections and unblocking geo-restricted manga websites. What's more, it is one of the most affordable VPNs, yet it offers premium features.
For instance, the company operates over 3,200 servers spread across 100 countries globally, including Japan. This means you can easily bypass geographical restrictions by selecting a server based in Japan, enabling you to read manga comics from anywhere worldwide.
Also, it provides AES 256-bit in CBC and GCM forms, making it hard for third parties to decrypt your data traffic. Furthermore, besides the affordable packages, it offers a 30-day money-back guarantee to risk-free test the services.
Pros:
Provides superb services at reasonable prices
Decent speed connections
Unblocks restricted manga websites globally
Cons:
Unpredictable performance of P2P servers
---
3. NordVPN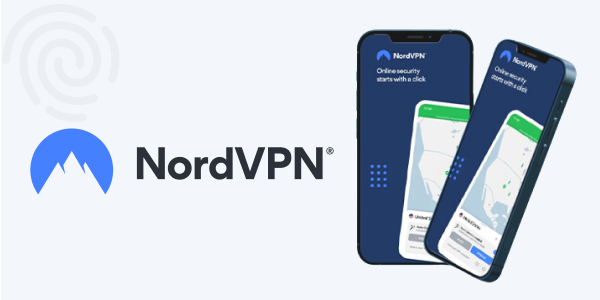 Key features:
5,400+ servers in 60+ countries
RAM-based servers
Customizable split tunneling
AES 256-bit encryption
No-logs policy
6 simultanoues connections
Includes a customizable kill switch
Compatible with Tor over VPN
A 30-day money-back guarantee
NordVPN is a worthwhile VPN service provider that unblocks most geo-restricted websites worldwide, including manga content.
It has a vast network of over 5,400 servers across 60+ countries, including Japan. This means you can get a Japan IP address and access manga content unavailable in your region. Thankfully, it provides user-friendly apps for almost all platforms. Moreover, the VPN uses AES 256-bit encryption, the most secure encryption available. The VPN offers additional features like a browser extension, six simultaneous connections, a no-logs policy, and split tunneling.
Pros:
Exceptional speeds with reliable connections globally
It is ideal for unblocking geo-restricted content like manga sites
Double VPN features that conceal your actual IP address
Cons:
Remote servers take a little longer to connect
---
Conclusion
Manga's popularity and relevance are growing stronger daily, even outside Japan. People worldwide quickly become addicted to this art form because they feel it captures real emotions on paper.
However, the Japanese language has been an obstacle for these graphic novels to become popular in the rest of the world. Also, the difficulty in purchasing hard copies, typically available only within the Japanese territory, is problematic.
Fortunately, translations for most of the new manga chapters published weekly are readily available online. Furthermore, the availability of websites like the ones we've shown you in this article has removed the traditional barriers preventing manga from becoming a worldwide phenomenon. And if a website is unavailable in your region, you only need a VPN for Japan.
So now, you can get the list of the latest releases for free and translated into English through many websites.
There are millions of manga websites on the internet. Still, most of them only last for a while, ruin your reading experience with advertising, are unsafe to use, or are geographically locked, so you can only see them if you live in the correct country.
The websites in our list will help you bypass all those problems to enjoy as much manga as you wish. We hope this article is useful and will help you enjoy many hours of reading.
FAQs
The answer depends on the website you choose to read the manga. We carefully selected only the websites that are safe for reading manga online. Unfortunately, thousands of other manga websites are on the internet, many of which are risky. So if you want to try any manga websites not on our list, we recommend you use a VPN and a good antivirus suite at all times.
As it happens with every form of art, beauty is in the eye of the beholder. Millions of people worldwide consider reading manga worthwhile because it provides entertainment and a genuine emotional release. However, only you can decide if reading manga is worth your time. Try a few websites we listed in this article, pick a few manga chapters, and give them a read; you will find out if the manga is your cup of tea.
No. Anime refers to animated movies or TV shows, while manga refers to graphic novels and comic books. Of course, many manga titles are typically turned into anime, especially the most popular ones. But each remains a different art form.
Every website we included in the list is safe for reading manga.