McAfee and Norton are some of the well-established and easily recognizable security software suites in the world. Both have a reputation for effectively protecting against all kinds of online threats. But between the two services, which is the best for 2022? Malware and virus have become widespread, so it is imperative to go for the best protection.
We did rigorous testing on both products and consulted reliable, independent test labs to determine which offers better protection. McAfee narrowly did better than Norton, but it is still a trustworthy and solid software.
Read on the review to see our in-depth assessment of Norton vs. McAfee software programs and why we think McAfee performs better.
McAfee and Norton comparison at a glance
Both McAfee and Norton score well in the defense against all antiviruses and malware. Here is a quick summary of both services.
McAfee Total protection covers 10 devices and includes:
Identity theft protection
Vulnerability scanner
Wi-Fi network security
PC optimization tools
File shredder
30-day money-back guarantee
---
Norton 360 covers 5 devices and includes:
50GB cloud storage
Unlimited VPN
LifeLock protection
Dark web monitoring
60-day money-back guarantee
| Features | McAfee Total Protection | Norton 360 Deluxe |
| --- | --- | --- |
| Firewall | ✔ | ✔ |
| Webcam protection | ✖ | ✔ |
| Antivirus and Antispyware | ✔ | ✔ |
| Network Attack Protection | ✔ | ✔ |
| Parental control | ✖ | ✔ |
| Banking and Payment protection | ✖ | ✖ |
| Ransomware protection | ✖ | ✔ |
| Anti-Phishing | ✔ | ✔ |
| Password manager | ✔ | ✔ |
| Performance optimization | ✔ | ✖ |
| File shredder | ✔ | ✖ |
| PC Cloud backup | ✖ | ✔ |
| VPN | ✖ | ✔ |
| Encrypted storage | ✔ | ✖ |
| Automatic apps update | ✖ | ✖ |
| Identity theft protection | ✔ | ✖ |
---
Background information
McAfee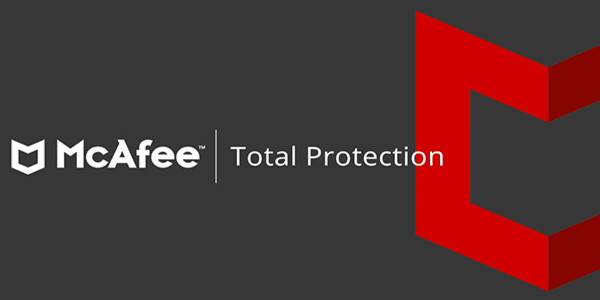 McAfee was established in 1987 as McAfee associates, named after its founder the infamous John McAfee, who resigned later in 1994. The firm has gone through leaps and bounds, including being acquired by Intel Corporation. Presently, it is developing various security applications and tools to provide antivirus protection for home users and businesses.
It provides a proactive and verified solution to secure networks, systems, and mobile devices worldwide. This allows users to connect and browse the internet safely and securely. With its Global Threat Intelligence, McAfee delivers products that empower home users and businesses to protect data, identify vulnerabilities and prevent disruption.
---
Norton 360 Deluxe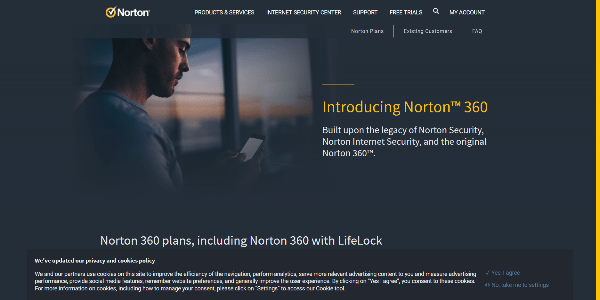 Initially, computer viruses were transmitted with floppy disks. It was easy to contain the viruses because the disks were removable media. However, things got more complicated with the advent of the internet, where viruses began to spread more rapidly.
Symantec was one of the first companies to start developing antivirus solutions. In 1989, the company introduced the Symantec Antivirus for Macintosh (SAM) that enabled users to identify and eliminate viruses on Apple products.
Around the same time, Peter Norton, a programmer and software publisher, introduced Norton Utilities for DOS. It enabled computers to increase boot speed and overall performance.
Symantec Corporation acquired Peter Norton Computing and launched Norton Antivirus for PC in 1991. It was the company's first consumer antivirus that effectively prevented antiviruses and removed malicious software. Since then, the antivirus has continued to develop to what we have today.
---
McAfee vs. Norton: Protection
Malware protection
Both McAfee and Norton are rated highly in terms of malware protection. We installed both programs on our devices to determine the one that provides the best protection. After installing the programs, we used two methods to run the test.
First, we used the real-time protection feature to scan the malware threats in real-time while the PC is running. For the second test, we used several malware samples from The European Institute for Computer Antivirus Research (EICAR). However, we deactivated the real-time feature before running the full system scan.
We also relied on independent lab results such as AV-Test, and AV-Comparatives. The table below shows our test results.
| | | | | | | | |
| --- | --- | --- | --- | --- | --- | --- | --- |
| Test file | Eicar sample 1 | Eicar sample 2 | Eicar sample 3 | Eicar sample 4 | Live sample 1 (adware) | Live sample 2 (Trojan) | Live sample 3 (Trojan) |
| McAfee | Blocked | Blocked | Blocked | Blocked | Blocked | Blocked | Blocked |
| Norton | Blocked | Allowed | Allowed | Allowed | Blocked | Blocked | Blocked |
Norton blocked only one of the Eicar samples and allowed three to pass, as you can see above. However, it stopped all the live malware samples, including Trojans and Adware.
Moreover, the HTTP blocked .txt files and EICAR sample but allowed zip files. On the other hand, HTTPS stopped .com while it allowed .zip and .txt files. The request to extract .zip files was rejected on both HTTP and HTTPS. After unlocking and unzipping, Norton immediately detected and eliminated live samples.
Contrariwise, from the results above, McAfee blocked all EICAR malware samples. It also prevented the attempt to install live samples of different malware.
We deactivated the AV tool and downloaded the EICAR and live samples to test the quick scan feature. Unfortunately, both McAfee and Norton failed to identify the malware threats and missed EICAR and live samples.
To counterpart our test, we also looked at other independent antivirus testing lab results. AV-Test continuously evaluated over 19 home user security products between September and October 2019. It gave each provider a score out of six in different categories based on the tests. So, we'll look at the scores both McAfee and Norton received for the various categories.
Both McAfee and Norton security software programs had a protection score of 6.0/6.0 during the November and December 2020 testing. They scored 100% in protecting against zero-day malware attacks, including email and web threats (Real-world testing). The detection of widespread and prevalent malware was also 100%.


McAfee was rated 6.0/6.0 in terms of real-world protection. It also scored a 100% protection rate for the prevention against zero-day attacks, including web and email threats. Similarly, Norton attained a higher score of 100% in protecting against zero-day attacks, including web and email threats. This is commendable as the industry average is 99.1%.
We also checked the latest AV-Comparatives malware protection test to see if the results match those by AV-Test. McAfee had a protection rate of 100%, putting it ahead of Norton, which scored 99.98%. The difference is minute, so both antiviruses will securely protect your devices.
Another way to compare the two products is to look at the False Alarm. When antivirus software flags a non-malware file is known as a false positive. This impacts the effectiveness of the antivirus because it can affect the device's performance. The test results show McAfee had fewer false positives than Norton.
---
Firewall protection
Norton has a Smart Firewall that works in conjunction with the Intrusion Prevention System. The former chooses the data to go through, while the latter ensures there are no malicious pieces retained. Moreover, it masks the vacant ports to cap the connection options for third-parties.
Indeed, the firewall will also block you from accessing harmful websites. Though, you should expect pretty few false positives.
---
Scanning
With most antiviruses, there are quick and in-depth scan options. The former checks your device's memory and other common areas, while the latter checks every part of your device. In most cases, the quick scan will only take a few minutes, while the in-depth scan takes hours.
Both McAfee and Norton antiviruses have a custom scan that allows you to choose the files and folders to scan. This is a great feature, especially if you connect an infected USB flash drive.
---
McAfee vs. Norton: Impact on PC performance
The main work of modern-day cloud antivirus or traditional ones is to keep your computer safe. It is always an advantage if it can do this without slowing your device's operations. We recorded our experience with both McAfee and Norton to test their impact on our PC's speed and performance.
We recorded the time it took to perform quick and full scans with both programs. This helped us to analyze our PC's speeds while the scanning is running in the background. The table below shows how each software performed.
| | | | | | | |
| --- | --- | --- | --- | --- | --- | --- |
| Test type | Full scan – Time (minutes) | Full scan – Number of scanned items | Quick scan – CPU utilization (%) | Quick scan – Memory utilization (%) | Quick scan – Disk utilization (%) | Quick scan – Time (seconds) |
| McAfee | 230 | 785000 | 41 | 80 | 92 | 340 |
| Norton | 115 | 970000 | 43 | 78 | 45 | 182 |
Norton took 115 minutes to complete the full scan. We continued to use our PC normally during the scanning process. However, the speeds slightly dropped when launching some apps and websites. Afterward, we ran a quick scan that took only 182 seconds to complete. On the other hand, the in-depth scan with McAfee took 230 minutes, while the quick scan took 340 seconds.
The table below shows how each software used resources.
| | | | | | | |
| --- | --- | --- | --- | --- | --- | --- |
| Test type | Control CPU utilization % (no scan) | Control memory utilization % ( no scan) | Control Disk utilization (seconds) (no scan) | Full Scan CPU Utilization % | Full Scan Memory Utilization % | Full Scan Utilization (seconds) |
| McAfee | 16 | 14 | 70 | 98 | 78 | 241 |
| Norton | 18 | 58 | 17 | 81 | 78 | 357 |
As you can see from the above data, McAfee has lower Control CPU and Control memory utilization than Norton. However, McAfee uses less control disk utilization than Norton when not performing a scan. Nonetheless, during full scans, McAfee utilizes more CPU power than Norton though they use the same memory amount.
We also checked the AV-Test and AV comparatives' tests to see how each software affects the PC's performance. The test measures how the antivirus impacts PC performance when performing certain tasks such as:
Browsing sites
Downloading websites
Copying files
Archiving/unarchiving
Installing/uninstalling applications
Launching applications
AV-Comparatives test shows that McAfee performed exemplary across all the tasks. Norton scored lower-performing fast on two and very fast on four tasks.
On the other hand, AV-Test performance shows that Norton outdoes industry standards in several categories. It also gives McAfee a score of 6.0/6.0 when running on low and high-end computers.
Both AV-Test and AV-Comparatives results put McAfee slightly ahead of Norton, although the difference is marginal. This complements our findings that the impact on PC performance and speed by both software is minor. Actually, we performed our daily tasks normally while the antiviruses were running in the background, and there were no lags.
McAfee vs. Norton: Features
Besides the malware protection, both providers offer plenty of extra features. Between Norton 360 Deluxe and McAfee Total protection, which has the best additional features? Let's find out.
McAfee total protection
Performance optimization
Home Network security
Award-winning Antivirus
Password manager
Security experts and online support
Safe web browsing
Multi-device compatibility
File shredder
Identity Theft Protection
Encrypted storage
Secure VPN
---
Norton 360 deluxe
Antivirus
Anti-Spyware
Online threat protection
Malware and Ransomware protection
PC Cloud Backup
Smart Firewall
Parental controls
PC SafeCam
Secure VPN
Some of the features such as firewalls, network security scanners, password managers are common on both McAfee and Norton. While others like parental control are not. So, your choice will mainly depend on your personal needs. Below, we take a closer look at some of the standout features of each software.
---
McAfee total protection
Identity Theft Protection – Nowadays, identity thieves can steal your personal information such as name and address, credit cards, social security number, etc. This feature will monitor the web and alert you if your sensitive data is in the wrong hands.
File shredder – This feature will eliminate sensitive files to ensure no trace will be saved. This means your private information will remain secure even if you sell your device.
Encrypted storage – Uses the AES 128-bit encryption to protect your sensitive files. With this kind of encryption, malicious actors cannot access your data.
---
Norton 360 deluxe
Secure VPN – A virtual private network (VPN) is an essential security tool that will keep you private and protect your information. It is instrumental if you frequently use unsecured public Wi-Fi hotspots.
PC SafeCam – With the rise of spying through the webcam and blackmailing scam, protecting your webcam is very important.
PC Cloud Backup 50 GB – This feature will enable you to store your PC's content in the cloud. It is the best way to survive a ransomware attack.
---
Norton vs. McAfee: User interface
Both security software programs come with user-friendly and intuitive designs. However, which is easier to use?
McAfee has a minimalist interface with white and dark grey as the main colors. The dashboard shows the current security status and a menu to access other settings. At the bottom, the buttons will enable you to launch virus scans, remove trackers, and update apps. The layout is not flawless, but it is effortless to use.
Similarly, Norton's interface has one main panel with four blocks at the bottom. This makes everything a click away with the top panel showing the current protection status. One of Norton's most annoying things is that it uses alerts to show changes in the software.
McAfee and Norton: Pricing and plans
Both McAfee and Norton have similar pricing structure with 4 plans. The table below shows a comparison between the pricing structure of each software.
| Product category | Price |
| --- | --- |
| Singe device | $34.99 |
| Individual/ couples | $39.99 |
| Family | $44.99 |
| Ultimate | $109.99 |
---
| Product category | Price |
| --- | --- |
| Norton 360 standard | $39.99 |
| Norton 360 Deluxe | $49.99 |
| Norton 360 with LifeLock Select | $99.48 |
| Norton 360 with LifeLock Ultimate Plus | $299.88 |
Generally, McAfee is a bit cheaper than Norton though most of the features are similar. However, you will find that some of McAfee's features are not available on Norton and vice versa. With both services, the expensive plans offer more features.
Both Norton 360 and McAfee offers 60 and 30-day money-back guarantees, respectively. Norton supports only some credit cards, while McAfee also has PayPal.
---
McAfee vs Norton: Customer support
Norton has 24/7 customer support all year round. There are several options, including a live chat, community forum, and an FAQ. You can also get in touch directly through the phone, Facebook, and Twitter.
Conversely, McAfee has reliable support, including help with Windows, Mac, and billing. There is also a knowledgeable virtual assistant to help you with common issues. You can also post your questions on the community forum. The company also provides a knowledge base, social media channels, and a live chat.
Conclusion
Operating systems continue to offer their built-in security systems, as for example, Microsoft does that in form of Windows Defender. Still, McAfee and Norton are probably the most prominent (and widely used) security software applications.
Both services offer dependable malware and virus protection. However, during our tests, Norton did not detect some malware samples.
McAfee is our top pick because of its advanced protection and other essential security features such as a VPN, etc. This does not mean that Norton is weak software. In fact, it outdoes McAfee in terms of speeds. As we mentioned earlier, your choice will mainly depend on your needs.
FAQs
All antiviruses come with different security features and tools. So, understanding what you need will enable you to choose the right one. Some antiviruses have extra features such as a virtual private network (VPN) and password manager, while others don't. Also, some software has compatibility across all device while others work on specific devices. So, it is always good to compare the best antiviruses to find the right one for your needs.
The primary purpose of an antivirus is to protect you against all types of malware. Some of the common malware include rootkits, trojans, spyware, worms, ransomware, and viruses. It will keep you safe in many ways, with real-time protection being the most effective. This helps to stop any active threat that might damage your device. Besides malware protection, other features you should consider are a faster detection rate, excellent system performance, good customer support, and more.
A top-notch antivirus should detect, identify and eliminate all malware types. Besides, it will provide real-time protection against all threats, whether you are online or offline. Many antivirus suites come with a VPN, password manager, and secure storage as additional security measures.  The combination of all these features will protect you against a wide range of cyber threats. 
Generally, both Norton and McAfee are security software programs that will protect your devices against malware and viruses. They even have similar features such as firewall, password manager, anti-phishing, and more.
It is not good to install multiple antivirus programs on the same device as it can lead to conflict. They will treat each other as a threat and can even slow down your device's performance. By and large, when installing antivirus software, it will detect other similar programs and request you to deactivate them.