ESET and Bitdefender are two of the most popular antivirus programs currently available on market. The great majority of clients with even a passing interest in internet security are familiar with the ESET brand.
There have been claims in the media that ESET sold its clients' internet browsing histories; hence, the firm has dubious qualities. Despite this, ESET continues to protect millions of businesses and families worldwide.
We have compared the antivirus protection provided by ESET and Bitdefender, as well as their impact on system performance and other characteristics. We will analyze the user interface, sign-up method, and prices for each of their products. Whether you are a novice or an expert in the world of antivirus programs, this article will provide you with the information necessary to select which antivirus software is appropriate for you.
Bitdefender antivirus vs ESET – The quick overview
As with any comprehensive investigation, we will begin by comparing and contrasting the two applications' most essential characteristics. The following is a quick summary of the most beneficial aspects of ESET's and Bitdefender's premium services, emphasizing the most significant benefits shared by both firms.
| Features | ESET | Bitdefender |
| --- | --- | --- |
| Price | Starting from $27.99/ year | Starting from $23.99/ year |
| Rating | 4.1 | 4.9 |
| Platforms | Windows, Linux, MAC, Android | Windows, MAC, OS, iOS |
| Free Versions (Trial or Demos) | No trial or free version | Free version available |
Comparing ESET with Bitdefender: In-Depth Analysis
Background
Bitdefender's origins may be traced to Bucharest, the capital of Romania. Bitdefender is an international cybersecurity business that was founded in 2001. It presently has operations in many countries and serves consumers in more than 150 countries worldwide. Bitdefender has also received various awards and certifications, each of which is listed on the company's website. The "Best Protection" award at the 2019 AV-Test Awards is one of Bitdefender's many other accomplishments.
The company ESET was founded in 1992 and had its headquarters in Bratislava, Slovakia. Since then, the company has received several accolades for the quality of its security solutions. ESET provides protection for a variety of devices used for either personal or business reasons. Consumers and industry experts alike have given ESET high praise across the industry. The firm has more than 110 million users worldwide.
---
Features being offered
Bitdefender is superior to ESET in terms of the number and variety of its features. Despite the fact that both providers provide a comprehensive and broad set of features, the competition is won by Bitdefender thanks to its extensive number of basic and sophisticated extra features. On the other hand, ESET provides just a few more features in addition to the fundamental ones.
The following tables portray an extensive ESET Vs. Bitdefender antivirus comparison based on their features:
| | ESET | Bitdefender |
| --- | --- | --- |
| VPN | No | Yes |
| Firewall | Yes | Yes |
| File Shredder | No | Yes |
| Virus Scans | Yes | Yes |
| Anti Tracker | No | Yes |
| Real-time Protection | Yes | Yes |
| Photo Encryption | Yes | No |
| Ransomeware Protection | Yes | Yes |
| Banking and Payment Protection | Yes | Yes |
| Password Manager | Yes | Yes |
| Parental Control | Yes | Yes |
| Anti-Spam | Yes | Yes |
Both Bitdefender and ESET provide complete protection against the most popular exploits. When compared to ESET, Bitdefender has additional features, such as a VPN, optimization tools, and a file shredder.
ESET's set of features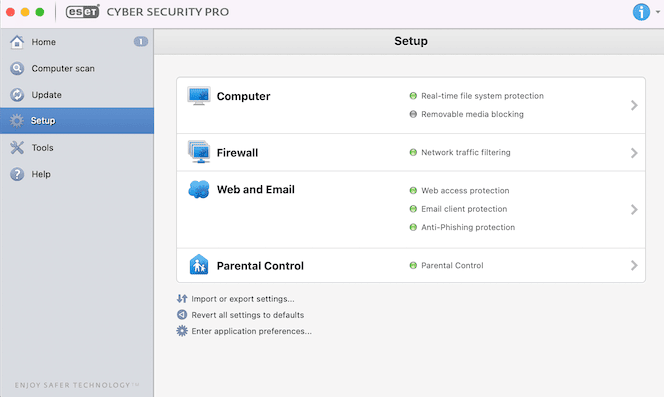 ESET provides a multitude of features, each of which needs to be emphasized. Not surprisingly, though, the vast majority of them are unavailable to anybody who isn't subscribed to the corporation's most expensive plan.
ESET comes equipped with a superb selection of anti-theft features. It offers anti-theft capabilities such as location tracking, anti-theft optimization, laptop activity monitoring, one-way messaging, and phantom accounts.