In an evergrowing technological market, to the extent that risks emerge, so do the tools to improve cybersecurity. There are numerous options in the IT security industry aiming to protect users' privacy. Yet, if there's one leading user adoption, that is VPNs.
Virtual Private Networks have made their way into the market thanks to being robust toolkits for a range of privacy & security needs. Especially after the Covid pandemic, their popularity peaked because of lockdown measures worldwide. Then, as more and more people needed a VPN, the options began to increase.
The result? A crowded market niche in which the vast majority claim to be the best alternative.
iTop VPN is one of those VPN providers asserting to be the finest. But what is the truth? What are the characteristics of this VPN, and what sets it apart from the rest? Buckle up as we cover these subjects and more in this iTop VPN review.
iTop VPN inspection – Quick review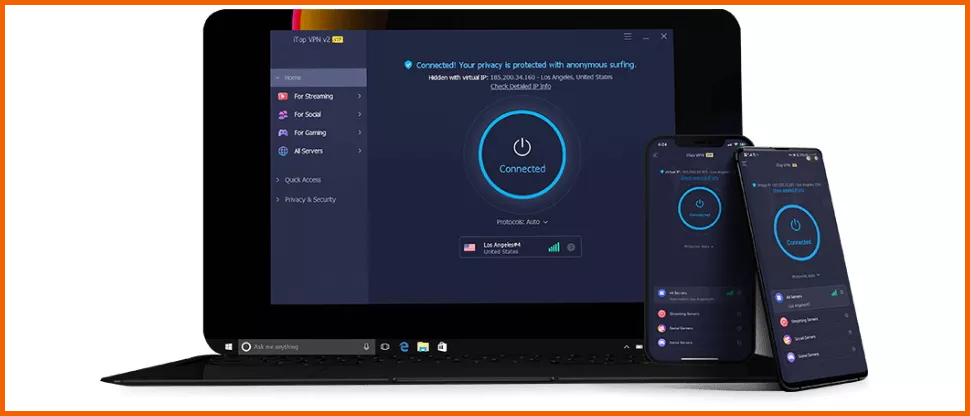 Are you in a rush? No worries! In this section, you can find a quick summary of iTop VPN. If you need a more thorough elaboration of the VPN, read all the content segments with our detailed insights after our iTop VPN inspection.
Unblocking capabilities: iTop VPN unblocks a few streaming websites and platforms. Some include Amazon Prime Video, BBC iPlayer, Hulu, and Netflix. However, the VPN didn't unblock other popular platforms. Score: 4/5.
Swiftness performance: It has numerous servers, but the iTop VPN network counts with only a few good performances. Some servers provide seamless connections, but the plenty of slow operations on others outweigh the balance. Score: 2/5.
Security features: iTop VPN gathers an integral set of security features to protect users. It counts on a top-notch VPN protocol, military-grade encryption, and additional capabilities. Protection goes beyond VPN; it integrates an ad blocker. Score: 5/5.
Privacy status: It's not the most privacy-furthering VPN. iTop logs most of the users' activity; there's no clarity on the privacy policy. Score: 2/5.
Parallel connections: Not the most connection-supportive, but iTop VPN offers up to five simultaneous connections per account. Score: 4/5.
Device compatibility: The weakest link of iTop VPN is compatibility. There are applications only for Android, iOS, macOS, and Windows. Score: 3/5.
Installation process: iTop VPN is user-friendly. All it takes is to download and install the app to start using the service. Score: 5/5.
Business model: iTop VPN has different subscription plans. Yet, it also offers a free version with limited capabilities. Score: 5/5.
Money-back policy: Users can try the service risk-free with a 30-day reimbursement policy. Score: 5/5.
Pros and Cons of iTop VPN
Pros
Military-grade encryption (256-bit AES protocol).
Impressive server network.
Additional functionalities, such as a Kill-Switch feature.
Blocks annoying ads.
Unlimited bandwidth for premium users.
Offers dedicated IP.
Cons
Lack of clarity on VPN protocols.
Erratic Privacy Policy.
Registration process requires too much information.
What is iTop VPN?
Having the VPN acronym as part of the name gives away the answer somehow. Still, in case it isn't clear, iTop VPN is a popular Virtual Private Network. It might not ring a bell for Western users, but this is a popular name in China.
For those wondering who owns iTop VPN, the company behind it is Orange View Limited, a Hong Kong-based enterprise founded in 2016. There's little information on its field of work or the overall product list. Yet, they launched iTop VPN recently, aiming to become "the top VPN app in the world."
While global adoption is not a reality, iTop VPN is increasingly popular among privacy-savvy users. The VPN is day by day earning its spot in the VPN industry. In the meantime, China is its operation center.
Speed – How fast is iTop VPN?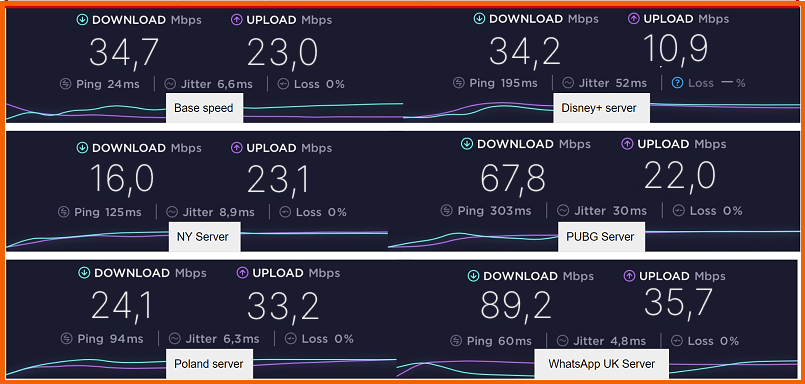 When you think of a VPN, two words immediately come to mind – privacy and security. But what about speed? Whoever says it's okay to shield your data at the expense of connection speed is lying. It's not enough to circumvent geo-restrictions and keep away from surveillance; you also want a smooth and fast experience.
As iTop VPN claims to be the top VPN app, nothing's more expected than a good performance. After testing iTop VPN connections, these are the results:
US servers: The servers located in the United States resulted in remarkable performances. The testing utilized a 1 Gbps connection; the return was an impressive average speed of 380 Mbps.
UK servers: The results in the United Kingdom were rather disappointing. The servers yielded an intermediate swiftness of 185 Mbps. Despite not being a slow connection per se, it's far from being an agile performance.
It's noteworthy to remember that depending on the protocol, the connection outcome varies. For example, for the OpenVPN protocol, the average performance should be around 428 Mbps. On the other hand, Wireguard and other top-of-the-art protocols have connections of over 500 Mbps.
A few VPNs in the industry let users select the protocol they want to use. Like this, we have some references to the usual performance of each of them. For example, you can see 300+ Mbps connections on ExpressVPN on the OpenVPN protocol. In contrast, the same provider exceeds the line of 600 Mbps using the Lightway protocol.
Some protocols are more robust in terms of safety. For this reason, it's acceptable to have slower connections on OpenVPN in exchange for military-grade protection. Yet, the problem with iTop VPN is that the protocol in use is unknown (more on that later). Yet, iTop VPN has outstanding connection speeds.
Privacy – How private is iTop VPN?
iTop VPN's privacy is, one more time, a topic where the company professes a result differing from reality. To clarify the matter, let's put things in perspective.
Review of the provider's Privacy Policy
iTop VPN claims to be a strict no-log VPN service. According to its Privacy Policy, the provider stores no identifiable data of the users, such as the original IP address, device IDs, or browsing history.
We do not log your activity while you are utilizing the Services, including your original IP address, browsing history, traffic destination, DNS queries, or transferred data.
Yet, they accept to collect some non-personal information, such as:
Cookies: iTop VPN accesses users' cookies to deploy ongoing connection analysis. They can turn off this when accessing the website.
Payment Info: It's usual for any pay-per-use service to collect payment info, such as email, credit card number, name of the cardholder, expiration date, address, and others. In this sense, the main concern is that iTop VPN uses a third-party payment process, so this delicate info is in the hands of externals.
Customer Support Info: iTop VPN retains any information users provide when interacting with customer support. Some of this info includes name, email, device, type of usage of the services, etc.
Clarity on connection protocols
There are plenty of protocols in the VPN industry, but two popular ones are OpenVPN and Wireguard. Although numerous other protocols are also in use, the consensus is to go for these two options as they've proven dependable. Of course, there are a few exceptions, for instance, ExpressVPN's Lightweight and the Catapult Hydra from Hotspot Shield.
Regarding iTop VPN, the provider has an irregular take protocol-wise. Instead of using an open-source and reliable option, the VPN employs a custom-made protocol about which there's zero to no information.
It isn't clear-cut to nobody how the protocol functions or its overall architecture. For all one knows, it could be safe and well-constructed, but when faced with doubt, it is best to question it.
Other privacy flaws
In addition to the above, two privacy issues are worrying. In the first place, we have the registration process. The provider requests personal information, such as zip address and full name. Secondly, assessing the SSL certificate configuration made evident an enormous risk.
We could access otherwise restricted sections of the website using an unencrypted connection. Considering that VPNs are the tools we trust to protect our data, this is disquieting, at least.
Lastly, it's important to note that the Chinese government may request access to all information the VPN collects.
Does iTop VPN keep logs?
Logs are not necessarily an abnormal quality on VPNs. Some providers have to log users' activity because of local jurisdictions. Nevertheless, if the goal is to enjoy private connections, a pro-log VPN is not your first option.
iTop VPN advertises a strict no-log policy as part of their service. Users can read in the privacy policy that the provider doesn't log users' activity when they use the services. Specifically, they mean browsing history, bandwidth usage, and VPN activity.
Despite this declaration, the same policy clarifies later that they may hand over users' personal data following subpoenas. Given that the provider requires explicit personal details while registering, one may expect that the provider may share that information with the authorities and any other detail stored for any purpose.
Additionally, considering that iTop VPN offers a free plan, it's absurd to think they don't register the bandwidth or the device ID.
---
How good are iTop VPN's desktop apps?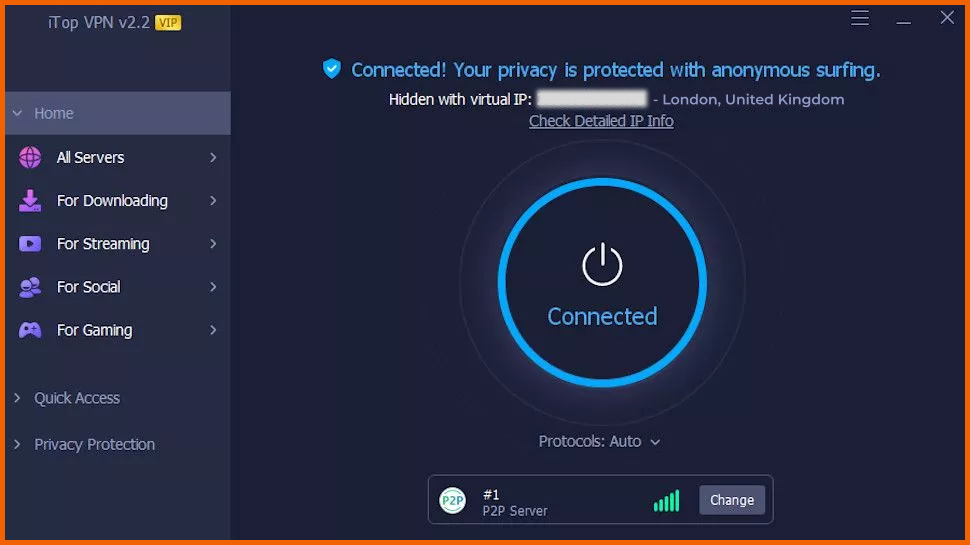 Whenever you think of an app, usability is one of the most crucial elements. Logically, there are a few other characteristics to remember, but the key to a smooth interface interaction is keeping things simple. After inspecting iTop VPN, this is what we found:
The good:
Quick access: iTop's desktop Windows App counts on a quick-access panel for users to explore. Selecting the proper VPN server can be challenging, but this panel avoids difficulties. Users have access to a set-in-advance server selection.
Dedicated servers: In line with the previous, users sometimes need the VPN to access a specific content or application. In this sense, iTop VPN counts on a dedicated server pool for every need. Users get options for communication apps, like Facebook or WhatsApp, and streaming platforms, like Netflix or Hulu.
The bad:
Automatic connection button: Most VPNs (if not all) give you a local connection by default when using the automatic connection function. Yet, iTop VPN chooses a random location when you use the automatic connection button. During our testing, when connecting from the UK, we got a server in Japan.
Server list: Considering VPNs work mainly using remote servers, any user would think a VPN must have an intuitive server list. If you're wondering how is the iTop VPN server list, the answer is not good. There is no order whatsoever to the list of servers. Users can't save previous or recent selections.
Safety – How secure is iTop VPN?
Safety is a significant aspect of any top VPN. It is crystal clear that users resort to VPN services looking for anonymous browsing and data protection. To achieve this, VPNs use rigid VPN protocols and encryption systems.
If you're familiar with the aspects to consider, you may encounter that the characteristics of a VPN program reveal a lot about security. After our security inspection, these are the revelations we found on iTop VPN.
Server network: iTop VPNs has over 1,800 servers globally. Though it is just a little more than half of what ExpressVPN offers (Top 1 VPN provider), its server network is significantly prominent.
Anti-advertising capability: iTop VPN blocks all icky ads when surfing the web.
Top-of-the-art encryption system: iTop VPNs uses a 256-bit AES encryption system for rigid ciphering.
Kill-switch function: iTop VPN counts on a Kill-switch function that activates in front of sudden disconnections. All data gets protection from cyberattacks.
Extra security protection system: iTop VPN has an additional security feature for superior users (reviewers); in essence, it's anti-leak protection.
Unrestrained bandwidth: iTop VPN puts no limits to bandwidth for users paying for a subscription plan.
Final verdict: While counting on tenacious security features like the encryption protocol and a kill switch, iTop VPN can't counterbalance the negatives. We cannot overlook not knowing how the protocol works or having DNS leaks. Similarly, being aware of the users' data requests on registration or having unclear privacy policies is inexcusable. Score: 2/5.
Other top security features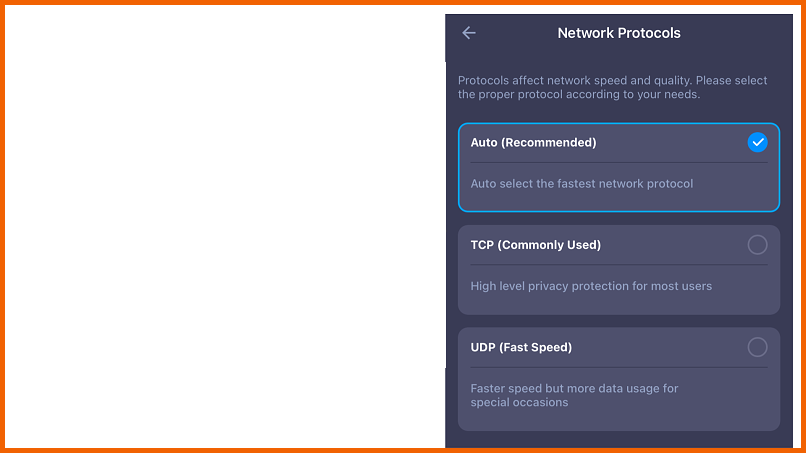 iTop VPN's security is questioned because of the absence of clarity in some aspects. We've evaluated each portion of the security scope, and the following are the results.
Connection protocols
The focus of the controversy is precisely this aspect. For all one knows, iTop VPN uses two VPN protocols on Windows, OpenVPN and PPTP. The first one is a top-class VPN protocol. It has proven dependable, and most top-notch VPNs use it today. On the other hand, PPTP is a first-gen protocol with a disreputable track record.
The situation with mobile devices gets slightly more complicated. Although one assumes it uses OpenVPN, no one knows what VPN protocol it deploys.
If users go to settings, they can see three options, each with a specific purpose. It has a default one recommended by the VPN, "TCP" for robust privacy and "UDP" for ultra-fast swiftness.
Furthermore, in terms of encryption, the scenario is also murky. iTop VPN asserts to deploy military-grade encryption to the traffic going through the VPN tunnel. Yet, there's no clarity if they mean they use AES-256.
Kill-switch function
On the bright side, it's favorable news that the VPN includes a Kill-switch function. Counting on this function is crucial for users as it helps them further security in case of sudden disconnections to the VPN servers.
Extra security protection system
iTop VPN advertises this additional function as a "Security Reinforce" capability. Nevertheless, the debate has been on the table because of disparities in this "protection" according to the subscription plan.
Similarly, after our inspection, we found that the Security Reinforce function only analyses the Windows device (not available on mobiles) and provides feedback. The evaluation returns recommendations, like turning on and off some Windows features to reinforce security.
Anti-advertising capability
It's always a well-off trait when a VPN includes ad-blocking capabilities. iTop VPN allows users from all subscription plans to block ads and have a seamless browsing experience. Premium users even have the chance to exclude their trusted websites from ad blocking.
Up-to-date features report – iTop VPN 2023
| Feature | Status |
| --- | --- |
| $11.99 per month on the monthly plan, $3.75 per month on the yearly plan, $2.08 per month on the bi-yearly plan | $11.99 per month on the monthly plan, $3.75 per month on the yearly plan, $2.08 per month on the bi-yearly plan |
| Parallel connections | Up to 5 parallel connections per account |
| Reimbursement policy | Offers a 30-day money-back guarantee |
| No-log policy | Doesn't keep logs |
| Torrenting capabilities | It doesn't support torrenting downloads |
| Server network | It has over 1800 servers |
| Operations | The operations base is in Hong Kong, China |
| Additional features | It integrates a Kill-switch button |
iTop VPN – Streaming platforms unblocking status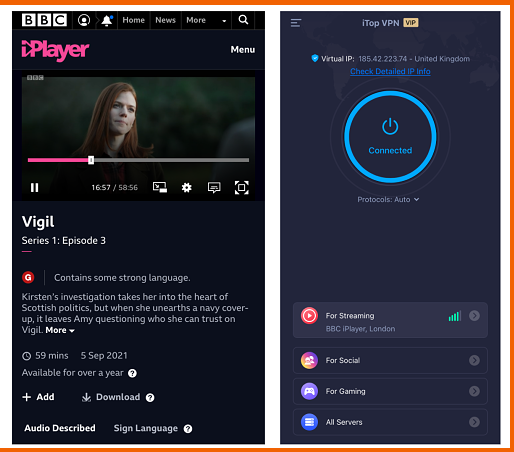 There's no denying that iTop VPN has robust unblocking systems. It has one of the most successful unblocking capabilities in the industry. After deploying our inspection, these are the results on the unblocking status of the major streaming platforms.
Streaming platforms unblocked: It unblocks Amazon Prime Video, Paramount+, Hulu, Apple TV+, BBC iPlayer, YouTube, and Netflix (Korean library).
Streaming platforms blocked: It doesn't unblock Netflix (US and UK libraries), HBO Max, and Disney+.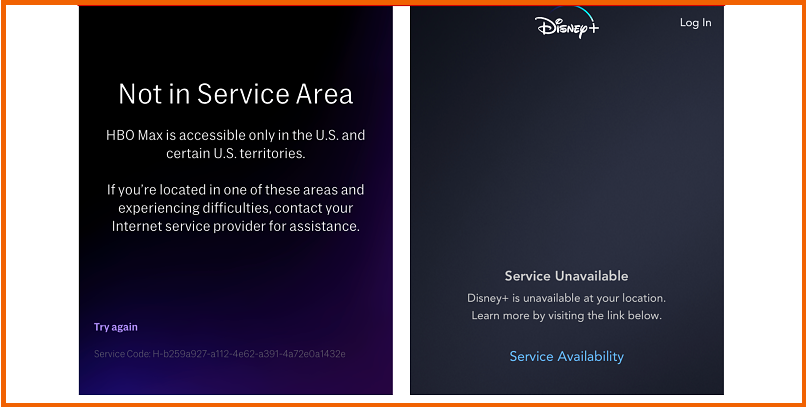 The results are overall positive. Yet, it's somewhat disturbing that the dedicated servers for Netflix US, HBO Max, and Disney+ didn't work. The VPN reflected it changed the IP address, but when accessing the content, the streaming response was "location out of service."
iTopVPN speed review
If there has to be a consensus on iTop VPN's speed, the best word to describe it would be unpredictable. Some servers are fast, but at the same time, it appears that speed isn't sustainable.
We previously mentioned the results of a UK and a US server after testing a 1Gbps connection. Now, let's see the results after taking a more average connection speed as a base. The starting point was a symmetrical connection of 25Mbps and a 30 ms latency.
| Server name | Download swiftness | Upload swiftness | Latency |
| --- | --- | --- | --- |
| US server (Netflix dedicated) | 27.76 Mbps (11.02% increase) | 29.51 Mbps (18.02%) | 149.8 ms (420.83% increase) |
| UK Server (Whatsapp dedicated) | 11.5 Mbps (54% decrease) | 12 Mbps (52% decrease) | 60 ms (150% increase) |
| Korean server | 15 Mbps (40% decrease) | 22.5 Mbps (10% decrease) | 26.88 ms (12% increase) |
| South Africa server | 28.75 Mbps (15% increase) | 25.75 Mbps (3% increase) | 29.28 ms (22% increase) |
Does iTop VPN support gaming?
A large portion of the VPN market belongs to gamers. Because of this, one of the most common attributes a VPN user looks for is compatibility with gaming. In a nutshell, fast connections. It's all about finding a server that works well on gaming websites.
After deploying our inspection on the VPN, we discovered iTop possesses numerous servers dedicated to specific games. Some of the dedicated servers are:
| Gaming servers for iTop VPN Windows app | Gaming servers for iTop VPN Android app |
| --- | --- |
| Roblox | Battlegrounds Mobile |
| PlayerUnknown's Battlegrounds | IndiaBrawl Stars |
| Call of Duty | Call of Duty Mobile |
| Warzone | Free Fire |
| | Genshin Impact |
| | League of Legends: Wild Rift |
| | Mobile Legends |
| | Player Unknown's Battlegrounds Lite |
| | Player Unknown's Battlegrounds Mobile |
| | Roblox |
The results of the tests reflect an average download swiftness of 40 Mbps and a latency of 80 ms. Generally speaking, these numbers are pretty good. Maybe the only potential drawback is the VPN not being compatible with any gaming console or even a router.
Yes, It's unfortunate! Yet, users can deploy an iTop VPN download on Mac, Windows, Android, and iOS.
How prominent is iTop VPN's server network?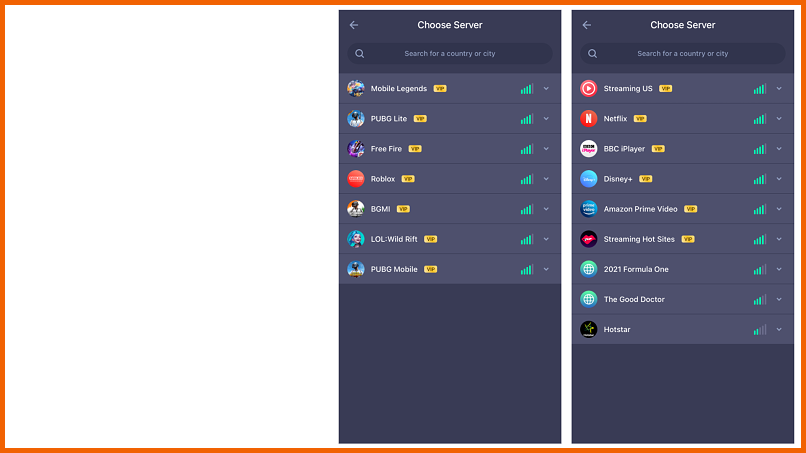 iTop VPN has a major server network with multiple servers available for different purposes. It has over 1,800 servers spread globally around 100+ countries. The following list shows some server locations a user can access with iTop.
| Continent | Countries |
| --- | --- |
| North America | Canada and the United States |
| Europe | France, Germany, the United Kingdom, Spain, Italy, Finland, Netherlands, Poland, and Russia |
| Asia | India, South Korea, Japan, Singapore, and UAE |
| South America | Brazil |
| Oceania | Australia |
One of the most fascinating things about iTop VPN is how it groups the available servers. Depending on the subscription plan of the users and the device, they can access the servers according to the following distribution.
Regular servers: Servers for general purposes. While they should work well for every activity, using dedicated servers for specific things, like playing a videogame, would be more effective.
Gaming servers: Dedicated servers for specific games.
Streaming servers: Dedicated servers for all major streaming platforms.
Communication servers: Dedicated servers for the main communication tools.
It's vital to note the divergence existing between free and premium accounts. While it's logical that the free plan limits the capabilities, the debate has been on the table because of the lack of servers in the free version. Other than that, we can all agree that iTop VPN has a far-reaching server network.
Further, connecting to and switching between servers is so easy.
Does iTop VPN support torrenting?
iTop VPN has a range of dedicated servers, but so far, it doesn't include servers for torrenting. The architecture of the VPN makes it possible for users to interact with torrent websites; as said before, iTop VPN has robust unblocking capabilities. Nevertheless, it wouldn't be the smart thing to do.
Users who access torrent websites often interact with or download pirated content. Depending on the country, sanctions can be severe, but users need to comprehend if it's up to iTop VPN, they will share information with the authorities.
As a result, the difference between being liable for piracy or staying clean lies in torrenting or not using iTop VPN.
Is iTop VPN functional in China?
Clearly, iTop VPN doesn't work in China. Our VPN inspection shows that they allege that iTop VPN doesn't work in China because of their policies. Yet, no further information is available.
How many parallel connections does iTop VPN allow per account?
Free users get only one account, while premium users can have up to 5 parallel connections.
After testing the parallel connection on five devices, we saw connectivity remained stable.
What devices is iTop VPN compatible with?
iTop VPN has an enormous gap to fill in terms of compatibility. The service currently supports Windows and macOS for desktop devices and iOS and Android for mobiles.
Review of iTop VPN installation process
iTop VPN has one of the most straightforward installation processes in the industry. The interface's architecture is user-friendly and enjoyable. Therefore, it is an ideal platform for VPN newbies.
To complete the Windows installation process, users must visit the website and download and install the application on their laptop or desktop. For mobiles, depending on the operating system, users go to the respective app store, download the application, and follow the instructions.
iTopVPN subscription values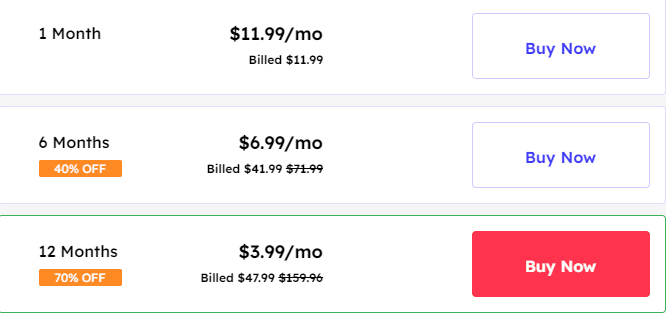 iTop VPN has three subscription plans. Even though some reports indicate premium accounts get different features, our testing shows each premium plan offers the same features. There are three plans: monthly for $11.99 mo, yearly for $3.99 mo, and bi-yearly for $2.49 mo. All plans include:
Over 1800 global servers
Anti-advertising/malware/tracker capabilities
Enhanced privacy safeguard
Split-tunneling function
Dedicated or dynamic IP address
Dedicated servers
No limits on bandwidth and data
How dependable is iTop VPN?
Most top-tier VPN services count with live chat support 24/7. iTop VPN, on the contrary, has a customer support system based on internal email communications. They have a Feedback page for users to place their inquiries, after which they have to wait for a response.
They claim to provide answers or solutions in less than 24 hours. Yet, the back-and-forth offline communication system throttles the process overall.
Conclusion
In a rapidly expanding VPN industry, it's only natural to see competitors put on a marketing hat to start promoting their services to the best of their abilities. The problem is sometimes, beyond marketing, there's not much left.
In this sense, much has been said about iTop VPN and its capabilities. So what is the reality? Well, let's just say that iTop VPN differs significantly from what it claims to be.
While it has a few noticeable features working in its favor, in the end, it's not enough to cover the drawbacks. The most concerning aspect is privacy; it is, at least, contradictory to have a strict no-log policy and still store some user data.
Similarly, to promote top-tier VPN and encryption protocols without providing relevant information.
In a nutshell, iTop VPN may not be the most deficient VPN service out there. Yet, it is far from being the best one.
FAQs
While iTop VPN advertises enhancing safety and privacy, these are two of the most debatable aspects of the service. For example, there's no clarity on the encryption protocol that the VPN uses. ITop VPN counts on military-grade encryption, so AES-256 or any other system. However, this is only an assumption.
The common ground on iTop VPN is ambiguity. In this sense, the answer is both yes and no. Yes, consider some major foreign Netflix libraries, like the one from South Korea, that the VPN unblocks. iTop VPN is efficient in unblocking this website hassle-free.
Nevertheless, if, like most users, you want to unblock Netflix US, finding out you can't do this with iTop VPN is helpful. Not even with the dedicated Netflix US server.
Speed is one of the traits iTop VPN is good at. Although connecting to an iTop VPN server may decrease your speed, it wouldn't be significant enough. For example, in our inspection, we've seen slight decreases of around 15% in the download speed and 20% in upload. Additionally, the latency is usually lower than 100 ms.
There is no easy answer to this question. The premium plans on iTop VPN supposedly have military-grade encryption. Yet, this is often called into question as there isn't clarity on the encryption protocol.
At the same time, iTop VPN's privacy is questionable. Third parties are involved in different internal processes; without knowing those parties in detail, there's room for suspicion.
Furthermore, hackers may probably be able to attack free accounts.
Yes and no! In the end, it has to do with the standards of the user. While unblocking websites and accessing specific content is possible with a free iTop VPN account, your privacy is at stake.