We are at a point in time when streaming platforms are booming. There are plenty of options to consume entertainment today, but in the end, no name has more resounding statistics than the well-acclaimed Netflix.
There's no denying that the production firm and streaming service have significantly grown over the past ten years. Perhaps this is the key to Netflix's success. The company continually seeks new opportunities to advance one step ahead of its competition.
It's hardly surprising that millions of netizens stream Netflix daily from everywhere. But, have you ever wondered why this company, above others, has managed to skyrocket and maintain its success?
We gave ourselves the task of gathering 51 of the most impressive statistics about Netflix. Buckle up as we discover the secrets to the indisputable success of the streaming powerhouse Netflix.
The top 10 Netflix statistics
Netflix achieved 230+ million subscribers globally in Q1 2023.
Nearly 50% of US subscribers choose Netflix as their predilect streaming platform.
Only 59% of Netflix's users pay for a subscription plan.
The average Netflix user is around 35 and 44 years of age.
The company had revenue of $8.16B in Q1 2023 (+3.76%).
An average of 22.4% of TV usage belonged to Netflix in 2022.
The platform has over 75,000 titles hidden.
The average time to binge-watch a Netflix series is five days.
Almost 20% of the global traffic share corresponds to Netflix.
Slovakia has the most numerous Netflix library in 2023 (8,400 titles).
What's the difference between Netflix Basic, Standard, and Premium plans?
Netflix offers three main subscription plans to provide different streaming options according to the audience's needs. For example, for users of high-end devices, it makes sense to have a subscription plan offering a top-notch streaming resolution. On the contrary, users of low- to mid-range devices; need more modest options.
These are the three subscription plans Netflix offers in 2023:
Basic plan: This subscription allows only one device per account; the definition quality is SD (Standard Definition).
Standard plan: Users can stream from up to two devices in high-definition format.
Premium plan: Netflix's premium subscription permits up to 4 devices per account. Additionally, users can stream in ultra-HD and HD formats.
Moreover, Netflix has been testing in a few territories some additional subscription plans, for instance, the Basic With Ads plan. This plan includes all the features in the Basic Plan but with some notable changes.
The definition is 720 pixels or High-Definition, with up to 5 minutes of ads every hour. Downloading the titles is not an option, and some content isn't available due to licensing. The plan is obtainable in the following countries:
Australia
Canada
Spain
Italy
France
Germany
US
Korea
Mexico
Japan
Brazil
UK
How many languages does Netflix support for content?
As of 2023, Netflix supports over 30 languages available as audio and subtitles. Although the platform picks the preferred audio/subtitle based on the account's location, users can edit the settings for manual selection.
Most users alter the settings to enjoy the content either in the original language of the title or their native language. Because of this, Netflix has become a superior choice for avid language learners.
Generic facts about Netflix
As was to be expected, streaming platforms peaked after the pandemic in 2020. The lockdown forced the world to stay home, and, as a result, many found on streamings a formidable escape.
Because of this, entertainment companies took over to scale their platforms. Yet, in this race, Netflix managed to stay on top again.
We have compiled the best Netflix facts and history; check out some of the most mesmerizing facts and astonishing statistics about the streaming giant.
1. Netflix achieved 230+ million subscribers globally in Q1 2023
According to Statista, the platform accumulated in the first quarter of 2023 a total of "232.5 million paid subscribers worldwide." This number represents the astronomical increase of nothing less than 1.75 million users. In Q4 2022, Netflix had 230.75 million subscribers.
What's more surprising about Netflix is how it has managed to sustain an increasing trajectory over the years. The following table reflects Netflix's growth from 2019 till the present.
| Year | Q1 | Q2 | Q3 | Q4 |
| --- | --- | --- | --- | --- |
| 2019 | 148.86 million subscribers | Q1 + 2.7 million subscribers (151.56) | Q2 + 6.77 million subscribers (158.33) | Q3 + 8.76 million subscribers (167.09) |
| 2020 | 182.86 million subscribers | Q1 + 10.09 million subscribers (192.95) | Q2 + 2.2 million subscribers (195.15) | Q3 + 8.51 million subscribers (203.66) |
| 2021 | 207.64million subscribers | Q1 + 1.54 million subscribers (209.18) | Q2 + 4.38 million subscribers (213.56) | Q3 + 8.28 million subscribers (221.84) |
| 2022 | 221.64 million subscribers | Q1 – 0.97 million subscribers (220.67) | Q2 + 2.42 million subscribers (223.09) | Q3 + 7.66 million subscribers (230.75) |
| 2023 | 232.5 million subscribers | N/A | N/A | N/A |
The table shows that the quarter with the most momentum for Netflix is usually Q4, with an average growth of 8.30 million subscribers.
---
2. In the first trimester of 2023, Netflix concentrated 74.4 million subscribers in the United States and Canada
The most profitable region for Netflix is North America, specifically the United States and Canada. Statista reported over 74 million subscribers for Netflix in the first quarter of 2023. The numbers are promising, considering the results of the previous year.
Let's remind that in 2022 Netflix had churns of 200+ million subscribers. They awarded the loss in the North American region due to the streaming expansion. The market experienced critical competition at the beginning of the year, with numerous platforms launching. As a result, different companies disputed the titles' licenses, forcing users to migrate to other apps.
Despite this, Netflix remained firm and deployed various strategies to stay afloat. The company boosted the original content creation and aimed to increase the number of subscribers in other regions.
The following is a list of the subscribers of Netflix globally in Q4 2022:
| | |
| --- | --- |
| Region | Million subscribers |
| Africa, the Middle East, and Europe | 73.53 |
| Asia Pacific | 36.23 |
| Latin America | 39.94 |
---
3. Nearly 50% of US subscribers prefer streaming Netflix
According to Similar Web, Netflix's market share, compared to competitors, is significantly larger. Despite the advances of free movie sites and other premium streaming platforms, Netflix remains the unquestionable leader in the United States. The following is Netflix's market share as of Q1 2023:
Netflix 44.21%
HBO Max 10.61%
Disney+ 6.40%
Hulu 21.18%
Paramount+ 4.34%
Nevertheless, it's undeniable that Netflix continues to lose market share as the competitors bring their A-game.
---
4. Only 59% of Netflix's users pay for a subscription plan
A survey showed only 59% of Netflix users pay for a subscription plan. The other 41% is divided into two groups. While 14% of them use the credentials of a friend or family member, 27% access Netflix content with an account someone pays for in a household.
Nevertheless, Netflix seemingly paid attention to this statistic as it started a crackdown against password sharing. Reports suggest this crackdown proved fruitful for the service as Netflix's subscriber count surged markedly.
---
Demographic Netflix data
Netflix's audience comes from more than 190 countries around the globe. Although each nation has cultural differences that impact the entertainment preferences of the viewers, Netflix has conquered them all.
These are some of the most riveting demographic facts about Netflix.
5. The average Netflix user is around 35 and 44 years of age
In the platform's early years, most users were Americans and 18-34 years old. Yet, the panorama is different today. The majority of Netflix users nowadays are millennials and Gen Z young adults. Likewise, Netflix has seen an increase in the 34-65+ audience during the last few years.
In summary, these are the age demographics in the United States in 2023.
From 18 to 24 years old: 12%
From 25 to 44 years old: 36%
From 45 to 54 years old: 19%
From 55 to 64 years old: 16%
Over 65 years old: 17%
---
6. More than half of the Netflix audience is female
Over 50% of Netflix users are female. Yet, the proportion is quite balanced between females and males, with 51% and 49%, respectively. Because of this, Netflix holds one of the most neutral audiences in the industry.
Of all the others, only Hulu has a similar distribution; the rest are partialized industries that are predominantly female-centered.
---
Netflix profit stats
In the end, it all comes down to earnings. Let's face it! There wouldn't be a battle for market share if there weren't money – a lot – involved. If you've had the question "Is Netflix profitable?" in mind, this section has the answer.
7. The company had revenue of $8.16B in Q1 2023 (+3.76%)
According to Statista, Netflix started 2023 with a total revenue of 8.16 billion. Like this, the overall performance continues the growth curve. In the following table, there's a comparison of Netflix's revenue between 2019 and 2023.
| Year | Q1 | Q2 | Q3 | Q4 |
| --- | --- | --- | --- | --- |
| 2019 | 4520.99 million dollars | Q1 + 411.13 million dollars (4932.12) | Q2 + 312.79 million dollars (5244.91) | Q3 + 222.52 million dollars (5467.43) |
| 2020 | 5767.69 million dollars | Q1 + 380.6 million dollars (6148.29) | Q2 + 287.35 million dollars (6435.64) | Q3 + 208.8 million dollars (6644,44) |
| 2021 | 7163.28 million dollars | Q1 + 178.5 million dollars (7341.78) | Q2 + 141.69 million dollars (7483,47) | Q3 + 225.85 million dollars (7709.32) |
| 2022 | 7867.77 million dollars | Q1 + 102.37 million dollars(7970.14) | Q2 – 44.55 million dollars (7925.59) | Q3 – 264.57 million dollars (7661.02) |
| 2023 | 8160.15 million dollars | N/A | N/A | N/A |
As the table shows, historically, Netflix has seen the most significant profits in the second quarter. The average revenue increase per year is 268.15 million dollars.
---
8. The platform's highest typical monthly profit comes from the United States and Canada
Due to differences in the world economy, Netflix's profit margin varies according to the region. As of 2023, North America continues to be the most profitable region. Statista reports the following revenue stats for Netflix for Q2 2023:
North America: $3.6 billion
Africa, Middle East, and Europe: $2.6 billion
Latin America: $1.1 billion
Asia Pacific: $0.92 billion
---
9. Netflix invested on content over 18 billion dollars in 2022
Without a doubt, Netflix has one of the most integral repertoires in the industry. The key to this is a massive investment in content. In 2022, Netflix invested over 16.7 billion in content. About this, Netflix's Co-CEO Ted Sarandos said in an interview that the company established "$17 billion on average" until 2024.
---
10. The market capitalization of Netflix is 195.82B as of June 2023
Netflix reached its maximum market capitalization in 2021 at $267.46B. However, the company has seen momentous changes throughout the years. The following table reflects Netflix's market cap variation since 2012.
| Year | Market cap at the end of the year | Variation concerning the previous year |
| --- | --- | --- |
| 2012 | 5.14 billion dollars | N/A |
| 2013 | 21.94 billion dollars | +326.39 percent |
| 2014 | 20.63 billion dollars | -5.95 percent |
| 2015 | 48.94 billion dollars | +137.17 percent |
| 2016 | 53.12 billion dollars | +8.54 percent |
| 2017 | 83.06 billion dollars | +56.35 percent |
| 2018 | 116.85 billion dollars | +40.68 percent |
| 2019 | 141.98 billion dollars | +21.50 percent |
| 2020 | 238.89 billion dollars | +68.25 percent |
| 2021 | 267.46 billion dollars | +11.96 percent |
| 2022 | 131.22 billion dollars | -50.94 percent |
| 2023 | 162.95 billion dollars | +24.18 percent |
---
11. The company economizes nearly 1 billion dollars yearly because of its tailored suggestion algorithm
Netflix uses an algorithm that suggests tailored content to each viewer. The NRE (Netflix Recommendation Engine) accurately suggests content based on previous interactions. Because of this, customer retention is significantly effective, making the company save nearly 1 billion dollars annually.
---
12. $11.56 is the average cost for a user to subscribe to Netflix
Financially speaking, things are looking so much better for Netflix today than a decade ago. In those days, Netflix invested around $48 to acquire a new customer. Further, each customer would pay 20 dollars to have a subscription.
In contrast, the landscape is brighter today. $11.56 is the average subscription payment of a user, and $16 is the value of a new customer.
---
13. The value of the first share of Netflix was $15
It was in 2002 when Netflix went public with 5.5 million shares at an initial price of $15. Netflix's market share worldwide valuation was 82+ million dollars. By the end of 2021, the shares had reached a $610 value. However, due to the significant user decline in 2022, Netflix shares plummeted.
At the beginning of 2023, Netflix's shares had a $294.88 value. At present, shares have increased by over 44 percent. The current value is 438.10 dollars per share.
---
Key statistics on Netflix shows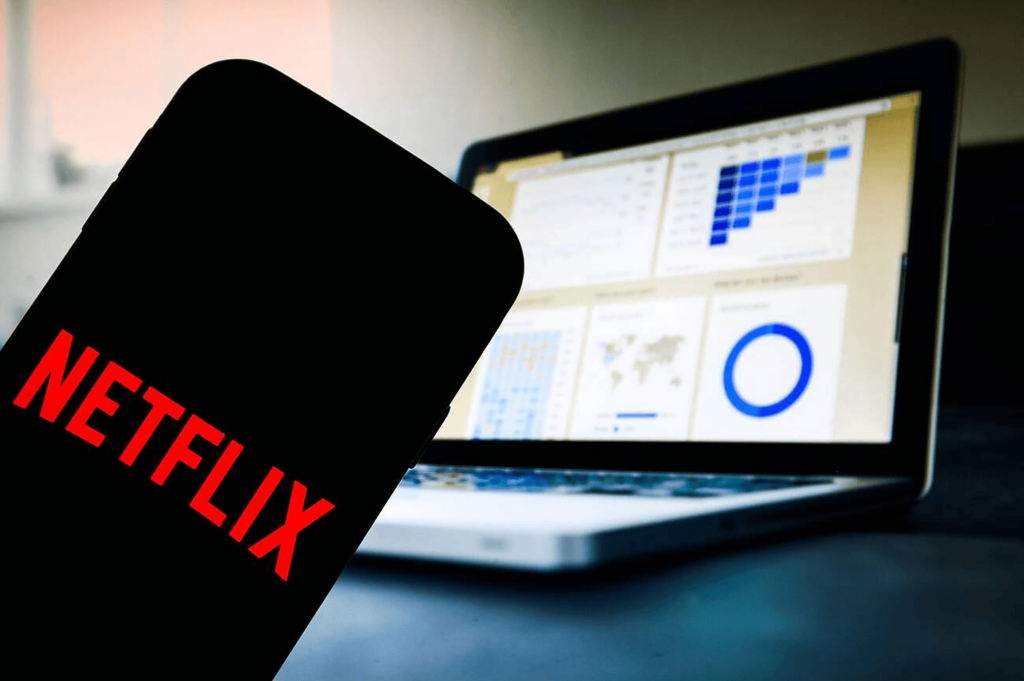 Millions of users stream titles from Netflix every day. What do they know about their favorite shows? This section lists interesting facts about the most acclaimed Netflix shows.
14. An average of 22.4% of TV usage belonged to Netflix in 2022
The television industry has undoubtedly declined in recent years, especially with the advent of streaming platforms. Last year, streaming represented approximately 30% of the total TV time. Furthermore, an average of 22.4% of TV usage belonged to Netflix.
The following list illustrates, in general, the TV usage percentage of all the streaming platforms in 2022.
22.4% belonged to Netflix.
Youtube was in second place with 20.4%
Coming third was Hulu, with 11.2%
Fourth was Prime Video, with 7.8%
The fifth place was Disney+ with 6%
The remaining 33.3% belonged to other streaming platforms.
---
15. The Squid Game is the new non-English series with the most views on the platform
September 2021 set a precedent in the history of Netflix. The Korean drama fiction Squid Game catapulted a world-class massive hype. According to Netflix data, the series pocketed 1,650,450,000 hours of reproduction after 28 days of being live.
---
16. The most long-lasting series on Netflix is Grey's Anatomy
In the binge-watch era, long-lasting series are an extraordinary case. Yet, even for mini-series lovers, the name Grey's Anatomy rings a bell. The show aired in 2005 on ABC, and it's currently streaming on Netflix.
As of today, the series counts 20 seasons and 400+ episodes, turning it into the most long-lasting series available on the platform. On the other hand, the original Netflix production with the most episodes is "Grace and Frankie," with 94 episodes in total.
---
17. Netflix gained seven Oscar statuettes in 2021
Awarding academies used to have reservations about honoring movies and series created for the streaming industry. However, the debate didn't last for long. In 2021, Netflix was nominated 36 times and gained the Oscar statuette on 7 of those nominations.
The following list shows the seven awards won by the streaming platform:
"Mank" by David Fincher – An Oscar for best cinematography and an Oscar for production design.
"Black Bottom" by Ma Rainey – An Oscar for best makeup and an Oscar for costume design and hairstyling.
"My Octopus Teacher" – Oscar for best documentary feature.
"Two Distant Strangers" – Oscar for best live-action short.
"If Anything Happens I Love You" – Oscar for best animated short film.
---
Fun facts about Netflix
So far, we've shared a few Netflix Statistics that largely reflect the overall Netflix performance. But what about the fun facts of the streaming? Find out in this section more about the licensing quests, award-winning movies and series, record-breaking, and more.
With so much content, we can all agree it's at least challenging to display the whole spectrum of categories included on Netflix. Because of this, more than 75,000 titles remain invisible. Yet, users can access them using specific codes that Netflix has created for a "content hunt" dynamic.
There are several lists on the internet with these codes. Once you have them, you must only put them on the search engine and enjoy the content.
---
19. In 2021, Netflix achieved a splendid 42 nominations for the Golden Globes
2021 was a remarkable year for Netflix, receiving 22 nominations for its movies and 20 nominations for original series. The following list shows some of the Golden Globes nominated titles:
The Crown
Ozark
Emily in Paris
Unorthodox
Over the Moon
The Queen's Gambit
---
20. The average time to binge-watch a Netflix series is five days
For regular viewers, finishing a title takes between a week and a month, but for binge-watchers, this duration would be crazy. It takes, on average, five days for binge-watchers to consume an entire series season. Yet, in this 8.4 million cluster, some attempt to finish 24 hours after the series release.
---
20. Netflix arrived in Canada in 2010
Netflix initiated operations in the United States as early as 1997. Yet, it arrived in Canada 13 years later, in 2010. Considering the closeness between the two countries, especially in the entertainment industry, Netflix's delay is at least strange.
However, the reality today is entirely different. Canada is one of the main Netflix markets. The country has one of the most extensive Netflix libraries worldwide.
---
21. Would you watch a movie 350+ times? This user did!
Although the user's identity remains unknown, it was Netflix, the very source of this information. In late 2017, the company revealed that John Doe watched 352 times the movie "Madagascar 3: Europe's Most Wanted."
---
23. Acclaimed movie-renting Blockbuster refused to buy Netflix in 2000
Arguably one of the most open secrets in the industry. The acclaimed movie-renting company, Blockbuster, refused to buy Netflix in 2000 when the latter approached.
Fifty million dollars was the offer made to Blockbuster, which refused the proposition as it considered Netflix's business model appreciably tiny. Little did the company know, Netflix would mean Blockbuster's burial a few years later.
---
24. Netflix has a presence in 190 countries and territories
It all started with the dream of distributing DVD collections. Yet, Netflix's scope has become unimaginable. Even in those countries where the company doesn't operate, the name Netflix resounds. Moreover, the company has revolutionized the entertainment industry. Netflix has a presence in nearly 200 countries today.
---
25. The country with the lowest subscription fee is Pakistan
Statistica has deployed a page associating Netflix prices in certain countries with their libraries' extensions. In this sense, Egyp, Turkey, and Pakistan were the three countries with the lowest prices. The latter with an impressively cheap price of $3.06.
When correlating the prices with the library size, Pakistan came in first place again with a library containing over 5,820 titles. The following list shows the proportion between price and library size in different countries:
Pakistan: $3.06 – 5,820+ titles
Egypt: $3.92
Turkey: $5.19 – 4,676 titles
Colombia: $5.41
Kenya: $5.55
Bolivia: $5.99
Paraguay: $5.99
Venezuela: $5.99
India: $6.02 – 5,917 titles
Moroco: $6.26
Estonia: $10 – 7,000 titles
---
26. Netflix paid half a billion for the copyrights of Seinfeld
Netflix received a low blow after losing the all-times-favorite Friends to HBO Max. Something similar occurred with the loss of The Office. Yet, faced with such punches, the company resorted to the smart measure, paying for the copyright of the renowned Sitcom, Seinfeld.
Although the investment was colossal, investing half a billion dollars was worth it. Soon after, the show proved why it was a hit in the '90s. Let's remember that Seinfeld made nearly 270 million dollars in 1998, not to mention the gigantic earnings it has collected to date.
Additionally, because of the deal, Netflix got closer to Jerry Seinfeld, with whom the company negotiated two stand-up comedy specials.
---
27. A year ago, Netflix acquired Animal Logic, a top-class animation studio in Australia
If there's one field on which Netflix still hasn't taken off, that is animation. The company has an eye on becoming an animation trailblazer. Yet, it is still building its infrastructure to make it happen.
In 2022, Netflix bought the top-class Australian animation studio Animal Logic. With this, the company moves forward to creating an end-to-end animation workshop.
One can expect Netflix to advance by leaps and bones, working hand in hand with the studio behind productions like Happy Feet, 300, Lego, Matrix, and others.
---
28. More than half of the VPN users unblock foreign Netflix libraries monthly
Virtual Private Networks are indisputable tools to help enhance security and privacy while surfing the web. One of the many possibilities of a VPN is unblocking geo-restrictions. Because of this, most VPN users resort to Netflix-compatible VPN connections to unblock foreign libraries.
More specifically, it is known that six out of ten VPN users utilize the service to unblock Netflix and other streaming libraries.
---
29. The first name of Netflix was…
Marc Randolph, the CEO of Netflix, has commented in different interviews that the name the team originally picked was Kibble. The word relates to dog food. The team chose it to remind the adage that says: "It doesn't matter how good your dog food advertising campaign is if the dogs won't eat the dog food."
They always knew it was going to be a transitory name. They chose it to force themselves to find a good name before launching. However, they still preserve the web domain www.kibble.com.
---
30. There's almost a 50:50 ratio of male and female Netflix
The male/female proportion of employees indicates a company's hiring approach and gender bias. In this sense, Netflix has managed to remain balanced throughout the years. Statista reports the following proportion of Netflix employees in 2022:
49.6% women
45% men
1.3% of other genders
---
Netflix's streaming facts
Evidently, Netflix is the streaming powerhouse. Yet, what's unknown for many is what the company does to set itself apart from its competitors. Find out here the most captivating facts on Netflix streaming.
31. Top countries producing the most widespread content for Netflix
Netflix-associated production companies are now spread all over the world. Yet, some stand out more than others because of launching global hits on the streaming platform. The following table shows the top seven countries providing the most trending Netflix productions annually.
| Country | Trending annual production prevalence |
| --- | --- |
| United States | 59.92 percent |
| South Korea | 6.63 percent |
| United Kingdom | 4.11 percent |
| Spain | 3.90 percent |
| France | 3.29 percent |
| Colombia | 3.04 percent |
| Mexico | 2.33 percent |
---
32. Almost 15% of the global traffic share corresponds to Netflix
Considering that the platform has a presence in nearly 200 countries, it makes sense that a quota of the global traffic corresponds to streaming on Netflix. In 2022, the internet traffic was over 100 billion Gigabytes. According to stats, at least 20 billion Gigabytes come from streaming Netflix content.
---
33. Over 20% of American adults stream Netflix every day
There are approximately 258.3 million adults living in the US. According to Statista, 23% of them are Netflix users who stream content daily. In essence, nearly 60K adults enjoy Netflix content periodically.
---
34. Sudan is the country with the smallest Netflix library
The African country possesses the tiniest library in the world. Merely 908 titles are available for users to watch.
---
35. Over 17,000 titles on Netflix's global collection are unique content
Counting on 17,000 unique titles (according to uNoGs data) is saying a lot considering the numerous streaming options today. The report also states that 1,500 titles are Netflix's originals.
---
36. Netflix's library is smaller in the UK compared to Amazon Prime since March 2022
Amazon Prime Video has been a close contender in the streaming battle currently ruled by Netflix. Yet, in the United Kingdom, Amazon has surpassed the library size of Netflix.
While Amazon has 9,000 titles available, Netflix has only 7,429 as of January 2023. However, the latter is still the most demanded service in the UK, with 17 million subscribers against 12.8 million of Amazon Prime.
---
37. South America is the region with the most Netflix binge-watchers
Statista data shows South America is the region with the most binge-watchers in the world. On average, subscribers spend 66,000 minutes streaming Netflix content after creating their account. Yet, most countries in South America almost double that mark.
Peru holds the most binge-watch subscribers; on average, Peruvians spend 118,776 minutes after creating their Netflix account.
---
38. Netflix is relying on original productions as a growth strategy
As the battlefield gets more tense daily, Netflix is turning on a new leaf and betting on its originals to boost its growth. Arguably, no other streaming platform has the infrastructure to produce its own content. As streamings fight over licenses, Netflix is focusing on its creations.
While in 2020, the budget was split roughly in a 60/40 percent proportion between acquisitions and originals, nowadays, it's near the equilibrium with 53.5% and 46.5%, respectively.
---
39. In the early days of Netflix, only 1000 titles were available
A one-thousand-title collection may seem insignificant today, but in 2007, that was a sizable amount. Moreover, Netflix started the game-changing action. The intense rivalry amongst DVD rental businesses at the time partially contributed to the company's decision.
---
40. 58% of Netflix subscribers choose the streaming service because of its originals
The fact that Netflix decided to lean towards original content as a priority is a hit. According to an eMarketer report, almost 58% of US Netflix subscribers admit to having a Netflix account because of the original content offered.
---
41. Netflix had the most nominations in the 2022 Oscars Awards
Since 2014, Netflix has made history in award ceremonies. Gone are the days when Netflix wasn't considered a studio. In 2022, the streaming received 27 Oscar nominations and 127 Emmys nominations. Some of the Oscar-nominated titles include:
Don't Look Up
Audible
Lead me home
The Hand of God
---
Stats about Netflix viewing
It's been an exceptional ride! But before we go, we must understand how the previous facts and data translate into viewing statistics. Including DVDs and binge-watching, Netflix has a long list of noteworthy achievements.
42. Slovakia has the most numerous Netflix library in 2023 (8,400)
According to a recent study made by Statista, Slovakia has the most numerous Netflix library in the world. The country holds a remarkable 8,427 titles available. The rest of the study shows seven European (Bulgaria, Estonia, Iceland, Ireland, Latvia, Lithuania, and The UK) countries with notable libraries and two Asian nations (Singapore and the Philipines.)
---
43. Over 50% of employees binge-watch Netflix content while working
A business portal (business.com) surveyed random employees globally to determine how many access multimedia content while working. The study showed that 51% of employees admit to accessing streaming websites like Netflix and YouTube.
The average time spent on these websites was around five hours. Although it may seem like a long period, it doesn't necessarily affect productivity.
---
44. The title with the most streams worldwide is Squid Game
The last report shown by Netflix on their content streaming stats was in June 2022. The latest report should be around the corner. In the meantime, the top five most-streamed Netflix titles are Squid Game (1,650 million hours), Stranger Things (1,260 million hours), Money Heist Season 5, and Bridgerton's Seasons Two and One.
---
45. Netflix also sells DVD content (but until September 2023)
As far as one knows, Netflix is only a streaming service. Yet, the company still sells DVDs that generate a negligible portion of its total revenue. In 2007, the company sent its billionth DVD to a user in Texas. However, the company has announced ending DVD sales by September 2023.
---
46. Roughly 70 hours a user spends on average watching Netflix content
The streaming market gained a lot of traction post-pandemic. Because of this, users have been spending more time on streamings after 2020. On average, a user watches 70 hours of content per month.
---
47. What's the most popular Netflix reality show?
According to IMDB, the most popular Netflix reality show in 2022 was "Love On The Spectrum US" (8.2/10). The character-driven show effectively highlights the hardships of people on the autism spectrum, especially regarding dating. Other popular realities include "Love Island" and "Pirate Gold of Adak Island."
---
48. Most users prefer the bingeable Netflix format
There were a few online rumors on the viability of the bingeable Netflix format. Yet, despite the speculation, Netflix has sworn in a letter they plan to keep their signature model.
We are aware; they said, "Our bingeable release model helps drive substantial engagement." No worries, it will continue as it is.
---
49. The personal recommendation engine is responsible for 80% of a user's content selection
In 2000, Netflix included a Recommendation Engine based on artificial intelligence in the platform. Back then, AI was a rare concept. Despite this, the company was confident of the technology's potential. Twenty-three years later, 80% of users watch content because of the engine recommendation.
---
50. Majority of Americans opt for binge-watching
According to Britannica, 73% of Americans prefer binge-watching. On average, Americans watch up to six series episodes at once. Moreover, each binge-watch period lasts three hours.
---
52. The most-viewed English series is Stranger Things
"Bridgerton" had set the bar high, but the last "Stranger Things" season broke all the records. The long-awaited season four of Stranger Things surpassed Bridgerton's records in just three weeks. In total, it accumulated more than five billion viewings in a week.
---
Quarter 2, 2023 Forecast for Netflix
We've seen several facts on the current and previous performance of Netflix. But what about the future? Well, here are the expectations set for the popular streaming platform.
Netflix predicted a revenue rise between 4 and 6 percent in the second quarter of 2023. While it missed this estimated goal, Netflix still garnered a huge rise in its user base, hinting at the platform's continued popularity.
The controversial paid-sharing mode the company invented to avoid account sharing offered positive results after being tested. In this sense, the second and third quarters of the year will see a massive rollout worldwide.
For Q3 2023, Netflix forecasts operating margins and incomes of 22% and 1.9 billion dollars.
Conclusion
After seeing all the 51 Netflix statistics, there's no wonder why the company is still the number one leader in the industry. The competition is getting fiercer daily, but Netflix has the edge in the know-how. While most streaming platforms are under five years old, Netflix has been in the industry for over two decades. And yes, the powerhouse is not going anywhere.
From the get-go, Netflix has played the game with wisdom; it all seems to point out that it will continue this way. There's no certainty about Netflix's far future, but the landscape paints a bright horizon.
FAQs
In no particular order, the ten titles with the most streams globally are Stranger Things (Seasons 4 & 3), Squid Game, Wednesday, Money Heist (Parts 4 & 5), Dahmer – Monster: The Jeffrey Dahmer Story, Bridgerton (Seasons 1 & 2), and Lucifer.
According to Demandsage, Africa, the Middle East, and Europe (76.7 million) were the regions with the most paying subscribers after Q4 2022. In second place is the North American Region (Canada and USA: 74.2 million).
Streaming became a disputed marketplace after the pandemic. Because of the numerous streaming services, Netflix lost a notable portion of its market share. Yet, after Q2 of 2022, the company started to experience an increase again.
As of July 2023, the number one Netflix global title is the third season of The Witcher.
According to data from Statista, the lowest subscription price of Netflix belongs to Pakistan. The cheapest subscription costs $3.06 monthly.
Most global products or services aren't available in countries with global political conflicts, such as North Korea. In this sense, Netflix has no presence in this country, and others like China, Russia, Crimea, and Syria.
Some of the biggest Netflix flops in 2022 include:
1. Russian Doll
2. Tall girl
3. Space Force
4. Texas Chainsaw Massacre
The list of codes is quite extensive; here are some of them:
Southeast Asian Movies: 9196
Movies for ages 8 to 10: 561
British Movies: 10757
Independent Action & Adventure: 11804
TV Mysteries: 4366
Faith & Spirituality Movies: 52804
Australian Movies: 5230
Science & Nature Documentaries: 2595
Education for Kids: 10659
Social & Cultural Documentaries: 3675
Political Documentaries: 7018
Kids Faith & Spirituality: 751423
Dramas: 5763
Courtroom Dramas: 2748
Social Issue Dramas: 3947
TV Horror: 83059
Horror Movies: 8711
Gangster Movies: 31851
Classic Romantic Movies: 31273
Classic Westerns: 47465
Soccer Movies: 12549
French Movies: 58807
Jazz & Easy Listening: 10271
TV Comedies: 10375
Basketball Movies: 12762
Crime Thrillers: 10499
Romantic Movies: 8883
Showbiz Dramas: 5012
Political Thrillers: 10504
Independent Comedies: 4195