Google tracks a lot of your activity on and off the web in myriad ways. The advertising giant collects data about users every time they searche the web; when they visit a website, use a mobile device, you name it. Google collects a lot of data about you, which you can say is the price you pay for getting so many of their services without spending money. But there are ways you can limit what Google and other search engines can collect about you.
If you want to manage the amount of personal data you expose to marketers and other third parties, you should make it routine to delete all Google searches. While deleting your Google search history does not erase everything Google has collected about you, it minimizes the amount of data available to third parties. Many corporations, including Facebook, collect data about your online activity and use it to match you with ads, technically selling your data to marketers.
One way to ensure you don't expose your online activity is to use a VPN to encrypt your connections. Besides hiding your IP address, a VPN makes it difficult to decrypt your data, so corporations cannot track what you're doing online.
However, if your search history remains on your devices, you're still exposed to this kind of data mining. So, it's necessary to know how to delete google search bar history on the different devices you own. Through this article, we share the procedure for how to remove your online data and research history.
Note: Some ISPs will know when you visit the "delete history" section of your browser because of privacy and safety laws. In some countries, ISPs are obliged to share this information with government authorities. If you want to ensure maximum possible anonymity, you should use a no-log VPN service such as ExpressVPN before visiting the "browsing history" section to delete data.
What Google knows about you
Google earns most of its money through ads. They generate an advertising profile for each user to ensure accurate ad targeting. They collect data about you and hand it to companies, who personalize their advertisements based on this data.
For example, when you search for "basketball courts near me," Google will figure that you're a basketball fan, so they'll update that information on your advertising profile. After a while, you'll begin seeing ads about basketball on YouTube and the websites you visit that use AdWords. That's why it's essential to disable ad tracking on your devices.
The good news is that you can see how Google classifies you by going to "Ad Settings."
To review this information, click on your Profile, then "Manage Your Google Account." On the list of options to your left, click on "Data & personalization." Scroll down to "Ad personalization," as shown in the image below: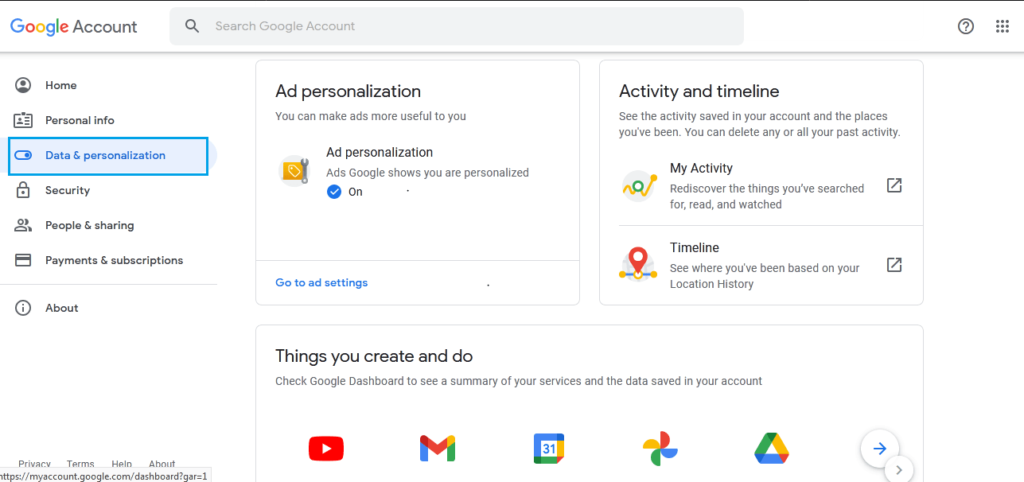 Click on "Go to ad settings." Then, scroll down to see how Google has classified you based on the data they collect from your activity online and offline.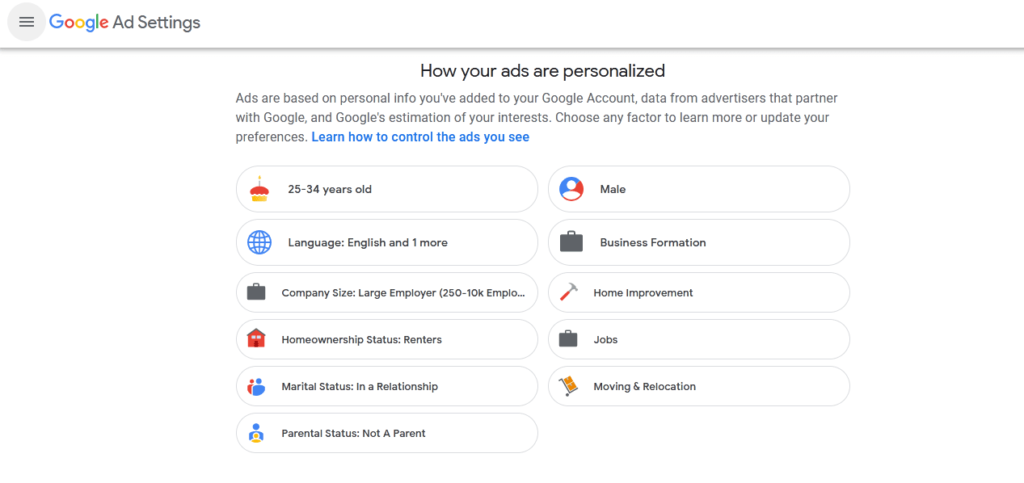 Deleting your browser history on your desktop
Friendly site notifications asking you to accept cookies should not fool you. Always clear your browsing history to prevent websites from tracking your activity around the web. Most of the history is cached in your device and could slow down your browser. History can also expose you to malicious attacks, especially if you leave active logins.
To protect your data while using the internet, you must empty your cache regularly. Clearing your browser history takes simple steps, and for some web browsers, you can schedule the process so the browser automatically deletes history immediately when you close it. If you're looking for how to clear google search history on the computer, we have shared the simple steps you should follow below. 
On Mozilla Firefox, you can access your browser history by clicking the icon on the top right corner that looks like a set of books and navigating to the "History" tab to clear your history.

If you're using Chrome, the process is simple, as you can access settings by pressing Ctrl+H. Alternatively, click on the three dots icon and then the "History" tab. It opens a new page with all your browsing history. Now, click on "Clear browsing data" to delete the search history of Google Chrome and any other information about the websites and apps you visited.