If you are an avid internet user, you must have experienced all the pros of this technology yourself. But, if it is all that good, what made people search for information about monitoring tools, like a detailed WebWatcher review?
Let me explain!
The advent of the internet has opened up endless opportunities. With just a click, you can access information, stream the latest songs and watch trending videos and movies, carry on your work videos, buy and sell goods, and much more. Likewise, the internet also bears many things to facilitate the kids. They can play online games, watch their favorite cartoons, chat with classmates and friends, get the latest celebrity gist, like Snapchat pictures or view videos on Instagram, get their homework done, gather information for projects, and lots more.
However, just as the internet can be of immense benefit, it can also pose a risk to anyone, including employees and children. This is because the internet is also a place for inappropriate content. Cyberbullies can also use the platform to spread negativity.
Fortunately, you do have ways to monitor your employees' and children's online activities to ensure they are on track. One such option is WebWatcher. This monitoring platform is different from other competitors on the market and works quite well for keeping an eye on other users' activities.
But what makes it different from other options? Is WebWatcher as good as they say? What are the downsides to the platform? You will get all the answers you seek in this simple, detailed, and unbiased review of WebWatcher.
Let's get started already, shall we?
What is WebWatcher all about?
WebWatcher is a cross-platform monitoring app created to retrieve information from a selected device. Upon creating an account, it allows you to access any target information from anywhere you are.
The platform functions on various devices. However, it focuses solely on disclosing the online activities of a specific individual. Also, the tool enables you to view call logs and messages.
With this tracking app, users can view the target user's web seamlessly, track real-time location via GPS, and so on. Also, with this, you never have to fret anytime your kids are using the internet.
Curious to know more about this parental control app? Let's delve into the details with this WebWatcher extensive review.
Features of WebWatcher monitoring platform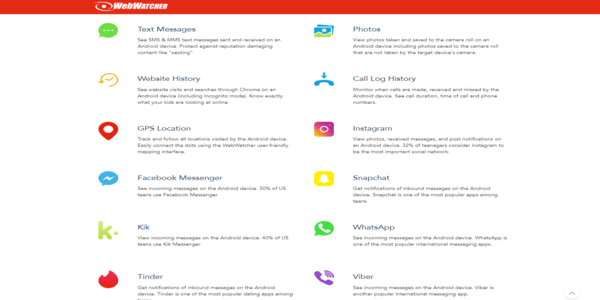 WebWatcher is steadily becoming more popular in recent times. Business owners, leaders, and parents rely on the platform because of its incredible features. Emerged as an excellent monitoring solution, it has the following features.
Records everything
Once you install WebWatcher, it takes screenshots of everything on the device and sends them to the guidance's dashboard for review. This feature doesn't work on iOS devices, though.
The app will also be able to access your ward's SMS messages, call log, GPS location, browser history, and picture gallery. it's worth mentioning that the program also has a keylogger. With all this information, you can always monitor your children's activities and be sure they aren't being bugged by a predator, doing drugs, taking inappropriate pictures, or involved in any other mischievous activity.
---
Monitors social media chat
When it comes to monitoring chat logs from essential social media apps, WebWatcher has distinguished itself as one of the best. Here is how it performs in some significant social media networks:
WhatsApp, TikTok, Instagram, KIK, Facebook messenger, and Viber: Webwatcher enables you to access incoming messages only.
YouTube: Although it's not compatible with YouTube, it will still show you all the viewing data and search from YouTube.com.
Tinder, Snapchat: When used on this app, Webwatcher allows you to view only the name of the person sending messages.
---
Time management
Most monitoring tools do not offer web filters or time management as part of their features. However, you will be pleasantly surprised to know that Webwatcher does. With just a click, you can block all the apps; although you won't be able to disable calls and messages.
While this tool doesn't let you set a schedule, its app blocking feature suffices for the times you don't want your kids engrossed in their phones. For example, you can block all the apps when it's time for your kids to have dinner or do their assignments. When they try accessing their phones during this time, they get a message saying the apps have been blocked. Note, though, that this doesn't affect the device's app.
Although no filter prevents children from visiting specific sites, it offers a Word Alert feature, which alerts you when browsing or viewing inappropriate content. There are more than 150 words, phrases, and slang in its library, and you can delete or add to it as you see fit. While this won't stop the page from opening, it will trigger an alert on your dashboard.
What the app does is that it detects some activities as 'risky behavior' and then develops an alert that parents can view from their end.
---
Track location
The ability to track location is a vital feature for any parental control software. Fortunately, Webwatcher has it for you.
Instead of worrying about your children when they are not home or not picking calls, you can track their location. Within a minute or two, you can get details of your ward's whereabouts and safety. It features a mapping interface that appears as dots. This lets you know where your child has been throughout the day. You can also monitor this in real-time.
However, this location tracking feature lacks a key factor that gives its rivals an edge over Webwatcher, and that needs mentioning in this WebWatcher review – geofencing. This means that users cannot receive an alert when their ward enters a location they specify.
---
SMS text messaging
With the WebWatcher app, you can track an individual's online activities. That includes viewing the text messages a specific device sends and receives. This feature increases the safety, security, comfort, and protection of your child. And if you own a business, it will help you keep your staff in check and ensure they are doing their job only. It will also help them stay focused and competitive.
---
Call log history
Besides accessing private text messages, you can also use WebWatcher to track calls a targeted person misses or receives. That's not all; you can also view the time of call, phone numbers, and call duration. With this, you can know whether your kids are receiving unapproved calls.
---
Requires no jailbreak
Jailbreaks can damage a device, cause your apps to function below the optimal level, and could also cause your phone to crash. Moreover, the battery won't be as long-lasting as it used to, and the Visual Voicemail, voice, iCloud, Apple Push, and data won't function optimally.
Fortunately, WebWatcher is among those monitoring platforms that do not require jailbreaks. Hence, it's your go-to solution for online monitoring whilst avoiding the risks associated with jailbreaking.
---
Web-based monitoring interface
With WebWatcher, users can keep track of a person's online activities. Once it completes tracking a specific activity, it sends the recorded data to the user's online account. It's that easy and convenient. All you need to do is surf through your account to get high-quality and real-time monitoring.
---
Photo recording
Smartphones can achieve anything these days. They enable you to send texts to family and friends, take pictures and videos, and save them. Also, they allow you to download songs and documents, and do a lot more. On the other hand, these smartphones can also be used for negative things such as downloading inappropriate content, especially by kids.
As parents, imagining your children doing this can be alarming. But you can monitor what they record and save on a phone, thanks to monitoring tools such as WebWatcher. Even if the pictures get deleted, there's a backup record to view.
---
Skype messages
Skype is an excellent tool for making calls, sending documents, or texting friends and family. Unfortunately, people often use it for inappropriate purposes. As an employer or a parent, you can take advantage of the WebWatcher monitoring tool, as it allows you to track the messages sent and received on iOS devices.
---
WhatsApp messages
WhatsApp, just like Skype, is an instant messaging tool. Thus, you can send messages instantly to anyone anywhere. It's also a platform that enables you to share files, documents, pictures, videos, and more. While the app in itself is pretty safe, to ensure the safety of your kids, you need to monitor the usage of the app. Again, WebWatcher helps you keep track of what your kids are doing on the app as it logs their Whatsapp usage activities.
---
KIK messages
KIK is another social media app common with teenagers. It is well accepted because it makes communication easy, has excellent blocking features, offers a vast community of users, and is a free download. However, the app does have some downsides. For instance, it compromises privacy, leads to cyberbullying and identity theft, and enables the streaming of inappropriate content.
WebWatcher can also come in handy here. Unlike other monitoring solutions, it is designed to monitor KIK messages, including messages sent and received.
---
Installed app list
WebWatcher goes further to enable you to view the list of applications on a specific device. So, whether it's a camera app or social media platform, the tool lets you know what your child has installed on the device without requiring any physical access.
---
WebWatcher user experience
Now that you all the features the WebWatcher monitoring tool offers, you may wonder if these features make the app difficult to use. So, proceeding further with this WebWatcher review, I now quickly elaborate on the things that impact your experience with this app.
Download and installation
Installation of WebWatcher isn't automatic. Users will need to create an account first and, after that, subscribe to it for a fee. Yet, as a parent, you can avail yourself of the WebWatcher parental control app free download trial before deciding about the subscription.
The installation process is easy, taking less than five minutes to complete. Although it has no app in the Play Store, the monitoring platform will send you a link after installing it. WebWatcher download page features a step-by-step guide (along with pictures) on downloading and installing the app on your kid's phone.
To get the WebWatcher working, users will need to permit it to access the device's pictures, apps, and contacts. On the other hand, Android users will also need to grant it Admin Device rights. This will allow the tool to take screenshots, enable it to track your kid's app usage, and prevent them from uninstalling the program.
---
Ease of use
Upon completion of the installation process, logging in and usage becomes easy. You can log into your dashboard from anywhere you are and still view the phone's location, receive alerts, and even ring a 60-second alarm on the device, which will come in handy when your kid misplaces their phone.
The tool's dashboard is easy to navigate. Especially, it has several sections, making it easy to go through all the information collected. The main page shows all the alerts, which you can click on to get more details.
---
Support
You will only be able to access WebWatcher's Customer Support team after creating an account. This can be a bit of a put-off as some users may want to ask series of questions before committing to the program.
That said, WebWatcher has a 24/7 live chat option. So, each time you ask a question, you are sure to get an answer within a few minutes. This assures you that you are dealing with an actual human and not merely a chat help bot. If you are having issues connecting your phone, you can reach out to them, and they will offer you the services of a technician.
They have a limited online knowledge base, focusing mainly on creating an exception with your antivirus software before installing the WebWatcher on your PC or Mac.
---
Compatibility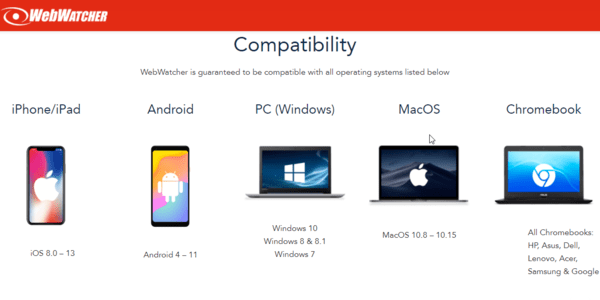 WebWatcher offers impressive platform compatibility. It supports most operating systems and devices, including Android Tablets (Android 4-10), iPad, iPhone (iPhone X), Windows PCs (Windows 7, 8 & 8.1), Mac systems (macOS 10.8-10.15), Chromebooks (Asus, Acer, Dell, HP, Lenovo, Google, and Samsung), iOS (iOS 12) and other devices.
---
Pricing plans
Not only is the WebWatcher monitoring tool one of the most expensive parental control apps in the market, but its subscription only applies to a single device. This can pose a problem for parents with more than one child. When the customer service was contacted and asked about the cost of prohibitive cost per child, they said they were working on a new price structure. We hope that happens soon.
Currently, the service has two pricing plans that typically cost the same. The only difference between them is that you will pay less for more extended subscription plans.
WebWatcher vs. mSpy
While we are focused on the WebWatcher review, let's also compare it against another rival tool that also enjoys popularity among the masses – the mSpy.
WebWatcher is a widely known and sought-after tracking app for employers and parents. It packages all desirable features that contribute to better and safer monitoring. The platform logs sent and received messages on iOS and Android devices. With this software, users can view search history and websites visited without physically handling the targeted device. It also allows you to track specific locations and access incoming texts on KIK. Furthermore, it is convenient and easy to use and gives you access to call history, a list of installed apps, pictures, and lots more.
mSpy is another monitoring tool designed to monitor children's online activities, including phone calls and locations. Once installed, it works seamlessly without a trace. Established in 2010, mSpy has evolved into one of the most efficient and popular monitoring software globally. It functions on both rooted and non-rooted Android/iOS devices.
Its installation process is easy and fun and is ideal for everyone, including the less-tech savvy individuals. In fact, you will only need a few minutes to set it up. Just like WebWatcher, mSpy is not visible to the target device user. Hence your kids won't have an idea you are monitoring them. Still, it runs in background mode.
WebWatcher pros and cons
Now that we are done with the WebWatcher parental control app review let's take a look at some of the app's pros and cons.
Pros:
Keeps records of various activities on a computer: With WebWatcher, users will monitor all activities on a computer. From Facebook status updates, posts on Instagram, content search on the web to videos watched on YouTube, and songs streamed on Spotify, you can track them all.
Functions in a Stealth Mode: There's no point using a spy app if it is traceable. Thankfully, WebWatcher works well without leaving traces. It does not require an extra battery, and the device will reboot without a problem. Also, the data is secure even when it's been deleted. In general, it works in stealth mode, which does not leave any trace.
Instant warning alert: This monitoring tool sends out instant mail anytime your target phone sends or receives pictures. We encourage you to check your emails to be updated constantly.
Access information remotely: When you install WebWatcher and create an account, the app allows you to access videos, call logs, and recorded pictures. You can log into your account using your PC, phone, or tablet and monitor everything remotely.
Keystroke logger: It also allows you to see whatever your ward types on the keyboard. However, it is only functional on Windows PC.
Blocks program: Another unique feature of WebWatcher is that it allows you to block unwanted apps. This prevents your kids from having access to apps you disapprove of.
Other features on PC or Mac: WebWatcher enables you to see website searches across various browsers, including Mozilla, Google, Firefox, etc. It also works well with other webmail or email programs. It can track Skype messages, cancel any app, view reports about LinkedIn usage, and even review Facebook messenger.
---
Cons:
It is not as intuitive as other alternatives.
Installation can be a bit overwhelming and requires careful planning to proceed correctly.
Its antivirus program and other features need disabling.
Target phones may lose their functionality after installation. If this occurs, contact a technician to fix it.
There are additional hidden charges after the initial subscription.
It doesn't allow users to listen to live calls.
The app lacks the geofencing feature.
Software autodeletes details of previous records.
It doesn't work well with antivirus as it automatically removes the app when detected.
Its keylogger feature is only beneficial to those with Windows PC.
Its premium version is expensive.
The service no free version; you can avail yourself of a risk-free trial, though.
---
Final thoughts
We now reach the end of this extensive WebWatcher review.
As you can see, WebWatcher is nice if you are keen on monitoring the online activities of your children or employees. It has excellent monitoring features that show you exactly what sites they are visiting and the kind of messages being received.
The tool also comes in handy to monitor teenagers' activities on social media. It also allows you to know whether your children are searching for drugs, weapons, or alcohol. However, the tool does have some downsides, including a lack of geofencing features and expensive premium plans.
Yet, it's still a good option if you need a dedicated online tracking software. After reading this honest review of WebWatcher, if you find this utility a good fit for your requirements, feel free to make a purchase.
FAQs
No, WebWatcher does not offer a free version. Users will have to either subscribe to its one-, three-or twelve-month subscription.
WebWatcher claims its services are 100% risk-free. However, after thoroughly going through its refund policy, we find that a bit hard to believe. You only get a refund if the services don't function as advertised. The customer service support team is unable to solve whatever problem you may have with the monitoring tool.
Although the program is available for iPhone, Android, Windows, Chromebook, and Mac, each subscription is limited to a device. Thus, if you want to monitor more than one device, you will require multiple subscriptions.
Yes, it is safe for use. Although, many users will prefer it offers a risk-free guarantee and also a free trial.
Yes, WebWatcher is compatible with iOS, including iPhone, Android phones and tablets, etc.
No, it can't. WebWatcher is strictly a monitoring tool. Hence, it does not place a time restriction on devices. Other parental control apps enforce daily time limits.