If you are an avid internet user, you must have experienced all the pros of this technology yourself. But, if it is all that good, what made people search for information about monitoring tools, like a detailed WebWatcher review?
Let me explain!
The advent of the internet has opened up endless opportunities. With just a click, you can access information, stream the latest songs and watch trending videos and movies, carry on your work videos, buy and sell goods, and much more. Likewise, the internet also bears many things to facilitate the kids. They can play online games, watch their favorite cartoons, chat with classmates and friends, get the latest celebrity gist, like Snapchat pictures or view videos on Instagram, get their homework done, gather information for projects, and lots more.
However, just as the internet can be of immense benefit, it can also pose a risk to anyone, including employees and children. This is because the internet is also a place for inappropriate content. Cyberbullies can also use the platform to spread negativity.
Fortunately, you do have ways to monitor your employees' and children's online activities to ensure they are on track. One such option is WebWatcher. This monitoring platform is different from other competitors on the market and works quite well for keeping an eye on other users' activities.
But what makes it different from other options? Is WebWatcher as good as they say? What are the downsides to the platform? You will get all the answers you seek in this simple, detailed, and unbiased review of WebWatcher.
Let's get started already, shall we?
What is WebWatcher all about?
WebWatcher is a cross-platform monitoring app created to retrieve information from a selected device. Upon creating an account, it allows you to access any target information from anywhere you are.
The platform functions on various devices. However, it focuses solely on disclosing the online activities of a specific individual. Also, the tool enables you to view call logs and messages.
With this tracking app, users can view the target user's web seamlessly, track real-time location via GPS, and so on. Also, with this, you never have to fret anytime your kids are using the internet.
Curious to know more about this parental control app? Let's delve into the details with this WebWatcher extensive review.
Features of WebWatcher monitoring platform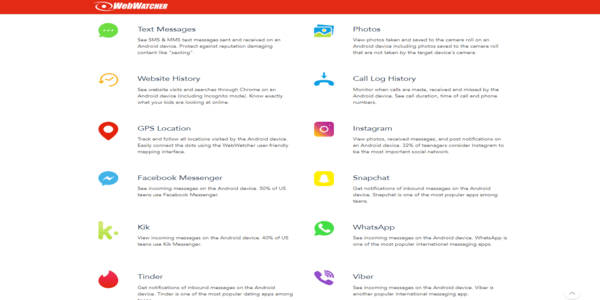 WebWatcher is steadily becoming more popular in recent times. Business owners, leaders, and parents rely on the platform because of its incredible features. Emerged as an excellent monitoring solution, it has the following features.
Records everything
Once you install WebWatcher, it takes screenshots of everything on the device and sends them to the guidance's dashboard for review. This feature doesn't work on iOS devices, though.
The app will also be able to access your ward's SMS messages, call log, GPS location, browser history, and picture gallery. it's worth mentioning that the program also has a keylogger. With all this information, you can always monitor your children's activities and be sure they aren't being bugged by a predator, doing drugs, taking inappropriate pictures, or involved in any other mischievous activity.
---
Monitors social media chat