Speedify is the latest VPN to pique our interest. Therefore, we decided to test and review this service and validate what it claims to offer its users.
As its name suggests, Speedify claims to be faster than any VPN service today. Furthermore, it boasts improved streaming, particularly live streaming. But is this true?
We can confirm that Speedify is a super fast VPN service. However, this VPN provider focuses more on speed than security.
Continue reading as we explore the Speedify VPN service, detailing more key features that are either hits or misses.
Speedify overview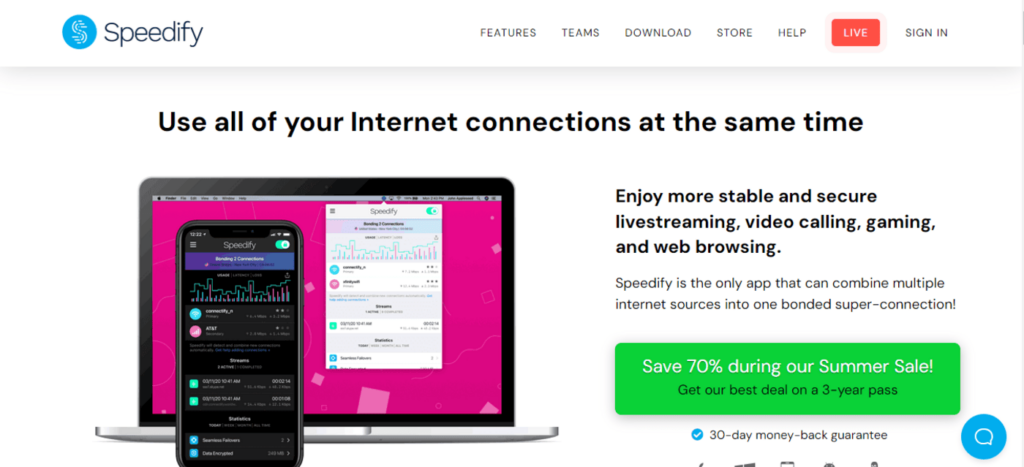 | | |
| --- | --- |
| Payment methods | PayPal, Debit/Credit card |
| Accepts cryptocurrency | No |
| Simultaneous connections | 5 |
| Supports split tunneling | Yes |
| Unlimited bandwidth | Yes |
Pros and cons
Pros
Provides reliable internet connection
Allows Netflix access
Boasts lightning-fast speeds
Cons
Unreliable traffic encryption
Logs too much user data
Closed-source security protocol
---
Key features of Speedify
Speedify has an impressive collection of features with a commendable innovative design.
However, it is necessary to note that most of its unique features come at the cost of reduced security. Below are some features you get when you sign up for Speedify.
Channel Bonding technology
This feature allows you to choose between three "channel bonding modes," which let you determine how fast or stable you want your connection to be. This feature aggregates two or more internet connections to provide faster speeds. However, this feature will only work if you use multiple internet connections, including Ethernet, WiFi, and Mobile.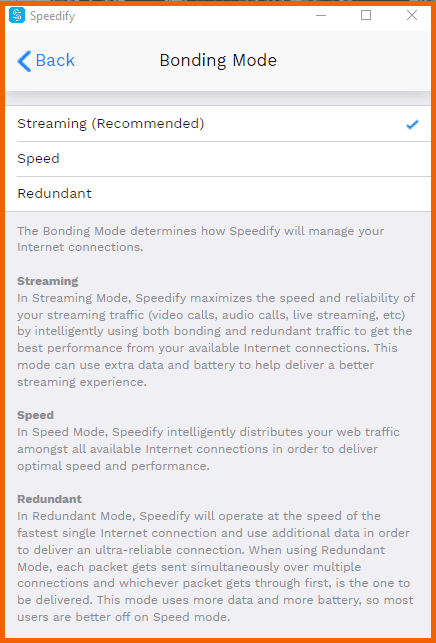 The cool thing with this channel bonding technology is that it ensures all connections are always uniform. It has three main settings: Speed, Redundant, and Streaming. The "Speed" setting evenly distributes internet traffic across different connections without lags. The "Redundant" mode also manages the same data packets over the available internet connections, ensuring complete stability.
The "Streaming" mode is the default mode, and it switches from one mode of operation to another. It also allows Speedify to utilize multiple connections to the max, translating to a much faster connection speed. It also switches to the "Redundant" mode when it detects a drop in the internet connection quality.
---
Other features of Speedify VPN
Speedify also has a "Jumbo MTU" feature that reduces strain on your CPU and "Header Compression," which helps to decrease the overall data used. These are exclusive features to Speedify, and no other VPN lets users toggle such unique options.
The VPN service has a kill switch similar to standard VPNs, and it functions not too differently from the regular kill switch. However, you won't find this feature on Linux and macOS clients.
Moreover, Speedify can show you the connection speed thanks to its built-in speed test feature. There is also a live stream test to check how fast (or slow) your upload speeds are. You can also check your internet stats, showing your internet speed data and how much traffic is being encrypted.
---
Streaming performance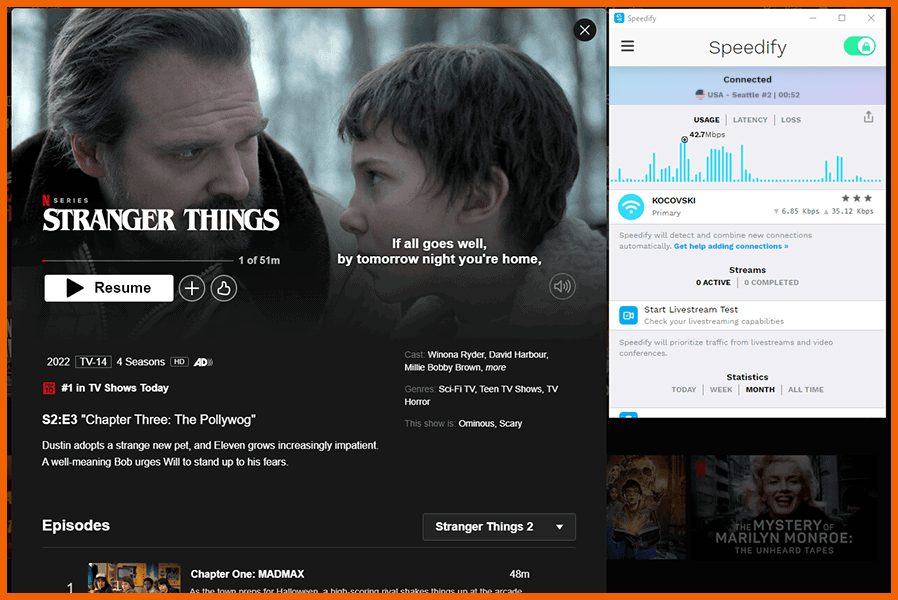 Speedify claims to be great for streaming, but it does not unblock streaming platforms. However, Speedify could only unblock Netflix US and HBO Max during our tests, leaving all other major streaming platforms.
Unblocks Netflix and HBO Max (but can't access Amazon Prime Video, BBC iPlayer, Hulu, and Disney+)
As mentioned earlier, Speedify does not unblock major streaming platforms, but with the "bypass" feature, Speedify can access the local versions of the streaming platforms. That is the limited, censored library made available in your region. To do this, it turns off the security protocols.
The streaming mode simply improves the quality of your streaming and video calls. It can do this thanks to its smart algorithm, which alters the audio and video streams to make them perform much better in real-time. The algorithm also functions hand in hand with the stability and speed of the connection.
Regardless of this VPN service's many limitations, it unblocks Netflix and HBO Max.
---
Speed – Is Speedify VPN fast?
Speedify is a high-speed VPN service; if you need more confirmation, the name says it all. It is arguably among the fastest VPNs we tested in the United States, making it an industry powerhouse in terms of speed.
Our tests revealed that on a regular 100Mbps connection, the download speed was 100Mbps, and the upload speed was 10Mbps.
Speedify test results
Speedify has its best test results in the US, but we noticed a significant dip in download and upload speeds in worldwide testing. Places like Australia, Singapore, and South Africa showed terrible latency results. The only other place with decent speed and latency was the UK.
---
Speedify speed comparison from the US
As said earlier, the speed results for Speedify in the US are very impressive. Compared to other VPNs, it is heads and shoulders above.
---
Speed comparison worldwide
Our tests confirm that Speedify focuses mainly on the US market and pays no mind to servers or locations outside the US. As a result, if you want a VPN with maximum speed within the US, this is your option.
However, make sure you do not plan to use it for torrenting, as that would require a VPN with more security protocols for seamless torrent downloads.
---
Is Speedify fast enough for gaming?
Speedify has excellent speeds, immediately making you think it is great for gaming, but this is untrue. The speeds are there, but the latency could be better. You can achieve gaming speeds of over 50Mbps, but the latency levels may exceed the acceptable threshold of 120ms.
Low latency is the staple requirement for a good gaming experience, and Speedify does not meet this; thus, we do not recommend it for gaming.
---
Server locations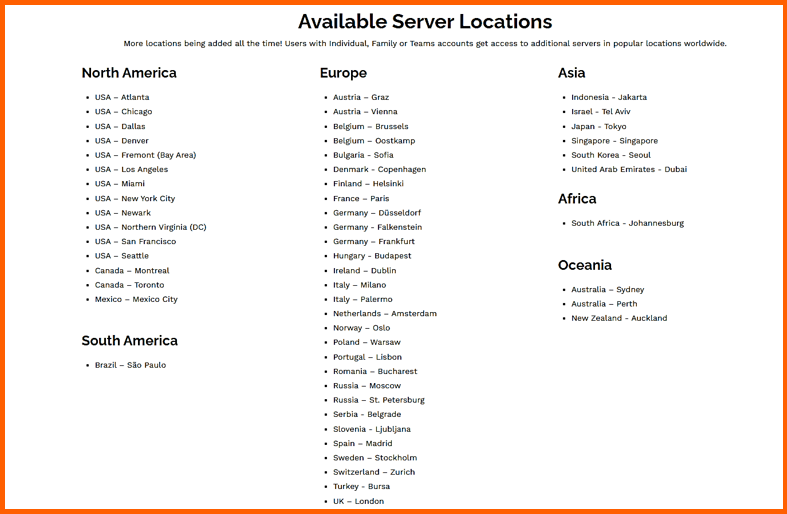 Speedify claims to have 59 servers in 47 different countries, but they do not tell you that all these servers are virtual.
It is not uncommon for a VPN service to have virtual servers in locations where a physical one would be difficult or dangerous, but for the entirety of your server network to be virtual? That is not a good look at all.
All things considered, Speedify has decent global coverage even with its virtual server network. It has servers spread across the globe in strategic countries in different continents and regions.
Torrent-friendly servers
Speedify offers users unique "torrent-friendly" server options, but these servers are all in Amsterdam. Because of their location, anyone outside of Europe will have difficulty using the VPN for torrenting.
---
Security
Security is not a chief concern with the Speedify VPN service. For starters, it allows you to toggle off your encryption to make room for more speed.
VPN protocols and encryption

Regarding VPN protocols, Speedify opts against using OpenVPN and WireGuard and uses its own instead. The Speedify custom protocol works over TCP, UDP, or HTTPS. However, this custom protocol is not open-source or subject to external audit, which is enough cause to be wary of the VPN service.
However, when it comes to encryption, Speedify uses AES-128 encryption by default. But this switches to ChaCha on the older devices without support for AES encryption. Both of these encryptions are secure and fairly hard to crack.
---
Privacy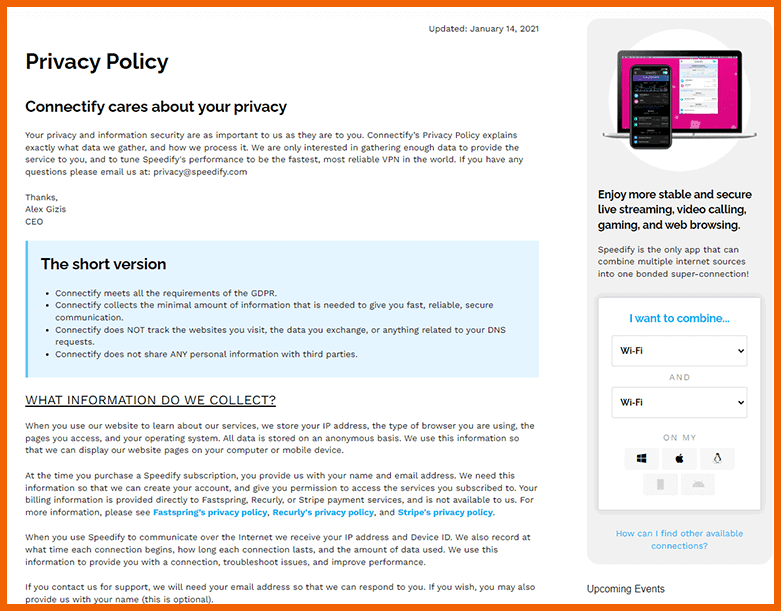 Speedify claims to have a no-logs policy, but this is, in fact, completely false. Since a no-logs policy should mean that your IP and DNS requests should remain private, a VPN cannot log either data.
Speedify's privacy policy, however, literally goes against this in totality. It states,
When you use Speedify to communicate over the Internet we receive your IP address and Device ID. We also record at what time each connection begins, how long each connection lasts, and the amount of data used. We use this information to provide you with a connection, troubleshoot issues, and improve performance.
With the amount of data Speedify is farming off of you, you would need another VPN to maintain security.
Above all, Speedify is based in the United States, which has fewer internet privacy regulations and routinely monitors persons and businesses due to the USA Freedom Act.
User-friendliness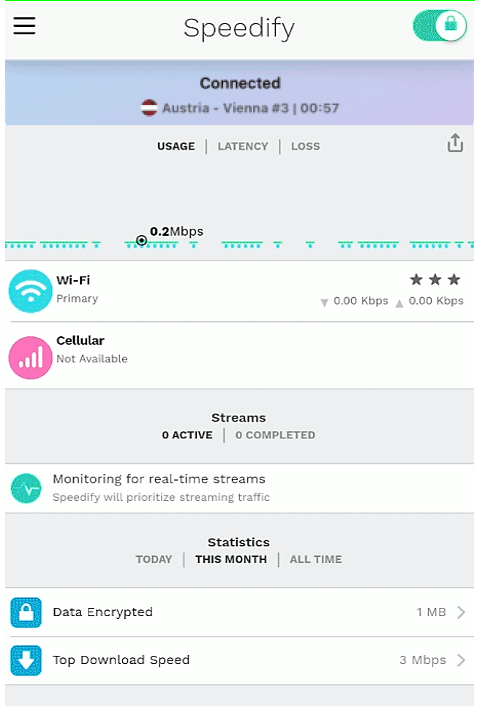 Speedify may not be the most visually appealing VPN service or the most user-friendly for beginners. However, it offers dedicated apps for every major operating system, including Android, Windows, iOS, Linux, and macOS.
The desktop app's home screen is cluttered, with a lot going on simultaneously. Some of the clickable options tend to be ineffective. Furthermore, the icon for connecting and disconnecting from the VPN is a tiny grayed-out icon in the top right corner.
However, when you click this icon, it connects you to the nearest server, along with information about the server and its usage statistics. If you wish to change servers, you simply have to click on the icon that now displays "Connected" and switch it.
Additionally, the server list that displays after you click the button lacks a search icon, and there are a few issues with the alphabetical arrangements done for some countries. However, some options are helpful. The hamburger icon allows you to access a scrollable menu with arranged options in terms of function. You can toggle the dark mode on and off as well.
Speedify mobile app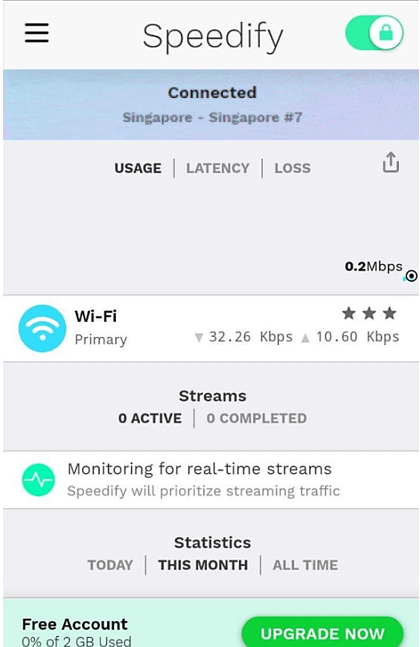 Apart from the split-tunneling feature, the mobile app doesn't offer anything to distinguish itself from the desktop app. It is not as user-friendly as other apps on the market and could be improved.
---
Speedify installation and setup review
If you are new to VPNs, you may want to consider other options than Speedify since this VPN's user interface is not friendly. Additionally, the on/off button is too small and placed at an inconvenient location. Furthermore, the drop-down menu is quite challenging to navigate if you need to access the features you need, such as the list of servers.
On the other hand, the fact that the menu is arranged into functional categories is a great idea. The menu contains security, privacy, server options, data and speed limits, and test performance. Speedify also features a dark mode.
Steps to installing Speedify on a Windows device
Below are the steps to installing the Speedify VPN on Windows:
Visit the Speedify website and select "Download" to download the app.
Download and install the VPN app.
Launch the VPN app.
Open an account and sign in with your new credentials.
Connect to a location from the available servers.
Enable the VPN connection by selecting the "Connect" option.
---
Pricing
Speedify, unlike most premium VPN services, is a free VPN service. Although paid plans are available, they are not the cheapest. As a result of the cost, most people go for less costly and more efficient VPN alternatives.
Speedify free plan
Speedify's free version offers only 2GB per month. The app claims that upgrading will grant you access to premium areas, which is incorrect. Users on the free plan get the same options as those on the paid plan. The only distinct feature is the lack of a data cap for the paid plan subscriber.
In the free plan, you can connect five separate devices simultaneously. Additionally, you gain some privacy since you do not have to enter your email address to create an account with the paid plan. However, this free plan does not function on Linux.
---
Speedify VPN paid plans

For Speedify's paid plan, you get unlimited data, and it comes in three tiers: Individuals, Family, or Teams. The subscription durations are a month, a year, or three years, with more plans with longer durations and larger discounts.
The cost of each plan is as follows:
Individual: $15 monthly
Yearly: $7.5 monthly
3-Year: $5 monthly
Family: $7.50 monthly
Teams: $6.30 monthly, adds a dedicated IP address at an extra cost, charges monthly or yearly.
In addition, Speedify has a 30-day money-back guarantee that ensures you get your money back if you're unsatisfied with the service. There is also a 7-day free trial on iOS, but unfortunately, not on Android.
---
Limitations of Speedify VPN
A few things do not seem right with Speedify, and you can find them laid bare in the settings.
For starters, Speedify allows you to turn off your encryption for faster connection speed, which goes against the whole essence of using a VPN in the first place.
There is also an option to toggle off your DNS and IP leak protection, which is another red flag because this defeats the anonymity you expect when you use a VPN. Consequently, Speedify gives users way too much freedom, defeating the entire point of a VPN and its protective functions.
Furthermore, this VPN's unblocking capabilities could be improved, as we can see that its "Bypass" feature only allows traffic from selected streaming sites to bypass the VPN tunnel.
Finally, Speedify's mobile app lets you select which apps can bypass the VPN. This is their attempt at split-tunneling.
Device compatibility: Available for popular devices
Speedify works with all major technology platforms and operating systems, including Windows, Linux, macOS, iOS, and Android. However, you should note that the free trial does not support Linux.
To download Speedify, you must have the following:
macOS 10.12 or above
Windows 7 or above
Android 5.0 or above
iOS and iPadOS: 10 or above
Linux: Raspberry Pi OS and Ubuntu
The usability of a Windows 10 device is satisfactory. Speedify's channel bonding technique allows for smooth integration, simplifying high-speed maintenance.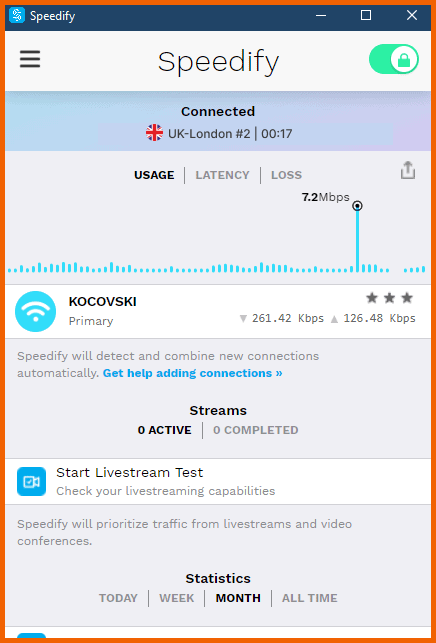 Simultaneous connections: Supports five devices
Speedify offers a useful feature that allows you to connect five devices simultaneously. Appreciably, this multiple connections support has no speed reductions.
When we tested this feature, we discovered only a temporary drop in speeds by 2-3 Mbps, after which it resolved itself.
---
Does Speedify work in China?
China enforces a strict geopolitical restriction that often makes foreign software invalid within its borders or outright banned from entering. VPNs are no exception, especially since their function goes against the country's regulations and firewalls. These regulations and firewalls exist to maintain the geo-restrictions placed on the content the citizens can consume.
However, we researched to ascertain why the VPN service does not work in China, but not before contacting their support team. The support team cited a variation in the utilization success with its users – meaning it worked for some and not others. However, there is a familiar pattern intrinsic to Speedify itself, which is its security protocols.
You see, China may have a lot of firewalls and geo-restrictions in place, but Speedify approaches this problem empty-handed. It lacks any form of stealth or obfuscation technology. So, while other capable VPN clients, such as ExpressVPN, would work "anywhere" because of their intelligent obfuscation and stealth technology, Speedify is not even equipped to do so.
The VPN service prioritizes speed over security and does not utilize industry-standard security protocols such as OpenVPN or WireGuard.
Alternatives to Speedify: Comparison table
| VPN Service | ExpressVPN | NordVPN | Vypr | Windscribe | CyberGhost |
| --- | --- | --- | --- | --- | --- |
| Download Speed | 91Mbps | 94Mbps | N/A | 94Mbps | 72Mbps |
| Latency | 4ms | 7ms | N/A | 2ms | 42ms |
| Upload Speed | 9Mbps | 9Mbps | N/A | 9Mbps | 9Mbps |
| Simultaneous Connections | 5 | 6 | 30 | Unlimited | 7 |
| Unlimited Bandwidth | Yes | Yes | Yes | Yes | Yes |
| Access to Netflix US | Yes | Yes | Yes | Yes | Yes |
| No-logs Policy | Yes | Yes | Yes | Yes | Yes |
| Allows Torrenting | Yes | Yes | Yes | Yes | Yes |
| Payment Methods | PayPal, Credit card, Bitcoin, PaymentWall | PayPal, Credit card, Google Pay, AmazonPay, ACH Transfer, Cash | PayPal, Credit card | PayPal, Credit card | PayPal, Credit card, Bitcoin, Amazon Pay |
| Pricing | $6.66/mo | $3.49 | $5/mo | $5.75/mo | $2.37/mo |
Customer service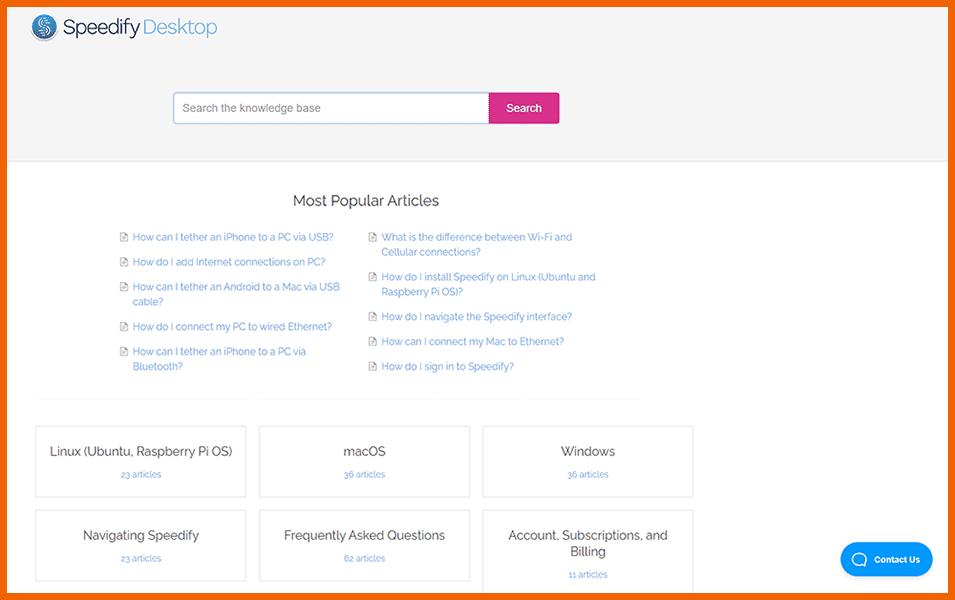 The customer service at Speedify could be better. There is a knowledge base with entries for users to peruse in the event of technical difficulties, but they contain no real answers.
There is also no live chat for users to reach the support team. When we attempted to reach the team, we got our answers two hours later, but they were not helpful.
Conclusion
If we were to choose one word to describe Speedify, we would say it is "unique." It opts for speed over security, lets users toggle just how much protection they need, and does not work as well outside the United States.
Therefore, if you need to access the Internet privately and securely and if you need to unblock geo-restricted content, it is not advisable to use Speedify. If you need a reliable VPN that protects you and gives you a reliable and safe internet connection, we strongly recommend ExpressVPN.
FAQs
Speedify is a VPN service that promises to make your Internet faster, safer, and reliable.
Yes, Speedify is a legitimate VPN since it is super fast. However, it lacks the basic features you expect from a decent service, and the security could be better.
Speedify is not a safe VPN option; if you want maximum security, it is not advisable to use this service. It leaks DNS requests and IP addresses, and we cannot vouch for the security protocols as it does not use WireGuard or OpenVPN.
Speedify could be better if it puts as much focus on security as it does on speed. The VPN service could feature security for protection and bypassing geo-restrictions. In addition, Speedify collects a lot of your data.
We can confirm that Speedify is fast, but this speed is limited to the US and no other location. We still do not recommend it because it is largely unsafe.