Are you looking for a comprehensive VPNBook review after discovering this free VPN service for the first time? You've come to the right place.
Many internet users naturally distrust free VPNs because they have inferior security protections. But that does not mean all free VPN providers offer poor services. So, can you trust VPNBook for your online privacy? Let's find out!
VPNBook overview
Pricing: VPNBook offers 100% free VPN service and VPNBook proxy access.
Bandwidth limit: VPNBook does not limit the data usage for the users.
Servers: VPNBook has only 16 servers in six locations that include popular countries such as the United States (US), the United Kingdom (UK), Germany, France, and Poland.
Security: VPNBook says it uses the best encryption techniques, including AES-256 and AES-128, but they are not enough to encrypt data properly, in our experience. Also, the VPN provider logs users' IP addresses, raising significant security concerns.
Leak Test: The VPN passed the leak test as it doesn't exhibit IP address and WebRTC leaks but lacks Domain Name System (DNS) protection.
Speed: VPNBook is not a fast VPN. We experienced a significant decline in download and upload speeds while connected to VPNBook on various devices.
Streaming: VPNBook is not a good option for unblocking geo-restricted content on Netflix, Amazon Prime Video, BBC iPlayer, Hulu, and other popular streaming networks. It can only unblock restrictions on free websites such as Facebook, YouTube, and X (formerly Twitter).
Compatibility: VPNBook is not a regular VPN service with a custom app for different devices. However, you can configure the service on your device using OpenVPN, Outline VPN, or PPTP.
Jurisdiction: VPNBook is based in Switzerland, which is good considering the country is not part of the 14 Eyes Alliance that shares intelligence.
Trustworthiness & Customer Support: We couldn't find VPNBook on Trustpilot, meaning we couldn't tell what users were saying about it. Also, Reddit users do not trust the VPN service. It offers an email address for customer support, but we didn't get a reply when we sent a query.
Pros and cons of VPNBook
Pros
Free VPN service
Based in Switzerland (a jurisdiction outside the 14 Eyes Alliance)
No IP and WebRTC leak
Unblocks content on Facebook, YouTube, and Twitter
Cons
No custom VPN apps for devices
Zero capacity to unblock Netflix and other streaming giants
Slow internet speed
No DNS protection
No live chat support
VPNBook and streaming (Netflix, Disney+, Hulu, BBC iPlayer)
You probably found VPNBook when looking for a free VPN to help you unblock geo-restricted content on Netflix, Hulu, BBC iPlayer, HBO Max, Disney+, and other streaming networks. Unfortunately, none of this VPN's servers can bypass the robust firewalls of Netflix and others.
These streaming networks usually build firewalls targeted at VPNs, but top Netflix VPN providers update their servers to bypass them. VPNBook, like most other free VPN providers, doesn't have the incentive to update their servers to unblock geo-blocks.
Therefore, don't expect VPNBook to unblock content on Netflix, let alone other streaming giants. This VPN can only bypass geo-restrictions on more lenient websites like YouTube, Facebook, and X (formerly Twitter).
VPNBook and torrents
VPNBook is the last VPN provider you want to consider for torrenting. It allows you to torrent on only the servers in Germany and Poland. However, the speeds are painfully poor to make any downloads. Speed aside, VPNBook logs your IP address during torrenting, which could reveal your activities.
For these reasons, it is a bad idea to use VPNBook for torrenting.
---
Dedicated IP address
There was a time when VPNBook offered a dedicated IP address service for a fee. However, the VPN provider no longer offers this option on the website. A dedicated IP would have helped you skip blocking and geo-restrictions, but its absence in VPNBook means the VPN is not worth it.
---
Speed – Does VPNBook increase internet speed?
Unfortunately, VPNBook does nothing to increase Internet speed. In fact, the VPN provider even worsened our internet speed significantly. Using the OpenVPN protocol, we conducted a speed test on Android, Windows, and Mac. Here's what we experienced.
Android
Download speed test
Without VPN: 46.65 Mbps
With VPN: 1.07 Mbps
Upload speed test
Without VPN: 32.56 Mbps
With VPN: 0.88 Mbps
The download speed decreased by 97.68% while connected to VPNBook on Android.
---
Windows
Download speed test
Without VPN: 40.01 Mbps
With VPN: 1.76 Mbps
Upload speed test
Without VPN: 35.45 Mbps
With VPN: 1.01 Mbps
The download speed decreased by 95.60% while connected to VPNBook on Windows.
---
Mac
Download speed test
Without VPN: 43.30 Mbps
With VPN: 0.83 Mbps
Upload speed test
Without VPN: 40.69 Mbps
With VPN: 0.76 Mbps
The download speed decreased by 98.08% while connected to VPNBook on Mac.
Here is the summary of our VPNBook speed test:
Devices
Download Speed
Upload Speed
Ping
Without VPN
With VPN
Without VPN
With VPN
Without VPN
With VPN
Android
45.65 Mbps
1.06 Mbps
32.56 Mbps
0.88 Mbps
120 ms
856 ms
Mac
40.01 Mbps
1.76 Mbps
35.45 Mbps
1.01 Mbps
160 ms
952 ms
Android
43.30 Mbps
0.83 Mbps
40.69 Mbps
0.76 Mbps
154 ms
923 ms
Overall, the VPNBook is not a good pick for speed.
---
VPNBook server network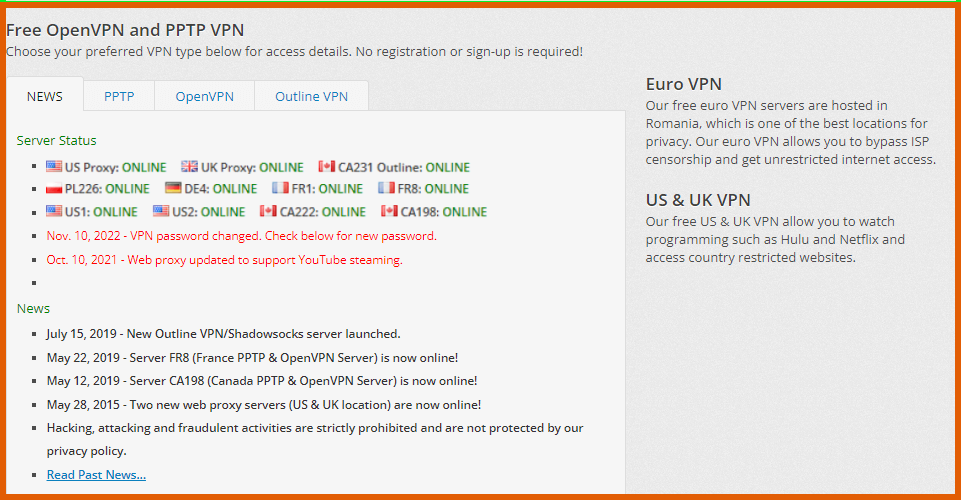 VPNBook offers only 16 servers in six locations. These locations are:
US
UK
Germany
France
Canada
Poland
The VPN service also offers a free web proxy with four proxy servers, including a Random Proxy, US Proxy, UK Proxy, and Canada Proxy. With the web proxy accessible through VPNBook's website, you can enjoy VPN security features without additional software.
The limited number of servers means that you don't have a lot of options when it comes to obfuscating your locations.
While the limited number is disappointing, it is consistent with what many free VPN providers offer. So, if you want many options, you must upgrade to reliable VPNs such as ExpressVPN and NordVPN.
Security – Does VPNBook offer online safety?
One of the most essential uses of VPNs is in cybersecurity. A VPN typically uses a virtual network to obfuscate your online traffic from hackers, government, and malicious actors. There is a huge concern when a VPN fails to provide this basic level of security.
So, we were disappointed to find out that VPNBook is one of the many free VPN providers that cannot guarantee online privacy and anonymity. Yes, the VPN provider claims to use the best encryption techniques, such as AES-256 and AES-128, to encrypt all traffic between you and the network. However, the reality is different.
These security concerns mean VPNBook is not a good option if you care very much about your online traffic security. You will be better served with VPNs that encrypt your traffic with military-grade encryption and leak protection.
Privacy
We detected that VPNBook doesn't feature a Kill-switch function, meaning that your online traffic will be exposed to unknown actors if the VPN connection goes off unexpectedly.
During our tests, we discovered that the encryption techniques did not stop VPNBook from leaking our DNS protection. This discovery nullifies the VPN provider's claims of solid security.
Does VPNBook keep logs?
No, it does not keep logs, which we found encouraging. The last thing you want is to use a VPN that collects your personal information or stores your internet data somewhere. However, the discovery that this VPN provider logs IP addresses and the connection time soured the encouragement we got from its no-logs policy.
By logging users' IP information, VPNBook shows that it is not a trustworthy VPN service regarding online security.
---
Leaks – IP, DNS, & WebRTC Leak Tests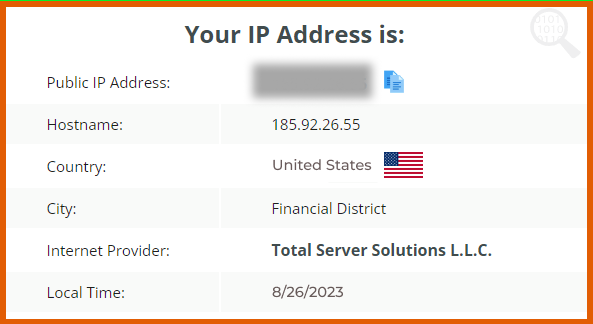 We did not detect any IP or WebRTC leaks during our leak tests. However, our DNS test revealed a leak that doesn't bode well for your online security. If you care about online anonymity, you should find one of the best VPNs to hide your DNS information.
---
Does VPNBook work in China?
VPNBook does not work in China, and that didn't surprise us due to the VPN's weak features consistent with most free VPNs. This VPN provider uses protocols (OpenVPN, PPTP, and Outline VPN) blocked by the Great Firewall of China.
Generally, top VPNs like ExpressVPN, Surfshark, and NordVPN use robust obfuscation features to hide online traffic from strict firewalls such as the Chinese Firewall. However, VPNBook has no obfuscation feature, which makes it easy to be detected by almost any firewall.
So, if you're using VPNBook in China or any country that has blocked some websites, don't expect it to work. If you want a VPN that works in China, consider one of the best VPNs for China.
VPNBook protocols
In contrast to most reputable VPNs, VPNBook doesn't offer a wide choice of connection protocols. Specifically, it only offers three protocols, none prioritizing users' security except OpenVPN.
OpenVPN
It is a security protocol that offers anonymity and privacy. You can configure OpenVPN using your router, Windows, Android, iOS, Linux, Chrome OS, Ubuntu, and Mac devices.
---
Outline VPN
Like OpenVPN, Outline VPN works with popular platforms such as Windows, Android, Chrome OS, iOS, and Linux devices. The VPN provider uses the Shadowsocks protocol. Although this protocol makes Outline VPN faster than OpenVPN, the latter has superior security.
---
PPTP
This old protocol works with all devices, including Android, Mac, Windows, iOS, Linux, PlayStation, and more. However, PPTP is less secure.
---
Compatibility – Does VPNBook work on different devices?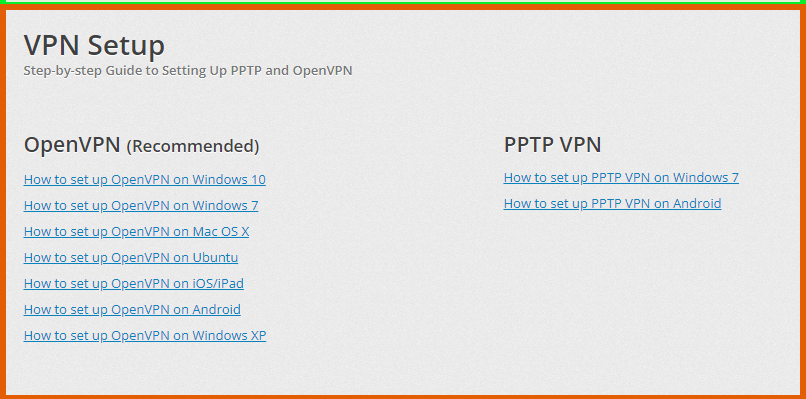 As we've mentioned, VPNBook doesn't offer custom apps for devices. VPNBook's website features setup tutorials. But if they are not clear enough, below are simple instructions for manually setting up the VPN service on various devices. The instructions are for only OpenVPN because it is the recommended protocol.
Windows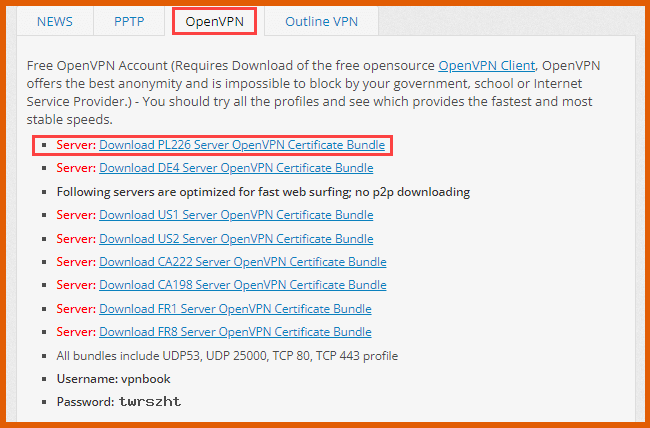 Once you've downloaded the OpenVPN configuration files Certificate Bundle, extract the content of the RAR file here: C:\Users\[your username]\OpenVPN\Config. You need OpenVPN GUI installed on your computer to extract the file's content.
You can connect to VPNBook servers after extracting the RAR file's content.
---
macOS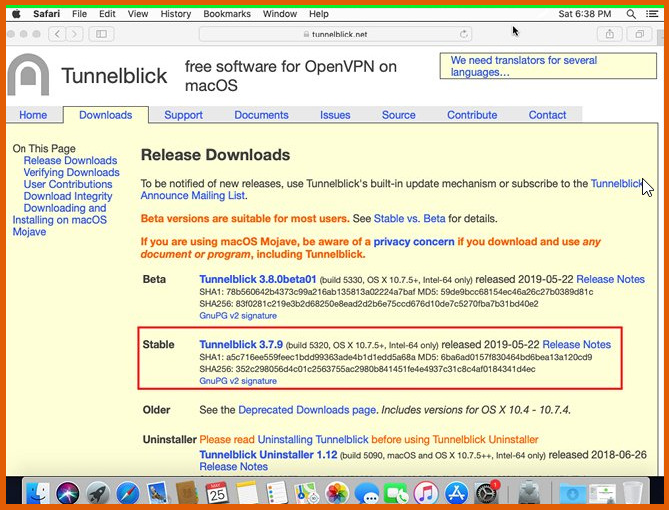 Use Tunnelblick to get VPNBook for macOS. You can add the configuration files similarly to VPNBook for Windows. Expect the same performance, slow speeds, and encryption level from VPNBook for macOS as you'll get from VPNBook for Windows.
---
iPhone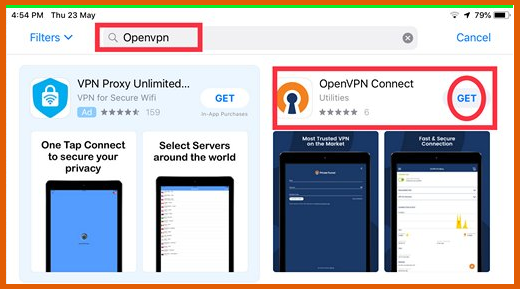 Install OpenVPN from the Apple App Store and extract your OpenVPN server file. Then, log in with the VPNBook password and username on the website.
---
Android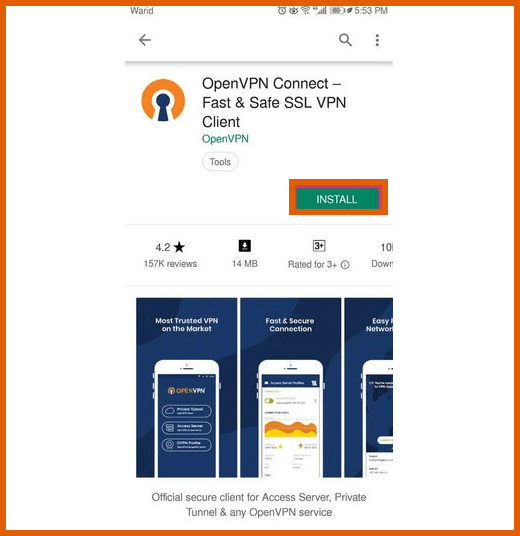 Download the OpenVPN Connect app from the Google Play Store. Then, import the OpenVPN configuration files and enter the VPNBook username and password.
---
Pricing – How much does a VPNBook subscription cost?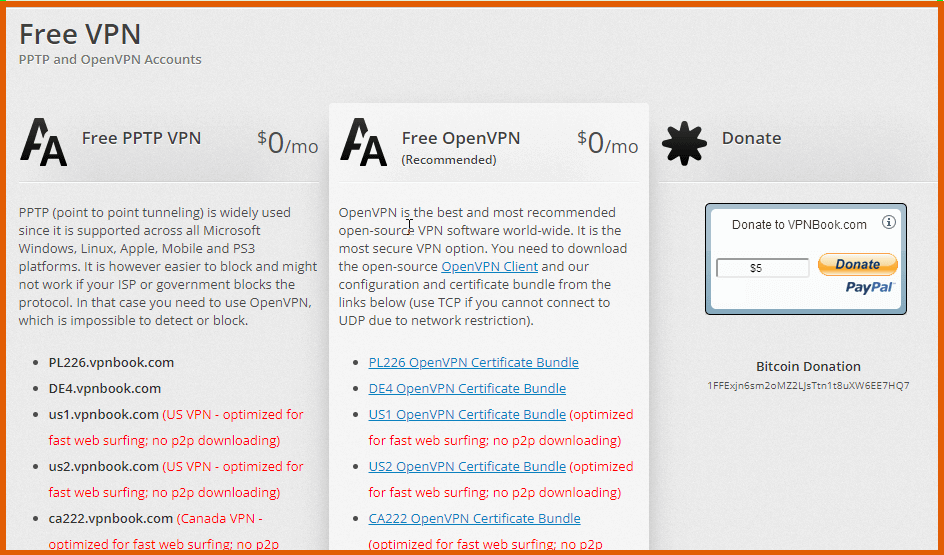 VPNBook is free. You do not have to pay a dime to use the VPN service. The service offers three protocols: OpenVPN, Outline VPN, and PPTP. Although less popular than OpenVPN, there is a free PPTP VPN server list on the VPNBook website.
However, like all free VPNs, VPNBook's free service means many security negatives that should make you consider more reliable VPN providers.
Notably, not all good VPNs are expensive. You can also find some cheap VPN services that offer adequate internet security.
Bandwidth limit – Is there a usage limit?
If you have plenty of experience with using free VPNs, there is a common feature you'll find on them. Most of them offer a bandwidth limit that can range from 5 GB to 10 GB. That means you'll lose the VPN connection once you exceed the bandwidth limit. This is usually a frustrating experience because, most of the time, you have to wait 24 hours to get another bandwidth limit.
However, VPNBook does not impose such restrictions on users. Instead, it allows you to be connected for as long as you want.
Is VPNBook worth it?
The simple answer is no – it's not worth it. VPNBook not only slows down your internet but is also insecure.
Furthermore, it does not unblock most platforms and websites you need a virtual network to access.
Also, it has an intrusive policy of logging IP addresses, making it untrustworthy to security-conscious Internet users.
Overall, VPNBook fails at all the basic functions of a VPN, making it useless for most users. Plus, it's not user-friendly due to the numerous steps you must take to set it up.
With much better free VPNs on the Internet, there is no need to restrict yourself to a weak VPN provider like VPNBook.
Trustworthiness – Reddit reviews, Trustpilot rating
To know what users say about VPNBook online, we researched the VPN providers on Reddit and Trustpilot. Most Reddit users are not thrilled about this free VPN service because of its weak security features.
Some distrust all free VPNs, which is understandable because they usually lack robust security features. Overall, VPNBook Reddit reviews reveal users don't trust the VPN provider.
When we checked Trustpilot, VPNBook was not present on the platform, so we could not sample the reviews from there.
However, we got some relevant information from the VPNBook Wiki. The VPN provider's Wikipedia page shows multiple reviews, concluding that the VPN has functionality flaws and delivers poor performance.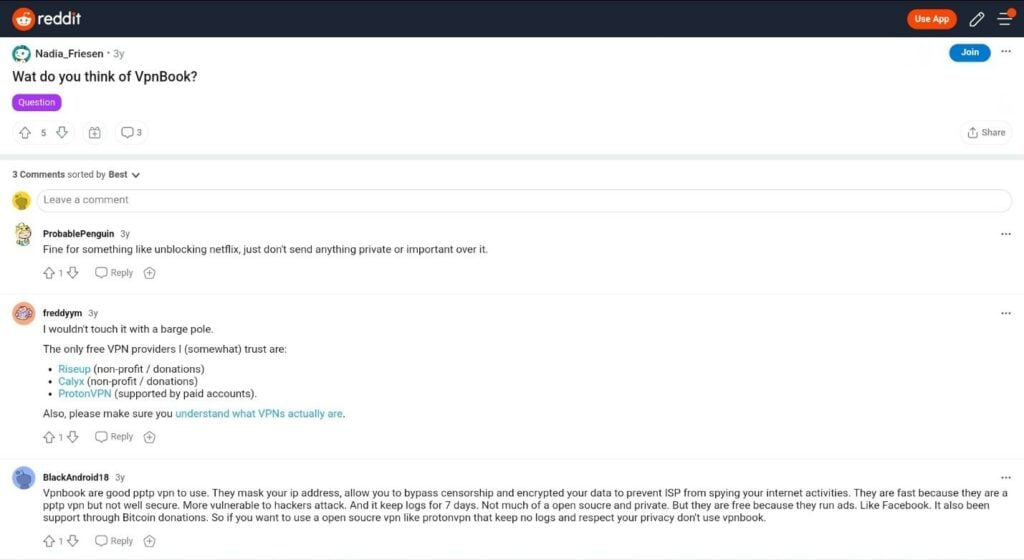 Customer support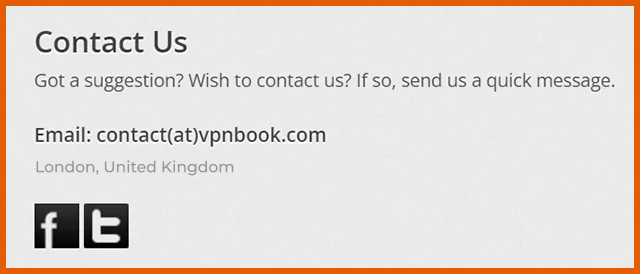 VPNBook has virtually no customer support. We understand that free VPN providers usually have less obligation to customers, but VPNBook takes poor customer service to a new level. Besides the inadequate information on the VPN provider's website, there is no phone number or live chat option for inquiries.
However, an email address, "contact@vpnbook.com," exists, apparently to deal with customer queries, but it also offers no help. We sent an email to the address and didn't get a response to our query for several days.
Free VPNs like VPNBook are always an attractive option, but they are usually not worth it, as we've discovered in the case of VPNBook. Our VPNBook review shows that the VPN provider falls short of passing basic security and speed tests.
Free VPN alternatives to VPNBook
1. ProtonVPN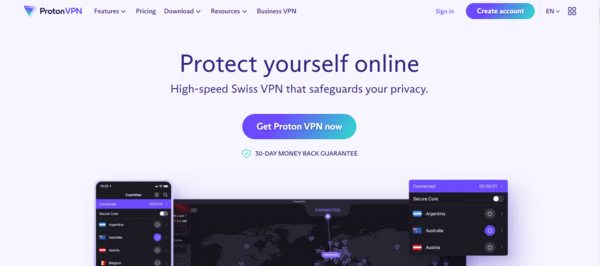 It offers top-notch security features that make you feel like you're using a premium service. Unlike many free VPNs that cap usage, ProtonVPN offers unlimited data, allowing you to enjoy security features for free without restrictions.
Also, it has custom apps for Windows, iOS, Android, Mac, and Linux that are not a hassle to set up. But there are fewer annoying ads to deal with.
---
2. Windscribe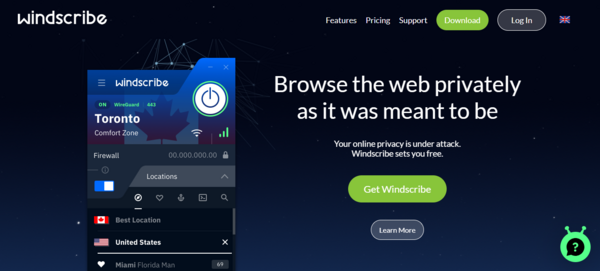 While this VPN provider restricts you to a bandwidth of 9.8 GB per month, you can increase your limit by tweeting about the app and getting an extra 4.8 GB. With a free version of Windscribe VPN, you get ten server locations, an effective ad blocker, and no-logs storage for security.
---
Conclusion
Even though we always expect free VPNs to come with fewer features, VPNBook falls short of many we've tested in the past. If you want alternative free VPNs that offer good features, read our best free VPNs page or visit our comprehensive best VPNs page for much better options.
FAQs
No, it is not safe to use in our assessment. The presence of IP address logging and lack of obfuscation features are security risks that are not worth it.
No, we do not recommend using VPNBook for torrenting. VPNBook is painfully slow for downloading torrents and logs your IP address, creating the risk of exposure to your file-sharing activities.
No, VPNBook cannot work in China. It lacks the necessary obfuscation features to fool China's Great Firewall.
We already clarified that VPNBook is not good enough to bypass the firewalls of paid streaming networks. However, you can use VPNBook to stream content on other free websites like YouTube and Facebook.
No, VPNBook does not support split tunneling. The lack of this feature means there's no flexibility for your online activity.