Telegram is a popular instant messaging app with millions of users globally. However, privacy concerns started emerging a short while after its launch in 2013, compelling many Telegram users to delete their accounts. Whereas others who still trusted Telegram had to stop using it for other personal reasons.
For privacy-savvy users, the way Telegram implements encryption raised red flags. By default, Telegram communications remain unencrypted unless you enable the "Secret Chat" feature. In this case, the app saves your conversations on its standard servers, an act which it advocates for facilitating easy chat backups.
However, this begs why it doesn't give you a choice to decide whether Telegram should store your data or not. Also, it raises questions about why the app doesn't offer end-to-end encryption as default settings despite using it as a key marketing feature. Moreover, privacy experts also wonder how the firm manages such colossal storage of data and the respective resources while being a non-profit company.
Besides, some security concerns exist with encryption experts casting doubts on the proprietary MTProto cryptography protocol.
This homegrown solution has high-level encryption but has played a part in Telegram's devious reputation. Terrorists have used it to spread dangerous propaganda, coordinate attacks, plan protests, and decide about other nasty activities. Many cybercriminals also frequently use this app to run fraudulent activities sneakily.
Currently, the messaging app is banned in several countries and highly monitored in others. Notably, in 2018, Apple temporarily removed it from the App Store after discovering inappropriate content.
Consequently, all these issues, together with intermittent availability, have compelled users to abandon Telegram and switch to other secure messaging alternatives.
If you're tired of this app for similar reasons, read along to learn how to permanently delete Telegram.
Note: App developers, internet service providers, and other companies can track your each click, share and even download on the internet. The best way to prevent these third parties from collecting and selling your data is by using a VPN.
Step by step guide on how to delete your Telegram account
Thankfully, it isn't difficult for you to remove your Telegram account since you get more than one method for that.
However, keep in mind that this process is irreversible. It means that your contact list, groups, chats, and other information will be permanently deleted even if you re-install Telegram in the future. Therefore, if you fear losing your data, make sure to export it all first (explained later in this guide).
Below you go with the two main methods to delete your Telegram account.
1. Deleting by altering self-destruction settings
Telegram has a security feature known as "self-destruction," where your account is deleted after some time of inactivity.
The default period for this setting is six months. So that means Telegram will delete your account after six months if you do not use it. But if you want to increase or decrease this period, here's how to proceed.
From your Telegram account on your device, choose 'Settings' menu.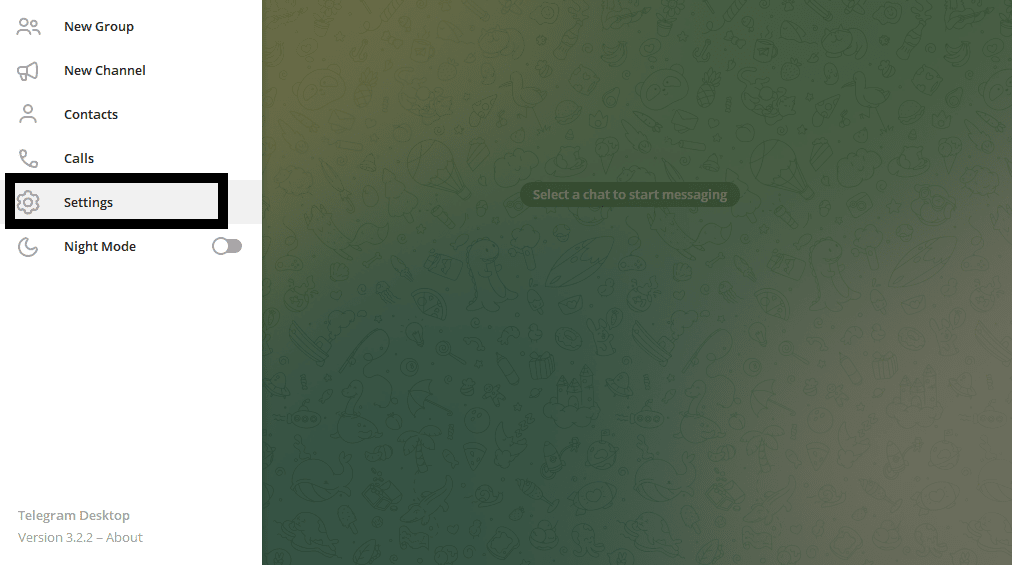 Tap on 'Privacy and Security' option.