Any internet-enabled device has a unique IP address that identifies it for internet communication to work. These IP addresses can be IPv4 or IPv6, or both since both methods are in place today. Because IPv4 is more common, people often consider it the sole IP address for any device, focusing all methods on modifying this address only. However, there can be numerous situations where you need to disable IPv6 discretely.
But how to disable IPv6, we hear you ask. Don't worry; this quick guide explains it for all major operating systems step-by-step. But before that, let's quickly understand what IPv6 is all about and which factors trigger the need to disable IPv6.
What is IPV6?
The IPv6 (Internet Protocol version 6) is the newest internet protocol that identifies devices and networks across the internet. It emerged as a solution to the rising IPv4 exhaustion in response to the growing number of devices connecting to the internet.
Technically, IPv6 uses 128-bit internet addresses, unlike IPv4, which relies on 32-bit addresses. Thus, it can handle more unique IP numbers than the existing IPv4. In addition, IPv6 provides better security, improved network address translation, and administrative workload. Besides, it eliminates the dependency on location (unlike IPv4) by retaining a device's unique IP address regardless of the physical location.
Why should I disable IPv6?
Although, IPv6 generally works well with the prevalent IPv4. But it may also cause conflicts under certain circumstances, requiring you to disable it.
For instance, it may create network issues or cause VPN leaks when you wish to hide your actual online location and IP address. Unfortunately, many robust VPNs, including NordVPN or Surfshark, still do not support IPv6. So, while they offer advanced IP leak protection, you may still have to disable IPv6 manually to prevent accidental exposure of your actual IP address online.
Similarly, if your internet connection reconnects repeatedly, your router may close the connection due to an IPv6 conflict.
Such problems arise because of the poor adaptation of IPv6 at the end-user level. Also, some ISPs, like AT&T, Verizon, and Xfinity, are still struggling with adequate adaptation and implementation of IPV6. So, to avoid all these problems, you may have to decide about disabling IPv6 on your device.
So, to avoid all these problems, you may have to decide about disabling IPv6 on your device.
Disable IPv6 on Windows 10
1. Go to the bottom-right corner of your screen and right-click on the 'Network/Wi-Fi' icon. A pop-up menu will appear, as shown below.

2. Click on the 'Open Network & Internet settings' option. Then, the following setting dialog would appear on your screen.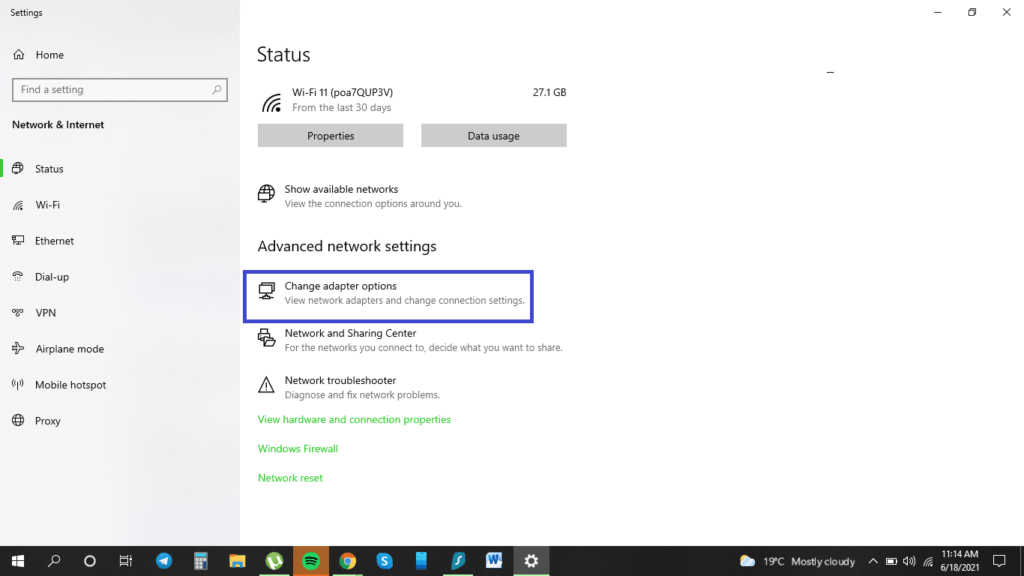 3. Click on the 'Change adapter options' setting (highlighted in the picture above). A list of the available network adaptors will appear.

4. Now, right-click on the active network adapter and select 'Properties.'